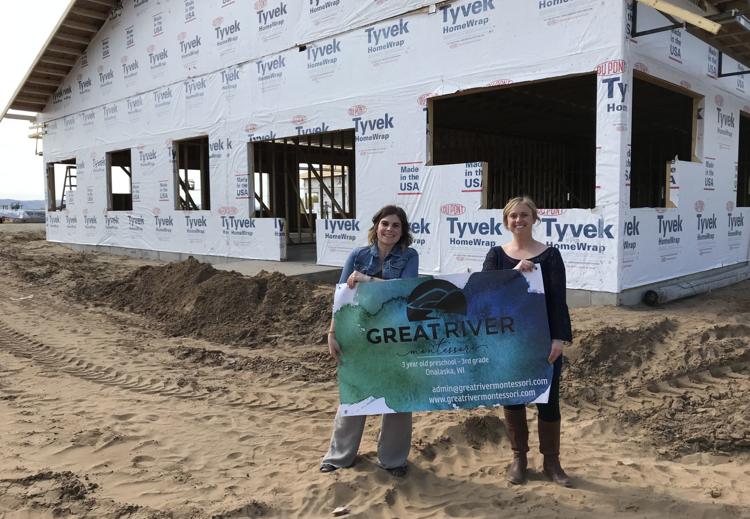 Parents looking to give their child a hands-on, discovery-based education will have a new option in the fall.
Great River Montessori, a private school being built at the intersection of Hwy. 35 and County OT in the town of Onalaska, is enrolling students for 3-year-old preschool through sixth grade for the 2019-20 school year.
Founders Samantha Thelemann and Alexa Quam say the school will closely follow the Montessori model of education, which allows students to freely interact and experiment with learning materials in a mixed-age classroom.
"I love the fact that it's hands-on, individualized education," Thelemann said. "You really get to form a relationship with your students, so it feels much more intimate. We've heard a lot of people in the community say this is something that's needed."
Thelemann and Quam graduated from Holmen High School in 2007 and have at least six years of Montessori teaching experience apiece. Thelemann teaches in La Crescent, while Quam teaches in Sparta.
The pair have talked about opening their own Montessori school for a few years, they said, but were waiting to find the right location.
They heard about a commercial development project at 35 and OT — which includes offices for Breidenbach Chiropractic and Neighborhood Family Clinics — "and everything fell into place," Thelemann said.
Great River Montessori will cover 2,000 square feet, with an additional 3,000 square feet of outdoor space.
Quam said the school will have a strong environmental focus, especially given its proximity to Lake Onalaska and the Great River State Trail.
You have free articles remaining.
Register for more free articles.
Stay logged in to skip the surveys.
Giving students the latitude to make their own mistakes and their own discoveries, as opposed to lecturing them, has a host of benefits, she said.
"I enjoy not being the center of attention, being a guide instead of the focal point," Quam said. "We tailor the environment to whatever a student's interests are, whatever will get them excited about learning. We really try to develop the whole child."
Proponents say the Montessori model, when successful, also encourages students to teach and learn from one another, because of the mixing of ages.
"I love seeing the younger students observe the older students and get excited for certain lessons," Thelemann said. "It's a very family-like atmosphere."
"It helps some of the older students master skills, too," Quam said. "You know it best when you have to teach it."
Thelemann and Quam say they will wear multiple hats in the coming school year — founder, teacher, administrator — and will add staff members as enrollment dictates. The cap for the fall is 40 students.
Though it's located in the town of Onalaska, Great River Montessori falls within the borders of the Holmen school district.
Tuition for full-time students — kindergarten through sixth grade — is $750 a month. Tuition for full-time preschoolers is $700 to $750 a month, while tuition for part-time preschoolers is $250 to $300 a month.