As the crowd filed in, Alyssa Patten embraced her nervous energy.
"I know it will happen as soon as I get up there," she said. "But I've got my water, and I've got my cough drops. It will all be good."
Roughly a dozen University of Wisconsin-La Crosse graduate students stuffed, crammed and shoehorned years of research into 180 seconds Wednesday at the university's third annual 3-Minute Thesis event.
During the course of an hour, the students discussed everything from fungi to wolf packs to muscle training before a panel of judges from UW-L and the community, with the winners awarded scholarships.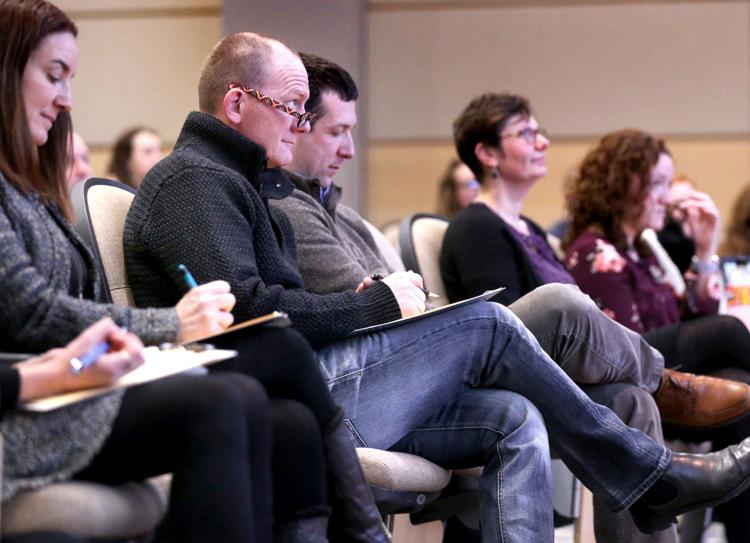 All the while, a massive timer, projected on a screen behind them, bled precious seconds.
"I think it's a really interesting intellectual challenge for our students," said Meredith Thomsen, director of graduate studies at UW-L. "When you're in grad school … you're down there in the heart of your topic, focused on the details. This is an activity that forces you to come up and survey the broader landscape, think of the big picture and how your research fits into it.
"And the timer counting down really does add some suspense."
Patten was one of four physical therapy students who presented on Wednesday. For the past year, she's studied the health benefits associated with training small muscles, such as the diaphragm and internal intercostals.
Sabrina Aspenson, a biology student, discussed the diversity of fungi in the Driftless Region, which is far greater than most would think, she said.
Roaming the landscape the past two years, Aspenson has studied the phlebia incarnata (which is pink and often found on trees), the phlebia coccineofulva (which looks a lot like lava spilling over rocks) and many others.
She knew the material, she said, but feared that she'd exceed the time limit.
"I'm worried that I'll look at the end and see that I only have five seconds to say two sentences," she said.
Charlend Howard studied how different kinds of focus can affect an athlete's performance.
There's internal focus, like remembering to tuck in your elbow on a free throw, he explained; and there's external focus, like imagining you're lifting a barbell to the ceiling.
It was agonizing, he said, deciding what information to keep and what information to cut.
Three minutes is not long, he said. It's less time than you'd take to shower, to return a few emails, to microwave popcorn.
"I'm a little nervous," Howard said. "I haven't done public speaking since I was an undergrad."