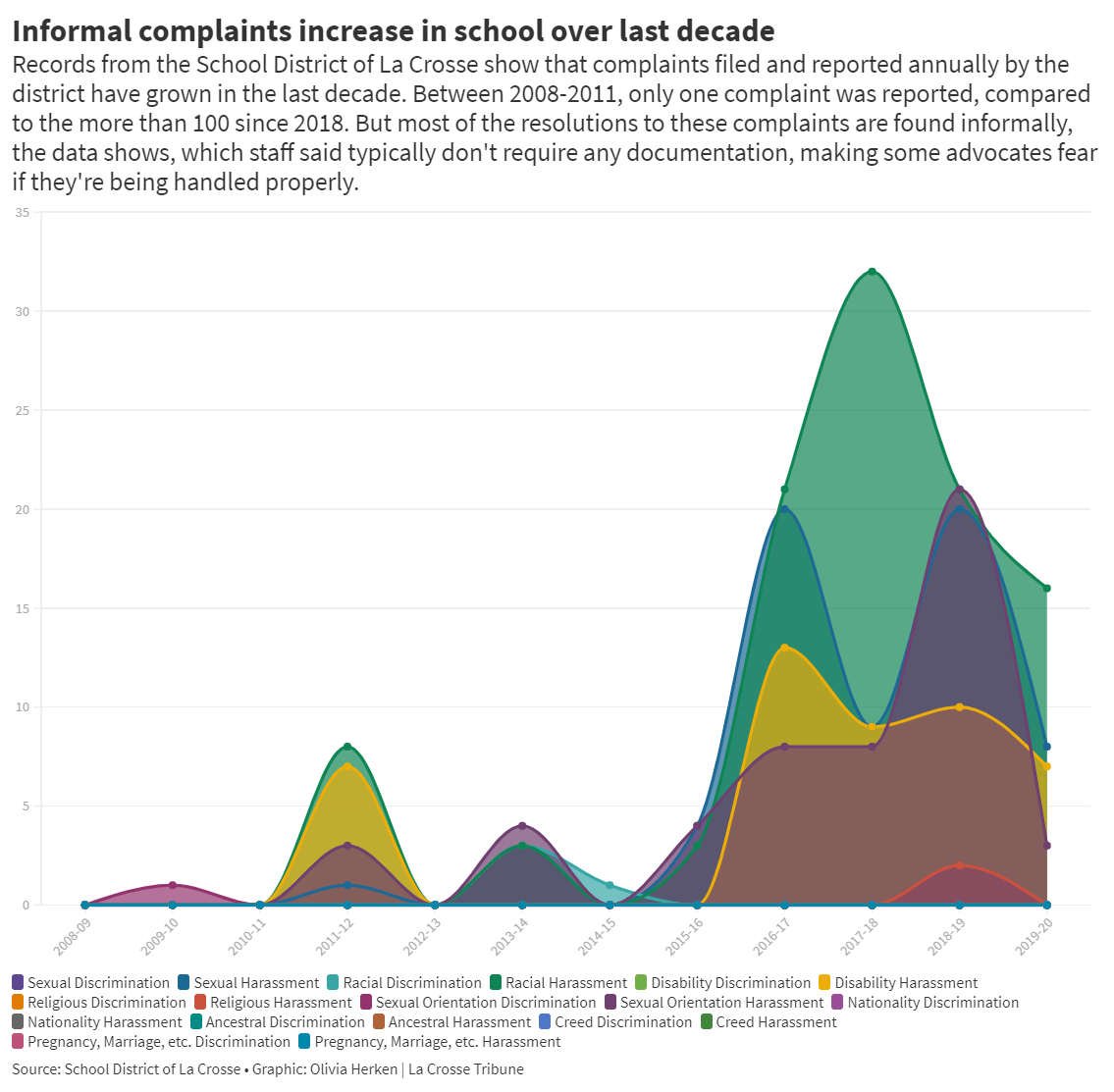 Reporting incidents of racial discrimination isn't easy in the School District of La Crosse, students and their supporters say.
There are multiple formal and informal ways, including an online anonymous format, a state-mandated reporting process and simple word-of-mouth conversations. Some of the options are complicated to follow, making for an unclear path forward.
Broadly, reporting an incident in the district can take one of two forms: reporting harassment, which is slightly less formal, and reporting discrimination, a more complex process that includes several steps and requirements from the state — though both routes have within them options for informal and formal responses.
The process of reporting harassment begins with an informal discussion. If not resolved, it then moves on to a formal process which includes more documentation, but almost none of the complaints resolved in the last decade went to that step, a records request shows.
For discrimination complaints, Wisconsin law currently requires all school districts to adopt and follow a "pupil nondiscrimination policy," a written statement that prohibits discrimination based on sex, race, religion, national origin, sexuality, ability and more. The policy is required to be written and posted in a number of different places including the student handbook, and should cover all aspects of a district's operations.
The law also requires schools to have complaint procedures in place for violations of this policy, including providing written acknowledgement of the complaint and reaching a final resolution within 90 days.
Policy unchanged since 2016
La Crosse's policy was last updated in 2016, and outlines an informal and formal process to follow when filing a complaint — both of which require written statements acknowledging the complaints at its earliest stages.
However, the district when requested was not able to provide those written statements dating back to 2008, saying they were part of the student record and not public, although some pieces are written by staff members.
The informal procedure, or the first step someone would follow when filing a complaint of discrimination, would include a person "discussing" the concern with a staff member, who then has 10 business days to investigate and reply in writing.
If the complainant is not satisfied with the reply during the informal procedure, they can then move on to the formal procedure, which has four steps of its own:
A complainant submits a written statement to the administration.

A written and signed appeal can then be made to the superintendent.

If still not resolved, another written and signed appeal can be made to the Board of Education.

Finally, if still not resolved, a final appeal can be made to the U.S. Department of Education.
One student described this process as "hidden" and not well-known as a tool for the student body in the district, and said they've only known to go through more informal channels, where they say they seldom hear back from staff. An advocate for the students, Bobbi Rathert, called it "antiquated."
Most complaints resolved early
In a records request made by the Tribune for all formal discrimination complaints made in the district between 2008 to present, the only records publicly available were annual reports it makes to the Wisconsin Department of Public Instruction with a total number of all complaints made, both formal and informal.
The staff member handling the request told the Tribune that "almost all" complaints are made verbally and are not written down, and that most are also resolved early on, which opens up the possibility that either students are unaware of the formal discrimination process that requires documentation, or — as some fear — the policy is not being followed, though school staff felt confident it was.
Throughout the formal process of filing a discrimination complaint, students and family members also face tight deadlines to report and move on to the next step, including a statute of limitations that does not allow a complaint to be filed 60 days after someone becomes aware of the incident. Every one of the steps requires written statements from both the complainant and the respondent.
Annual reports from the district show a small tally of discrimination events reported in the last decade, which has caused some to question whether the process is being handled correctly.
From 2008 to 2011, records show, there was only one complaint reported to the district, compared with more than 100 reported between 2018 and 2020. What's more, of those most recent reports, all were made using the informal harassment process rather than the documented process that, while bureaucratic, still adds some accountability to their handling.
Between 2008 and 2020, of 273 total complaints filed with the district, only five were for discrimination, while the rest were for harassment. A total of 108 racial complaints were filed, but only four of those were filed as events of discrimination.
The data shows that resolutions to complaints, like the staff member said, are almost always informal, with 257 informal resolutions and only six formal, and one resolution brought by an outside agency.
Rathert said a remark she has heard during discussions of the process to file these formal complaints is that it "reeks of white supremacy." An official with the ACLU, which is providing guidance to the students, said it's "quite complex, requiring students to go through multiple levels of decision and appeal at different levels of the district administration."
Students learning options
Aaron Engel, who is wrapping up his first year as superintendent in La Crosse, said this data shows that the reporting process in the district has historically been inaccessible, but that students are learning what options they have more clearly in recent years.
"I mean, surely from 2008 to 2011, there was more than one incident of sexual harassment, racist harassment or discrimination," Engel said. "There's just no way there wasn't.
"I would suspect that what we're seeing right now over the last three years is more representative of what happens in schools and that the way that we're reporting that is more accurate than it has been historically. With that data, what I see is students feel comfortable letting adults know that things are wrong and something needs to be done," he said.
But Engel noted that "if students feel like it is bureaucratic or there are barriers to our reporting, then we need to fix that, absolutely. We want every student to feel comfortable reporting things that happen to them at school and it is absolutely our obligation to address that and to ensure that that's remedied and that they feel safe and are not discriminated against or harassed here at school," Engel said.
Logan High School principal Wally Gnewikow echoed the same sentiments, saying that if a situation is brought to the school's attention through any means, staff follows through.
"We take each and every incident of racism extremely seriously," Gnewikow said, noting that next school year student planners will contain information on how to report an incident, and students will also receive a paper copy.
"We want to make it easier, not harder," Gnewikow said.
"If students feel like it is bureaucratic or there are barriers to our reporting, then we need to fix that, absolutely. We want every student to feel comfortable reporting things that happen to them at school and it is absolutely our obligation to address that."

Aaron Engel, School District of La Crosse superintendent