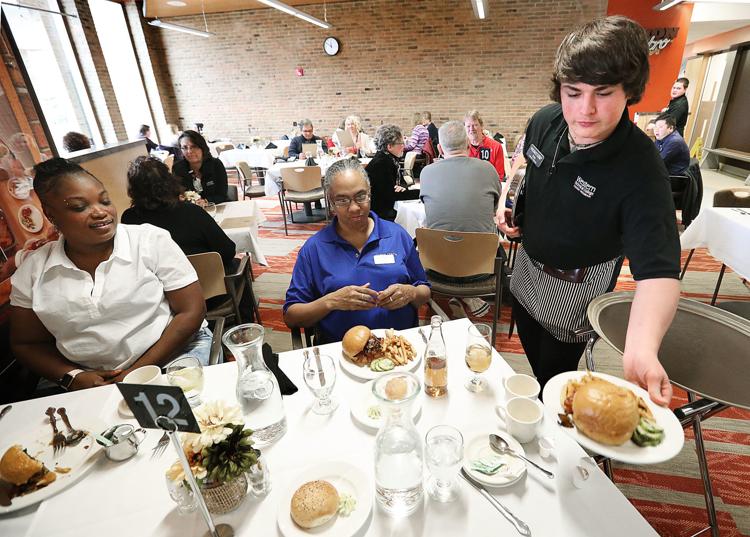 Margaret Ninneman's official title is as stiff as a week-old pastry.
So, instead of calling her "instructor," the staff at Western Technical College's student-run Union Bistro came up with a new name: "The Wizard."
Dumplings seem a bit doughy? Ninneman can help.
Can't find a butter knife? Ninneman can help.
Not sure which button to hit on the fryer? Ninneman cannot help, but she can offer some advice.
"Just wait until it beeps really annoyingly," she said. "That's the one you press."
The Union Bistro operates like any other gourmet restaurant, except that it doubles as a culinary training ground, a place where rookie mistakes become teachable moments.
Students lead customers to cloth-draped tables.
They pour ladlefuls of marinara on crispy eggplant sandwiches.
And they sprinkle parsley on chicken and dumplings the menu describes as "just like the school lunch ladies used to make … but better."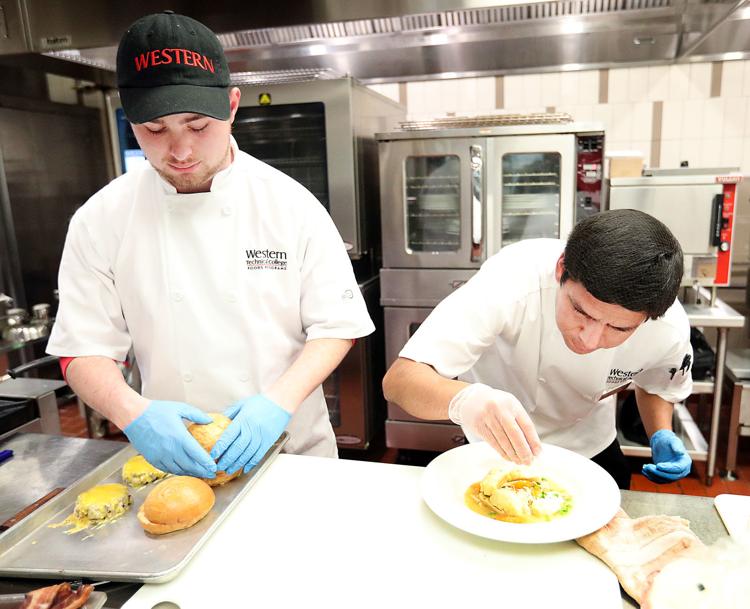 "It's good to get the feel of an actual restaurant," said Tanner Bollman, who has worked in commercial kitchens for years but was handed a humdrum assignment Tuesday.
"Today, I'm just the cashier," he said. "But it's good experience to get a sense of the different positions, to see how everything works."
The Union Bistro has existed, in one form or another, for decades. But it wasn't until several years ago, instructors say, that the restaurant hit its stride.
No longer relegated to the basement of the Kumm Center, it has a full, state-of-the-art kitchen and a sunlit dining room with seating for 50.
Tuesdays and Thursdays during the spring semester, students spin fresh ingredients and house-made components into an array of gourmet meals.
One week, the theme might be French cuisine.
The next, classic Southern barbecue.
This week's theme is "Western Corner Diner," with entrees including chorizo hash (a peppery concoction topped with eggs, avocado and sour cream) and the chef's mess burger (topped with bacon, cheese and sauteed mushrooms).
For dessert: pineapple upside down cake and bruleed maple pumpkin pie.
"We try to bring back things that do well, but also throw in some new dishes," Ninneman said. "One thing we sell a lot of is our mahi mahi tacos. I usually like to torture people, tell them it's coming and make them wait, build up the suspense."
Western's culinary program attracts all kinds of students for all kinds of reasons, none of which involve torture.
Dillon Siekert, who was tasked with shouting orders to the cooks Tuesday, said he enjoys the fast-paced atmosphere of restaurants, the way his mind "just goes into autopilot."
Pa Jai Xiong, who was garnishing and double-checking plates, said she likes being part of a team, everyone learning from one another.
And Don Culver, who made navy bean soup, said that, after working 40 years in fabrication, he got the urge to open a food truck.
"I thought about it," he said, but decided "to learn how to cook first."
The students who run the Union Bistro depend on their instructors for advice, second opinions and directions to the nearest spatula. But make no mistake, those instructors say: The students are the ones holding one another up, making the whole thing work.
"This can be a brutal industry, so it's important that we help and learn from each other when we make mistakes," said Ninneman, who taught high school English before transitioning to the culinary arts. "Whether it's diagramming a sentence or frying a burger, I love that moment when a student finally gets it, when things just click for them."
Added Deb Klug, who has taught hundreds of students in her 42 years with Western's culinary program: "We tell them that this is their restaurant. I'll only step in if there's blood and there's fire — and lots of it."
When the program works, students learn to thrive in the pressure cooker of a commercial kitchen, mincing garlic and sauteing mushrooms, slinging hash and tossing salads.
They could bring those skills home with them, introduce fine dining to the college dorms. But Bollman, this week's cashier, said there are some stereotypes — nay, traditions — he'd rather not shatter.
"Frozen pizzas are still my go-to," he said. "That hasn't gone away."
Tuesdays and Thursdays during the spring semester, students spin fresh ingredients and house-made components into an array of gourmet meals.