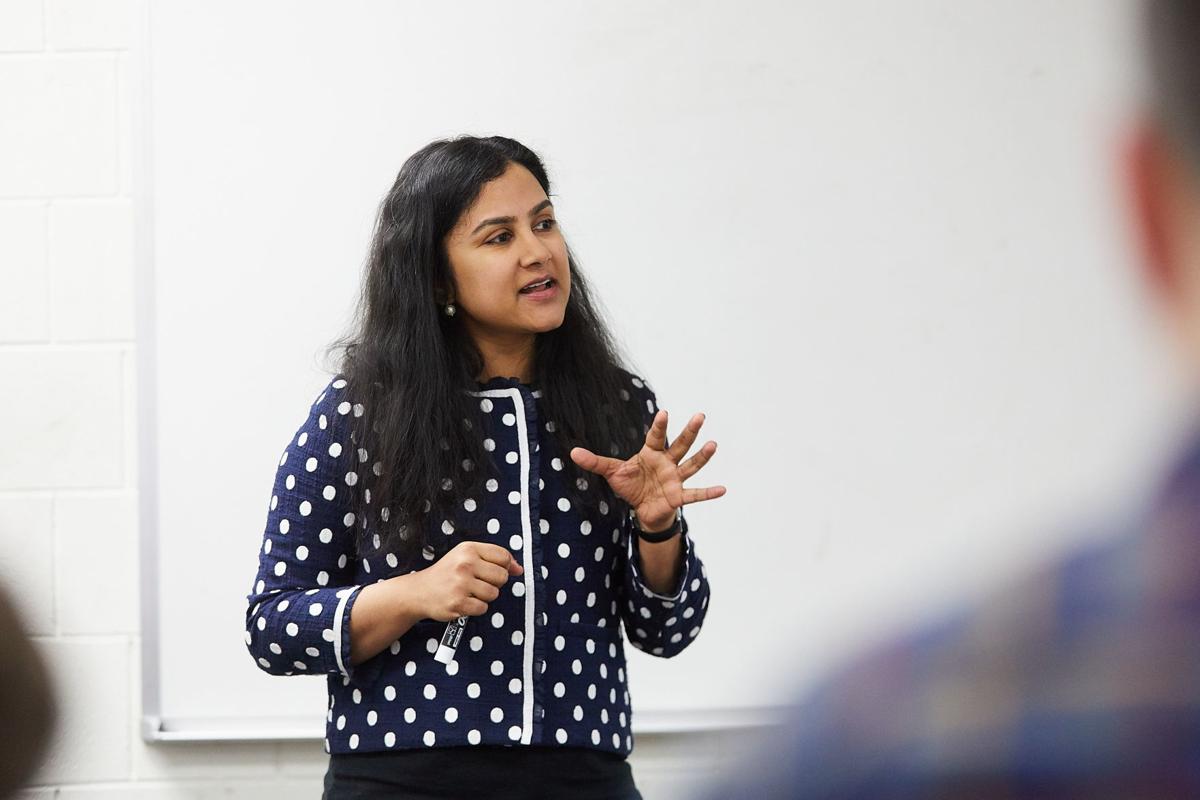 A UW-La Crosse assistant professor in the Political Science and Public Administration Department is making the grade on campus.
Shilpa Viswanath, who joined the department last fall, has been named a 2020 Section for Women in Public Administration Rising Star.
The national award, in its inaugural year, is presented to an individual in less than five years of academic or professional public service.
It recognizes those who have demonstrated outstanding potential, growth and commitment to advancing public administration and public service. Viswanath was scheduled to receive the award at the American Society for Public Administration national conference in April in Anaheim, California. With the recent COVID-19 pandemic, that has been postponed.
Viswanath moved to Wisconsin last fall for her first teaching job out of graduate school. She has wanted to teach for as long as she can remember, since growing up watching her mother, a college professor of sociology in India, teach and mentor her students with persistent compassion for nearly 35 years.
"This exposure left me with a lasting impression of what I wanted to do with my life and for a livelihood," Viswanath says. "In academia my primary identity remains that of a teacher. My research, my writing, my professional presence, all feed into my teaching."
Viswanath finds her students at UW-L excited and curious to learn about comparative perspectives of administration and policy implementation.
"This allows me to not only channelize interdisciplinary frameworks," she says. "It also allows me to channelize my experiences of being an immigrant, an international scholar and a faculty woman of color to influence my instruction in the classroom."
Teaching is strangely satisfying, she says. "To come in contact repeatedly with the rigidity of my student's opinions at the beginning of the semester and, as the weeks progress, to watch their minds uncoil and develop newly found ideological tolerance to contrasting perspectives is enjoyable."
Regina Goodnow, associate professor and chair of the UW-L Political Science and Public Administration Department, says even though Viswanath joined the department in fall 2019, she already stands out as a passionate and effective instructor who genuinely cares about student success.
"She went the extra mile in reconceptualizing one of our general education courses on women and politics to better reflect broader issues in gender, politics and policy," Goodnow said. "She is also teaching a brand-new social welfare policy course this spring. Her students have responded super well to her attention to critical reflection on important debates in public administration."
Viswanath is an active member of the executive board of the Section for Women in Public Administration of the American Society for Public Administration since 2018. While only in her second semester as a tenure-track faculty member, Goodnow says there is every indication that she will be heavily engaged in the community.
"Her work as a public administration scholar is rooted in community engagement and issues of equality and equity in public administration," Goodnow says.
The honor fits in the university's Sustaining Excellence strategic plan of advancing transformational education, highlighting high-impact teaching and learning opportunities proven to aid student success across diverse backgrounds.
Be the first to know
Get local news delivered to your inbox!