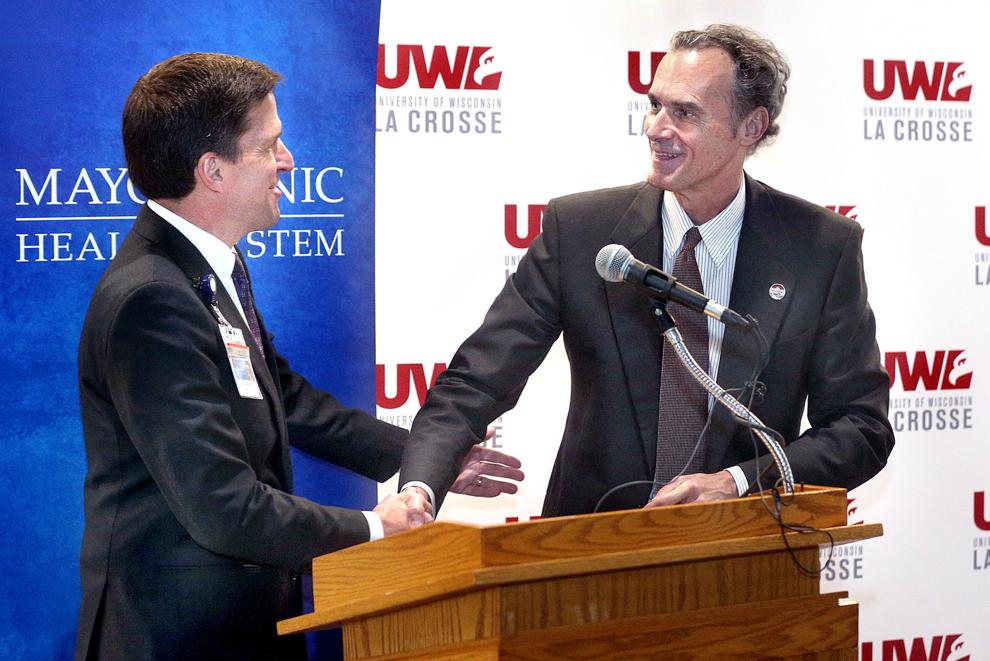 The University of Wisconsin-La Crosse and Mayo Clinic Health System have reached an agreement they say will foster research opportunities and help prepare the next generation of scientists and medical professionals.
Leaders from the two institutions announced a research partnership during a joint press conference Thursday.
UW-L Chancellor Joe Gow called the agreement "just the beginning of many similar future collaborations," while Mayo Regional Vice President Paul Mueller described it as a major boost for a region already known for its health care offerings.
"We believe this relationship will help to draw the best and brightest physicians, faculty, staff and students to the La Crosse area," Mueller said. "This agreement will benefit our patients and make life better for all La Crosse area residents."
Mueller said students and faculty at UW-L will soon be working with researchers from Mayo on a wide array of studies and subjects — from kinesiology, to nutrition, to disparities in health outcomes.
While details have yet to be finalized, teams are expected to conduct research at both Mayo and UW-L. The school's Prairie Springs Science Center, an $82 million research facility completed last year, was built with partnerships like this in mind, officials said.
"I think it's no exaggeration to say (Mayo) is the most prominent health care organization certainly in the country, and perhaps the world," Gow said. "When we travel and tell people that we do things with Mayo, people are very impressed. They know what that means.
"Being an administrator, the exciting thing for me is getting people together, providing some support and then getting out of the way. They're going to do great work, and that's what this research agreement is all about."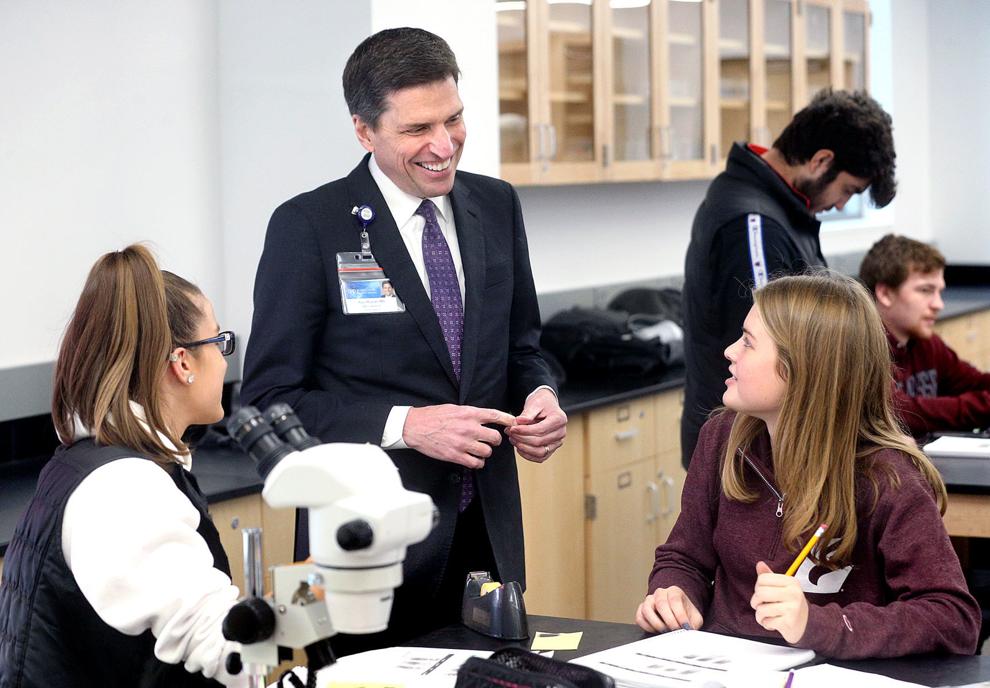 Mueller said patients will benefit from the strides in treatment and technology, while students will benefit from the hands-on research experience.
While it's commonplace for graduate students to get these opportunities, UW-L is unusual in that it affords undergrads so much time in the lab.
"For students of UW-L, this will enhance their educational experience and prepare them for today's workforce," Mueller said. "It will give you a leg up on your colleagues, and there's nothing sweeter than a new discovery. Today's research is tomorrow's cutting-edge care."
University leaders say the agreement will solidify UW-L's standing as a top regional destination for science and health students.
Roughly a fifth of UW-L's student body, 2,000 students, are pursuing careers in the health sciences. And the western edge of the university's campus is home to one of the more novel facilities in higher education, the Health Science Center.
The 170,000-square-foot center is part research facility, part academic building, part high school academy and part student medical center.
A collaboration between the city's three colleges and two hospitals, the facility is used by both established and aspiring researchers.
"When I was a college student, you learned about science. Today, students learn by doing science," said Mark Sandheinrich, dean of UW-L's College of Science and Health. "The relationships we have with Mayo and other health care providers … have allowed us to expand from education to research as well. Those relationships are really unique to our region, and they make UW-L a special place."