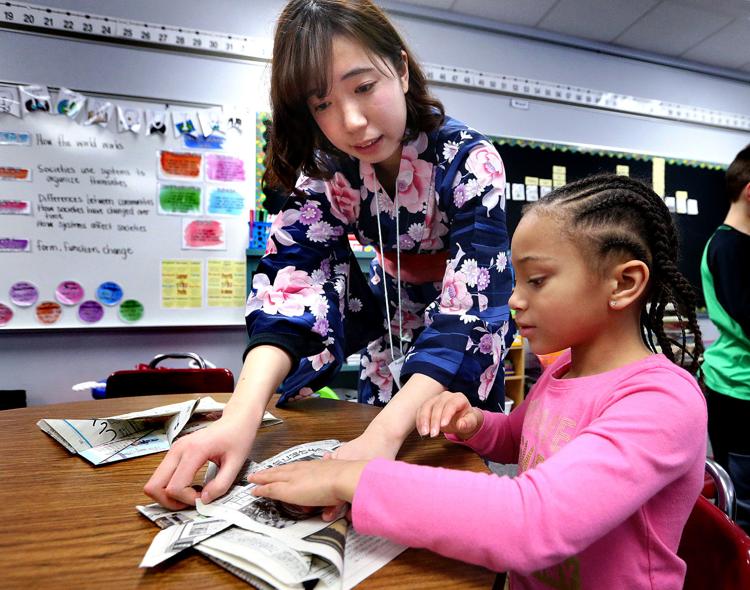 Visiting from Japan, Hagihara Yoshiki and Yamamoto Miyuki say they have deeply enjoyed their time in La Crosse — except for two things.
"The food is so sweet," Yoshiki said. "I like sweet, but it's too sweet."
"There is a lot of snow," Miyuki said. "In my hometown, I have never seen so much snow."
Yoshiki and Miyuki have spent the past two weeks here, along with a dozen of their peers from the University of Teacher Education Fukuoka — a delegation organized by UW-La Crosse's English as a Second Language Institute.
On Wednesday, the group was at North Woods International School to learn how education in America differs from education in Japan, and to share their culture and traditions with local students.
"It's great to get them into the classroom not just to observe, but to teach and participate," said Todd Jay Leonard, the group's chaperone and a professor at the university in Fukuoka. "They also have the opportunity to go out to dinner and have some free time, so they get the whole university nightlife experience."
Yoshiki, who hopes to become an English language teacher in Japan, was quick to point out the differences between classrooms here and classrooms there.
In Japan, he said, students sit in rows and work independently. Americans schools have moved away from that model in recent years, swapping desks for tables and embracing communication.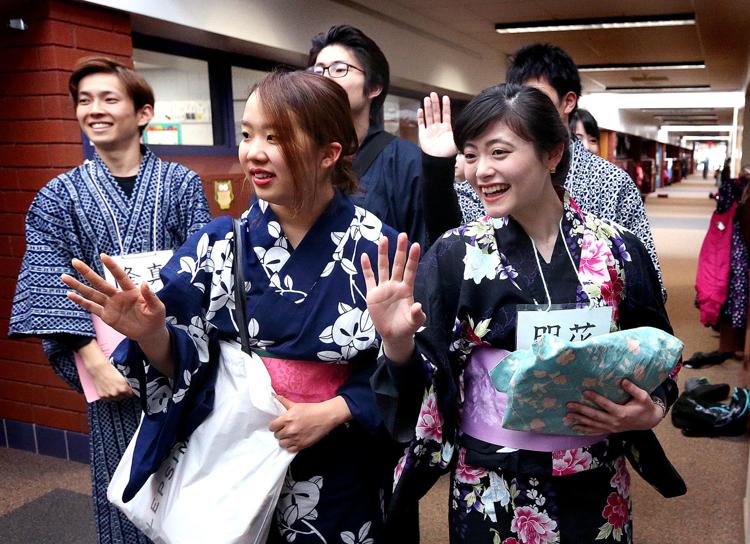 "That," Yoshiki said, "is very different."
As they wandered through the halls, the students waved into classrooms, flipped through children's books and studied the art projects hanging on the walls.
Leonard said American schools tend to be more colorful, more visually stimulating than schools in Japan. When he showed one of the students a hornets' nest, used as a prop in a kindergarten classroom, she gasped.
After exploring the school, the delegation broke into teams and gave the local students lessons in calligraphy and origami. Soon, the kids had Samurai helmets made of Japanese newspaper perched atop their heads.
A third team showed the students how to perform a traditional Japanese fisherman dance. During a break, a few of the kids started doing the floss. Yoshiki did it right back, causing an eruption of laughter.
"The people here are very kind, very friendly," he said. "It's exciting to talk to them."
The delegation has a couple more days in La Crosse. A closing ceremony, at the Hall of Nations at UW-L, is set for 11 a.m. Friday.
The students said they will miss La Crosse, but that they're looking forward to returning home, to, above all else, having Japanese food again.
"Rice," Yakishi said. "I want rice."
Tami Beran, who teaches fourth and fifth grade at North Woods, said her students would benefit from learning about Japanese culture firsthand, instead of in the pages of a book.
"It's a great opportunity to be exposed to other cultures," she said. "To learn about their traditions and their everyday life."
Fourth-grader Ryan Thurman said he was particularly fond of the Japanese fisherman dance, of the way you mimic pulling in the net and throwing a fish over your shoulder.
He'd love to visit Japan, he said, if he gets the chance.