It was not the graduation Damon Schmalzriedt had expected — there was no formal commencement, hugs from classmates or handing off of a diploma.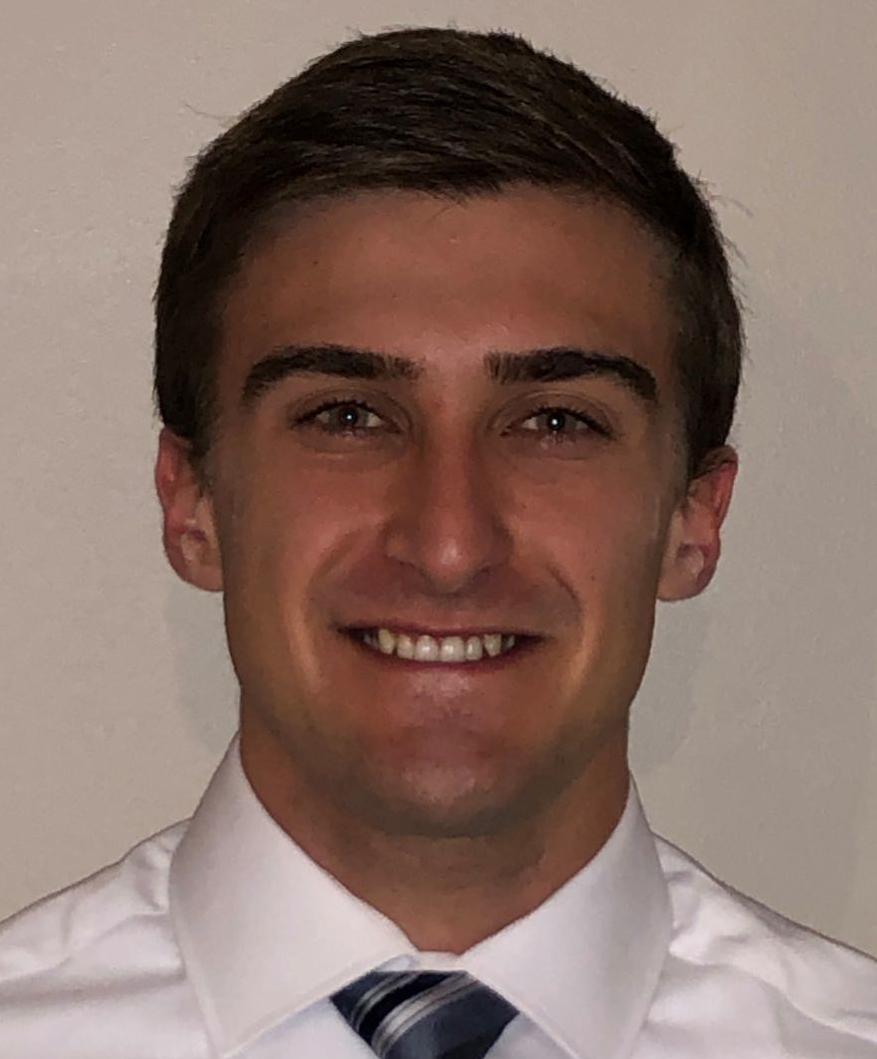 For Schmalzriedt, who earned his B.S. in biology from Viterbo University Friday, the past two months of spring semester were similarly unanticipated, with classes turning virtual due to the COVID-19 pandemic.
"It's been different and it's been a challenge," Schmalzriedt says of completing college during the COVID-19 pandemic. "The books and the assignments and the materials are the same, but learning has been flipped on its head."
Schmalzriedt, luckily, is not one to shirk a challenge.
Throughout his four years at Viterbo, he expertly balanced advanced courses, serving as an admissions tour guide, coaching the Aquinas boys wrestling team, taking part in Service Saturdays and excelling in summer research fellowships. All while maintaining an honors status and expressing an infectious eagerness.
"Definitely one of the skills I had to learn was how to use a planner and budget my time," Schmalzriedt says. "But each activity and work activity I choose has a fun component. I try not to look at anything as a chore."
Schmalzriedt, who entered college looking to pursue a physician's assistant major, changed course after a conversation with Kirsten Gabriel, director of student life at Viterbo.
It was the end of first semester his freshman year, and when Schmalzriedt mentioned he was thinking about summer jobs and plans, Gabriel suggested a research project with Dr. Christopher Mayne, pre-health advising coordinator and assistant professor in Viterbo's biology department.
"I never thought that was something I would do," Schmalzriedt says, who joined the Undergraduate Research Fellowship, conducting a project investigating pro-inflammatory cytokine IL-23 as a potential marker for later inflammatory bowel disease in a four-genotype mouse model. "That one interaction, that one gesture was huge. I like to say I'd be nowhere without Kirsten Gabriel."
Mayne was impressed, noting Schmalzriedt has an admirable tenacity and work ethic, with high expectations for himself. When Schmalzriedt approached Mayne about the fellowship, the professor asked him to find primary literature on the cytokines project.
"Amazingly, within a week, Damon returned to me having read numerous papers," Mayne says. "What was even more impressive was that he had on his own identified some of the landmark papers in the field and had particularly insightful questions about them. In my experience, this ability to quickly distill the literature and identify key remaining questions within a field is a rare skill and often requires much practice."
In summer 2018, Schmalzriedt pursued another undergraduate research fellowship, this time with The Scripps Research Institute in California, working on HIV antibody research and developing molecular and biochemical laboratory skills. This was followed by a 2019 research internship at University of the Basque Country in Bilbao, Spain, where he furthered his knowledge of HIV research.
"Most impressively, Damon conceived of this international internship himself and reached out to the researcher in Spain independently to set up this internship," Mayne says. "This is a good example of Damon's self-motivation and willingness to doggedly pursue his goals."
Showing his range, Schmalzriedt last year won Viterbo's science and mathematics Best Written Proposal award, with Mayne calling the quality of the proposal "outstanding and comparable to many of the better graduate school proposals I have read."
Schmalzriedt credits Mayne for instilling a groundedness in him and demonstrating the importance of enthusiasm for one's career.
"It's impossible to do something well without having excitement for it," Schmalzriedt says.
Mayne notes that the absence of a traditional final college semester was disheartening for the student body, but Schmalzriedt kept his chin — and standards — high.
"It is hard for anyone to not a feel a sense of grieving for the loss of an experience you had been looking forward to," Mayne says. "However, to his credit, Damon has continued to excel in his courses. Viterbo, like many other schools, has offered most of our courses for credit/no-credit instead of letter grades. With this change, you might expect the drive for a student to do their absolute best may diminish a bit. However, in my courses, Damon still recognizes the value of learning this material to take with him to the next steps, and has continued to work hard and self-motivate as he always has...Repeated success is certainly something he has made a habit of while at Viterbo."
Starting this month, Schmalzriedt is attending the Medical Scientist Training Program at the Medical College of Wisconsin in Milwaukee, training in biomedical research and medicine. Upon completion of the program he will be awarded both an M.D. and a PhD.
As a physician-scientist, Schmalzriedt will see patients as well as run and perform health-care related research, and he says he is very open to diverse specialities and possibly continuing research in HIV and virology.
While eager to continue his education, his university departure was bittersweet, especially trading a graduation walk and group photos for a Zoom commencement.
"Seeing people (virtually) is never the same as being able to shake their hand and look them in the eyes and say, 'Thank you for what you've done for me,'" Schmalzriedt says. "The piece of advice I would give is to reach out and thank people who have been a part of your journey before it's over. As we've seen (with the pandemic), we don't always get that chance. Don't wait to reach out and thank the peers and mentors who have helped (shape) you."
Mayne is among those Schmalzriedt regrets not giving last regards to in person, but Mayne has full confidence his student is ready to enter his next stage.
"Damon's strength will be his drive," Mayne says. "Even if Damon is initially frustrated by something, he will persevere to overcome it by sheer will and competitiveness."
"Each activity and work activity I choose has a fun component. I try not to look at anything as a chore." Damon Schmalzriedt
"Each activity and work activity I choose has a fun component. I try not to look at anything as a chore."

Damon Schmalzriedt