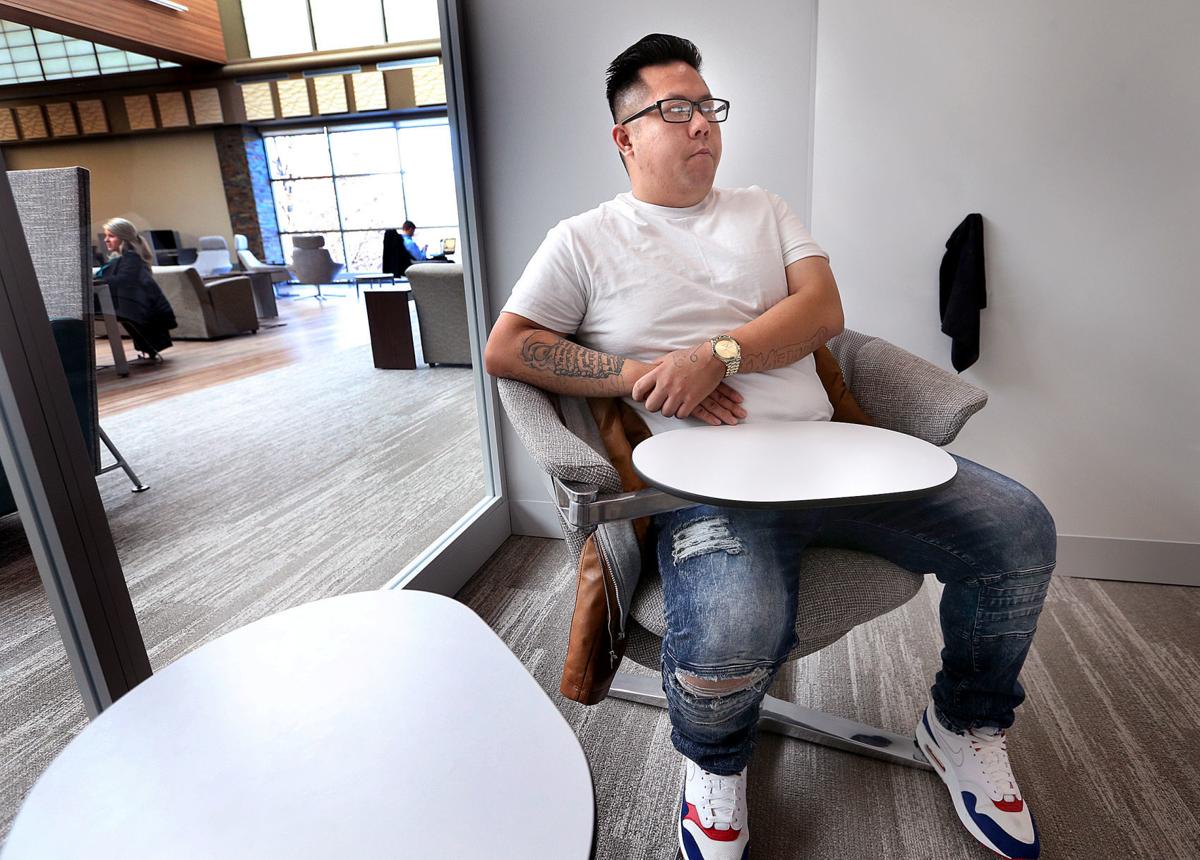 Since the day he learned to hold a pencil, Michael Vue has loved to draw.
Growing up, he'd fill notebooks with custom logos and then print them onto his bargain clothes, to make them look name-brand.
Art was more than his preferred career path. It was his life.
But Vue had a second preoccupation that threatened to unravel his first: drugs.
For a decade, Vue bounced in and out of jail as he racked up charge after charge after charge. It was a cycle of addiction and self-sabotage, he said, that never seemed to end.
Then, during a jail stay a couple years ago, Vue enrolled in Project Proven through Western Technical College. The program brings Western instructors into the La Crosse County Jail, where they help inmates communicate more effectively, write resumes and cover letters, and develop a plan for their reintegration into society — whatever they need to be successful and employable.
Vue, one of the program's high achievers, just finished his first semester in Western's graphic design program.
He's taking sobriety seriously, getting counseling from Driftless Recovery Services.
And he has plans, after earning his degree, to open his own clothing store.
"I've been doing a lot for myself and my future lately, which is something I've never really done before," Vue, 28, said. "Project Proven has given me so much confidence and set me up with all these opportunities. Without it, I really think I'd be back in prison."
Project Proven started as a grant-funded program in 2013, and has reached hundreds of La Crosse County inmates during the past six years.
Case managers from Western are in the jail 10 to 20 hours each week, working with people who are at a true crossroads in life.
Some, like Vue, have spent as much time in jail or prison as they've spent on the outside. Some never learned to read or perform basic math, and have never believed they could find steady, honest work.
"Rather than looking back into their past, we want these men and women to look forward to the future and really create their own future," said Colin Walsh, Project Proven's program coordinator. "We're trying to create that momentum right as they're getting out of jail, so that we can either connect them with an employer or get them enrolled as a Western student. The more things we can connect them to, the more they'll have to lose."
Over the years, Vue had his share of false starts as he tried to get sober and make something of himself.
Every time he seemed to have a little traction, he said, he'd feel the urge to get high again. In short order, he'd be back in jail, and his dreams would feel that much more unattainable.
You have free articles remaining.
"I couldn't understand why I was making these impulsive decisions, even though I knew what the consequences were," Vue said. "Finally, I decided to start learning about myself, start acknowledging that I had an addiction. I still get those urges, but now I have people I can talk to about them."
Vue initially saw Project Proven as a good excuse to get out of the blocks, if only for an hour or two.
Sitting in class, though, he was quickly struck by the authenticity of his case manager, Dillon Mader. Mader, he said, didn't just lecture inmates about employment skills or give them brochures for addiction treatment centers. He seemed to have a genuine interest in them.
"Every time I talked to him, it felt like I was the only one and that I really mattered," Vue said. "He helped me set goals for myself, and every time I reached one, it gave me more confidence. It was easy to continue with it after I was released, because they gave me hope."
While inmate education programs are common in prisons, they're exceedingly rare in jails, because turnover is so high and so rapid. The average stay in the La Crosse County Jail is 10 days.
Western circumvents this issue by targeting people who are in jail not for weeks, but for months, and who show a willingness to improve themselves.
This fall, Western's Credit for Prior Learning program awarded college credit to three inmates who had demonstrated a range of competencies by completing an interview and a personal portfolio.
It's believed to be the first time someone has earned college credit while incarcerated in La Crosse County.
"It's a foot in the door that can help people make a big change in their lives," Mader said. "A lot of these people … their parents had nothing, and so they have nothing. No housing, no clothes, no food. This gives them some momentum before they even hit the ground."
Mike Kiefer, the program coordinator in the La Crosse County Jail, said he's already noticed a change in perspective among some of the inmates.
"A lot of them used to say, 'I'm a convicted felon, and I'll never find a job,' " he said. "But with Project Proven — and the improved economy, too — you rarely hear inmates talk like that. They call each other out and say, ' There's plenty of jobs out there. You just need to work for it, and you can get a decent job for yourself.' "
As he chases his own aspirations, Vue hopes he has spent his last day behind bars. A decade of his life wasted, he said, is more than enough.
But crime and punishment are still a part of his life — and not just because he's participating in the county's drug court program.
While many of Vue's family members have embraced him and applauded his efforts to change, some have not, because they are in prison themselves.
Vue has two brothers who are currently serving sentences and a third who, while free now, is frequently getting in trouble.
"I'm trying," he said, "to set the best example I can for them."
"Rather than looking back into their past, we want these men and women to look forward to the future and really create their own future."

Colin Walsh, Project Proven's program coordinator.