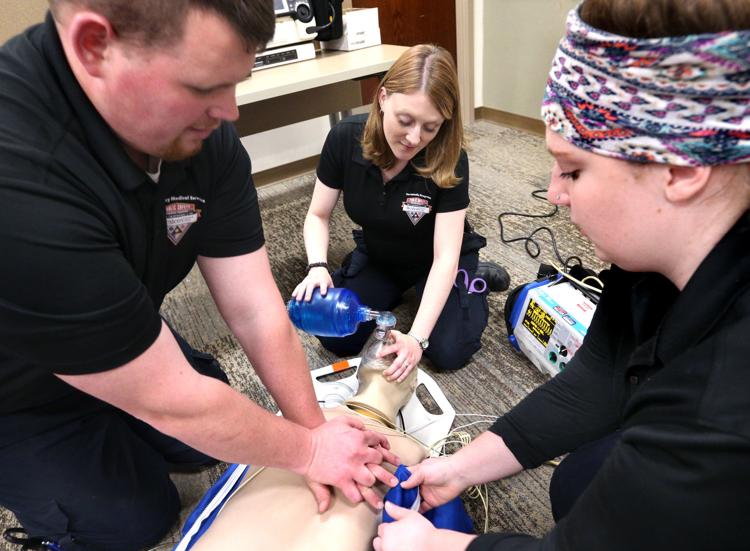 One patient after another, Nathan Allen does his best to cheat death.
"Everything we do is to fight the Grim Reaper," said Allen, an emergency medical technician with Tri-State Regional Ambulance, part of Gundersen Health System. "Sometimes you win. Sometimes you lose. You just do everything you can to help that person, and then you go on to the next one."
Allen is one of 10 EMTs hoping to make progress in that fight by taking an accelerated paramedics course at Western Technical College, which ends with a round of certification tests on Saturday.
Offered on a trial basis this year, the course allows students to earn their paramedic certification in nine months instead of 12, an abbreviated timeline meant to help rectify a local paramedic shortage.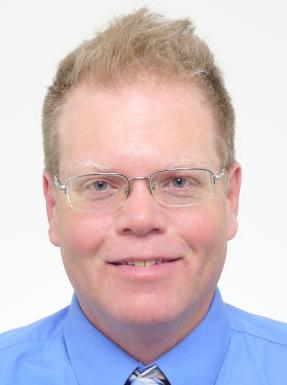 "There's a shortage not just locally but nationally," said Tom Tornstrom, executive director of Tri-State. "We're getting busier and busier, our response volume is going up, and we need to keep up with the demand. Our paramedics all have to work a little bit harder to do that, so this is a real win-win for us."
Tri-State employs about 35 EMTs and about 75 paramedics — each slightly below the ideal number, Tornstrom said.
EMTs, who typically receive between 100 and 150 hours of training, provide basic emergency care.
Paramedics, who go through 1,000-plus hours of training and must pass written and practical tests, provide basic and high-level treatment, including administering medication and performing advanced patient assessments.
Students in Western's accelerated paramedic course say they want that extra certification not just for the higher salary or stature, but so they can do more for patients.
Allen, who's based in Bloomington, said he's naturally driven to help people, especially in high-pressure, life-or-death moments.
"I've always wanted to work in a fire department or rescue squad situation," said Allen, 30 who also spent time in the National Guard and was deployed in Afghanistan in 2012-13. Perhaps the hardest part about being a first responder, he said, is when "there's nothing you can do for a patient, and you just feel helpless."
Samantha Lamberson, another soon-to-be paramedic who's based in Arcadia, said she's wanted to be a paramedic from the time she was young. Her first call as an EMT was a fatal car accident — the kind of event she finds both sobering and adrenaline-inducing.
"I like the thrill of it. Every day is different and you don't know what it will bring," Lamberson, 25, said. "The joy, I guess, of living in a small town is you get to hear things like, 'Thank you. You saved my mom's life.'"
Western officials say the accelerated paramedic course is a work in progress. Few — if any — schools in the Wisconsin Technical College System offer something like it.
Kevin Dean, dean of Western's Health and Public Safety division, said the course could be offered in future years, assuming there's enough funding and this initial cohort is deemed a success.
Western was able to do a trial run this year because of a $150,000 workforce development grant from the state of Wisconsin.
"I believe it's been very successful, and we'll be able to look at what went well and what didn't work well, so we can improve the next time," Dean said. "The need for paramedics is so great. Anything we can do to help, we're going to do."
---
Meet some of the outstanding nurses in the La Crosse and Winona area
Nurses provide exceptional care in the La Crosse and Winona area. Every day at all hours, they show caring compassion and dedication during what can be terribly trying times for patients.
That commitment to excellence is behind "Nurses: The Heart of Healthcare," sponsored by the River Valley Media Group.
We asked for nominations of outstanding nurses.
More than 120 nominations poured in — heartfelt praise from patients, co-workers and others who have been inspired by the outstanding service of the terrific nurses who serve us in the La Crosse and Winona area.
A panel of judges selected 10 nurses who stood out for their outstanding service and patient-first compassion.
Those outstanding nominees below. Then came the really hard part — selecting the nurse of the year.
Alyse Betchner, an oncology and hospice nurse for Gundersen Health System, receives our inaugural nurse of the year honor.
What makes her work exceptional? Constant commitment.
"I think that's why so many of us are good nurses, because we can't shut off the work and home," she said. "We sit around and think about patients all the time, hope they're having a good day. Even if we can't be there, we're still thinking about them."
The top nurses were selected by a panel that included:
Tim Kotnour, president, State Bank Financial
Ryan Smith, general manager, Dahl Subaru
Joanne Sandvick, project manager, La Crosse Medical Health Science Consortium
Josh Trust, publisher/president, River Valley Media Group.
The nurses were honored at a gala May 8 at Court Above Main in La Crosse.
Sponsors of the event included Gundersen Health System, Mayo Clinic Health System, Winona Health, Dahl Automotive and 4 Sisters.