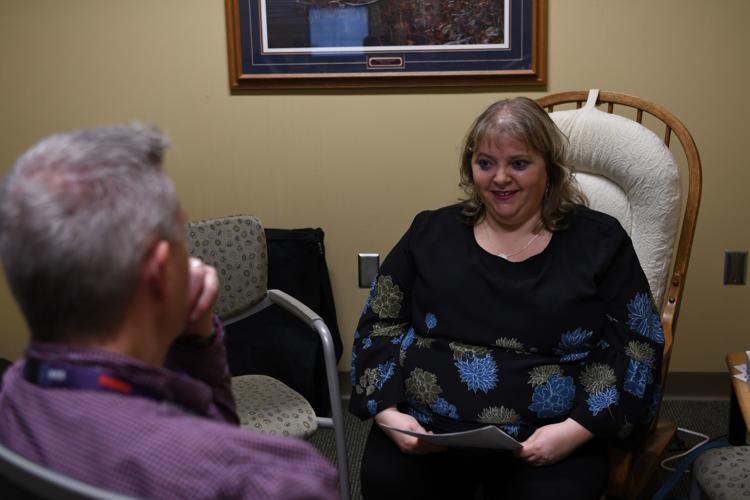 Michelle Caley is always on the run. As a mom, holder of two jobs and student at Western Technical College, her life is always filled with something. A marketing student with several online courses, Western's program offers flexibility in an already hectic world.
Being a single mom while juggling two jobs and college also requires Caley to be careful with her finances.
"I have my money budgeted. There isn't a single penny extra to go anywhere," she said. "For me to go back to school, it was a big struggle."
As part of her online class this fall, Caley was required to watch several videos. Those videos, however, were eating into her paid internet service, and quickly becoming a problem.
"I pay $45 a month for internet and I was running out of data, and I was 15 days out from my pay cycle," Caley said. "I didn't know what to do. I was coming into work early trying to do my assignments before I punched in. I was just struggling with everything on my plate."
Students come to Western with a variety of financial needs. In cases of an unexpected financial hardship, there are several ways Western can assist. For instance, Western offers emergency funding to help with expenses such as car repairs or housing expenses. Transportation assistance is also available for students who are commuting long distance for class. The Cavalier Cupboard, Western's on-campus food pantry, provides access to nonperishable food and hygiene items.
You have free articles remaining.
Register for more free articles.
Stay logged in to skip the surveys.
"Many people do not realize that Western can help if an emergency occurs in a student's life," said Lyndsey Thomas, financial literacy coordinator at Western. "When a student comes to us, there are several ways we can help. It's simply a matter of determining which avenue to pursue, and whether a student is willing to come forward."
Caley shared her frustrations with a counselor at Western. After looking at her case, the counselor determined that Western's Fast Fund, a new grant provided to Western's Local 3605 American Federation of Teachers union, would be the best route to provide emergency funding in Caley's time of need.
She was awarded $100 as part of the program, and used the funds to help her pay her internet bill. That money, she says, was the difference in whether she continued her education.
"I would have had to drop a class (without the funding)," Caley said. "For me, to not have to drive to campus at night, means a lot. I can still spent that time at night with my kids."