La Crosse area students will have plenty of pull in Wisconsin's higher education systems.
Gov. Tony Evers has selected Western Technical College student Cooper Richason to sit on the Wisconsin Technical College System Board as its lone student representative, a move announced Monday.
The selection follows Evers' appointment of Olivia Woodmansee, a UW-L student entering her third year, to the UW System Board of Regents.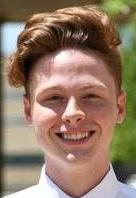 Both appointments must be confirmed by the state Senate.
"I am very honored and humbled to be appointed to this position and to have the responsibility of representing all technical college students," said Richason, a native of Trempealeau. "Few things have the power to lift up struggling students like education, and I want to ensure that every student receives the opportunities and assistance necessary to succeed."
You have free articles remaining.
Serving on the WTCS Board, he added, "is a great opportunity for me to network and grow as a person."
Richason is entering his second year in the associate of science-liberal arts program at Western, and plans to go on to UW-Madison to study economics. After college, he'd like to work in the public sector or become a politician, he said.
Richason made an unsuccessful bid for the Gale-Ettrick Trempealeau school board in the spring of 2018 and was elected Western's student body president in April.
He comes to the WTCS Board, which oversees the system's 16 technical colleges, with an open mind but a keen appreciation of the challenges students face, he said.
"The biggest issues I see are with affordability. I would say the total cost of (attending) technical college is fairly affordable, but there are still students who aren't able to afford it," Richason said. "I don't believe in cutting tuition, because I think that has a negative effect on quality. But I think we can decrease some of the peripheral costs — make textbooks and transportation more affordable."
This week, Richason will be in Madison for WTCS Board orientation. If he's confirmed by the Senate, his term will expire in May 2021.
Comprised of 13 members, the WTCS Board establishes statewide policies and standards for the system's technical colleges, and is responsible for administering state and federal funding among the campuses.