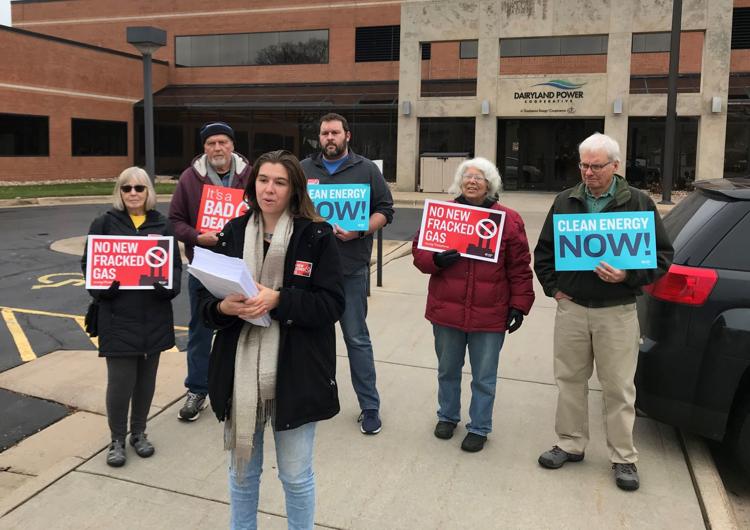 Clean-energy advocates served Dairyland Power Cooperative a box full of petitions on Wednesday, urging the La Crosse-based utility company to rethink plans for a new natural gas plant.
Leaders from the Sierra Club and other environmental organizations hand-delivered the stack of petitions, which were signed and annotated by more than 1,100 area residents.
The original petition calls on Dairyland to abandon the $700 million Nemadji Trail Energy Center project planned for Superior, Wisconsin, and end all of its investments in fossil fuels.
"I'm in favor of clean energy and moving away from fossil fuels just because of the effects on climate change," said Patrick Wilson, chair of the Coulee Region Sierra Club. "We're seeing a lot of that here — all the flooding, and the Mississippi River was at record highs all summer. Dairyland ought to be building more renewable energy plants, rather than investing in new fossil fuel plants."
The group said Dairyland's proposal is particularly troubling because it comes at a time when other utility companies, including Xcel Energy, have announced plans to be carbon-free by 2050.
"There are so many reasons not to do this," said Cathy Van Maren of the Sierra Club. "Yet, they insist on doing it."
Dairyland officials on Wednesday defended the company's commitment to clean energy, calling the Nemadji Trail project a bridge to renewable energy sources including solar, wind and geothermal.
"The Nemadji Trail Energy Center is a cornerstone of our sustainable generation plan to continue to diversify our energy mix," said Nathan Franklin, who works in external and member relations at Dairyland. "We're a renewable energy leader in the Upper Midwest, and we're the leading solar utility in the state of Wisconsin. Nemaji Trail is important not only to support our current renewables, but the next (clean energy investments) in our short- and long-term future."
Katie Thomson, the company's senior communications specialist, said the project will help mask the shortcomings of other, renewable energy sources. On a cloudy and windless day, for example, natural gas will provide the energy that solar and wind cannot, she said.
The project is in the hands of state regulatory agencies.
The Wisconsin Public Service Commission is expected to approve or block the project in the next few months.
The Minnesota Public Utilities Commission has approved the project, although the state Court of Appeals is considering a legal challenge to that decision.
If the project clears those hurdles, Franklin said, construction will begin in 2021 and wrap up within three to five years.
But advocates of clean energy say they will do whatever they can to ensure that crews never break ground.
They fear that the plant will be obsolete the moment it is built, and that ratepayers will be left to pay the financial and environmental costs.
"There is no bridge to clean energy," said Ben Wilson, an organizer with Citizen Action of Wisconsin. "If we want to move to solar, wind and geothermal, we have the technology to do it right now."
Get local news delivered to your inbox!
Subscribe to our Daily Headlines newsletter.