When it comes to cost, not all colleges and universities are created equal.
According to federal data, students can face widely different costs at La Crosse and Winona's institutions of higher education. Those differences are most significant for low-income students, for whom the cost of college is a significant portion of family income.
Very few college students pay the sticker price, thanks to scholarships, grants and financial aid. Instead, federal officials look at the net price, or the average cost students and their families pay to attend an institution.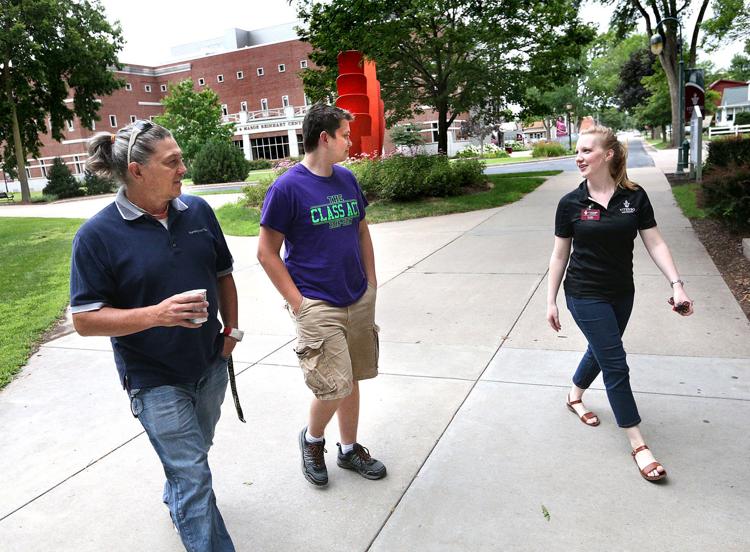 Low-income students — those whose family income is $30,000 or less — pay the least to attend college, from $7,842 per year at Western Technical College to $14,352 at Viterbo University. But for those families, that cost translates to between 65 percent and 120 percent of the $12,000 median family income, meaning anything not covered by grants and scholarships usually racks up as student loan debt or long hours of work by the student who's also trying to go to college full time.
These statistics were the focus of a report by the nonprofit Institute for College Access and Success, which looked at the net price and the hours of work required to cover that cost at public two-year and four-year institutions across the country. The report found that U.S. families that earn $30,000 or less would spend 77 percent of their total income to cover the average net price of going to a four-year school and 50 percent of total income for a two-year school — more than double the burden placed on any other income group.
"College prices alone don't tell you whether they're affordable for a given family," Debbie Cochrane, vice president of TICAS and report co-author said. "The net price of college may be lowest for the lowest-income families, but a family living on $30,000 per year cannot realistically devote more than half of its income to college and still cover basic necessities."
A number of factors influence the cost of college, as well as the net price students pay. Some of the biggest ones are the amenities, resources and services campuses offer their students, campuses' reliance on tuition and tax dollars to remain operational, and the amount of grant and scholarship aid colleges can offer students to offset costs.
"We know private college tuition is expensive," Viterbo University President Glena Temple said. "But these things provide benefits for all students."
Costs a big hurdle
Minnesota State College-Southeast in Winona has the same net price for a low-income family, $13,600, as Saint Mary's University, a private university with a much higher sticker price. The net price at Southeast is more than the median annual income for low-income families and is even higher than the net price students in the next highest income bracket paid.
For those families, the $12,953 net price constituted less than 35 percent of the family's median annual income. And at the highest income bracket, where students receive the least need-based financial aid, the $18,547 net price of attending Southeast was less than 14 percent of the median annual income of families making $110,000 or more.
Students also tend to cluster at the lower income brackets at Southeast compared with the region's other campuses. More than half of the two-year college's students receive Pell Grants, which are given only to students whose families fall in the $30,000 or less income bracket, compared with 32 percent at Western and 27 percent at Winona State University.
Part of the reason Southeast costs more for low-income students than its peers — the college's net price is nearly 75 percent more than Western's for the same income bracket — is the different way two-year colleges fund themselves, Southeast's Vice President for Student Affairs Nate Emerson said. Along with tuition and state funding, Wisconsin technical colleges also levy local property taxes, which Emerson said is a big reason tuition and fees were $3,779 in 2016 at Western compared with $5,618 for Southeast.
"Tuition is cheaper in Wisconsin," Emerson said. "Western beats the pants off of us."
Those cost differences were one of the big factors that led Janessa Kurderer, 21, of Cashton to attend Western to study accounting and business management. Pell Grants and Western's low cost, combined with financial aid such as a work-study job in the financial aid office, mean she hasn't had to take out any loans to pay for school.
The work-study money helps cover expenses such as the gas needed to drive to school from her home in Cashton. Because college is so expensive, having these financial aid options was important to her as she works toward graduating in the spring of 2018.
"To me, it definitely is a relief (to be without debt)," she said. "I won't have that hanging over my head after I graduate."
Rising fees, rising costs
The average net price for a low-income student at a four-year public university in Minnesota is $9,634, according to the TICAS report. At Winona State, that amount is $12,006, and graduates of WSU left the university with an average student debt load of more than $35,000 in 2015, the highest among all the public universities in the state.
According to WSU's website, students will pay $7,377 in tuition for the 2017-18 school year along with more than $2,000 in student fees. Nearly half of those fees go to support the E-Warrior Digital Life and Learning Program, which Vice President for Student Life and Development Denise McDowell said is unique to WSU and one of the biggest reasons WSU costs more.
At a cost of $485 per semester, students are provided a leased laptop — either an HP Elitebook or a MacBook Pro this year. Some academic programs also offer students iPads. The fee also covers software and support costs and pays for the campus' IT infrastructure, such as wireless coverage.
You have free articles remaining.
Register for more free articles.
Stay logged in to skip the surveys.
With retail prices of more than $1,600 for the Elitebook and $1,200 for the MacBook Pro, the devices WSU provides students are considered premium by tech industry publications such as PC Mag and TechRadar. Those sites generally recommend ASUS brand Chromebook or Ultrabook laptops for general use in their college buying guides, and those models retail between $300 and $600 including software.
Students are given a new device every two years but do not get to keep the equipment, except after graduation, when they can purchase their most recent laptop for an additional fee. The high debt load and net price students experience at WSU are a concern, McDowell said, but it's a difficult problem to solve.
The laptop program is wildly popular, with nearly 90 percent of students giving it a favorable rating. In a technologically-driven world, these tools help students succeed academically and get ready for careers.
"You have to look at the total investment," she said. "It is a passport to future career opportunities."
Tone'y Lock, a 22-year-old exercise science major at WSU agreed that college is expensive. Financial aid, including a Pell grant and scholarships, takes a big chunk out of it, but Lock still expects to graduate with more than $10,000 in student loan debt.
She said she wasn't too worried about the debt and that her focus as a student was to stay on track for a career after graduation. She plans to become a personal trainer and go graduate school to become a physical therapist.
As for the laptop program, Lock said she really enjoyed having access to the technology as a student.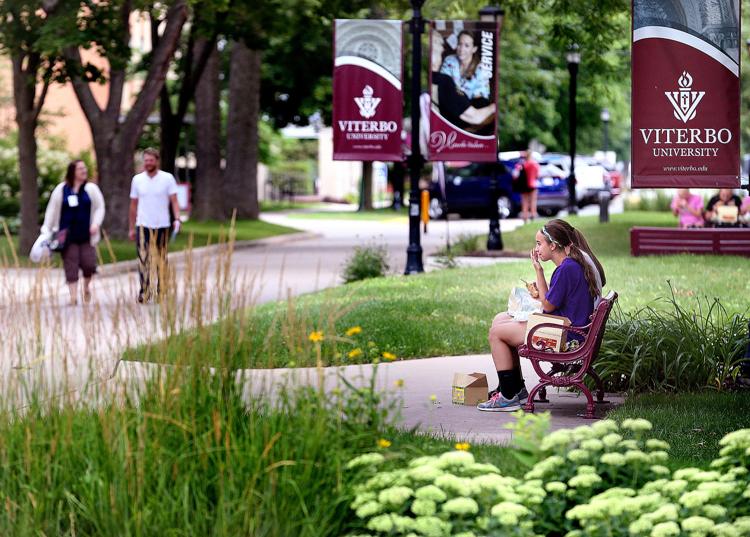 "I feel there is a lot of worth to it," she said. "I would continue to put money into it."
A balancing act
At $14,352, Viterbo's net price is the highest of the six college and universities in the region and is almost 20 percent more than the median annual income of a low-income family. Viterbo is among the colleges that don't report on the amount of debt students graduate with. But to graduate debt-free with no other financial support, a low-income student would need to work nearly 50 hours a week at a minimum wage job during the school year.
A low-income University of Wisconsin La Crosse student would only have to work 30 hours per week during the school year to cover the net price, while a Western student would only have to work about 26 hours per week. With nearly a third of students receiving Pell grants, President Temple said she understands there is a lot of juggling required to keep Viterbo affordable, accessible and responsive to students' needs.
Viterbo has a long history of serving low-income and first-generation students, and the university's most recent strategic plan calls for recruiting Hispanic students who statistically tend to fall into those two groups. But because of the diverse student population at the university, Temple said, the discussion of costs has to focus on more than just price.
Part of walking that fine line is providing resources and support for students such as tutoring services, paid internships and summer research opportunities. Viterbo also offers small class sizes of around 16 students, which costs money but helps students graduate on time.
At Viterbo, the average gift aid is around $15,000 for a full-time freshman, and the university does its best to keep tuition low, with the second-lowest tuition rate of private four-year schools, according to TICAS data. Paid internships, another strategic initiative, help increase equity and access for students who might not be able to enroll in a program with an unpaid internship.
Viterbo is ranked among the top 10 in the nation for graduates obtaining high mid-career salaries and finding meaningful occupations. All these reasons low-income families see the value in Viterbo, Temple said.
"We are very proud of having a long history in that marketplace," she said. "We can't just give access to students. If we don't provide services as well, the chances of graduating are much lower."
A Minnesota Occupational Grant helped For Carly Bruemmer stay out of debt. A 19-year-old criminal justice student at Southeast, Bruemmer said some of her peers have had a hard time paying for school without going into debt.
The program, open to Minnesota high school graduates, covers remaining tuition and fees after the Pell Grant and Minnesota State Grant have been applied. Because her family's income was too high for a Pell Grant, the program was a godsend.
Some students are always just one financial setback from dropping out to work, Southeast's Emerson said.
That's something Bruemmer said she feels could have happened to her without the grant helping her pay for college. Working extra hours can put a lot of stress on a person who also has to fit in classes and homework, causing academics to suffer, which could in turn affect eligibility for scholarship aid.
"Not having student loans has made it a lot easier to focus on school work," she said. "It is a much better work-life balance."
College costs by the numbers
| Institution | Net price | Percent of family median income |
| --- | --- | --- |
| Minnesota State College-Southeast Technical | $13,600 | 113.01 percent |
| Saint Mary's University of Winona | $13,600 | 113.01 perecent |
| University of Wisconsin-La Crosse | $8,692 | 72.23 percent |
| Viterbo University | $14,352 | 119.26 percent |
| Western Technical College | $7,842 | 65.17 percent |
| Winona State University | $12,006 | 99.77 percent |