BLACK RIVER FALLS — When Sunny Rufsholm got the role as Emma Carew in last year's Black River Falls musical "Jekyll and Hyde," she felt like the person she was impersonating was in many ways like herself.
"I am not the weak young thing
Someone 17, obedient and sweet.
These lyrics from the song "Emma's Reason" in "Jekyll and Hyde" ring especially true for Rufsholm because she doesn't want anyone to see her as "a weak young thing" with a disability, but instead wants to show people that she is just like everyone else.
"She has been quite assertive that she doesn't want to be treated any differently," Black River Falls choir teacher Joe Phillips said. "I think that garners her a lot of respect from her teachers and from even her peers just because she is not asking for special treatment."
Rufsholm was born with four fingers on her left hand pointed inward at a 90-degree angle. Surgeons removed her pointer finger and made it into a thumb so she could grip some things. They also rotated her hand outward so it was straight and her left arm is missing the ulna bone, which is one of the larger bones on the lower half of the arm.
During her freshman year, Rufsholm endured incredible pain when her arms started growing and causing her left hand to begin pointing inward again. She also developed fibromyalgia.
To fix the issues, surgeons had to put another plate in her arm to make her hand straight again, so today she can no longer do simple things with her hand like wave it back and forth or make a peace sign.
Rufsholm's ability to overcome these setbacks is why she is the La Crosse Tribune Extra Effort Award winner from Black River Falls High School.
Despite being under constant pain and missing a lot of school that year, Rufsholm made sure she was being treated like everyone else.
"In my freshman year, I had more struggles because I was going through some pain at the time. It was kind of hard because I didn't want to put that on other people," Rufsholm said. "I am someone that likes to keep it to myself and that can be hard when you are experiencing a lot of pain, but in a sense it made me stronger that year because it showed me that I can handle things that most people don't have to deal with."
Even though Rufsholm had every right to be treated differently during her surgeries that year, she put it on herself to make sure she didn't fall behind.
"When I had her as a student, she had to miss two weeks to get surgery done and she was home sick. She would be emailing me every day," Black River Falls math teacher Laura Christenson said, adding that Rufsholm would ask to get notes and questions during that time to make sure she didn't fall behind.
Rufsholm has learned through her own experience that you need to treat everyone the same.
"I just think if you treat someone differently because of a little thing, then it isn't fair to them because you are not giving them a chance. So I try to do that myself with other people around me," Rufsholm said.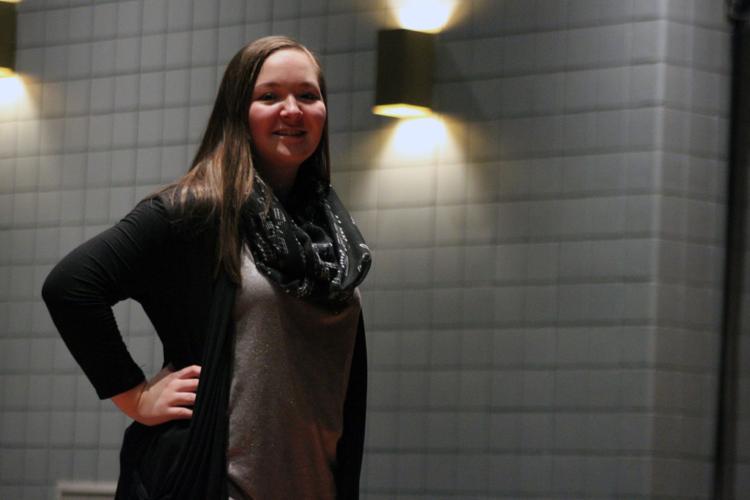 Music leads to confidence
As a child, Rufsholm was scared and shy until she sang the National Anthem before a wrestling tournament in fourth grade.
"That started building my confidence," Rufsholm said, adding that many people in the community would tell her that she did a good job. "Having a support system behind you within your community is really nice."
Rufsholm has been singing the National Anthem at that wrestling tournament ever since, until this year when she had to sing at an audition to get into the Music Department at Viterbo University the same day. She was accepted.
As Rufsholm's love for music has grown, she has found more reasons to fall in love with the craft.
"Music makes you feel something in a way that nothing else can tie people together. Everyone has a different feeling based off of music," Rufsholm said. "For me, music is the way that I can express myself, and I feel like I am in my element and people don't see me as a person with a deformity."
While music has given her self-confidence, Rufsholm has not always been confident about her appearance.
Before her lead role as Emma Carew last year, Rufsholm was self-conscious that they were not going to want someone with a deformity who didn't look like the perfect person you see on TV or Broadway.
"There was some of that insecurity when I was going through that audition process, but last year gave me a boost of confidence with getting a lead role and even wearing dresses that showed it," Rufsholm said.
It is because of the perseverance to push herself past these moments of insecurity and struggles that Rufsholm stands out to her teachers.
"The biggest thing I see from Sunny is her determination, and her wanting and willingness to succeed no matter what. Any hurdle I have seen in the past four years she has always pushed to overcome it," Christenson said.
Rufsholm is dedicated to the Music Department at the Black River Falls High School, from musicals, the hand bell choir, chamber choir, a capella choir and a performer at state for solo ensemble every year since eighth grade.
Rufsholm also makes sure that she is always ready for her roles because she doesn't want to let anyone down.
"If I don't put a good amount of time in for myself, then it is not going to work out for everyone else as well," Rufsholm said. "I don't want to do that because you are not only being a failure to yourself, but you are being a failure to everybody else."
Christenson saw that last year as the co-director of "Jekyll and Hyde."
"Last year, we gave her a lead role in the musical, and she came to rehearsal knowing everything that she needed to know about her part. We had very little that we had to do on our end — we just tweaked things," Christenson said.
Rufsholm's experience with musical theater has made it her favorite style of music, "You get to put on a persona rather than just singing a song that means something. You get to be in the song and be someone else rather than just you."
Rufsholm is hoping her next role will be Ariel in the high school's production of "The Little Mermaid" in the spring, which just finished auditions.
She also devotes many hours behind the scenes. She served as costume coordinator for the Madrigal Dinner that included more than 100 students.
The Madrigal Dinner brought many people together, which is another reason Rufsholm likes music.
"I like music so much because it breaks boundaries between people. There are so many types of people that are involved in music," Rufsholm said. "It kind of brings in people that you normally wouldn't associate yourself with."
Rufsholm's passion for music has inspired her to become a music teacher.
"I want to teach because I feel like if I am passing on my passion ... then hopefully I will pass it onto children and help keep music alive," Rufsholm said. "I want to keep it alive because there are so many kids who need music in their lives because it just fills your heart."
Parents by her side
It was Rufsholm's mother Lisa Rufsholm who convinced her she should try music after discovering that sports wasn't her favorite thing.
"My mom could tell that I loved to sing so she took me to some music lessons when I was younger and just kind of stuck with me," Rufsholm said. "She has been the person that has pushed me to go for the music."
Rufsholm said both of her parents, Lisa and Jim Rufsholm, have been important in her life, especially as they have helped her navigate all of the negative peer stuff that goes on in school.
"Whenever I feel down, my mom brings me back up and she is a great support system, and my dad is the comedic guy that makes you feel good. If ever you are in a slump, he just makes you smile," Rufsholm said. "They have been the ones that make me feel positive and have made me want to be a positive person."
They have taught her the importance of serving others.
Rufsholm is involved in the National Honor Society, Peer Educators and works at BLAST, which works with first- and second-graders to help them complete homework and work on things like reading.
"She really wants to help others, she wants to volunteer for others and she wants to be there for other people," Christenson said. "She really sees others for the good in them. She doesn't see the bad in anyone and she is always trying to make a better atmosphere in our high school."
Rufsholm's dad is the athletic director for the high school, while her mom works from home as HR director for Reaching Your Potential.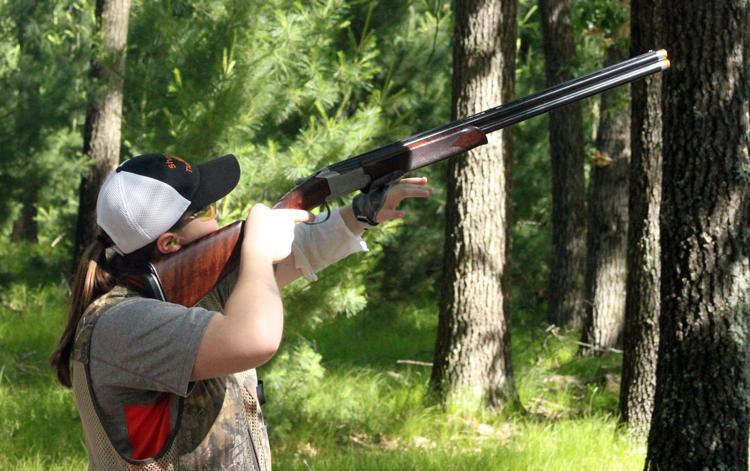 Rufsholm's redneck side
On top of being involved in music and other things in school, Rufsholm also joined the Shooting Tigers sporting clay team her freshman year.
"It is my way to step away from all of the music world and school. I am out in the country. I am in a different element. I can be the 'redneck Sunny' and shoot at sporting clay," Rufsholm said.
Rufsholm has enjoyed hunting since she was really young, including turkey, elk and deer hunting, but one specific aspect of shooting is harder for her than most people.
"I had troubles with shooting because I can't rotate my hand in order to cup the gun to hold it successfully and safely when you are shooting at a moving target," Rufsholm said.
When that moving target was a fast-moving sporting clay, it was even harder.
"I didn't really want to try because I thought I was going to fail and it was going to fall out of my hand," Rufsholm said.
Rufsholm's dad encouraged her to attend a meeting her freshman year, which is where she was empowered to try.
"The one thing that didn't stop me from doing that was the fact that my coaches were so supportive," Rufsholm said. "I've had that before and that is one thing that makes me frustrated because I think anyone can do anything if you set your mind to it."
So the coaches and her family set out to find a solution, which they found in a company called Prosthetic Plus owned by Lonny Damewood of Marshfield.
"He has made several prosthetics for me for shooting sports," Rufsholm said.
Despite having the prosthetics, Rufsholm still wasn't the best sporting clay shooter, but she didn't give up just like other times in her life.
"I was not good at all, but now I am more in the middle range. I am not super good, but I am successful and I just feel like it is good that I have grown in the sport," Rufsholm said. "I didn't want to be one of those people that didn't try."