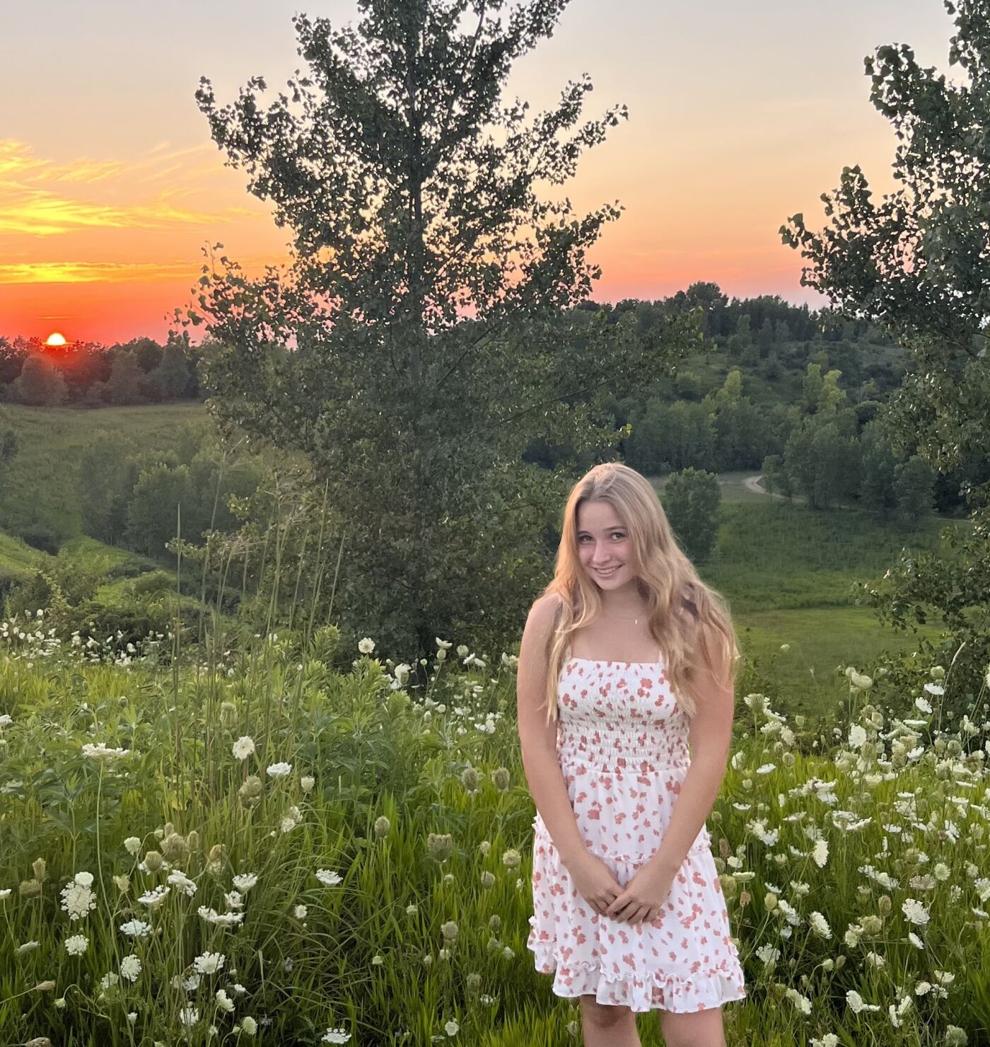 Four years ago, if you told Madeline "Maddy" Sather that she would graduate high school with top grades, she wouldn't believe you.
"If you told me that in middle school, or right after my dad passed away, I wouldn't have ever thought that was possible," Maddy said. "I just felt like my life was kind of meaningless and I just kind of gave up on everything."
In 2019, Maddy's dad took his own life and it marked the day her world flipped upside down, the Logan High School senior wrote in her Extra Effort nomination essay.
Maddy was nominated for the 2023 Extra Effort Award by her teachers at Logan. After hearing she was nominated, Maddy said it felt like a reassurance that she was doing things right.
After her dad passed, therapy became a tool for healing for Maddy.
"During this time reflecting I came to a realization," she wrote. "I had to keep going and make the best of my life. I have to do it for my dad and myself. [...] I must continue for the both of us."
Maddy also said that when talking to her grandmother, her father's mother, she learned a lot more about her relationship with her dad.
"She just was telling me stories about him about how he would always rave about us and how proud he was about how smart we are," Maddy said. "So it almost, in a way, made me feel more connected to him to focus on academics because I knew that it's what we used to connect over."
When she started high school, Maddy was determined to try her best and achieve her goals, because that's what her dad would have wanted for her. For her junior year, Maddy was accepted into the Health Sciences Academy (HSA), a two-year collaborative program with Gundersen Health System, Mayo Clinic and Western Technical College. Students in the program take rigorous, college-credit science classes, volunteer in the health industry and participate in job shadows.
"Being accepted into the Health Science Academy changed my life," Maddy said. "It's given me so many opportunities, my whole life is focused around that right now."
Maddy is interested in working in the health sciences, probably as a doctor. Currently, she is interested in obstetrics and gynecology, but she says her medical interests change almost weekly.
"She's a really active participant in the classroom," said Leah Genz, one of Maddy's teachers. "She's really diligent in her work, she cares about revision and making it kind of the best product that it can be. So beyond just having a really strong work ethic, but really kind of caring about what she produces."
Genz is one of Maddy's teachers in HSA and said that she is a top student and leader in the program. When the group went to Pine Ridge Reservation in South Dakota to teach various health skills, Genz said that Maddy "didn't think twice" about stepping up to lead CPR and first aid training to students on the reservation.
"She's very clearly a leader both in the classroom and in her life," Genz said. "Her empathy and ability to communicate have always stood out as strengths to me."
For Maddy, one of the most memorable parts about going to Pine Ridge was meeting kids who had lost parents to suicide.
"It's very impoverished, there's a very high suicide rate out there and a lot of kids have lost someone to suicide," she said. "It was really nice to be able to connect to the kids there and be like 'this is what I went through. This is how I dealt with it, maybe some of this could work for you.'"
Some coping skills that help Maddy when she is having a bad day including weight lifting and listening to music. She likes lots of genres, but particularly folk and chill music.
"I listen to a lot of music when my mind is running miles to just shut that all off for a little bit," Maddy said.
"It's hard because I feel like my healing process is still very ongoing, and I think it will be," she continued. "I still have my bad days where I'm thinking about a lot and have a lot of emotions. But overall, I feel like finding the positive things in life really is really what has helped me grow and knowing that not everything is bad and negative all the time."
Hayley McMullen, Maddy's Advanced Placement English teacher, said that Maddy is a poised and mature young woman. The two have had conversations about how grief has impacted them.
"She expressed this sentiment that she's worked really hard to get to the point where she is, but of course she's never over it. She always carries [grief] with her," McMullen said. "I couldn't have said that better myself and coming from a 17-year-old, I was just like, woah."
Along with excelling in academics, Maddy participates on the girl's soccer team, volunteers frequently at the area hospitals and works as a hostess at the Charmant Restaurant. Recently, she participated in a health science presentation competition where she gave a presentation on how to live a heart healthy life.
Maddy hopes to go to UW-Madison or the University of Minnesota after graduating.
"She's just a pure, kind, resilient woman," McMullen said. "I'm so proud of her."
Extra Effort partners with the La Crosse Community Foundation. Your non-taxable donations will help boost the scholarships the students receive.
To give online visit at www.laxcommfoundation.com. Checks can be written to Extra Effort Fund and mailed to the Foundation at 401 Main St., Ste. 205, La Crosse, WI 54601.(tncms-asset)f65518db-513f-5b2d-be73-abec746b2b96[1](/tncms-asset)(tncms-asset)5acbe1b4-2760-570b-870a-dba9764073ac[2](/tncms-asset)
COLLECTION: Meet 2022-23 Extra Effort honorees
Meet the 2022-23 The Tribune Extra Effort students in this collection and look for additional stories on honorees over the few weeks.   
De Soto senior Harley Schams maintains a busy schedule as a dedicated athlete, volunteer coach, student assembly president and honor student.
Domestic violence, substance abuse and visits from police aren't unusual events at the home of Arrianna Martin.
It's difficult to comprehend how a family could abandon its 2-year-old child.
ARCADIA — In 2021, now-Arcadia High School senior Bayron Urbina Cabrera started the adventure of a lifetime when he moved to the U.S. from Honduras.
Prairie du Chien High School senior Tyson Hardy's motto could be "have sketch book, can relocate."
Throughout middle school, Evan Voss and his family had been pulled in every direction to try and find a way to treat his father Robert Voss' level 3 Hodgkin's Lymphoma.
Braden Slama is an exceptional math student, technology whiz and student athlete. He is also a student with autism, both a challenge and a gif…
Whitehall High School senior Holly Pirk proved a California transplant can flourish in the Midwestern environment. But it does take some extra…
Since he was 15 years old, Blair Taylor High School senior Juan Lopez has had to make his own way in life. When his mother passed away during …
The Tribune Extra Effort scholarship program is its 27th year, supported by our local colleges and donors throughout the community.
"Being accepted into the Health Science Academy changed my life. It's given me so many opportunities, my whole life is focused around that right now."

Madeline "Maddy" Sather
"She's very clearly a leader both in the classroom and in her life. Her empathy and ability to communicate have always stood out as strengths to me."

Leah Genz, teacher