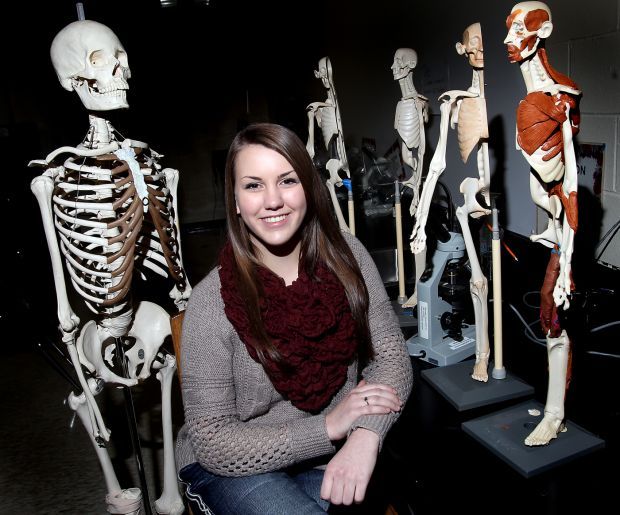 WHITEHALL—Karla Anderson didn't realize how well she persevered during her parents' divorce until she was recognized as the recipient of the La Crosse Tribune Extra Effort Award.
Staff members at Whitehall Memorial High School voted unanimously for Karla because of her positive attitude and ambition.
"With everything she has been through, she really persevered," Laura Eide, school counselor, said. "She could have taken two roads (after her parents' divorced), and she took the high one."
But Karla was still taken aback when she found out she was chosen. In her eyes, she was just living her life and doing her best to make it through.
"I was surprised I got it (the award)," she said. "I thought, 'What did I overcome?'" She didn't see how much she really endured until it was brought to her attention, she said.
But looking back over the past three years, Karla realized how much she grew.
Karla's parents divorced in 2010, but in a way, she always knew something was wrong. Her father spent months away on business trips to Thailand, and when he was home he preferred to keep to himself, she said.
When her mom, Deb Anderson, filed for divorce, Karla's relationship with her dad diminished. But the situation strengthened her relationship with Deb, and the two are now very close.
"There's nothing I don't tell my mom," Karla said. "We talk about everything."
You have free articles remaining.
And Deb's fiancé, John Rohland, has since stepped up and is now like a father to Karla.
"I really like him," Karla said. "I refer to him as my dad."
With the help of her mom, friends and family, Karla used a difficult situation as motivation to improve. She put forth more effort in all of her classes, and invested more time and dedication into her job.
She also stayed active in a variety of activities, including National Honor Society, cheerleading, yearbook, Ecology Club, Big Brothers Big Sisters, Health Occupations Students of America, Girl Scouts of America and Health Careers Academy.
Karla was a Badger Girls State candidate, Teen Court member and her class' treasurer. She was crowned Miss Whitehall second attendant and also was the recipient of several Girl Scouts awards.
The biggest thing Karla learned from the divorce is just how independent she can be, she said. She discovered who she truly was during a time of pain and confusion.
"I learned that I don't need acceptance for what I believe in," she said. "And I don't need everyone cheering me on on the sidelines.
I always thought that I can do whatever I set my mind on, but I try a lot harder now. I learned I can do it on my own."
Karla will graduate from Whitehall Memorial High School this spring and move on to pursue a career in nursing at Viterbo University. She currently works as a certified nursing assistant at Pigeon Falls Health Care Center and has found her passion in helping people.
"There's not many kids that come out of a divorce with a positive attitude like she has," Deb said. "I'm very happy with how she carries herself and how she represents herself."