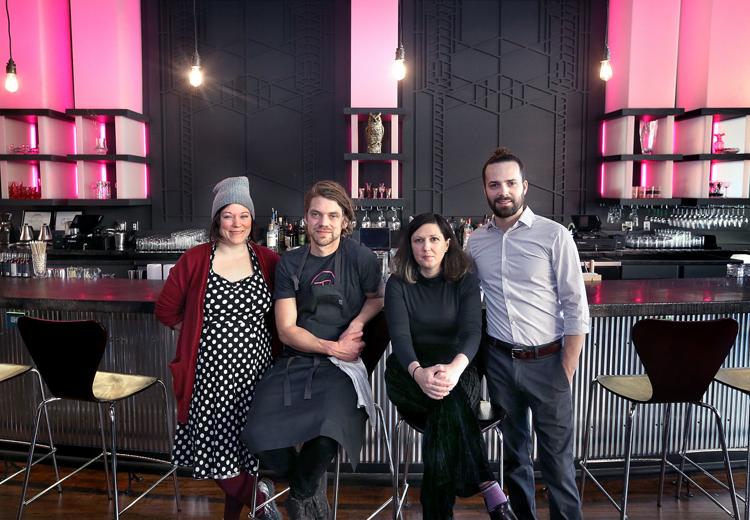 Its four owners, who moved to La Crosse from Minneapolis last spring, say the area had nothing like it.
That's why they opened their Fat Porcupine Noodle Bar on Dec. 10 at 127 S. Fourth St. in downtown La Crosse.
The new restaurant is in part of the former Rocky Rococo Pizza and Pasta location, which has been extensively remodeled.
Brie Roland, her husband, Dustin Thompson, and their friends Peter Beard and Zoa Ryan opened the noodle bar, which can seat 55 people.
It offers four kinds of noodle bowls, three made with ramen noodles (chicken shio ramen, pork miso ramen and Szezchuan tantanmen) and the other made with udon noodles (mustard and mushroom udon). Add-ons include kimchi, double noodles, marinated mushrooms, double meat, and shrimp and pork dumplings.
"It's a fatter, kind of chewier noodle," Thompson said of udon noodles.
The restaurant's noodles and broths are made from scratch.
"It's a noodle bar where you can come in and get a bowl of ramen (or udon noodles), and then there's also a small snack menu that leads into that," said Thompson, who had been head chef at St. Genevieve, a Minneapolis restaurant known for its French food and extensive champagne selection. Roland had been general manager and wine director at St. Genevieve.
Beard and Ryan also were on the staff of St. Genevieve, and Beard's resume also includes serving as general manager and wine director at The Kenwood restaurant in Minneapolis.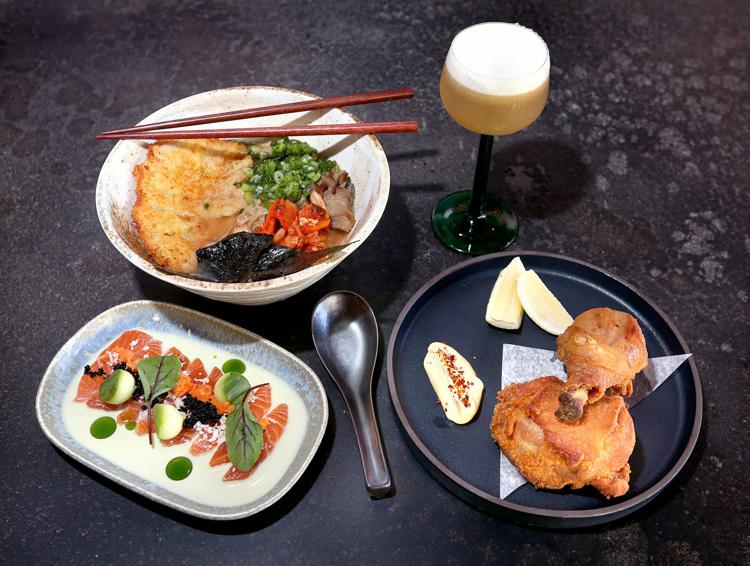 The Fat Porcupine's snack menu includes such shareable items as cured steelhead trout, fried chicken, maitake mushrooms and shrimp and pork potstickers.
Beverages include craft beer, hard cider, wine and cocktails, as well as non-alcoholic drinks such as Wisco Pop! from Viroqua.
"Our food definitely has a big local focus," Thompson said. "All of the flours used in our noodles are from Great River Organic Milling in Arcadia. All of the beef that geos into our stocks and that is used to garnish our soups is produced within 100 miles of here. We get as much of the produce as we can locally."
The menu is Japanese-influenced, Roland said.
With their years of experience in Twin Cities restaurants, the four owners decided to open a noodle bar in La Crosse because "There wasn't anything like it in the area," Roland said. "We felt it was a fun concept."
The owners settled on the Fat Porcupine name because it's cute and funny, and because they believe a fat porcupine is a porcupine with friends, they say on the restaurant's website.
"There's the old parable of the porcupines," Roland explained. "In the winter, they're huddled together for warmth. They're pricking each other, poking each other. And they say 'It just might be easier if we get a little farther apart; we'll go our separate ways and we're not going to stab each other so much.'
"But then they're cold, they're hungry when they're apart," she said. "And then they come back together. Ultimately, the idea is that we're better being together even amid conflict and things like that."
The two couples had decided to move to the area because, Roland said, "We wanted to get a little closer to green space. The natural world around here is absolutely amazing. And we already had been utilizing a lot of producers who are from this region, from Viroqua and places like that, in many restaurants that we worked at in the Twin Cities. Getting closer to the source of our food was really important to us."
Get local news delivered to your inbox!
Subscribe to our Daily Headlines newsletter.