In a new video, Father James Altman of La Crosse said he stands by his messages from a past video that Catholic Democrats are impostors, and adds that "hell" is seen in "left wing cancel culture."
"At this moment, allow me to respond to what has become somewhat of an intense, often belligerent reaction to a recent, and simply-stated truth: You cannot be Catholic and be a Democrat," he said, calling his original video "beautiful," and praising the number of views it got from around the world.
The original video made by Altman, the priest at St. James the Less in La Crosse, and produced by Alpha News MN, a far-right media outlet, received a massive response from people all over the country, and even some parts of the globe.
In the original video from August, Altman said any Catholic Democrats would be facing the fires of hell, and repeated common right-wing talking points against climate change, Planned Parenthood, Black Lives Matter and more. In his new video, he said that his statement was a "no-brainer."
The Diocese of La Crosse denounced the video shortly after it was made popular, and said it would start by simply counseling Altman, but that if the issue is not resolved, official punishment could be handed down.
Altman largely ignores that warning in this new video, though, not wavering from his original message and defending that it was not divisive our out of line.
The Diocese has not yet issued a response to Altman's newest video, and did not immediately respond to the Tribune for comment.
In this new video, titled, "Liberal Catholics are Wolves in Sheep's Clothing," which is quoting 19th Century Pope Pius X, Altman stands by his original message, and takes a sharper aim by denouncing what he calls left-wing cancel culture, saying he's victim to it.
"I've heard it so many times I can't count," he said, "the church has just done a poor job catechizing. But of course then, when someone tries, as we've seen, all hell breaks loose. We've seen the hell in the left wing cancel culture."
"Thank you to the left wing bullies, the cancel culture, for just bringing yourselves into the light of day. Not that we didn't already know," Altman said.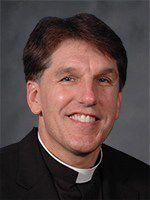 He specifically speaks out against protesters again in this video, specifically ones that have been escalated to violence, saying they are an example of cancel culture.
"Evil preaches tolerance until it is dominant. Then it seeks  to silence the good. That's our cancel culture. Every rioter, looter, burner, shooter or participant in the cancel culture is another attempt to establish through bullying, oppressive and intolerant socialist attitude," he said, quoting the Archbishop Charles Chaput.
Many have denounced Altman's first video as being too divisive, including the Diocese, but Altman said it is within his right as a priest to choose a political party or platform and preach that to his parish, as an act of "charity."
"The video was not divisive. The division already is real, the video only was honestly bringing that elephant into the room," he said. "But can we do that? Can we speak to moral issues in the public sphere?"
"Not only can we, as promised by our Constitution, and is explicitly supported by President Trump, we must. We must," Altman added.
Altman also responded to criticisms that his tone was too divisive or angry.
"Dear family, that is exactly why the proposition that shepherds of the church must be somehow be like wimps in their language, that somehow we must worry about offending anyone with our manner and our tone, is not now, and never has been, the be-all-end-all of Catholic preaching," he said.
And again, Altman stands by his words that Catholic Democrats will face retribution in the Christian afterlife for their political and religious relationship.
"Anyone can however erroneously complain about my manner, or tone or divisiveness in the video, well good luck. Good luck when you get to the gates of heaven," he said, saying certain leaders of the religion will be standing there waiting.
"And you will get crushed in a sandwich of truth," he said.
Altman could not be immediately reached for comment on this story.
"The video was not divisive. The division already is real, the video only was honestly bringing that elephant into the room. But can we do that? Can we speak to moral issues in the public sphere?"

Father James Altman, La Crosse