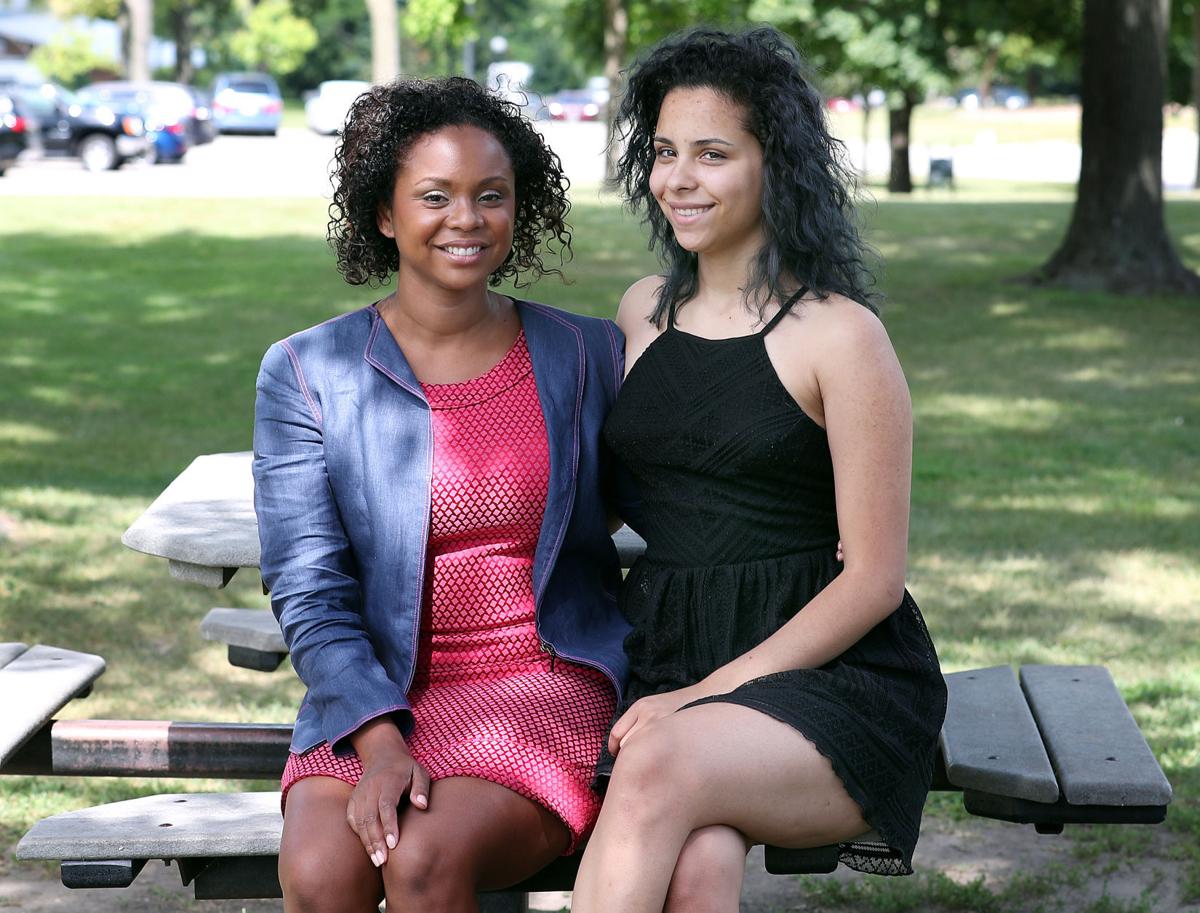 Carolyn Bostrack is the picture of success, an author and career woman with an MBA and a daughter soon off to college.
But were it not for a landmark program launched shortly before her daughter's birth, the pair would have likely gone off course.
Bostrack, 39, was 19 and pregnant when she learned of the Family and Children's Center Healthy Families Program. Molested as a child, Bostrack was once again trapped in the cycle of abuse as an adult, wed to a suspicious, controlling man who isolated her from her friends and questioned her every move. While terrified to find herself pregnant in a violent situation, the pregnancy was what ultimately led her to freedom.
In 1999, when her daughter Bronte was one month old, Bostrack was referred to the Healthy Families program during a checkup at Gundersen Health System. The program, founded in 1992, is a partnership among Gundersen, Mayo Clinic, the county and FCC that offers resources and support to expecting or new mothers in high-stress situations free of charge.
The FCC was one of the original seven organizations to implement the program after the U.S. Advisory Board on Child Abuse and Neglect declared a state of emergency in 1990, and on Wednesday Healthy Families celebrated 25 years of promoting safe and successful parenting in the community.
During an afternoon ceremony at Myrick Park, Mayor Tim Kabat declared Aug. 23, 2017, as Healthy Families Day, followed by speeches from former participant Cheryl Killilea, Phillip Nielsen, a medical social worker at Mayo Clinic Health System who helped develop the screening process for the program, and Sen. Jennifer Shilling. Healthy Families participants were invited to stay afterward for a social with food, games and free school supplies.
"Twenty-five years — it's really an amazing accomplishment," said Tita Yutuc, president and CEO of the FCC. "Because of the nature of this program and the support of the community, it's stronger than ever."
Funded entirely by donations, the program, currently serving 55 families, is completely voluntary and aimed at prevention. Only one in three cases of child abuse is reported, and last year more than 1,600 cases were reported. One in 10 children is a victim of sexual abuse by the age of 18.
"Prevention is so important for not only saving victims from the trauma on the front end, but the cost to taxpayers on the back end," said Jamie Korn, director of development for FCC. "For every dollar invested in prevention, up to $5.70 is saved."
You have free articles remaining.
The program provides one-on-one support to moms via home regular home visits by a specialist to track child development, assess safety and develop goals. Every participant is assigned a primary care physician, and families remain in the program until the child is 5 years old, with visits tapering off with continued progress.
The visits from her specialist, Deb, were a source of much-needed encouragement for Bostrack, whose self esteem had been badly damaged by the incessant belittling and abuse she endured from her husband.
"(Deb) asked, 'What do you dream about?'" Bostrack recalled. "I had forgotten how to dream. She asked, 'So what do you want to dream about?' I said, 'I dream of being the best parent possible.' Healthy Families has given me that. The confidence to build on and continue to transition and learn."
Having dropped out of college at her husband's insistence, Bostrack returned to the University of Wisconsin-La Crosse with Deb's guidance, and as her daughter neared a year old, she found the confidence to leave the relationship, taking Bronte with her.
"The two of us got out," Bostrack said.
"I'm sure we'd still be in the bad situation we were in or not around at all (without the program)," Bronte said. "In general I think any support for parents is good, especially support for a single mother. Our situation isn't terribly unique."
Both have made the most of their new lives. Bronte, who graduated from Aquinas last spring, is starting college at Carroll University next week with plans to study engineering and physics. Bostrack is working on her dissertation for a Ph.D. in organized leadership, employed as program manager of the Center for Cancer at Gundersen Health System and mother to two more children.
"Carolyn is an incredibly amazing woman," Korn said. "To look at how she's passed that strength onto her child is an inspiration. The strongest people are the ones that ask for help."
Bostrack is now sharing strength with other moms in need, serving on the Healthy Families board and as an advocate for victims of abuse.
"It's my way of giving back ... it's fulfilling to see other people break through," Bostrack said. "Eighteen years has flown by for me, and I hope I can be here supporting the program at the 50th anniversary."