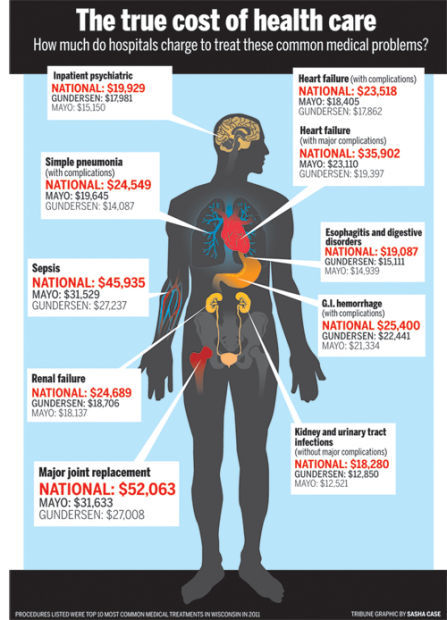 Hospital charges for the same procedures vary by tens of thousands of dollars across the nation and even within the same city, according to new government figures that pull back the gown on health care costs for the first time.
But in La Crosse, Gundersen Lutheran Medical Center and Mayo Clinic Health System-Franciscan Healthcare charge similar rates for most procedures.
The federal Center for Medicare and Medicaid Services released figures Wednesday that chronicle Medicare charges from 3,300 hospitals nationwide for the 100 most common procedures in 2011.
The Obama administration said the data gives consumers insight into a mystifying system that too often leaves them with little way of knowing what a hospital will charge or what their insurance companies are paying for treatments.
"We haven't had the data to compare before," said Joe Kruse, Mayo's chief administrative officer. "This is all new information for us as well as everybody in the country. We've had some transparency, but this gives us a much bigger peek at what everybody is charging."
The billings vary widely nationwide. The average charge for a joint replacement, which is the most common Medicare procedure, ranges from about $5,300 at an Ada, Okla., hospital to $223,000 in Monterey Park, Calif.
"Hospitals that charge two or three times the going rate will rightfully face scrutiny," Health and Human Services Secretary Kathleen Sebelius told reporters.
Mayo's charge for a major joint replacement without complications is $31,633, compared with $27,008 at Gundersen.
And both are far less than the national average cost, $52,063. They also come in below the $38,827 Wisconsin average, according to data.
But even in La Crosse, the hospitals charge widely varying amounts for some rare operations.
Bowel surgery with major complications costs $123,567 on average at Mayo, while Gundersen charges $64,621.
Kruse, Mayo's chief administrative officer, said severe complications in its small sample of cases likely accounted for such a wide gap in prices.
"It's a big surgery, with risks and complications," he said. "My guess in that snapshot would be complications."
Kruse said the hospitals jockey for position within a few thousand dollars of each other on many operations.
The report also shows a wide gap between what hospitals charge for care and what the government actually pays under Medicare, a discrepancy both La Crosse hospitals have complained about for years.
Medicare paid on average just $40,000 for those bowel procedures in La Crosse.
For joint replacements, Medicare paid La Crosse providers just more than $14,000 — about half what the hospitals charge.
The figures reflect the fact that hospitals invariably receive less money — often, far less — than they bill because the government sets ceilings for Medicare and Medicaid payments. In other cases, insurance companies negotiate lower payments, much like a car buyer does on a dealer lot.
Wisconsin traditionally falls in the lower 25 percent of Medicare reimbursement because health care costs are lower here than in states such as New York, Florida and California, Kruse said.
"It's a penalty for being efficient," he said. "We have to make that up in insurance and other payer sources to provide a viable business model."
That means costs are shifted onto patients who don't have government health insurance. Last year, Mayo-Franciscan provided $5.5 million in charity care and absorbed $15 million in bad debt that had to be shifted to insurance companies and private payers.
Michael Richards, executive director of external affairs at the Gundersen Health System, said the Badger State has a history of transparent pricing information through the Wisconsin Hospital Association at www.wipricepoint.org.
That site provides individual hospital pricing information, although it doesn't include the Medicare reimbursement element, and it doesn't provide side-by-side comparisons as readily as the federal report.
Pricing "is only part of the puzzle," Richards said. "You've got the price, but you don't have the quality."
Gundersen, Mayo and several other hospitals and groups in Wisconsin belong to the Healthcare Quality Coalition, a national group that advocates factoring in performance as well as price, he said.
"We're some of the lowest cost-highest quality hospitals in the country," Richards said.
"Medicare should pay for cost and quality," he said. "We'd like to see more transparency on quality outcomes."
Gundersen uses care coordinators who save Medicare money by keeping patients out of the hospital, he said.
"We're doing the right thing but not being reimbursed for it," Richards said.
The hospital prices in the new government report "really don't have a direct relationship with the price for the average person," said Chapin White of the nonprofit Center for Studying Health System Change in Washington, D.C.
"I think the point is to shame hospitals," White said.
Such charges do show up on the bills of people without medical coverage, many of whom try to negotiate smaller fees for themselves, White said.
Some still pay full price because they don't know they can haggle, he said.
For them, "this is the opening bid in the hospital's attempt to get as much money as possible out of you," he said.
In addition to the charges released Wednesday, the Health and Human Services Department is making $87 million in federal money available as grants to states to improve their hospital rate review programs, research why hospital charges vary so much, and get more information to patients.
"Consumers don't know what a hospital is charging them or their insurance company for a given procedure, like a knee replacement," said Sebelius, the department secretary. "Or how much of a price difference there is at different hospitals, even within the same city."
The Associated Press contributed to this report.