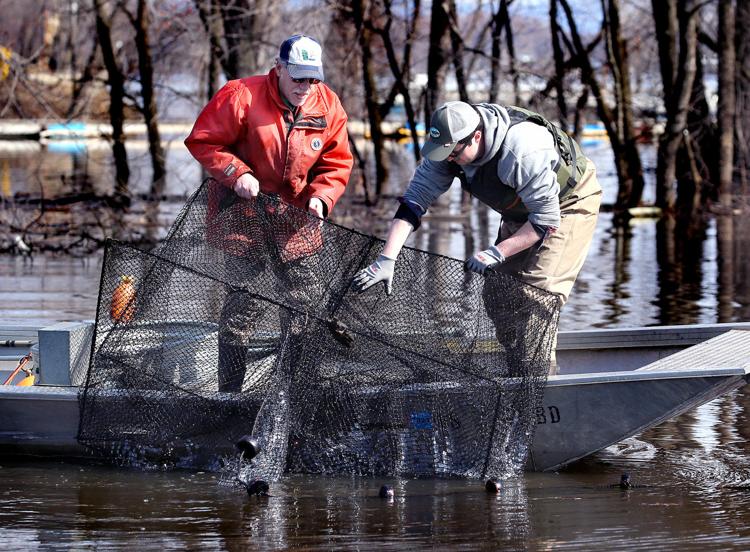 Fast and furious flows on a flooding Mississippi River are hardly a deterrent for fish migrating upstream as far as 100 miles to spawn.
The more flooded grasslands and floodplain forests there are along the river, the more prime habitat certain species have to lay their eggs.
That could translate to better survival rates for their progeny and greater fish populations once the juveniles reach maturity, provided that other conditions align.
"Generally, we see boom years when we have a good spring flood, and we see weaker years when we don't have a good spring flood," said Andy Bartels, Wisconsin Department of Natural Resources fisheries specialist at the La Crosse field station, which is part of the Upper Mississippi River Restoration Program.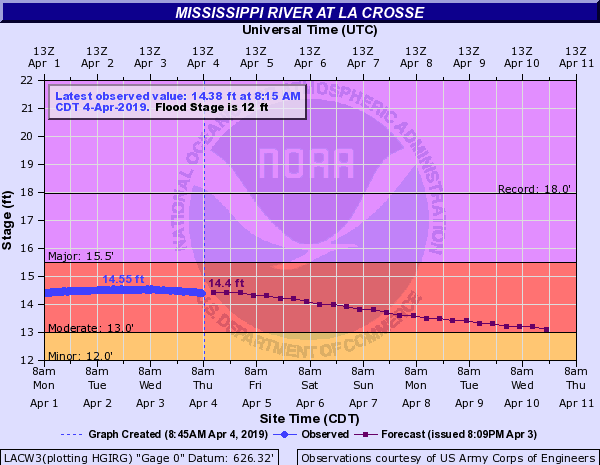 But if the crest peaks too early, before fish receive environmental cues from warming water temperatures and lengthening hours of daylight to spawn, then good flood conditions don't help, Bartels said.
This year's crest, though not as high as originally projected, reached 14.55 feet in La Crosse — the eighth-highest on record, according to the National Weather Service.
The Mississippi River swelled to the point where ducks can cruise up to the sidewalks in Riverside Park, which was closed Monday because of flooding.
Floodwaters from the Black River, which feeds into Richmond Bay, turned the gulch between the Clinton Street Kwik Trip and Castaway's on the Island in La Crosse from a dry or isolated pond cut off from the bay to an inlet deep enough for a boat to navigate through.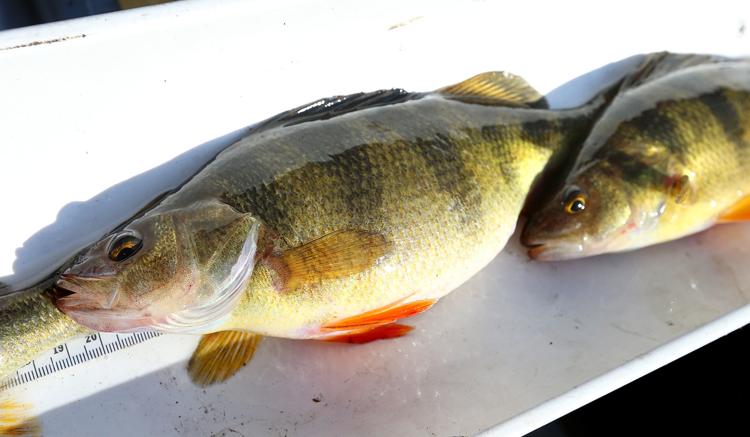 David Heath, DNR senior fisheries biologist, and DNR fish technicians Andrew Schneyer and Troy Clemment were on site Tuesday to record which fish species were using the area.
"There was a proposal to fill it in, so we wanted to evaluate it for spawning purposes," Heath said.
The water came up 9 feet in some places, high enough to submerge low-hanging tree branches, a favorite spawning spot for perch, Heath said. "They have so many more options when the river is as high as it is now."
Yellow perch secrete their eggs with a sort of glue, so they'll stick to vegetation, rocks and twigs, Heath said. They'll "weave a helical egg strand around the branches, almost like they're weaving a tapestry."
This keeps the eggs from being washed away, which increases their chance of survival.
Northern pike also lay sticky eggs, but they prefer to spawn in submerged grasslands, Heath said. When the eggs hatch, the young fry dive under the grass where there's virtually no current. "They kind of stay put and are less vulnerable to being washed down to Missouri."
You have free articles remaining.
Register for more free articles.
Stay logged in to skip the surveys.
Both yellow perch and northern pike have healthy populations that the DNR monitors because they're popular among anglers, Heath said.
"The perch have been doing extremely well the last eight years because the river's cleared up and perch prefer clear water," Heath said.
Heath and his colleagues set three rows of nets overnight and pulled in mainly yellow perch, but also bluegill, yellow bass and a bullhead.
Schneyer, one of the fish technicians, ran his fingers along the stomach of each fish to determine whether it was male or female. Female fish have stomachs that "feel more bulgy" because they're full of eggs, Schneyer said.
Schneyer lined each fish against a measuring board while Heath recorded.
"Female, green, 226," Schneyer said, before letting a yellow perch go.
"Green" refers to eggs that aren't quite ready for release, whereas a "ripe" fish is ready to spawn and a "spent" fish has released its eggs, Schneyer said.
When the fish are done spawning, they'll immediately leave the area and go back to their normal feeding grounds, Heath said.
Meanwhile, DNR will come back to the site over the next few weeks, during the spawning windows for northern pikes and yellow perch, and continue monitoring into the summer, Heath said.
Water temperatures need to reach the 40s at a minimum for fish to spawn, though the temperature range differs depending on species.
The temperature on Tuesday at Lock and Dam 8 in Genoa hit 42 degrees.
Provided the water levels don't fall too quickly, the spawn should do well.
It takes about a month for juvenile fish to be able to swim strongly on their own, Heath said. "Say they spawn today and the water went down in two weeks. Then they're not going to make it."
But that doesn't usually happen, Heath said. It takes at least a month for the river to come down in these flooded back areas. "If all goes well this spring and summer, you should see increased numbers of walleye for sure, and maybe northern pike and perch."
And if conditions don't cooperate, Bartels said, it's not the end of the world.
"Most fish species will produce an overabundance of young and the vast majority of the young fish die every year anyway," Bartels said. "That's just how nature compensates for all these factors."