In a certain light, artist Floyd Storey and the metal he uses to create his pieces have a lot in common — both saw a lot of life before they came together to create art.
Storey, 76, will hold a grand opening for his Central Park Gallery in Coon Valley on May 18, coinciding with the Winding Roads Art Tour in Vernon County. Storey specializes in metal collages, as well as oil paintings that show off the Coulee Region's natural beauty in his own unique interpretation.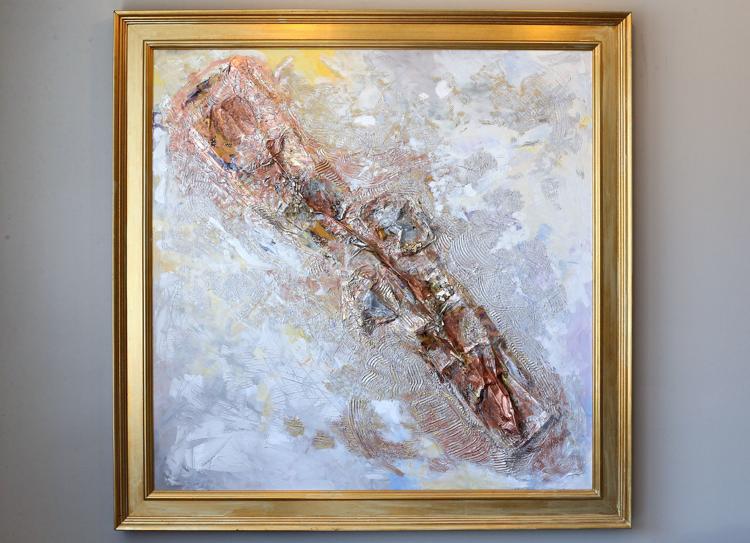 "I like materials that are rusticated and are something I can give new life. It's had a previous life and that's the part I like. When I make it and I assemble it — that takes me about 2 to 3 months — I try to put equal amounts of polished metal with rustic, textural metals. That's what makes it more interesting," he said.
Storey, who lived in the La Crosse area for much of his life after moving there at age 7, was drawn to art later in life after years of working in jobs he wasn't passionate about.
"I woke up one morning and I said, 'I'm 35 years old and I haven't done anything yet,'" Storey said.
He enrolled in Viterbo University and spent eight years studying art and business before he graduated at 43.
"Instead of being an artist, which is what I dreamt of, I went into industry, where I stayed for 20 years," Storey said.
He spent two decades developing original equipment parts for the auto industry, specializing in luxury interiors, working for Northern Engraving and then companies in Ohio and Europe before he retired to Coon Valley in 2002 to be closer to his wife's family.
The city of La Crosse has long been home to a wide variety of sculpture, some that remind us of our past and others that will provoke discussi…
After his retirement, he started to devote more time to his own art projects, encouraged by his longtime friend Elmer Petersen. Petersen, who is known for his work on La Crosse public art projects like the "Lacrosse Players" and statue of George Poage placed in the recently-renovated Poage Park, became friends with Storey in the late 1980s while doing consulting work for Northern Engraving.
Petersen described Storey's work as unique, both the metal collages and the paintings.
"His is different. He melds the pieces together and the way he handles it, it's not like separate chunks," Petersen said.
You have free articles remaining.
Register for more free articles.
Stay logged in to skip the surveys.
Storey has a good sense of how elements interact and how to create good organization and balance in a piece, he said.
"A good painting, if you stand in front of it and stare — you can't zoom in on anything, you just stare until everything is kind of cloudy — then you're able to see the arrangement is very good … When you squint your eyes at his work, everything just stays where it belongs," Petersen said.
As Storey got to work creating his own studio and gallery, Petersen volunteered to show some of his work there as well to help bring in visitors, including several small sculptures and his "Bumper Bull," which he constructed in the 1960s from scraps of metal bumpers. The piece is special to Petersen, who showed it at the 1968 HemisFair in San Antonio.
The building that now houses Storey's gallery had a previous life in 1906 as a fire station, dance hall and village jail, Storey said, pointing out the concrete cells which he's using for storage. He spent three months renovating it and making it into a studio and gallery space, and decided to tie the grand opening to the Winding Roads Art Tour.
He reached out to the organizer, Maureen Karlstad, after going on the tour last year and being impressed with the talent it gathered.
"Viroqua has a lot of good artists there," he said.
He wanted to be a part of it.
"Being able to go see an artist in their studio is an exciting thing, and you get to see how they work and where they work," said Karlstad, the resident artist at Pierce Hill Pottery, which operates out of VIVA Gallery in Viroqua.
People who exhibit all over the country are part of the tour, which runs all over the area. Storey's gallery, which is the first for tourists from La Crosse and last from Viroqua, is the farthest afield, and others run from Gays Mills to Viola to Viroqua.
"That's part of the call of the tour. People come driving around here just because it's a beautiful landscape," Karlstad said.
For Storey, the tour reminded him how important art can be.
"I thought that being successful was making a lot of money, but being successful is liking what you do and making meaningful things," Storey said. "That's how I feel now. I wish I had known that then, but it's a lifetime of work anyway, art."