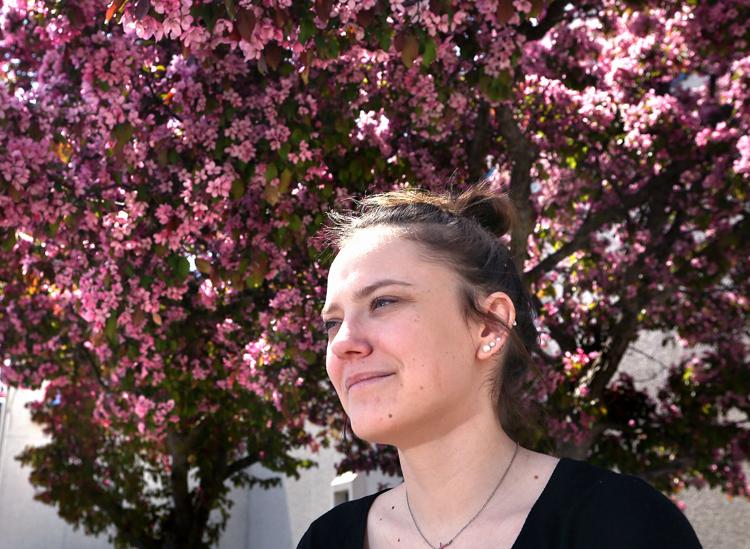 At age 8, Shania Gudgeon spent a year in foster care. But contrary to common misconceptions, the months she spent in a temporary home changed her life for the better.
Gudgeon, 22, of La Crosse weathered family turmoil on and off for 18 years, her mother struggling with mental illness and addiction, her father largely absent for the first half of her life. The transition to a foster home in grade school was expectedly difficult, but perhaps unexpectedly helped her become the successful, educated adult she is today.
Hoping to change any stigma associated with foster care and to encourage others to consider opening their homes to youth in need, Gudgeon will share her story, along with sister Hayley, 19, during a Foster Care Awareness Month program from 5:30 to 7 p.m. Wednesday at the La Crosse Public Library Main. This will be the sisters' third speaking appearance this month, one of many La Crosse County Foster Care events and fundraisers being held throughout May. 
Currently employed at Kwik Trip and the Boys & Girls Club, Gudgeon, a recent graduate of Western Technical College's human services associate program, plans to pursue a social work degree to help children from fractured or unstable homes, much like the ones she grew up in.
When Gudgeon was 5, her parents divorced and the stability of her family quickly began to crumble.
A truck driver, her father left Gudgeon and her three siblings in the care of their mother, whose ability to meet her children's needs was impeded by her mental health and addiction issues. The children were sent to live with their grandparents, but their grandmother's failing health left her unable to continue caring for them. 
Without another relative to take on the responsibility, Gudgeon, then 8, and her siblings entered the home of a foster mother, Lynn, in Brice Prairie, who quickly showed them the consistency and order they at first resented but soon grew to crave. 
"It went from no structure to structure," Gudgeon said. "We had a chore rotation and we got allowance. It was definitely a rough curve but I think it was the best and most stable time in my life. Because of her we learned basic living skills. Before her, I didn't know how to cook or get food and I never had discipline. She taught us self responsibility and (the concept) of right and wrong."
Having completed the tasks and met the guidelines to resume custody, Gudgeon's mother, who now had two more kids, took her children back the next year, though they continued to stay with their foster mother during weekend respite visits during the next 12 months.
Returning home was "bumpy and kind of rough," Gudgeon says, and by the time she was 11 her mother had begun to fall back into self-destructive patterns. The older siblings were largely fending for themselves as well as taking on the parent role to the younger four. At 15, Gudgeon's older sister had a baby of her own.
"It was stressful and difficult to say the least," Gudgeon says of waking up early to ready her siblings for school, changing diapers, preparing meals and putting them to bed. Her mother was employed on and off, and while teachers and school nurses at Logan Middle School tried to help, Gudgeon's mother was able to present enough competency that social workers were unable to intervene, she says.
At age 14, Gudgeon was sent to live with her father, with whom she had had no contact for several years. The transition was stressful. Her dad was remarried with a child and her stepmother, she says, was unwelcoming. 
"Getting to know him as a father and a person was weird," Gudgeon says.
At 19, she moved out and found an apartment with Hayley, who is studying to be a social worker and works at the Boys & Girls Club as well. Both continue to talk with and occasionally visit their former foster mother.
"She was super helpful in our lives in general," says Gudgeon, who would like to be a foster parent herself in the future. "I think foster care has been construed by the media to be bad but I know kids who were in foster care who never had that stability before and had never learned social skills and life skills until then. Most homes do really want to help and to see you succeed. I truly think most people who go into foster care want to be there for you."
By sharing her experience, Gudgeon hopes to show the positive and oftentimes profound impact a foster family can have on a vulnerable child. 
"It's something people don't really talk about or understand," Gudgeon said. "If more people see it for what it is, then maybe more people will want to foster."