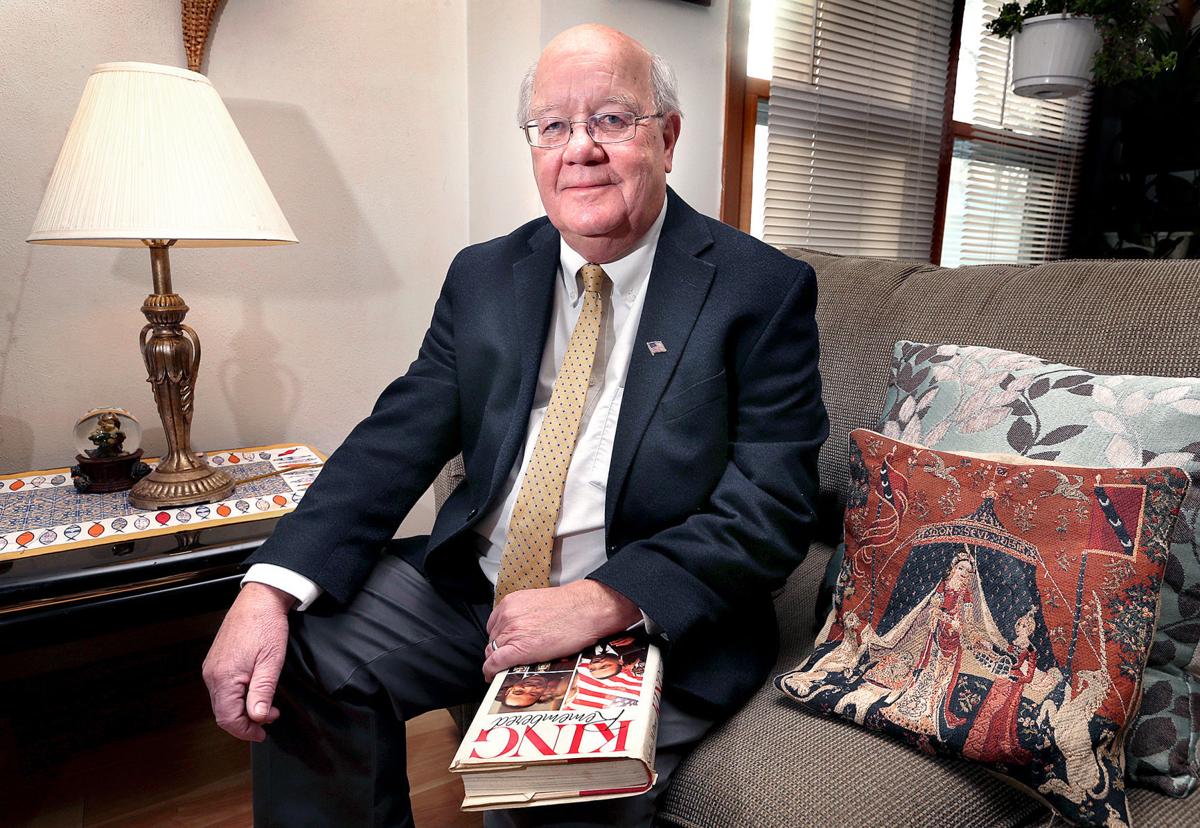 When John Medinger was in the Wisconsin Assembly, a fellow representative told him something that stuck with him.
"It takes black and white keys to play the piano and make beautiful music,'" he quoted the late Rep. Marcia Coggs as saying. "I never forgot that."
The 68-year-old former state representative, former mayor and current community volunteer will receive the 2017 Martin Luther King Jr. Community Leader Award on Jan. 16 for his lifelong commitment to social justice.
Past award-winners James Parker, Thomas Harris and Tony Yang, all of whom have known Medinger for many years, gladly welcomed Medinger to their ranks.
"Issues of social and racial justice are the basis upon which this award is made, and John has a career devoted to those issues," Parker said.
Parker, who taught Medinger American history at the University of Wisconsin-La Crosse in the late 1960s during the Vietnam War and civil rights movement, remembers being impressed by Medinger's earnestness and devotion to the topic.
"He was a delight to have in that class, and let me tell you it was an outstanding class of young people," Parker said.
Medinger never lost that earnestness, according to Yang, who met him in 1990 on a field trip to Madison as a junior in high school, when Medinger represented La Crosse in the Assembly.
"I came to this country in 1987, so I had only lived in this country for three years," Yang said. "It was eye-opening for me, and I got to see somebody who was representing this community …. He loves talking to students. He would come out and he would greet us and he'd be very down to earth, talking to us and listening to us."
Whether co-chairing a fundraising committee to building a Hmong Cultural Community Center building, supporting an anti-racism task force on the city level or helping campaign for Thai Vue, the first Hmong member of the La Crosse School Board, Medinger honors MLK's legacy by putting actions behind words of unity.
"I think John represents what this award is all about. He did so many things and he still does a lot of things. I think his leadership in race relations, social justice and human rights issues in this city makes the city much more of a welcoming place for everybody," Yang said.
Harris, who started La Crosse's local chapter of the National Association for the Advancement of Colored People with the help of Medinger, among others, remembers being struck by how willing Medinger is to help people, supporting the social justice efforts of those less influential than a former mayor.
"We have a lot of people from all kinds of backgrounds, including a lot of white people who are very serious and very passionate about those kinds of things, too," Harris said. "He helps take things to another level."
What makes Medinger special is the way he stuck to his roots, according to Parker.
"People often lose sight of their roots and their place in how they were brought up and the values from their family and community as they aspire to other heights. John has never lost track of who he is and his responsibility to his community and his family," he said. "I think that's pretty impressive."
Medinger became an activist in 1960 at the age of 12, following in the footsteps of his parents, Donald and Audrey.
"We were union, Catholic and Democrat, and I handed out campaign literature for John Kennedy in 1960," Medinger said. "That's really when I started in this business of being socially aware."
As a youngster, Medinger hawked papers on the corner by the Hollywood Theatre in downtown La Crosse, paying close attention to what news he was selling."I saw this budding civil rights movement and I really lived that vicariously," Medinger said. "It just seemed like it was something very important with this issue of equality."
A youthful idealist, Medinger believed that racism, war and poverty would be eliminated in a short time back then.
"And then along came 1968," he said.
After the assassination of MLK and Bobby Kennedy, and the escalation of the was in Vietnam, he might have lost his idealism, but he became committed to non-violence and equality. In 1972, after receiving a master's degree in education from UW-L, Medinger joined the anti-poverty group Volunteers in Service to America as a way to serve his country without violence.
VISTA took him to Virginia, which he described as an "interesting" area with a long history of institutional racism.
"Two weeks after leaving La Crosse, I was living with an African-American couple — Jim and Lucille Matthews — and their six children," Medinger said. "This was a baptism by immersion."
It was a wonderful experience, but something of a shock for 24-year-old Medinger, who had only known one African-American by name before leaving college.
"It was a time when I really grew up a lot and experienced a lot of history and racism. I spent, almost exclusively, my time with African-Americans," Medinger said. "It really got me more engaged in this area of social and, down the line a bit more, economic inequality."
While he had grown to love Virginia and still is in contact with some of the people he knew there, he returned to La Crosse to put his newfound perspective to work in his hometown.
"He was true to that rudder that he established in 1968 and 1969," Parker said.
Medinger put that clarity of purpose to work in La Crosse, first during his eight terms in the Assembly from 1976 to 1992, then from 1993 to 1996 during his time as a staff member for then-U.S. Senator Russ Feingold. In 1996, Medinger ran for mayor of La Crosse, an office he held until 2001.
During his time as mayor, Medinger said, he was dedicated to serving all of La Crosse's residents, especially those who needed a hand up to reach equality.
"The mayor can set the tone for the community, answering 'What kind of community are you?' I wanted to be a community of inclusivity," he said. "I want you to be able to call it home no matter who you are, where you come from or what your sexuality is."
While he left public office in 2001, Medinger continues to work to help minorities, now as a member of U.S. Sen. Tammy Baldwin's staff and in his private life.
"I just feel I have an obligation to serve others," Medinger said. "I don't know if it comes from my religious background, my family background or just being inspired by people like Martin Luther King Jr. It just doesn't seem right that so many folks get left behind."
He wants to do his small part to make the world better, he said, even if it's one person at a time.
"People often lose sight of their roots and their place in how they were brought up and the values from their family and community as they aspire to other heights. John has never lost track of who he is and his responsibility to his community and his family." James Parker
"People often lose sight of their roots and their place in how they were brought up and the values from their family and community as they aspire to other heights. John has never lost track of who he is and his responsibility to his community and his family." 

James Parker