Support — and opposition — continue to grow for Father James Altman, who was asked by the Diocese of La Crosse late last week to resign from St. James the Less Catholic Church.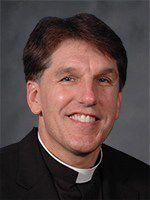 Devotees of Altman nationwide and beyond have contributed to his legal defense fund on Christian crowdfunding site Give Send Go, with a goal of $20,000 set and over $300,000 given as of late morning Friday.
Altman's conservative rhetoric — including opposition to vaccination, criticism of Democrats, and dismissal of systemic racism and white privilege — has resonated with some while it has dismayed others, including individuals who practice Catholicism.
Already under some scrutiny for his strongly vocalized political stance, Altman sparked more controversy for not enforcing local, state and diocese masking and capacity guidelines during church services earlier this spring. In addition, Altman expressed criticism of vaccination and urged individuals not to become "guinea pigs."
Altman himself publicly broke the news during his Sunday sermon that Bishop William Patrick Callahan had requested his resignation and that he intended to decline. In a statement Monday, the Diocese of La Crosse said it would "respond in accordance to the canonical process as needed for the removal of a priest from his office as pastor."
In part, the statement reads, "During the past year, concerns have been expressed related to the ministry of Fr. James Altman ... and canonical representatives have worked to fraternally and privately address those concerns. The process has been pastoral and administrative with a desire toward a just resolution among all parties."Firm stances have been taken on both sides. The Tribune has been contacted by readers pledging to donate to the Catholic Church in Altman's name, and stating they will withdraw their financial support if Altman is forced out. Others shared they had called the diocese to express their support of the request for resignation and felt Altman did not represent Christianity.
Members of grassroots Christian group Faithful America have begun contacting Archbishop Christophe Pierre, the Apostolic Nuncio to the U.S., to "show gratitude and support for Bishop Callahan's decision and to urge that Fr. Altman's appeal be rejected if it does in fact reach the Vatican."
"We know of a few alt-right websites that are protesting Bishop Callahan in support of Fr. Altman's extremism, and we want to make it clear to the Apostolic Nuncio and the Vatican that these are not the dominant voices in U.S. Christianity," says the Rev. Nathan Empsall, executive director of Faithful America.
As of Friday morning, over 700 Faithful America members had personally sent a letter or email or called Archbishop Pierre, with over 1,000 total contacts expected. Additional members have throughout the week called Bishop Callahan to thank him, Empsall says.
"Pope Francis has rightly said that protecting the lives of others means it is a moral imperative to receive a COVID-19 vaccine. Fr. Altman is a loud and dangerous voice, yet ultimately a fringe figure who does not represent the church's position on this life-and-death issue. We cannot allow his conspiracy theories to undercut Pope Francis's moral authority on the clear relationship between COVID-19 vaccines — which have proven safe and effective — and Jesus's instructions to care for the sick and love our neighbors," Faithful America said in a statement Thursday.
"Faithful America's grassroots Christian members give thanks for La Crosse Bishop Callahan's pastoral decision regarding Fr. Altman. We ask the Vatican to reject Altman's appeal, and we urge everyone to love their neighbors by receiving the safe and effective shots as quickly as possible."
In contrast, the creator of the "Defend our Holy Priest" Give Send Go campaign states Altman "has been subject to diabolical persecution just for doing his job as a shepherd to his flock."
"Father Altman has shown courage and strength in his commitment to giving us the Truth," the campaign's introduction reads. "In a culture that celebrates deception and sin, Father Altman has been a shining light to tens of thousands of faithful Catholics worldwide. Sadly, as we are all aware, our holy priests are being attacked from within. It is our duty and honor as faithful sheep to help our shepherd to defend himself."
Comments from financial donors on the site include, "Thank you dear Father, for standing courageously against the wolves who seek to devour us!" and "Thank you for staying 'salty.' So many of today's church leaders just go threw (sic) the motions, 'having a form of godliness, but denying the power thereof.'"
On Monday, Altman was featured on the "Terry and Jesse Show" on Virgin Most Powerful Radio. While their Facebook page stated that Altman would be unable to call in as he is "under a time constraint to leave the parish," Altman ultimately appeared on the nearly hour-long Zoom, viewed by the Tribune.
Stating the Bishop called him "divisive and ineffective," Altman, who iterated he likes Callahan, told the hosts, "Our job is to divide. How do we do that? We simply say the truth," adding that liberals are fearful that "the truth exposes their lies."
"It's the liberal bishops that are trying to cancel," Altman noted. "...There seems to be a cadre of people in a certain level of power in the church that really despise me, I think because they are democrats and they hate the fact that you can't be a Democrat and a Catholic."
Altman expressed his resistance to the resignation request, stating,"Bring it on. Because you can't silence the truth. ... They can temporarily kill it, like they did Friday, but the truth rises again and the truth has its day."
Directly asked his status at the church by the radio hosts, Altman, appearing from his office at St. James the Less, said, "I'm still the pastor there," but added if an administrator is appointed he would "no longer have duties."
"I'm a priest forever and there will never be a day I don't wear this collar. Ever," Altman said.
Offered a weekly spot on the "Terry and Jesse Show" if he leaves St. James the Less, Altman responded, "We'll see if I get put out to pasture. If I do I'll have more time on my hands."
Altman then stressed, "I'm still the pastor and I don't have any intention to resign."
UPDATED COLLECTION: The Altman file, full coverage, reaction since public condemnation of Democrats
Here's a look at our full coverage since September of Father James Altman's partisan charges against Democrats, his anti-vaccine rhetoric and largely maskless services at St. James the Less Catholic Church in La Crosse, the recent diocesan action against him, and some related columns and letters from readers.
"In a culture that celebrates deception and sin, Father Altman has been a shining light to tens of thousands of faithful Catholics worldwide."

"Defend our Holy Priest" Give Send Go campaign
"Pope Francis has rightly said that protecting the lives of others means it is a moral imperative to receive a COVID-19 vaccine. Fr. Altman is a loud and dangerous voice, yet ultimately a fringe figure who does not represent the church's position on this life-and-death issue." Faithful America statement