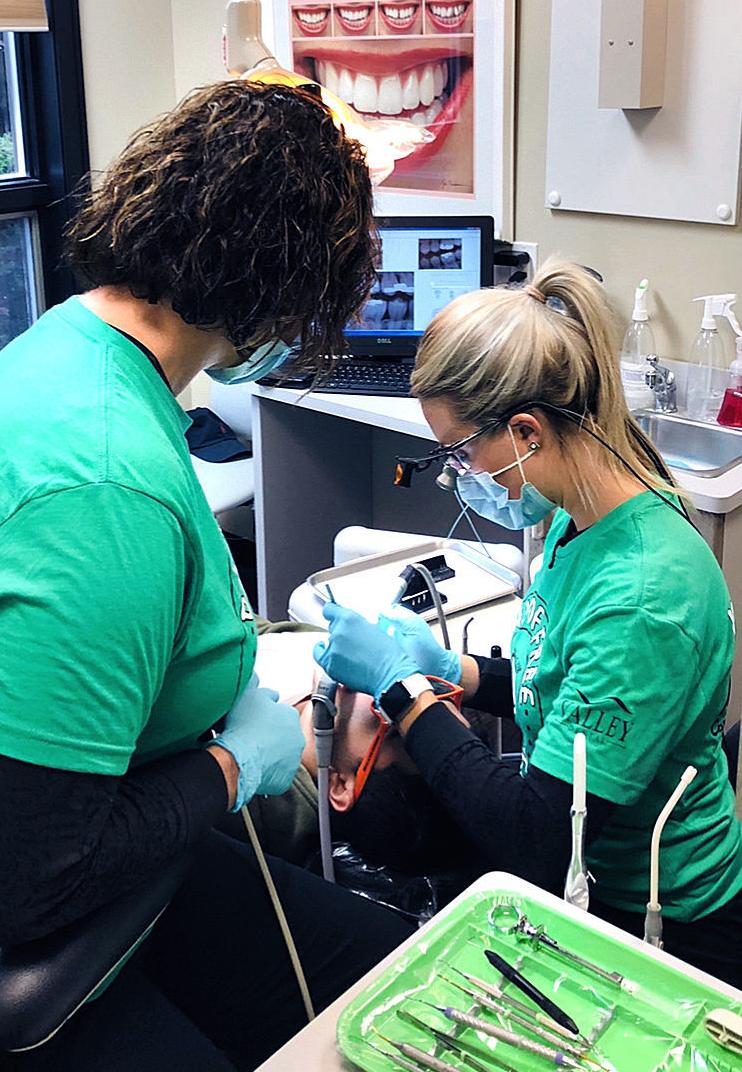 ONALASKA — Valley Dental staffers were chagrined that frosty temperatures likely discouraged some people from venturing out for free dental care. But providing free cleanings, fillings and extractions to almost 60 people without insurance is impressive — regardless of weather.
That was the tally during the Onalaska dental office's annual Free Dentistry Day on Friday, when some people began waiting in the parking lot in the wee hours of the morning, said Dr. Mike Gavin, owner of Valley Dental since he founded it in 1993.
"Some sit in their cars, and then it's like a chess match, when somebody pulls out of a chair," to be first in line and others start queuing up, he said.
Valley Dental also had a tent in the parking lot to provide shelter from temperatures in the 30s when the lobby was full, as well as coffee and sandwiches to stave off hunger.
In the past, the staff has administered one dental procedure, such as a teeth cleaning, an extraction or a filling, but this year, those who needed a filling or a tooth extracted also were able to get a cleaning, said Brittany Moser, Valley Dental's media and promotions coordinator.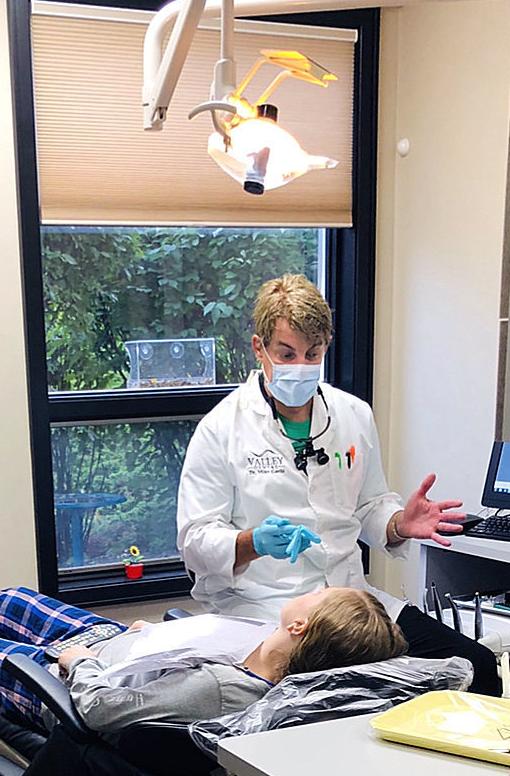 'Trying to do more'
"We are trying to do more," said Moser, who said Gavin started the program because "he just has a heart to help," especially in his hometown, where he graduated from Onalaska High School.
On Friday, people who were in pain went first to Gavin or the office's two other dentists, Shaina Day or Kevin Holly, and were able to go to the hygienist after that, Moser said.
The other staffers who also worked for free Friday — three dental assistants, seven hygienists and three administrators — did so because of the same motivation to help others, Moser said.
"They were all working off the clock," she said. "Our heart beats for the patients, and we want to give back."
Staffers and other volunteers had more on their plates than just dentistry, as the office also hosted a chickencue, a silent auction and a 50/50 game to raise money for people recovering from severe floods in the area last month.
"We have a real passion for giving," Moser said, adding that employees also hail from La Crosse, Holmen, West Salem and Coon Valley, and all have friends or relatives who suffered in the flooding.
Dental needs varied during the event, part of Dentistry from the Heart, ranging from a routine cleaning to a young man who was missing almost all of his teeth and needed an extraction, she had.
"There is a huge lack of education about dental care, and people don't prioritize" as they grapple with other concerns in life, Moser said.
Valley Dental hygienists stress the importance of caring for teeth with each patient, she said.
Providing the free care is fulfilling in a way that extends beyond filling cavities, Day said.
Relieving anxiety
"A lot of people are really scared," she said. "It makes me feel good to help them relax, explain the procedure and help them feel more in control."
Some people have avoided dental care for quite some time because of the anxiety, often resulting in more complex cases, she said.
The people they served were very grateful, Day said, adding, "It's nice to hear 'thank you' so much."
A patient from last year who had two cavities had one filled last year and came back to have the other tended to this year, Holly said.
"We don't encourage that, but it worked for him," Holly said.
The free care, which has drawn as many as 110 people in previous years, carries a double bonus: Besides the benefit to patients' health, it also allows them "to focus their money on raising their kids" and other daily pressures, Holly said.
Moser and Gavin credited sponsors for helping make the day possible, with Caribou Coffee donating joe, Culligan Water Systems contributing cases of water, Subway chipping in with sandwiches, vendor Patterson Dental for providing some supplies and the Oral Surgery Clinic in La Crosse lending dental tools.
SMIRK traces its origins to two cases in particular: an eighth-grade girl in need orthodontics for whom a donor stepped forward to cover the $1,000 worth of work she needed, and a 15-year-old boy whose teeth were in such poor condition that dentures appeared to be the only option, said Gavin, who has been practicing dentistry since 1990.
"I wouldn't accept that," the 54-year-old Gavin said.
Instead, Gavin did several root canals and capped all of the boy's teeth, services that would have cost as much as $40,000.
"It gave him a smile in his formative stage" instead of being too embarrassed to smile, Gavin said.
"It motivated my wife and I to start SMIRK," he said.
The Gavins hosted a gathering at the La Crosse Country Club where the girl and the boy explained how the dental work changed their lives, he said.
People 'just started writing checks'
People who attended the event "just started writing checks," and SMIRK was born, Gavin said.
SMIRK doesn't restrict itself to Valley Dental; other dentists and orthodontists who have young patients who are uninsured or cannot afford the work can have the patients apply for assistance from SMIRK.
SMIRK's board meets frequently to review applications filled out by dentists, dental specialists, school counselors, teachers, community leaders and others to determine who needs urgent or immediate care.
Gavin, who trained for three years in the U.S. Navy Dental Corps and served in Naval Dental Center in Florida and North Carolina, also was affiliated with the U.S. Marine Corps during part of his service. He was deployed to Guantanamo Bay, Cuba, to provide humanitarian dental care to Haitian immigrants.
Gavin told of a youth whose teeth were so unsightly that he was bullied so mercilessly that he changed schools.
The boy's case "was the worst I have seen, and that includes Haitian immigrants," he said.
"A year into treatment, he is a different dude," Gavin said. "That's life-changing. Filling a cavity doesn't change a life, but something like that can make changes that can affect a job or whatever he wants to do in life."