The Aging and Disability Resource Center has long served homebound seniors in many facets, and with the coronavirus pandemic making in-person assistance largely unsound, the organization has needed to get creative in maintaining connections with clients.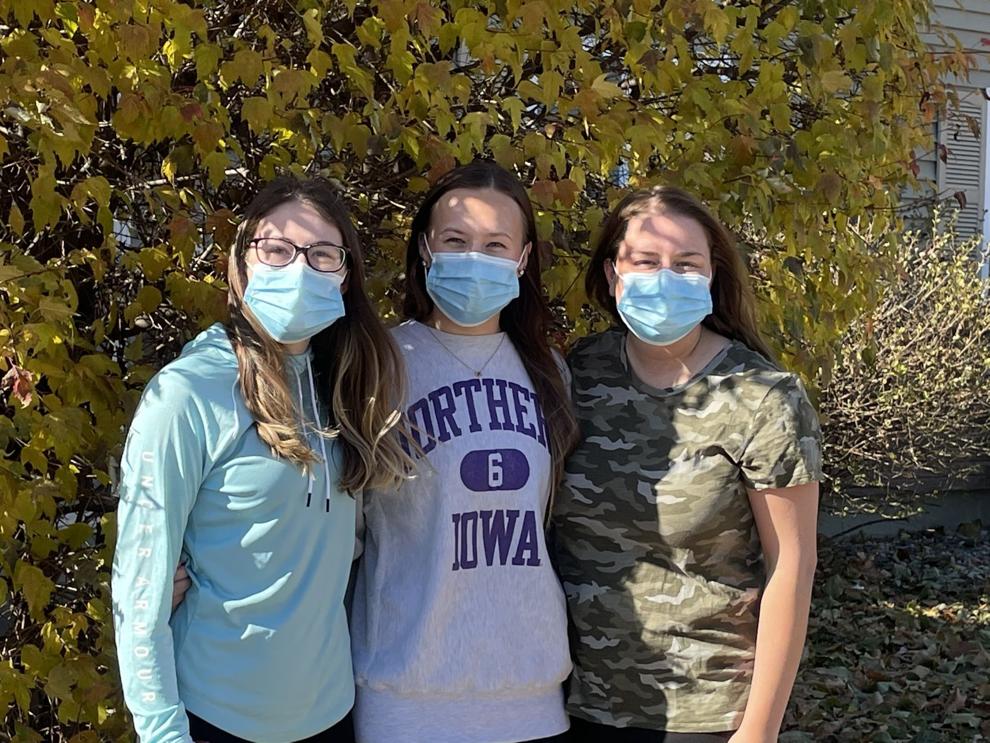 In partnership with Viterbo University and assistant professor of nursing Cameron Kiersch, the ADRC has developed the Friendly Phone Companions program, through which senior citizens can have a free flowing conversation with a Viterbo student.
Interested seniors can call Monday through Friday during set times through Dec. 10 to connect and forge intergenerational relationships during a time of social isolation. Currently, around 50 students are volunteering with the program, which may be expanded during spring semester.
Viterbo nursing students Alexandra Hable, Viktoria Droegkamp and Gillian Servais began volunteering with Friendly Phone Companions in hopes of helping those experiencing loneliness amid the pandemic as visits and excursions have become limited.
"We hope to help those that call the friendly phone by including different hotlines that are available depending on their concerns as well as just listening to them and why they feel the way they do. The friendly phone is a way to do this safely during the pandemic," Hable, Droegkamp and Servais said in a group response to the Tribune.
"The individuals and those that are at higher risk that are socially isolated in their homes are also able to get a better understanding of what is going on with the student population and how the student nurses are dealing with COVID-19. This helps them to be able to better address their concerns regarding this pandemic."
The trio have developed a deeper insight into the effects of COVID-19 on the senior population, and are using the Friendly Phones program as the inspiration for their grand challenge project for their Gerontology, NURS-221 class
"Grand challenges are complex issues and have many moving parts to them. They can't be solved easily or with just one simple solution," Hable, Droegkamp and Servais said. "The aim of this group project is to draw from our group's collective community experiences and the literature to identify and analyze a grand challenge that impacts the older adult community in La Crosse."
For their challenge, the group is creating a document for senior participants to record the names and contact information for friends they wish to be notified should they become ill or pass away. The information will then be passed on to a family member of their choosing.
"It is hard for elders to keep in contact with their friends while in isolation when technology is scarce to them," Hable, Droegkamp and Servais said. "A lot of families are not aware of their parent's friends, so they wouldn't be aware to let them know of any tragedy. This grand challenge creates one solution."
The trio are is passionate about making a difference in the lives of seniors, and call Friendly Phone Companions interactions "a very humbling experience for both parties on the phone call."
"We as students don't always understand the severity of being isolated at home because we are still able to go to school and get outside — with a mask on, of course," Hable, Droegkamp and Servais said. "Some of these individuals we talk to haven't been able to leave their houses in months. We commend our teacher Cameron and Viterbo for being so creative and bringing this amazing volunteer opportunity to life. We have truly enjoyed it."
Seniors interested in a Friendly Phone Companions conversation can call 608-780-3219 between 1 to 3 p.m. and 4 to 6 p.m. Mondays, 10 a.m. to noon Tuesdays, 10 a.m. to noon and 3 to 5 p.m. Wednesdays, and noon to 2 p.m. Thursdays and Fridays.