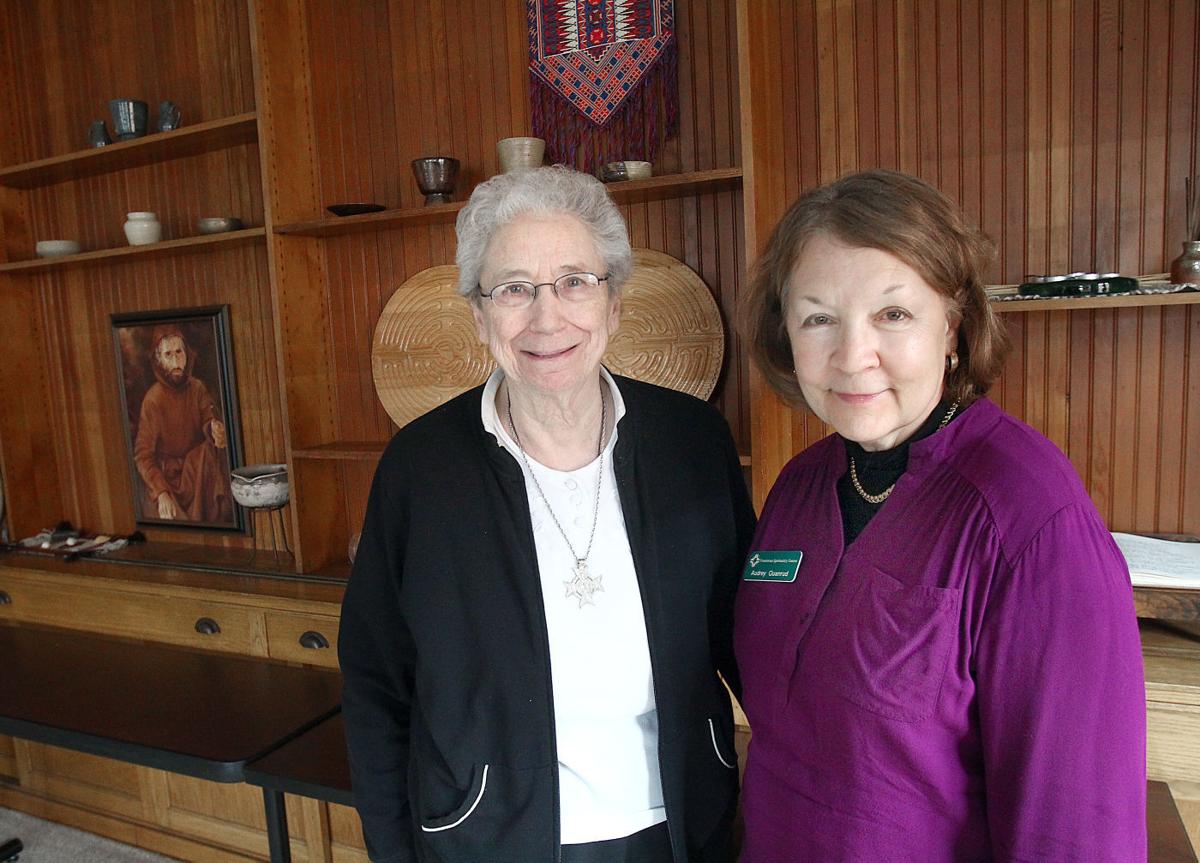 Sister Kathleen Kenkel remembers getting cranky phone calls from priests and laypeople alike when the Franciscan Spirituality Center in La Crosse first began offering yoga.
"How can Catholic sisters have programs like that?" the doubters demanded, said Kenkel, 85, a member of the Franciscan Sisters of Perpetual Adoration and one of the founders of the center in 1984.
Her answer: "One of our goals is to develop the whole person — spiritual, mind, body and movement."
Reflecting on the three decades of the center, where Kenkel was the first director, she said, "I think it has opened up people's mind and hearts that spirituality is for the whole being — not just retreats and silence and prayer, but the whole body and mind."
Audrey Quanrud, the current director of the center at 920 Market St., describes Kenkel as one of the facility's "wisdom figures."
"She's amazing because she still comes to programs here, even though she's heard everything they would say," said Quanrud, 60.
The center found its roots in Vatican II, a council in the early to mid-1960s that opened new roles for nuns and laypeople in the Catholic Church, Kenkel said.
"The council said the church is all the people of God," she said. "Before that, it was the hierarchy, and we were just the helpers. Vatican II said all are called to evangelize."
The center answered that call, ushering in the evolution from a church where only priests could lead retreats and interpret the Bible to one where sisters and laypeople can do so, she said.
"One of the big things we debated was whether to call it a retreat or a spirituality center," Kenkel recalled with a smile. "Retreat conveys just silence and direction, but spirituality is broader."
"Spirituality" won out, and fittingly so, because one of the center's primary offerings is its Spiritual Direction Preparation Program, a three-year study that has trained more than 400 people to be spiritual directors.
The program, is hosting its largest class of 50 students now, is about 95 percent laypeople, Quanrud said.
The center took an ecumenical approach from the outset, Quanrud said.
"Now, it includes clergy, many Lutherans, Methodists and other Protestant denominations, and people who are not affiliated with any religious denomination but are looking for spiritual direction," she said.
"We help people understand they are welcome here no matter where they are, and we are ready to meet them where they are now," Quanrud said.
The quest for spiritual connections "continues to be more of a middle-age or older phenomenon," she said.
In the first stage of life, people often are focused on job, family and settling in, she said, noting that they often seek spirituality in the second stage.
However, working with students at neighboring Viterbo University reveals an interest when they can carve time from their busy schedules, Quanrud said.
"They're asking great questions," she said.
The center offers an extensive array of other programs, including individual and group retreats; local and internationally known speakers; men's and women's discussion and support groups; Enneagram workshops; drumming as a form of prayer; the use of Tibetan singing bowls to relax; iconography workshops, and speakers on specialized topics.
The center has 24 bedrooms, with meals available at St. Rose Convent, for individuals and groups partaking of its offerings, as well as three hermitages in St. Joseph for those seeking solitude for reflection. It also offers meeting room space for local organizations.
"One thing we've tried to help people understand is what Franciscan spirituality is," Quanrud said. "It's interesting with Pope Francis — even though he's a Jesuit — he models the power of Francis of Assisi.
"Francis had this notion that everywhere he looked, he could see the divine presence — in people and in nature, there is goodness in everything." she said.
"His belief was that — especially at Christmas — God so loved the world that his son was born into poverty," Quanrud said.
"God is about love, mercy, faith and gentleness," she said. "When I think of the Franciscans in La Crosse, that's what they have brought. People need to be reminded of that love."
"I think it has opened up people's mind and hearts that spirituality is for the whole being — not just retreats and silence and prayer, but the whole body and mind." Sister Kathleen Kenkel
"I think it has opened up people's mind and hearts that spirituality is for the whole being — not just retreats and silence and prayer, but the whole body and mind."

Sister Kathleen Kenkel