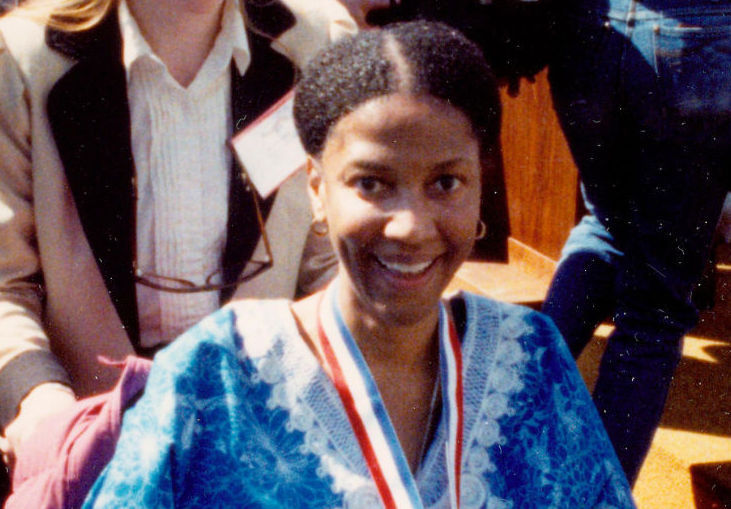 One of Sister Thea Bowman's favorite songs was "This Little Light of Mine," and her candle continues to glow for those she inspired — 25 years after her death to breast cancer at the age of 52.
The first black member of the Franciscan Sisters of Perpetual Adoration and the granddaughter of a slave is described variously as an intellectual giant, a star, a modern mystic, a prophet and "Mother Teresa with soul."
The black community considers her a saint by acclamation, and some movements are afoot to promote her sainthood cause through the formal channels of the Catholic Church.
To commemorate the 25th anniversary of her March 30, 1990, death, the La Crosse-based FSPAs are planning several events next month to salute the woman who pushed for racial equality at the same time she insisted on celebrating cultural diversity. The events are among many memorializing her across a nation dotted with schools, other institutions and organizations named after her.
"I always say I'm a very fortunate person, living for 35 years in an orbit around the star," said Sister Charlene Smith, a retired FSPA member who became a close friend of Bowman's from the time they were in the novitiate together in La Crosse in the 1950s. "She was a star, a thoroughbred, a life force."
Born in Yazoo City, Miss., Bertha Bowman began her education in a school for blacks that her father, Theon, who was a physician, and her mother, Mary, a teacher, believed didn't offer a well-rounded education. So the Bowmans transferred their only child to Holy Child Jesus School in Canton, Miss., because they had faith that FSPAs who staffed it would school her well in all disciplines.
Raised a Methodist, she told her parents at age 9 that she wanted to become a Catholic, but her transition didn't end there.
"Thea fell in love with the Franciscan sisters and wanted to become one of them," so she came to La Crosse at the age of 15 as a high school junior and entered the convent, Smith said.
She took the name Thea, which means "of God" and echoes her father's name. Although she began her career in the traditional black-and-white garb of sisters of the day, she eventually opted for brightly colored African attire.
"In La Crosse, she was a very rare person. In the 1950s, there were probably only two or three blacks," Smith said.
Bowman's upbringing in the segregated South subjected her to prejudice, although "she never said how horrible the situation was. She suffered from it," Smith said. "Lynchings still were going on, and her dad was a doctor who treated black victims of gunshots.
"She took the education way out — education is the answer to ignorance," said Smith, who co-authored the award-winning book "Thea's Song: The Life of Thea Bowman" in 2009.
Bowman taught fifth and sixth grades at Blessed Sacrament School in La Crosse before going to Washington, D.C., to earn a doctorate at The Catholic University of America and later received an honorary doctorate in religion from Boston College.
She also returned to her home town to teach at Holy Child Jesus, where the Franciscans had nurtured her.
"She was a black sister living with white nuns in Canton, Miss., in the times of Jim Crow," Smith said. "So when they were driving around, she had to lower herself so people wouldn't know there was a black in the car."
In 1972, she came back to La Crosse to teach English and music at Viterbo University, where she also headed the English department and formed the Hallelujah Singers, a chorale of black students.
Bowman often took Viterbo students on field trips to places such as Canton, New Orleans and other Southern sites to acquaint them with the black culture.
"One time, a police officer approached the students and said, 'Do you know you're in the Negro section?'" Smith said.
"She was a phenomenon and was very inspired by Martin Luther King and encouraged people to stand up and fight for their rights," she said.
In 1978, she returned to Mississippi, where the pastor in Canton persuaded Bishop Joseph Brunini to enlist her as director of the Jackson Diocese's Intercultural Awareness Office.
"He was concerned she might be a little rambunctious for the white Catholics in Mississippi, but her whole thing was to include African-American singing and culture into the Catholic culture," Smith said.
"She tried to bring people together, but she wasn't interested in the melting pot — she wanted it to be a salad bowl. She didn't want blacks to become white, but to celebrate all," Smith recalled.
As Bowman, who championed equality with other advocates such as Muhammad Ali and Harry Belafonte, herself once proclaimed: to forsake the black heritage is to become gray.
In speeches throughout the world, the spark-plug sister was a major inspiration to people of all races and walks of life, said Deborah Pembleton, a former student in Canton who now is an assistant professor of global business development at the College of St. Benedict-St. John's University in St. Joseph and Collegeville, Minn.
"I treasured her," Pembleton said in a phone interview. "She would embrace you. It was as if she could see the gifts inside of you and help you see your own gifts."
You have free articles remaining.
Lynn Figueroa, the former education director at St. Patrick Parish in Sparta, wrote a book in 2000 titled "Women Shaping Church History" that includes Bowman among the likes of Jesus' mother, Mary, St. Clare of Assisi, St. Hildegard of Bingen and Mother Teresa.
Although Figueroa couldn't be reached for comment, she voiced a reflection parallel to Pembleton's in Hill Connections, saying, "The people who knew her best said that it was as if Sister Thea could read a person's soul or see inside a person's heart. Obviously, what she saw in the people she met was good and holy, for that is exactly how gently she treated each person. She cherished them."
Perpetually joyful, Bowman also was "straightforward and direct," Pembleton said. "She would call it the true truth. If you were not strong enough to hear the truth," it was too bad.
A colleague of Pembleton's who took English from Bowman at Viterbo told her that Bowman required students to write papers over repeatedly until they got them right.
"If you couldn't take that, you shouldn't take her course," Pembleton said.
"She was not a shy, demure, frail woman, but very strong, quite demanding — and she initiated major change," she said. "She enhanced the traditional image of what it meant to be an African-American woman.
"She made significant strides in racial equality in the Catholic Church, the role of women and the importance of education.
"She enhanced the status of the Franciscan sisters and, in doing that, she helped other women see their own possibilities. She inspired me as a faculty member and as an African-American woman from the South," said Pembleton, a Notre Dame graduate who also has a doctorate in organizational leadership, policy and development from the University of Minnesota.
Bowman was a key player in developing a new Catholic hymnal, "Lead Me, Guide Me: The African American Catholic Hymnal," in 1987 — the first Catholic songbook aimed at the black community.
In an interview that year, she said, ''When I came into the Catholic Church in the 1940s, we had to leave behind us the music that was an expression of the spirituality of our home, community and upbringing. People were teaching us uniformity.''
Mixing with notables did not faze Bowman, Smith said, recalling an anecdote about the time Belafonte was considering making a documentary about Thea's life starring Whoopi Goldberg.
Preparing for the project, Goldberg picked Bowman up at her hotel to take her to a meeting with Belafonte in Beverly Hills.
The dialog, as Smith recalls the conversation as they walked toward Goldberg's orange vehicle:
"Thea said, 'What an ugly car.'"
"Whoopi said, 'It's a Porsche.'"
"Thea said, 'What an ugly car.'"
The documentary project was shelved when Belafonte shifted his focus to Haitian relief, Smith said.
When Bowman received Viterbo's Pope John XXIII Award in 1985, fellow recipient and Pittsburgh Steelers president Dan Rooney was so enthralled by her acceptance speech that he gave her a wheelchair.
"She called it her Steelermobile," Smith said.
Bowman, who often broke into song during speeches, had an evangelistic knack to entice even the toughest audiences to rally to her cause. By the end of a presentation from her wheelchair to U.S. bishops about black Catholic spirituality in June 1989 nine months before her death, she had the hierarchy standing and singing "We Shall Overcome."
"She talked in a wheelchair, but whenever she talked, she was electric," Smith said.
The FSPAs considered promoting Bowman's cause for sainthood, the order chose not to "because Thea would rather have the money it would cost to organize the cause to be spent on education," Smith said, adding that there is sentiment in Pittsburgh to advance the cause.
Former student Pembleton said the title of one of sundry books about the Franciscan — "Sister Thea Bowman, Shooting Star: Selected Writings and Speeches" — was especially appropriate.
"She was a star in our eyes, and she quickly passed," Pembleton said. "When she passed, it was as if there was a little less light in the world."
During a documentary about her life for the "60 Minutes" CBS News show in 1987, she told Mike Wallace: "I think the difference between me and some people is that I'm content to do my little bit. Sometimes people think they have to do big things in order to make change. But if each one would light a candle we'd have a tremendous light."
Despite the bigger-than-life stature she achieved, she remained humble as death neared. Her headstone honors the wish she voiced when asked what she wanted on the headstone at her grave, next to her parents in Memphis, Tenn., down the hill from the unmarked graves of 300 slaves.
Simply, it says, "She tried."