VIROQUA — Vernon Memorial Healthcare further cemented its reputation as a destination for knee replacement when Dr. Jeffrey Lawrence became one of the first surgeons in the country to use a new robotic device to give a patient who had been hobbled in pain more giddy-up in her step.
Lawrence, an orthopedic surgeon on the staff of the Gundersen Viroqua Clinic who also does surgeries at Vernon Memorial, used an OMNIBotics Active Spacer robotic tissue balancing device to help replace 66-year-old retiree Diane Froh's right knee in October.
Between Froh's surgery to replace her left knee in June and the October operation, Vernon Memorial had been able to add the spacer device to its arsenal of tools for Lawrence to use in its Viroqua Center for Orthopaedic Surgery. That center is a collaboration between Gundersen and Vernon Memorial.
"Surgery went great," Froh said last week. "I woke up ready to get up and start exercising my new knee. I had very little pain, used a lot less pain meds and did not need morphine at all. I was up about and ready to go home the next afternoon."
Unlike the three-week recovery period Froh had had in June, she said, "Therapy went so well that it was hard to hold back at week one. With my knee feeling so great, I had a tendency to overdo it, which my body reminded me I still needed to rest, ice and take care of myself."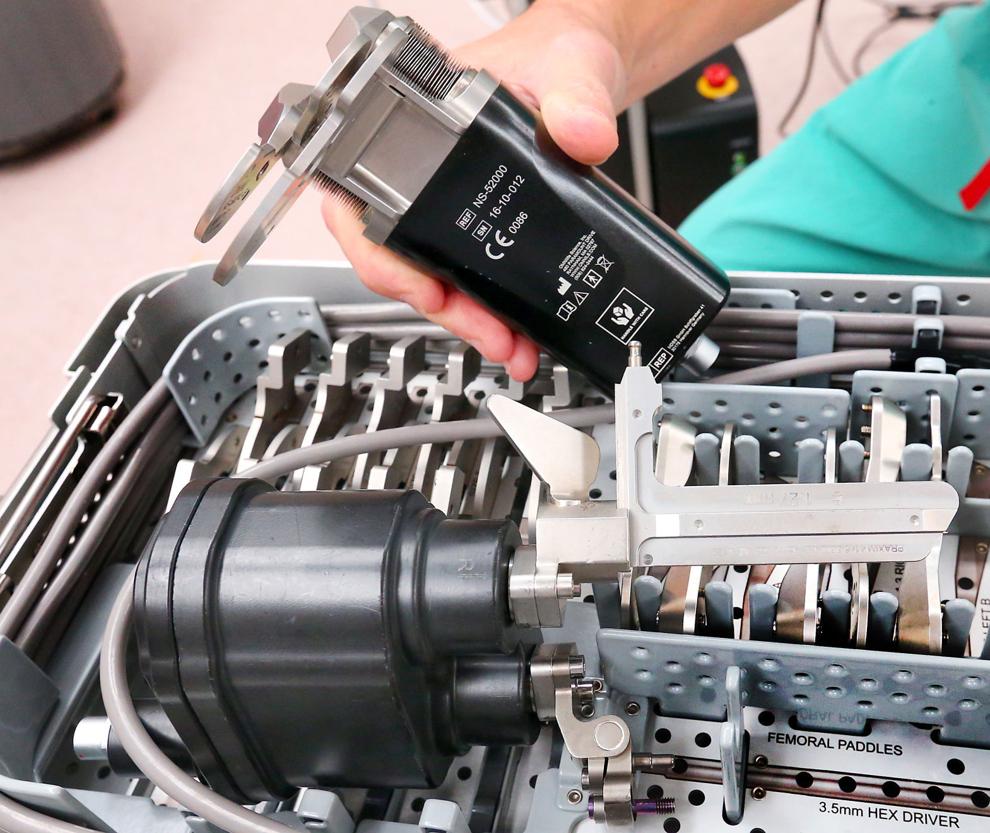 Balance ligaments in real time
The OMNIBotics Active Spacer, which Lawrence said is unlike any other device, vastly improves the surgeon's ability to balance ligaments, a crucial element in knee replacements, he said.
"It works dynamically in a way that allows us to literally customize a knee replacement for an individual patient," he said.
Ligament tension varies between patients, and the tension can change even for a patient during surgery, Lawrence said.
"We can now balance the knee in real time," while also decreasing the amount of surgery required, he said. "Our theory is that less ligament surgery will create less pain and swelling after surgery, faster recovery and better motion."
Lawrence had asked Froh whether she would allow him to use the new device on her second operation.
"I gave my consent, anxious to have this surgery over with and hoping I was helping change the future of knee surgeries for other patients," she said.
Froh's need to have her knees replaced resulted from several years of deterioration, which she traces to 2008.
"Sitting at work and not getting as much activity as I had previously had didn't help, along with a significant weight gain," said Froh, who had been a phlebotomist and medical secretary for 25 years at Mayo Clinic Health System-Franciscan Healthcare in La Crosse.
Froh and her husband, Duane, who live on a quiet cul-de-sac near Genoa, also had owned cabins that they had rented out along the Mississippi River.
"It worked well for us," she said, while Duane worked at Dairyland Power, from which he has since retired.
"This enabled me to be at home with our children while Duane worked, then I worked the p.m. shift," she said.
"Being the boss of the house and also running and cleaning the cabins — plus working part time — took a toll on my knees. I guess I didn't inherit the good genes that my siblings have," she said with a rueful smile.
After surgery to repair a meniscus tear in her right knee, Froh acknowledged favoring that knee, resulting in damage to the left. She hoped she was on the final road to recovery after another surgery, but life "proved me wrong," she said.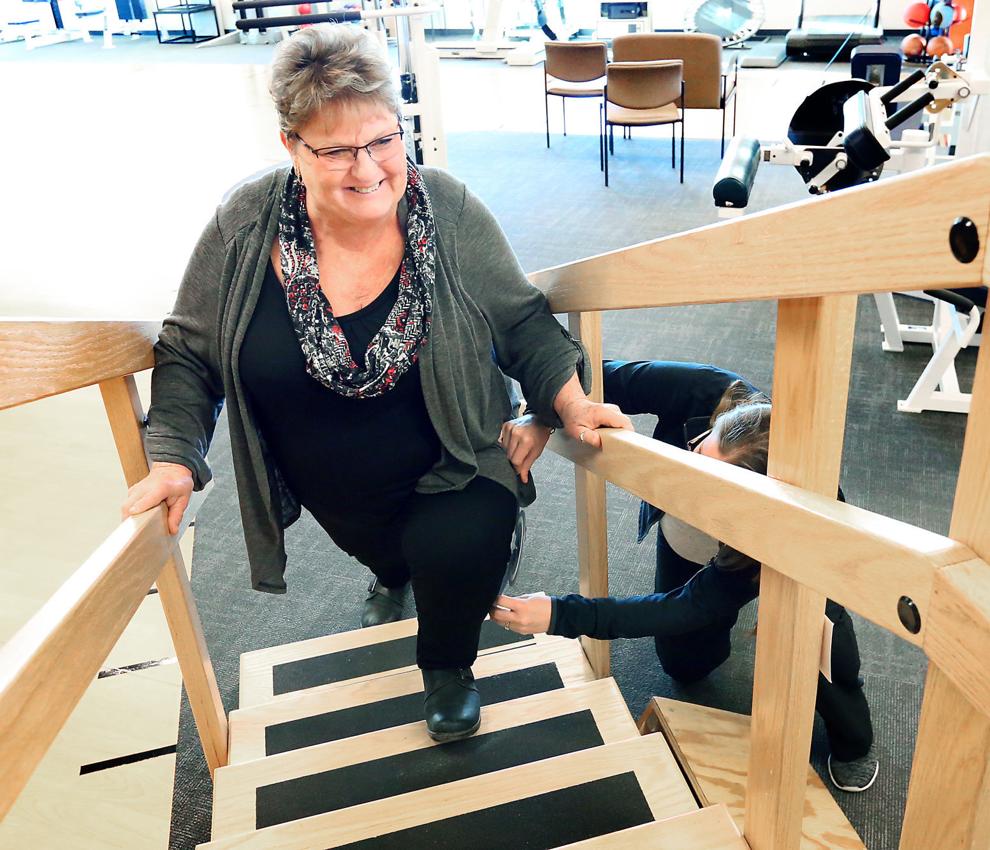 Breast cancer sidelines knee concerns
Diagnosed with breast cancer in 2009, Froh focused on the surgery and radiation regiment that battle required, which elbowed her knee pain aside for a time.
"I struggled along for quite a few years, getting cortisone shots … whenever I needed them and just kept going," she said. "My daughter had started working in the occupational therapy department at Vernon Memorial, and the more I complained about my knees, the more she told me that no one but Dr. Lawrence was going to do my knee replacements.
"She had worked with him and had seen the outcome of all of his patients," Frohs said.
The knee surgery in June "went wonderful, and my recovery was what I expected — lots of therapy, ice became my best friend, elevating my leg — all this was hard to do because my knee was feeling so well," she said.
Recovery in October went even more famously, she said, adding, "During the first week, I was going around the house without the walker, and at the end of the second week, I was able to say goodbye to the cane."
The spacer makes surgery easier, Lawrence said, because "the software will automatically position the components virtually on the computer screen in a way to balance the ligament tension on the inside and the outside of the knee — with the knee fully extended and flexed to 90 degrees.
"This is certainly possible, but considerably harder, to do perfectly and reproducibly without this technology," said Lawrence, who said the learning curve with the device is short.
"An experienced joint replacement surgeon should find that, most of this, is very intuitive," he said.
Vernon Memorial is part of a multi-center study offering the technology in the U.S.
"The study aims to improve the general state of knowledge of soft tissue balancing in knee replacement, as well as to make any improvements needed to the system," said Christopher Plaskos, chief robotics technology officer and a primary developer of the device at OMNIlife Science.
"Dr. Lawrence was involved with testing and helped with studies that led to FDA approval," Plaskos said. "His expertise in ligament balancing and his dedication to computer-aided device technology makes him a great fit on the development team."
Projected for 400 surgeries a year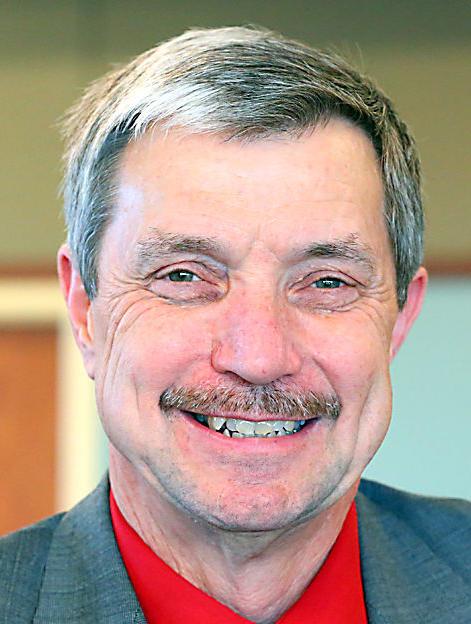 Vernon Memorial CEO Kyle Bakkum, who projects the number of surgeries at the facility using the spacer at 400 a year, noted that Lawrence helped develop the facility's Orthopaedic Serviceline over several years.
Vernon Memorial received the Joint Replacement Excellence Award from Healthgrades for the past three years and for several other years before that. The award recognizes hospitals for superior outcomes in knee and hip replacements.
Bakkum clearly intends to keep the string going, saying, "Having this type of technology and groundbreaking work being completed in our rural health care facility is definitely a proud moment … but we're even more excited to raise the bar for our patients so their care and outcomes continue to be exemplary."
Froh considers her new knees to be life-changing, saying, "With these two new knees I have lots plans to travel, see more of our country, camping and enjoying our family — especially spending time with our grandkids."