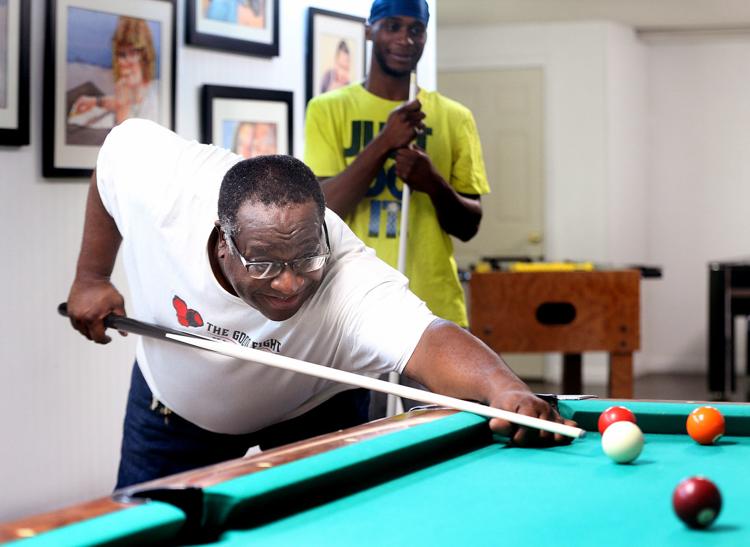 Three years ago, Nate Coleman opened The Good Fight Community Center in downtown La Crosse with minimal funds but a grand mission: to offer area tweens and teens a safe, welcoming place to box out their energy, express their creativity, build friendships and prepare for life post graduation, be it college or career.
From its initial location in a dull, basement level studio on King Street to a bright two-story suite next door, The Good Fight has grown and thrived, becoming a year-round hub for youth and an organization revered by community members, officials and most importantly, its students, many of whom were on hand Saturday to celebrate the organization's anniversary and looking forward to the overnight party with pizza and games to follow.
Founder and Good Fight board president Coleman, executive director Isaiah Thomas and fellow staff members pulled out all the stops for the occasion, preparing young attendees for school with free backpacks, holding a drawing for MTU bus passes — Coleman is a bus driver for the company — offering contests and games, holding tours of a La Crosse Fire Department truck and a new MTU bus, providing free blood pressure checks, doling out snacks and putting on boxing demos.
In attendance at the event were Mayor Tim Kabat, La Crosse County Sheriff Jeff Wolf and members of the La Crosse Fire Department and the La Crosse Police Department, who toured the facility and learned about the programming that has impacted the lives of the 166 students currently enrolled.
"After three years, we still unlock the doors every day, we've never turned a student away for financial or other reasons, we've never dismissed a student from this facility," Coleman said. "I love the fact that we are expanding and we are becoming a staple in this community."
Gabby Mattison, 18, who joined The Good Fight five months after it first opened, has become a fixture, first reluctant to surround herself with strangers but finding her confidence blossom and shyness fade.
"When I came in the first time, I brought a couple of friends because I was anxious," Mattison said. "As soon as I got here, the workout was hard, but I had fun punching the bags. Everyone was so nice and welcoming. It was almost kind of startling the amount of kindness I was shown right away. When I started, I tried my best not to talk to people. Now I've made a lot of friends and we're in this awesome space making a lot of memories. Everyone here just becomes family to you."
Thomas, who started his position in January, says the organization is looking to expand its reach to an even greater population in the coming year, taking a more proactive approach to reaching vulnerable or at-risk youth before "they're sinking." This includes an introduction of Carey Guides this fall "to address the criminogenic needs of adult and juvenile offenders, help change behaviors and reduce recidivism." Referrals will be taken from juvenile detention centers, social workers, parents and school districts.
You have free articles remaining.
Register for more free articles.
Stay logged in to skip the surveys.
The Good Fight is also looking to partner with other youth-based community organizations, including the nearby Crossfire faith-based nonprofit. Crossfire hosts Friday evening hangouts as a party alternative, mentors teens in juvenile detention and leads outdoor activities.
"It's neat the Good Fight is having us here so we can collaborate in that way," said Crossfire executive director Christian Johnson, who had a booth at the anniversary celebration.
"It's not a competition," Thomas noted. "If we work more as a unit — with other organizations, the school district, parents — we're setting our students up for more success."
In his six months with the Good Fight, Thomas has encountered challenging days but seen rewarding journeys. One student, who compared him to a principal, rebuffed help with school and attempts at conversation but eventually realized Thomas "cared and bought into her success." The Good Fight filled the void of compassion and encouragement the student was lacking at home.
For area teens without a safe place to call home and facing extreme challenges, Coleman is planning to open a group home, a project for which a business plan has been developed and a site is awaiting approval. Fundraising is in the active stages.
"After three years, we still unlock the doors every day, we've never turned a student away for financial or other reasons, we've never dismissed a student from this facility. I love the fact that we are expanding and we are becoming a staple in this community." Nate Coleman, founder