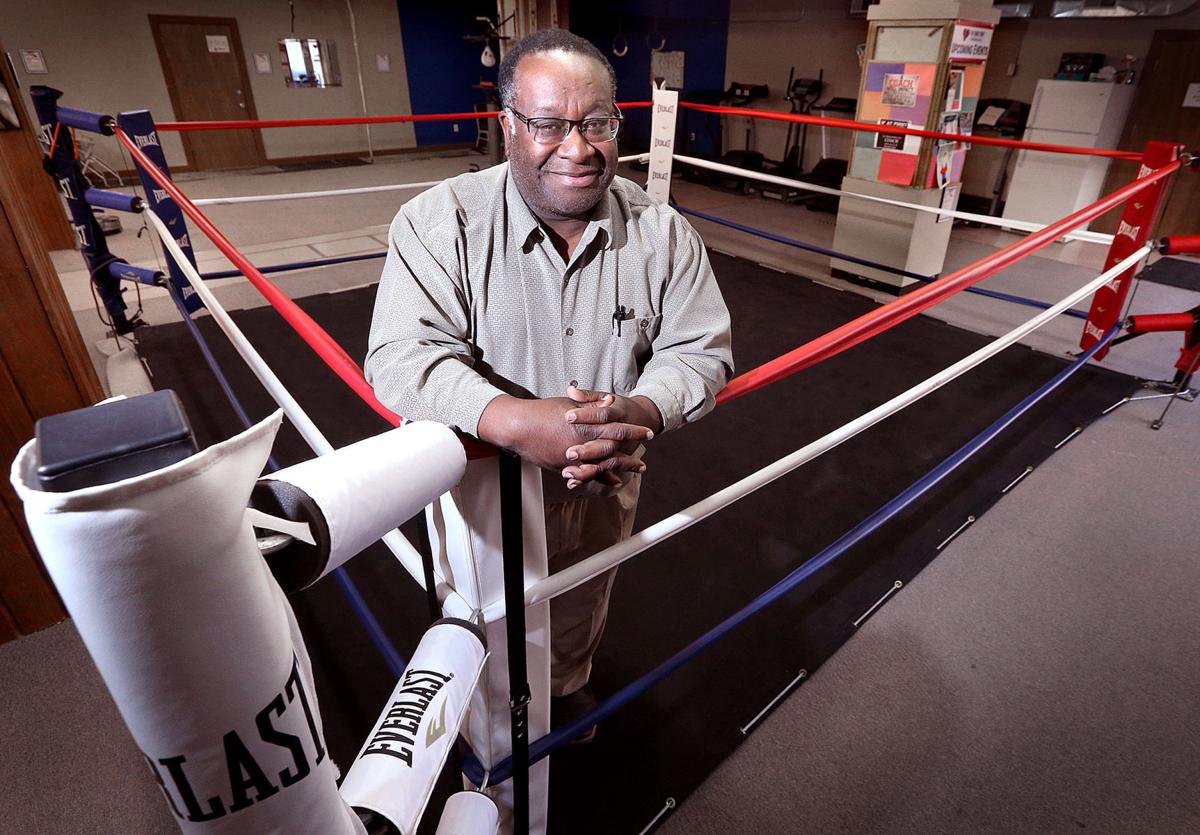 In 1957, the Rev. Martin Luther King Jr. stood before a crowd in Montgomery, Ala., and proclaimed: "Life's most persistent and urgent question is, 'What are you doing for others?'"
Though too modest to admit it, Nathaniel Colman could easily answer "everything." Coleman, 50, has dedicated his life to the residents of the Coulee Region, both through his career as a full-time MTU bus driver and founder of The Good Fight Community Center.
In recognition of his positive impact, compassionate nature and tireless efforts, Coleman has been named the 2018 recipient of the Martin Luther King Jr. Leadership Award. Bestowed annually, the award is given to someone who has shown leadership and a commitment to building community, enhancing diversity and working for justice. Coleman will be honored at the Martin Luther King Jr. Community Celebration at 7 p.m. Monday, Jan. 15, at the Viterbo University Fine Arts Center.
"(Coleman) is very committed to making this community a better place," said John Medinger, the 2017 recipient of the MLK Leadership Award. "(This award is about) a life of service, and he's certainly doing that in a number of ways, both at his job with the city and his work with young people. He's a great role model for young people. He sustains them, supports them, holds them up and leads them on their way."
Coleman was surprised when Medinger informed him he was being honored with the MLK Leadership Award.
"When I think about why I started this, it wasn't for the recognition," Coleman said. "That's nice and good — I'm grateful, I'm happy — but I just wanted to help kids. Tomorrow I still have to run the community center."
Coleman isn't one for fanfare, and his preference to focus exposure on The Good Fight, not himself, is in fact one of things that makes him stand out.
"I love that the award is going this year to someone many people don't know about but whose public service is important to everyone in La Crosse," said Maureen Freedland, the 2012 recipient of the award. "... Nate embodies Dr. King's call as an employee going beyond his employment responsibilities, serving a public which often reflects socioeconomic challenges and also people with special needs. He cares deeply about the people who depend on him ... He also devotes himself to the youth of tomorrow, as Dr. King would ask. This shows in his commitment to all La Crosse youth though establishment of The Good Fight Community Center."
Coleman didn't always see a life of service in his future. Growing up on Chicago's South Side among gangs and crime, Coleman at times couldn't see a future at all. Raised in a troubled home, he struggled in high school, and while he later found success at UW-Eau Claire, in the Marines and in his career, it all came crashing down a decade ago. Laid off from his job in Texas, he found himself homeless, unable to find work and spending nights in his car. Coleman found a job as dining facility manager at Fort McCoy, where he earned the Phillip A. Connelly Award for excellence in food service.
He later took a position as child care specialist at the Family and Children's Center and marveled how a small thing like a snowball fight could reignite the youthful joy in a struggling child. The experience helped sparked the idea for The Good Fight.
"I hit a point in my life where I thought, 'When I die, when it's over, have I left something behind that has made this place better?'" Coleman said. "I spent years working for the money, the bonus checks, and I thought that was good, but I wasn't passionate. Helping kids is my passion."
Coleman does so on a daily basis at The Good Fight, which he started in 2016 with $90 from his pocket. The fitness and education center at 508 Jay St. provides a safe, supportive environment where at-risk or low-income youths can work on fitness and schoolwork. About 130 youth are currently enrolled, and pay a nominal fee for access to all the programming. Snacks and meals, field trips and campus visits are included at no extra charge.
In the facility's Elsworth Smith Boxing Gym, named for a former Coleman classmate, kids can take out their frustrations in healthy manner, learn discipline and gain confidence; and the Larry Shapiro Education Program, named a beloved high school teacher, offers tutoring, college prep and resume building.
Coleman stresses setting goals and perseverance.
"The biggest thing (Larry) brought to my life is he wouldn't let me slide or just get by or quit," Coleman said. "That (lesson) is what I do with my kids. That's how you find out what's inside of you and how you grow."
Coleman also works with youths from the La Crosse County juvenile detention center, offering encouragement and access to both The Good Fight's gym and education centers.
"(These) are often kids many people give up on," said Sonna Severson Jacobs, executive assistant at The Good Fight. "Nathaniel sees the potential and works hard to turn things around for them. Kids at The Good Fight are taught to give back to the society that supports them and to support one another. The members come from all backgrounds and are told they are all brothers and sisters."
The Good Fight is funded by donations and staffed by volunteers. To help it thrive, Coleman declines to take a salary, depending on his job as a bus driver with MTU to support himself. Coleman extends his generous, caring nature to his riders. Known to personally escort elderly patrons to the curb, Coleman creates a welcoming atmosphere with plenty of friendly conversation.
"It's like you're traveling with friends in someone's magical living room to your next destination," said regular rider Cathy Van Maren.
MTU colleagues were among those who nominated Coleman, impressed by his exceptional service at work and his dedication to The Good Fight. Their affection for Coleman is shared by members of The Good Fight, many of whom will accompany Coleman to the Community Celebration. As always, Coleman sees the event as a learning opportunity, a chance to remind youth of the legacy of King, who Coleman says inspired his "courage to make the adjustment."
"People like to think how far we've come," Coleman said. "I like to think how far we go."
Get local news delivered to your inbox!
Subscribe to our Daily Headlines newsletter.