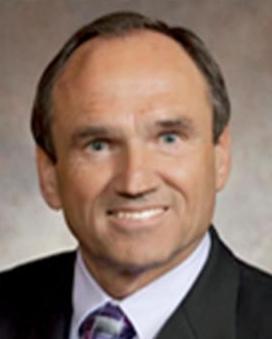 Wisconsin's 32nd state Senate District will see a rematch between two candidates who first met nearly two decades ago.
Brad Pfaff announced Monday he is running for the seat, facing former Sen. Dan Kapanke, who he lost to in 2004 by just around 5% of the vote, and aiming to fill the seat of longtime Sen. Jennifer Shilling.
Pfaff grew up in northern La Crosse County on a dairy farm, graduating from Melrose-Mindoro High School, and has had a long career in the agriculture industry. He said he's focusing on western Wisconsin values as the "north star" of his campaign.
"I'm a son of the rolling valleys and coulees of western Wisconsin," Pfaff said. "This is my home."
"I have traveled this district, I have traveled this state. I have listened, I've been in barnyards, I've been on dairy farms, I've sat at kitchen tables and in diners," he said. "I'm very proud of the work I've done for rural residents."
Pfaff holds an undergraduate degree from the University of Wisconsin-Green Bay and a master's from George Mason University. Early in his political career, Pfaff worked for more than a decade as a staff member for Rep. Ron Kind, and has also worked for Sen. Herb Kohl and Rep. Virgil Roberts.
He served on the La Crosse County Board for a number of years, and in 2009 he was appointed under the Obama administration as the executive director for the state's Farm Service Agency at the USDA. He served with the department until 2017, after Obama left office.
In 2018, Gov. Tony Evers nominated Pfaff to lead the Wisconsin Department of Agriculture, Trade and Consumer Protection, but Senate Republicans rejected his nomination.
"I was asked to step forward and lead a department during a challenging time," Pfaff said of the nomination, which came in the heat of Wisconsin's dairy farm crisis. "And I stood up. And I listened, and I heard what they were saying."
"The issues that I brought to the table are not political," he said. "These are common-sense issues. Why do they become political?"
Shortly after the rejected nomination, he was hired to become the state's first director of Business and Rural Development in 2019.
Though running as a Democrat, Pfaff said he considers himself "extremely bipartisan," and someone who won't just listen to party leaders.
"I look at the fact as we have a job to do, that we listen and respect the needs of the voters," he said.
Kapanke announced his campaign earlier in the year, leaving many voters gearing up to see yet another match-up with him and Shilling, who took his seat after the 2011 recalls.
But Shilling announced three weeks ago that she would not be running for reelection, after 20 years in state politics, leaving big shoes to fill for Democrats.
The ballot still promises a rematch, though Pfaff hopes the candidates and voters can put "petty partisanship" aside and focus on the future.
"Just to fall into the tired old same partisan conversations and discussions, I don't think anybody wins on that," Pfaff said.
"I think that where I come from, we have a common goal. We maybe don't see eye to eye on everyday tactics," he said, "but we have a common goal. And that is that we protect the health and safety of our residents."
"We can have conversations about how we can make sure we can reach those goals, but again to fall into the pettiness, the polarization ... we can do better than that," Pfaff said.
Kapanke, also a La Crosse County native, said he hopes to unite with the communtiy as well during his campaign.
"In this challenging time, the 2020 election is shaping up to be unlike any in our history," Kapanke said.
"In the coming months, I look forward to connecting with friends and neighbors," in the district to discuss ideas to keep Wisconsin moving forward, he added.
Especially during the pandemic, Pfaff said he hopes he can help shake things up in Madison, where the "status quo" has been going on too long.
"I just think that with these tough times like this it demands real change, and we don't want more of the same. And I just want people to know that we need to come together," Pfaff added.
"I have deep roots in the community, and I'm a good neighbor," Pfaff said. "Where I come from, we don't tear each other down, we help build each other up. And we don't have enough of that in Madison."
Get Government & Politics updates in your inbox!
Stay up-to-date on the latest in local and national government and political topics with our newsletter.