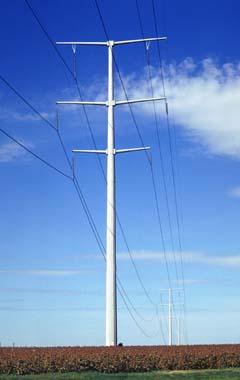 HOLMEN — The latest meeting on the proposed CapX2020 transmission line was nearing its end when a woman shouted from the back of the room.
"I'm sorry, but isn't it safer to build underground than overhead?" Brenda Herman asked. Twice.
Both methods are safe, said Tom Hillstrom, Xcel Energy's permitting leader for the Hampton to Rochester, Minn., segment of the proposed 150-mile line.
But burying the lines would cost far more, about $20 million a mile.
Advocates and opponents of the 345-kilovolt line that would stretch from Hampton to a new substation in Holmen, crossing the Mississippi River at Alma, had been invited to Holmen High School on Monday evening for an informational session organized by state Rep. Steve Doyle, who lives in the nearby town of Onalaska.
Fellow state Reps. Chris Danou of Trempealeau and Jill Billings of La Crosse shuffled through stacks of questions submitted by the audience of about 200, most chipping away at CapX2020 and the similar 345kV ATC Badger Coulee line that would extend from Holmen to the Madison area.
The Wisconsin Public Service Commission is expected to consider CapX2020 applications later this year. If it approves the $450 million project, construction would begin in 2013, with the line in service by 2015. The ATC line proposal has yet to be submitted to the PSC.
You have free articles remaining.
Officials with the CapX2020 consortium — which includes Xcel Energy, Dairyland Power and nine other utilities in Minnesota, the Dakotas, Iowa and Wisconsin — continued to make the case the power lines pose no risk and will provide a needed power upgrade for the region.
Joe Morse, representing Citizens Energy Task Force, continued to deride the project as costly and unnecessary, benefiting only the utilities and ignoring more sustainable energy alternatives. Though touted as channeling wind power from the Plains to Wisconsin, the lines mostly will carry coal energy eastward, he said.
"It's really a huge coal extension cord from the Dakotas to Indiana," Morse said.
Herman, who had come with husband Ron and two sons, one 8 months old, said she hadn't planned to speak out Monday but was "very frustrated" by a lack of answers to their concerns about potential harm the line could cause to their health and property values. The line now is set to cross the lowest end of their diamond-shaped property between Ettrick and Galesville, she said.
All comments will be needed at the PSC's public hearings on the CapX2020 plan March 13 and 14 in Alma and Centerville, respectively, Doyle said.
Those who can't attend should file statements at the PSC website. Just telling area legislators won't be enough, Doyle said.
He quoted state Sen. Jennifer Shilling in warning, "If you're not at the table, you're on the menu."
CapX2020 communications manager Tim Carlsgaard later would sit down with Herman to further discuss her concerns.
But Herman admitted that after three meetings, "there is no way that CapX is going to convince me this is going to do any good."