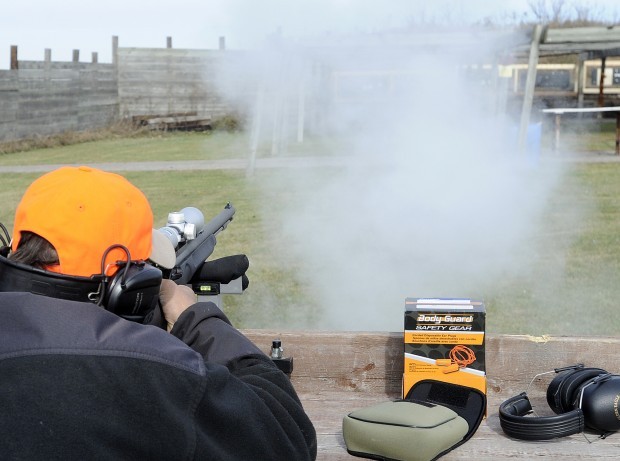 A state Department of Natural Resources committee voted 4-1 Thursday to recommend approval of a controversial $500,000 grant to the politically connected United Sportsmen of Wisconsin Foundation amid questions about whether the group is qualified to carry out the work.
The decision now goes to DNR Secretary Cathy Stepp, who has no choice but to OK the grant, said Tim Andryk, the agency's chief legal counsel. Andryk told the committee that the provision, passed as part of the state's two-year budget, requires the secretary to issue the grant by Tuesday.
"I felt that it didn't pass the smell test," Mark LaBarbera, the lone member of the Sporting Heritage Grant Committee to vote against the grant, said in an interview after the vote.
In a statement issued Thursday after the vote, Stepp acknowledged concerns about the group and vowed to make sure that United Sportsmen completes the terms of the grant.
"I will be inserting clear and specific language within the grant contract to ensure that desired outcomes are met in an efficient and transparent manner with ample opportunity for public scrutiny," she said. "We will work to incorporate many of the concerns and ideas we heard during today's hearing into the grant contract."
Scott Gunderson, DNR's executive assistant and a committee member, said DNR's contract staff determined that United Sportsmen fit the criteria of the grant.
"I think we have to follow the law," he said.
Several speakers, including some critics, praised the idea behind the grant, which is to increase the number of hunters and anglers at a time when such hobbies are fading in popularity in Wisconsin and nationwide.
The law requires the DNR to provide one grant of $500,000 every two years to a nonprofit organization to provide education and to recruit people to engage in hunting, fishing and trapping. United Sportsmen, which is affiliated with the National Rifle Association, was the only group that applied.
The group also has ties to outgoing Senate Majority Leader Scott Suder, R-Abbottsford, who sponsored the measure. Among the board members of United Sportsmen are former GOP Sen. Pam Galloway and Suder's former chief of staff, Luke Hilgemann, who has been a registered lobbyist for Americans for Prosperity and recently took over as chief operating officer for the nationwide organization in Washington, D.C.
Amid questioning from committee members, United Sportsmen president Andy Pantzlaff said the group had no plans to hire any former lawmaker or any lobbyist. But he said he wouldn't rule it out, either.
"There's a lot of qualified individuals out there," said Pantzlaff, adding that the group plans to launch a nationwide search for the best people to run the organization.
Half a dozen speakers at Thursday's hearing, including Jennifer Giegerich of the Wisconsin League of Conservation Voters, said the grant criteria appeared to be specifically tailored so that only United Sportsmen could qualify. Even then, Giegerich argued that United Sportsmen, which was incorporated in January, had no track record of providing training or recruiting hunters, anglers or trappers.
"They clearly do not meet several of the criteria," she said.
Pantzlaff told the committee by phone that members of its board had taught courses including hunting and shooting, but the organization had not run any programs itself. Pantzlaff said United Sportsmen planned to work with other groups already providing such training and recruitment.
The group says it is a nonprofit with 501(c)3 tax-exempt status from the IRS.
LaBarbera, a sportsman from Hazel Green, asked Pantzlaff to provide the IRS letter confirming that the organization has tax-exempt status. Pantzlaff said he had sent DNR that document but a DNR official said it was instead the organization's proof of incorporation.
LaBarbera expressed frustration at the answers offered by Pantzlaff.
"I have questions and I need more details before I can feel that I'm making a decision that's right for the people and resources of Wisconsin .... not something that instead sticks to our boots in perpetuity," LaBarbera said.
In a phone interview after the meeting, Pantzlaff insisted that his organization has IRS approval but said it could take him some days to locate the paperwork.
"I know we've filed (for tax-exempt status), and I've been told we have it," said Pantzlaff, whose organization's letterhead describes it as a 501(c)3 but its website does not.
However, drafting notes for the legislation dated June 3 — introduced late in the budget process with little debate — showed an unnamed lawmaker specified that the legislation should not require that the nonprofit group chosen have 501(c)3 status. Such tax exemption is granted to charitable organizations.
Said Scot Ross of One Wisconsin Now, who provided a copy of the drafting notes to the State Journal: "Why can't they come up with the IRS letter?"
Voting to recommend approval of the contract were committee members Gunderson, citizen member Bill Torhorst of Oregon and the chairmen of their respective legislative natural resources committees, Sen. Neal Kedzie, R-Elkhorn, and Rep. Al Ott, R-Forest Junction.
Rep. Katrina Shankland, D-Stevens Point, a member of the Assembly Committee on Natural Resources and Sporting Heritage, called the grant an example of "political cronyism" because it was "rigged" to exclude other conservation and outdoor sporting groups in favor of United Sportsmen.
"With this grant, Republicans are asking taxpayers to subsidize the salaries of their donors and lobbyists," she said. "This is an insult to the taxpayers' trust, and an outrage for dedicated sportsmen across Wisconsin."
"This is an insult to the taxpayers' trust, and an outrage for dedicated sportsmen across Wisconsin." Rep. Katrina Shankland, D-Stevens Point,
member of the Assembly Committee on Natural Resources and Sporting Heritage