Gov. Evers said that a veto is "on the table" for a new bill that would extend deadlines for local municipalities to remap electoral districts, but that his mind is not yet made.
The bill, which is making its way through committee currently, would allow local counties, cities and towns more time to redistrict because of slow-moving census data, but Evers said it's too early to know if the data would be available in time.
"There is a veto on the table," Evers said Wednesday during a local press call, saying fair maps was a pillar of his campaign for office.
"I know this bill deals with wards and aldermanic districts and local, but it's way too early to assume that that information won't be available to the locals in time for them to make a good decision," he said.
The bill specifically would move the deadlines for remapping at the local level to next spring and summer rather than this summer and fall, as required by state law. The first deadline is July 1.
Local leaders have already begun planning for the possible extension. La Crosse County Administrator Steve O'Malley is in support, saying it's "impossible" to meet the current deadlines.
O'Malley said that the extension would not affect the fall 2022 elections, when Evers is up for re-election, and would only keep districts the same for the spring races, including the La Crosse County Board of Supervisors.
The 2020 census data used to reshape any electoral districts is not expected to be released to local governments until next spring, the U.S. Census Bureau's schedule states.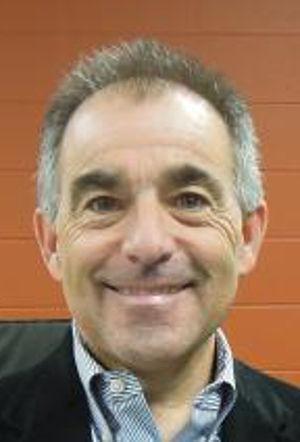 At a committee meeting early Wednesday morning, O'Malley said that initial responses are still muddied.
"Initially the governor didn't have any issues with it but it's still unclear if Democratic resistance is going to change that, but nobody's come up with an alternative plan so it's still going through the process," O'Malley said.
Early opposers to the bill are fearful that delaying the remapping process would disenfranchise communities whose population has grown in the past decade.
Evers shared similar concerns.
"I fear that this bill is nothing more than a stalking horse for making sure that fair maps don't happen here in Wisconsin," he said. "And so I'm concerned about it, I haven't made up my mind, a veto is possible, but I have to emphasize I have not made up my mind on this."
In preparation, the county board is set to approve its remapping committee next week with an estimated six supervisors and six community members.
Hopeful for PFAS help
As the state Legislature makes its way through the budget process, funding for PFAS pollution is an uncertain item so far.
In La Crosse, that funding could help the nearly hundreds of households whose private wells have been contaminated with PFAS, a group of toxic man-made "forever chemicals" believed to have originated from firefighting foam used at the nearby airport on French Island. Many other communities in the state are also fighting the same environmental issue.
The Wisconsin Department of Natural Resources has stepped in to help better understand the pollution in La Crosse, and island residents are under a water advisory and more than a thousand individuals are currently receiving bottled water from the city and state.
Evers said he remains hopeful, though, signaling early on that he thought the funds for mitigation, testing, clean-up and new standards would receive bipartisan support, but said that politics could prevent that.
"They're listening to various special interest groups outside of our office and frankly, they're special interest groups that don't have members that live on French Island or up in the northeast part of the state," Evers said.
"It's just wrong and we will continue to fight this issue. We can't have special interest groups saying that people on French Island should be drinking Culligan water for the rest of their life. I mean thank God that we do have that option, but that's just not the way it should be working," Evers said.
Some lobbyists have already pushed back on the state's attempt to address PFAS, including the Wisconsin Manufacturers & Commerce, which filed a restraining order in an attempt to stop the DNR from testing wastewater discharged from businesses.
In early versions of the Republican's budget, funding for setting PFAS standards, financial responsibility and certified testing laboratories were among the nearly 400 items removed from Evers' proposed budget.
Evers said that setting better standards for PFAS contamination is a top priority.
"We have money in the budget for PFAS," he said, "but we have to set standards. Right at this point in time we are hamstrung by the administrative rulemaking process that the Legislature put in during the lame duck session that causes us — it's 30 months, God almighty think of that, 30 months it's going to take for us to set standards for PFAS. How can we move forward as a state?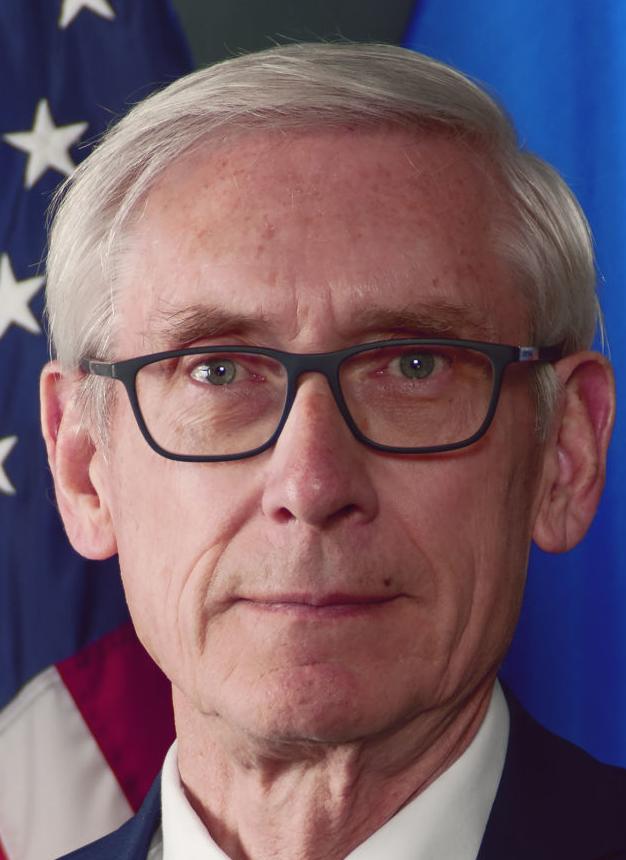 "There's no middle ground here. We have to address this. PFAS are bad, we have to get rid of them, we have to respond to people, we have to have standards, and so this is going to be a big deal," Evers said, "and frankly I think the federal government is going to be helping out, too."
Evers said his team is monitoring as the Legislature works through the the state's future spending, calling it a "butcher job so far," and said he was disappointed with the $1.5 billion project budget that was approved by the Joint Finance Committee late Tuesday night, $1 billion less than Evers' proposed.
It appears that funding for the $9.6 million elevator rehabilitation at the University of Wisconsin-La Crosse made the cut, but the remaining $121 million in projects did not.
"Of course I'm disappointed," Evers said, saying economists advised him the group made the decision to slash as a way to reduce borrowing. Evers said it's unlikely that borrowing is never needed for projects.
Evers was particularly disappointed about the decision after the news that the state is expected to receive $4.4 billion more in tax revenue than previously expected.
"The argument can't be made that the resources aren't there," he said.
"This is the perfect time to get some really important projects done," Evers said, noting that the decision to slash money for public transit in Milwaukee and Madison was particularly concerning.
Evers said that his top priorities to keep on the budget continue to be K-12 and higher education funding, and broadband.
"We'll continue to monitor it. Can a budget be vetoed? Of course, but that would be something that is not my preference," Evers said. "But if this budget is one that is going to cause problems with the federal government, and I don't say problems with a small 'p' but a big 'P,' we've got to fix them. It's a mess now."
Vaccinations
As vaccination rates slow, Evers' prided the state in being a national leader for inoculating against COVID-19.
Wisconsin has now vaccinated over 50% of its population with over 5 million doses administered, but Evers said he is focusing on reaching those with little access to health care over offering incentives like other states have done to push through plateauing rates.
"We're at a point now where it has to be hand-to-hand combat and making sure that we make it easy," Evers said.
"There are people in this state that really being involved with health care is not what they do," he said, saying he had a personal experience in his family with inaccessibility. "They don't have the resources to go to the doctor. I was with somebody just the other day that didn't qualify for medicaid and as a result she's in the marketplace and she has a $6,000 deductible.
"There's lots of people like that in Wisconsin. They just aren't hooked into health care systems so we have to figure out how to reach out to those folks," he said.
Evers said the state is still vaccinating thousands of people a day, and that the rate is "plateauing, it's not sinking into the sunset."
Pharmacies and local walk-in clinics are tools to reach people unfamiliar with the health care systems, Evers said, over incentives.
"I know that there's been interest in doing a lottery and all that, but frankly that's a one shot thing and then that levels off, too," he said. "So I'd rather use that federal money and use that for Main Street businesses, frankly."
Another run
Evers is back on the campaign trail after announcing last week he would seek another term as governor in 2022. He said his decision to run again was based off the people and the work left unfinished.
"I do enjoy it. One of the best parts of my job is talking to people across the state of Wisconsin, and I'm back on the road now, meeting with people and hearing what their needs are. That's really important and gives me a lot of hope for the future," he said.
"I'm glad to be running again. We have a lot of unfinished business," Evers said. "Whether it's around fair maps in Wisconsin, whether it's to ensure that we continue to invest in roads and mass transit and broadband in this state, and of course our public schools and our universities and our technical colleges — all those things are unfinished business.
"We did pretty well in our last budget and it looks like Republicans at this point in time are going to make matters worse," Evers said, "so there will be lots of unfinished business."
IN PHOTOS: Gov. Tony Evers visits vaccination site at UWL
Here are scenes from Gov. Tony Evers' visit to UWL's Cleary Alumni & Friends Center, open for vaccinations Tuesdays through Saturdays from 11 a.m. to 7 p.m. Initially, the La Crosse County Health Department will prioritize people 65 and older.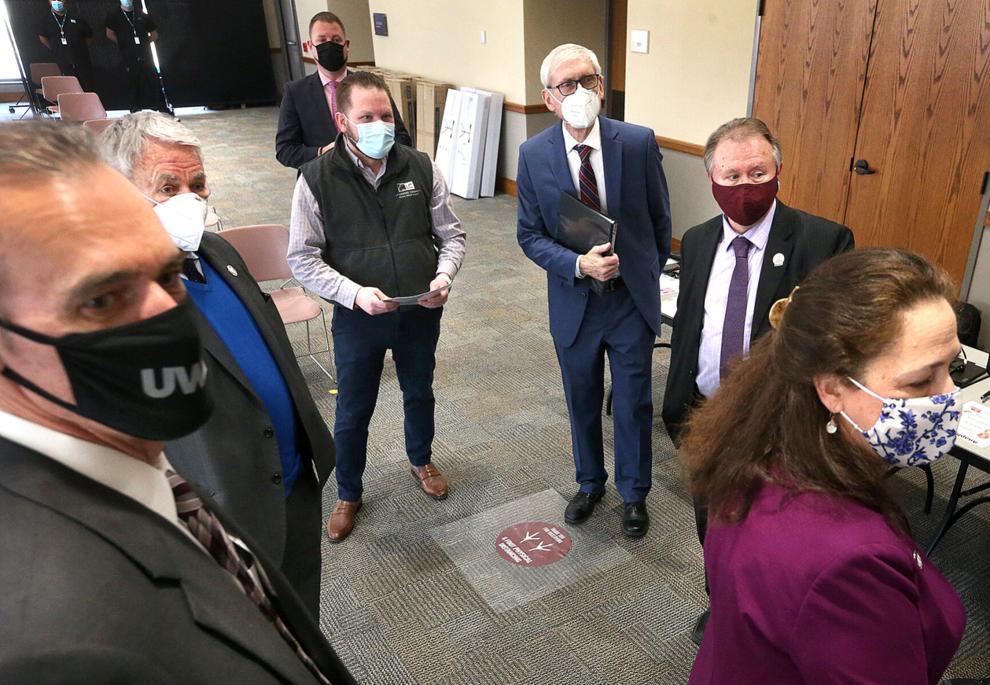 Evers at UWL
Gov. Tony Evers, center, is accompanied by numerous officials Tuesday, including UW-La Crosse Chancellor Joe Gow, UW System President Tommy Th…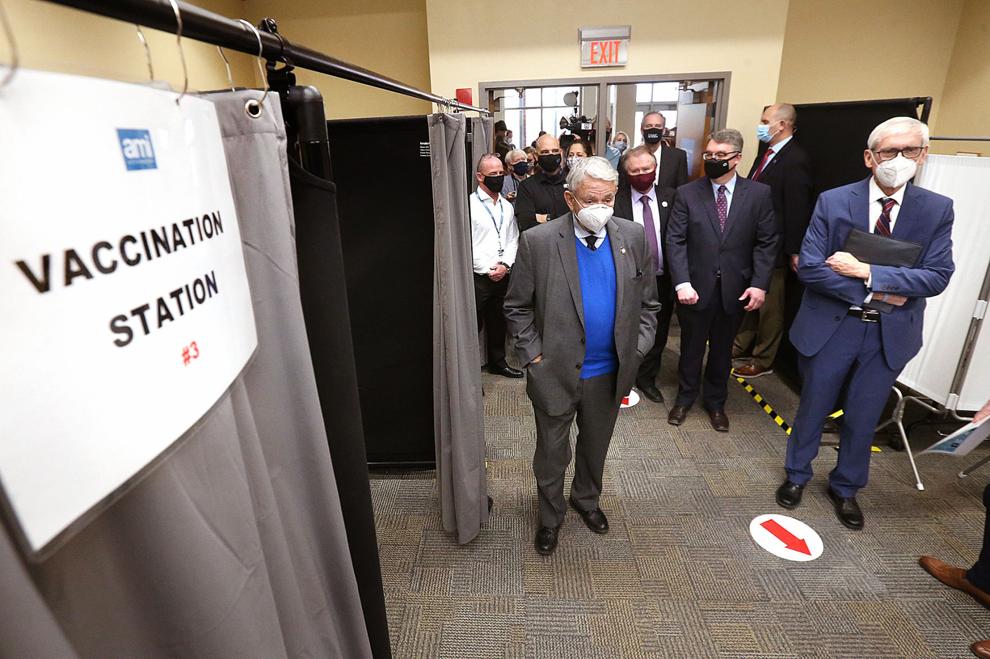 Gov. Evers at UWL
Gov. Tony Evers, right, is accompanied by numerous officials including UW System President Tommy Thompson, center, during a tour of the new CO…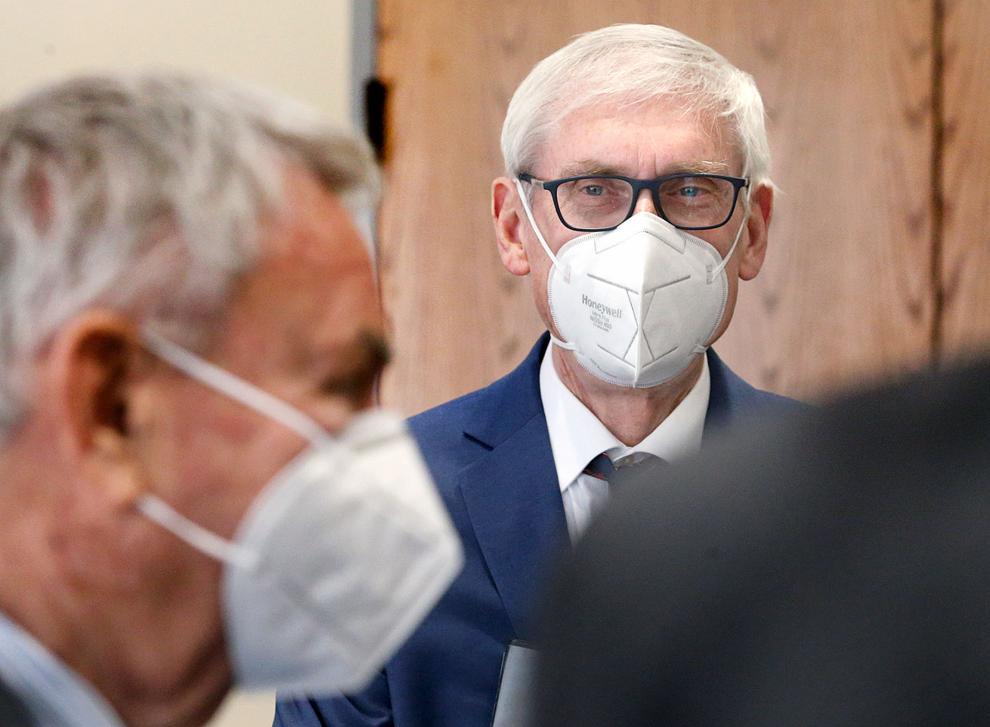 Gov. Evers at UWL
Gov. Tony Evers tours the new COVID-19 vaccination clinic Tuesday at the Cleary Alumni & Friends Center on the UW-La Crosse campus.
Evers at UWL
Gov. Tony Evers speaks at the opening of La Crosse County's COVID-19 vaccination clinic at UW-La Crosse on Tuesday. Initially, the clinic will…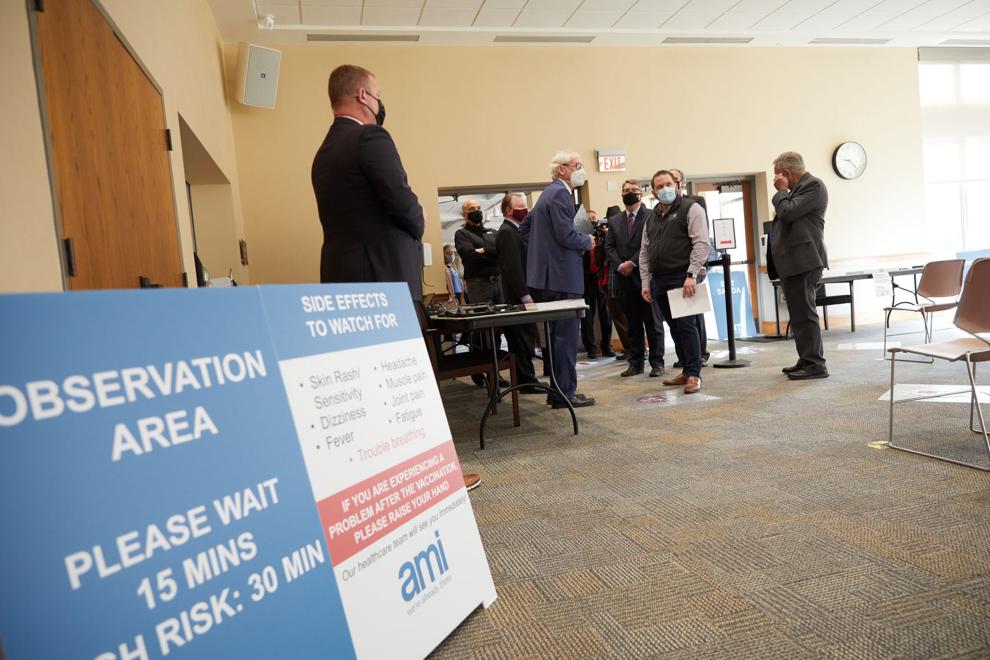 Tour of site
Aron Newberry, vaccine lead for the La Crosse County Health Department, leads Gov. Evers and other state officials on a tour of the site.
This list, courtesy of the University of Wisconsin-La Crosse, highlights some of the most accomplished people who have studied there.