The La Crosse County Republican Party has confirmed that a member of its group is responsible for sending a controversial letter to area high school seniors.
Party officials initially said they were unsure of its origins and blamed the mailing on dirty political tricks, but a series of emails obtained by the Tribune shows the letter was a preliminary draft sent by a member of its executive committee.
The letter, mailed to La Crosse area high school seniors, included a coupon for a free "Make America Great Again" hat, and made such claims as "the Republican Party was founded to free the black slaves, while the Democrats fought to keep" them, and that the Ku Klux Klan consisted of "mainly Democrats, while the Underground Railroad was run by Republicans."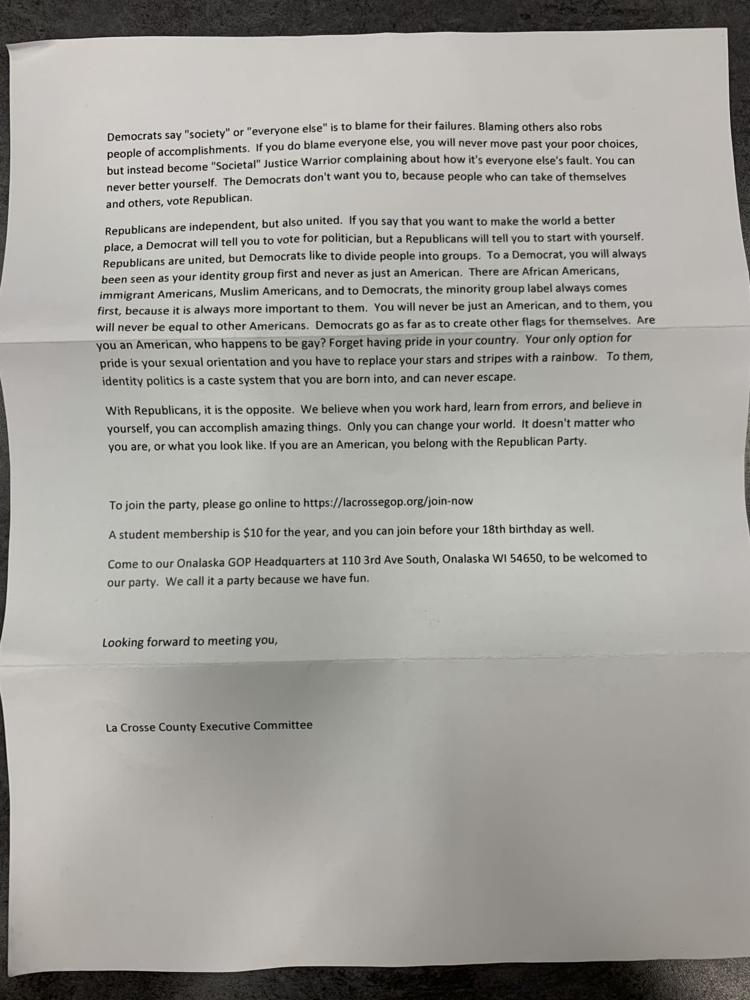 The letter also said "Democrats like to divide people into groups," and that you will always be seen as "your identity group first and never just an American," listing African Americans, immigrant Americans and Muslim Americans as examples.
"Democrats go as far as to create other flags for themselves. Are you an American who happens to be gay? Forget having pride in your country. Your only option for pride is your sexual orientation and you have to replace your stars and stripes with a rainbow," the letter also wrote.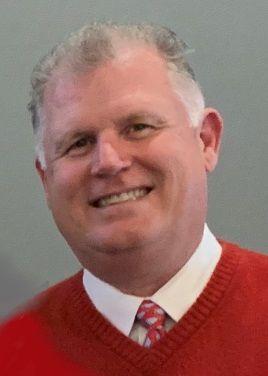 Officials said that they did not initially know where the letter came from, chairman Bill Feehan calling it "the dirty side of politics" in an interview with a local TV station, and that they would be investigating its origins.
The group also drafted a response letter that was intended for its Facebook page, emails showed.
"It seems clear that it was intended to damage our party and its reputation," the response letter read.

"Letters like the one you received purporting to represent the views of our party add to this bad image," the letter continued.
Emails that were forwarded to the Tribune confirm that officials were not immediately certain of the letter's origins, but that one member if its executive committee had sent the letter out without final approval from officials.
"Can someone tell me who drafted this letter? Your poorly crafted letter has given our party a black eye," Feehan wrote in an email on the morning of May 27, emphasizing that it was not the type of letter the group had planned to send.

But another email from Feehan that same morning referenced an executive committee member who he had suspected of crafting the letter.
"This is page 2 of the letter that Nick Newman sent out," Feehan wrote to the committee. At the time he had only suspected Newman had sent the letter, but couldn't be certain enough to make a statement, he told the Tribune.
"Somebody asked me who I thought might have sent it, and I said I did not want to speculate at that time," he said about the party's initial statement.
It wasn't until later, at the group's executive committee meeting on June 3, that Newman admitted to mailing the letter, according to Feehan.
Newman declined to answer questions for this story, but said he was responsible for mailing and contributing "partially" to the text of the letter.
"I had no awareness that this letter was written," Feehan told the Tribune, saying the first time he had heard of it was when he received pushback from the community.
"At that point I had no idea that the letter had been sent, and I had no idea what the content of the letter was, and I had no idea who had done it. What I stated at the time was what I knew, which was the letter was not sent from our executive committee," Feehan said.

Another member of the executive committee said that a draft of the letter had possibly crossed his desk over the winter, but he couldn't be sure it was the same one.

"All I know is that I did receive a letter similar to that, listing the positives of the Republican party and some historic negatives of the Democratic party," Glen Schmitz told the Tribune.
Schmitz manages the county party's membership efforts and would normally review any recruitment letters first, then send to the executive committee to be approved before it could ever be mailed out.
He had returned the draft he saw during the winter back to its writer with edits, and had not seen another draft since, he said.
"No letter was presented to me to proof to approve to send out. None whatsoever," Schmitz told the Tribune. "Everything about this letter does not follow any of the procedures that we have in place in recruiting members."
"I take responsibility for not specifying that a final draft for the high school seniors should be presented to the Executive Committee. It is my error, I was wrong," Schmitz wrote to the committee members in an email, later resigning from the executive committee due to a time-constraining job.
The string of emails show further attempts by the county party to quiet the noise around the letter.
"My goal is to repudiate the letter and let it die a quick death in the news cycle," Feehan wrote to members in an email titled "Senior Letter Scandal."
In another email, Feehan tells members to "shut up and let the news cycle move on," and not to respond to Schmitz's note or similar emails about the "fake" mailing.

Some major political players were included in these emails, including candidate for state Senate Dan Kapanke; former La Crosse County supervisor and candidate for state Assembly Jerome Gundersen; former speaker of the Assembly and member of the Scott Walker administration Mike Huebsch; and Chris Rochester, a Holmen native and communications director for a Republican state senator.
"I had no knowledge of the letter, and it doesn't reflect who I am as a person," Kapanke said in a statement. Kapanke is not a member of the executive committee.
Others did not immediately respond for comment.
Ramifications for members who wrote and sent out the letter have not yet been decided, Feehan said.
"The opinions expressed in Mr. Newman's letter are not the opinions of the La Crosse County Republican Party. Those opinions are his opinions. His letter was never reviewed by our executive committee, it does not bear my signature, and it was not paid for by our organization," Feehan said.
Get Government & Politics updates in your inbox!
Stay up-to-date on the latest in local and national government and political topics with our newsletter.