La Crosse Police Department Chief Ronald J. Tischer has accepted an official offer to assume command of the Payson Police Department in Payson, Ariz., a Payson official said Thursday.
"Chief Tischer has received and accepted an official offer," said LaRon Garrett, town manager of the town of Payson.
La Crosse Mayor Tim Kabat said Thursday evening he has not received a letter of resignation from Tischer.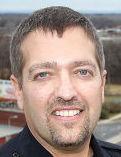 Engler's last day will be July 26, said LaRon Garrett, town manager of the town of Payson and Tischer will assume command effective July 29.
You have free articles remaining.
In 2012, Tischer, who dubbed La Crosse his "forever home," said La Crosse County wasn't tough enough on drug dealers and would advocate for more accountability and harsher penalties.
The New Berlin, Wis., native sought a mechanical-engineering degree from Milwaukee School of Engineering in 1983 and then enrolled in criminal justice classes at Waukesha County Technical College in 1994.
He was hired by the Racine County Sheriff's Department halfway through the police recruit academy and quickly accepted a job offer from the River Hills Police Department as a patrol officer in Milwaukee.
Immediately before coming to La Crosse, Tischer commanded patrol officers and a technical unit in Waukesha, Wis.