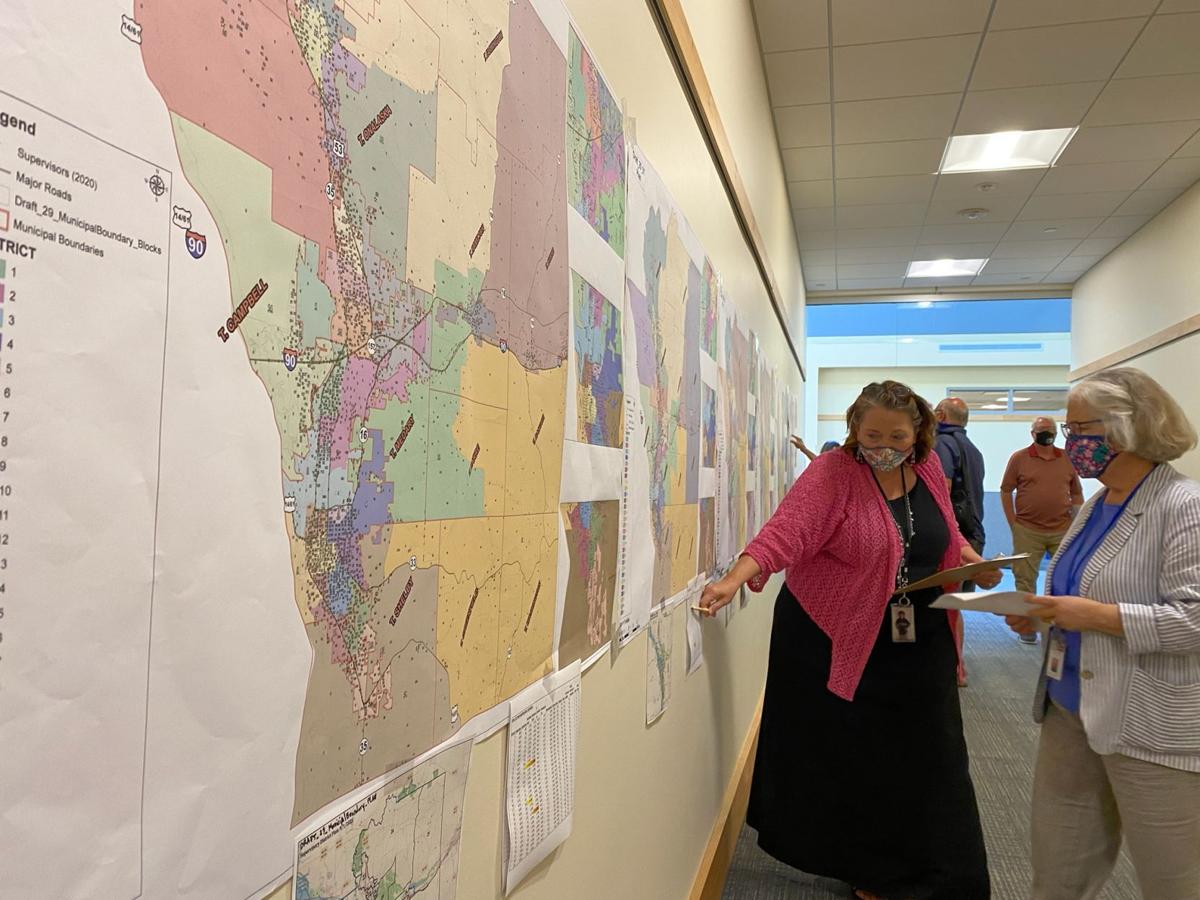 La Crosse County would add an additional supervisor to its board under a new map that the Redistricting Committee chose to move forward with Tuesday evening.
The map is not final, only a guideline to move through the next few weeks before maps at county and municipal levels are approved, but it would change the amount of supervisory districts from 29 to 30.
This seemed like the most equitable move to members of the committee who unanimously approved the map as they tried to balance keeping boundaries aligned while accounting for new suburban population growth.
The map the committee chose was one of six that county staff created. Last week, the committee asked staff to create additional options for 30 districts, and the one they approved was one of those new drafts.
In this version, zero districts would have multiple incumbents, and only one district would be left without an incumbent, meaning it creates the least amount of change and displacement for existing supervisors. Four existing districts would need to be renumbered under this plan.
Largely, this new tentative map splits up parts of districts in the northwest part of the county — where the most population growth was seen — spreads districts near the town of Onalaska and Hamilton more north, and breaks the southwest region into three districts, not two, among other smaller changes.
Debate continued about keeping the city of La Crosse coterminous in the redrawing process, which means that its boundaries would not overlap, while other communities look to add more representation to the mix.
"I want to make sure that we are following 'one person, one vote.' And that the public understands that their vote is being counted," said supervisor Pam Viner, who has been vocal about increasing representation for Holmen and surrounding communities.
Officials said that it was important for La Crosse to remain coterminous because on election nights, its results are reported out by each individual ward, whereas other communities report results as a single entity, meaning overlapping boundaries for the city could complicate this process. It could also cause confusion for voters on where to vote, they said.
In addition, county staff said it wasn't possible under current constraints to reshape the districts in a way where Holmen, a fast-growing community on top of many minds during the redistricting process, would not need to share a supervisor.
"It's never going to work," said Mari Pietz with the county.
Staff uses census blocks to guide the redrawing process, which is the smallest geographic unit used by the U.S. Census Bureau to represent population in an area. The boundaries of these blocks are immovable, and it's up to staff to draw maps that calculate them all up to reach an ideal, evenly divided population.
The committee Tuesday used a process of elimination to determine which map was the favorite, first voting to remove all maps that maintained only 29 districts from consideration.
The local redistricting process has been subject to political scrutiny. Local Republicans have voiced concerns about the number of left-leaning voices that service on the Redistricting Committee, and La Crosse County Republican Party Chair Bill Feehan in an op-ed to the Tribune over the weekend urged against choosing a map with only 29 districts, saying it was unfair for communities outside of the city of La Crosse that grew more in population.
"Any map that does not draw a new district where the county actually grew will disenfranchise voters," Feehan wrote.
The committee included in its recommendation that staff attempt to rework a narrow district in Onalaska that Mayor Kim Smith said her staff had issues with. If it worked without changing the rest of the map, that one will be considered, otherwise the map drawn as-is will move forward through the rest of the process.
This map will serve as just a blueprint for now. A public hearing is scheduled for next Monday, Sept. 13, before the La Crosse County Board of Supervisors will vote on and finalize the map. It will then go to municipalities to help them craft their own districts until they are all brought back for any additional edits and a final vote in November.