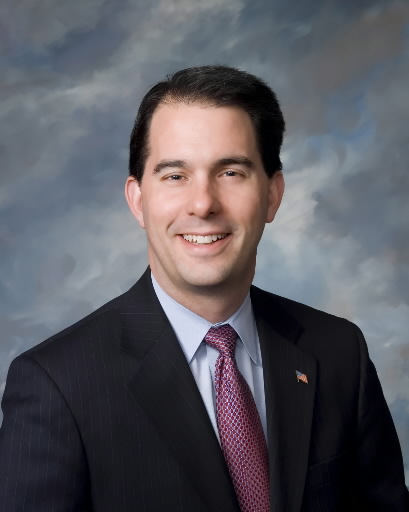 MADISON — Gov. Scott Walker announced Wednesday that he won't propose expanding Medicaid services in Wisconsin, breaking with other Republican governors who decided to accept federal money for an expansion as offered under the health care overhaul law.
Instead, Walker outlined a hybrid approach that involves tightening income eligibility for Medicaid, lifting a cap on a program that covers childless adults and forcing more people to buy insurance through a government-run marketplace known as an exchange.
Walker, who unveiled the plan at a meeting of the state chamber of commerce, said the net result would drop the state's share of uninsured non-elderly adults from 14 percent to just 7 percent — about the level seen as likely under the Medicaid expansion.
"I want to have fewer people in the state who are uninsured, but along with that I'd like to have fewer people in the state who are dependent on government," Walker said in describing his plan.
The decision is a blow to Democrats, health care advocacy groups and others, including Wisconsin hospitals, who had urged Walker to take the expansion and the billions of dollars in federal money that would come with it. Walker said he would be spending $644 million more on state Medicaid programs over the next two years under his plan.
"I'm not certain what Gov. Walker is trying to prove," said Democratic state Sen. Jon Erpenbach. "If we do not take this money, it's going to go to other states."
Had Walker accepted the expansion, the federal government would have picked up the cost for three years. But Walker and other Republicans have raised concerns that the state's share would escalate over time.
Walker has been an outspoken opponent of the health care overhaul law, and Wednesday's announcement was in line with his previous decision not to create a state-run marketplace for insurance providers, instead letting the federal government do it.
His plan won the support of Republican Assembly Speaker Robin Vos, who called it a "good hybrid" that reaffirms Medicaid as a program that takes care of the state's poorest residents, while getting others to buy insurance through the exchange.
So far, six Republican governors have agreed to the Medicaid expansion, while fourteen have turned it down.
Nationally, 19 states plus the District of Columbia appear to be on track to expand their Medicaid programs, although some governors are encountering opposition from their state legislators. Another 17 are weighing their decision.
Get Government & Politics updates in your inbox!
Stay up-to-date on the latest in local and national government and political topics with our newsletter.