Democratic Rep. Ron Kind of La Crosse toured Western Wisconsin with Labor Secretary Marty Walsh Tuesday, meeting with businesses and union leaders in one of the most important weeks of negotiations for the White House's American Jobs Plan.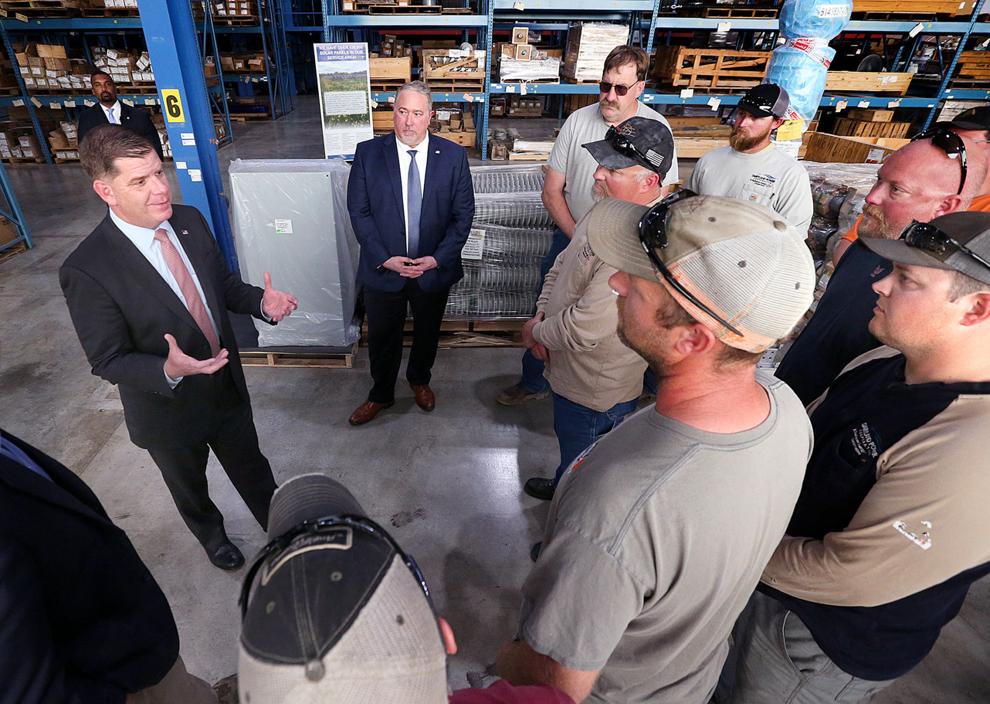 The duo pitched the plan to area leaders, as President Joe Biden and his team work to negotiate across the aisle to pass his ambitious economic package that covers infrastructure, broadband, long-term care facilities, climate change and more with a focus on job growth.
At a stop at Dairyland Power Cooperative in La Crosse Tuesday afternoon, Walsh and Kind met with local union members and employees, touring the campus and a number of equipment blasting the company into the 21st Century such as an electric vehicle and charging station, fiber optic broadband cable and more.
Officials were optimistic while meeting and speaking with leaders, hopeful that the American Jobs Plan will build on the work already being done at places such as Dairyland.
The plan, with an original price tag of $2.25 trillion, would invest in improving infrastructure, including building for a less gas-dependent and climate change-ravaged world, replacing lead pipes in water systems, broadband, affordable housing, upgrades to public schools, home and community care industry workers, strengthening supply chains and workforce development.
The president has predicted that the plan if passed could create around 19 million jobs, many of which could be in green sectors.
Biden has been focusing on bipartisan negotiations in recent weeks, and Republicans have recently countered with a $568 billion offer that is heavy on infrastructure. The White House has since hit back with a new $1.7 trillion offer that keeps the infrastructure adjustments from GOP leaders, but largely adds his environment initiatives back to the mix.
The push for bipartisanship has caused Democratic lawmakers to fall on one of two sides, many of them excited to work across the aisle, while others are worried about compromising some of the bold agenda items they campaigned on such as climate initiatives. Kind, a moderate, signaled that bipartisanship was the top priority for him.
Both he and Walsh said bipartisanship is essential for crafting the bill, and said that there were items in it that benefit everyone.
"I don't look at it as Democratic items, I look at it as American items, American people items. There's lots of people whatever their political party is that this bill's going to benefit," Walsh told reporters during his visit. "This bill is an American bill. There's lots of different aspects of this bill that help people all over this country in rural America, in urban America, suburban America, so that's the important piece."
"I would love to see this be bipartisan at the end of the day," Kind said during his remarks, adding that he was also focused on how to pay for it, which the administration says could fully come from the Made in America Tax plan, which largely raises corporate tax rates.
Kind said that the timing of the bill couldn't be better, noting that during his more than two decades in Congress, passing an infrastructure bill has become a sort-of running joke.
"I'm hearing from folks right now that are tired of that. They want to see progress, they know we've got infrastructure to repair, they know that it's good paying jobs that will come from it. I think the moment is on us right now coming out of the coronavirus, the pandemic, to do something big for the American people," he said.
Kind also mentioned the impact the bill would have on America's place on the global market.
"I know there's a lot of talk in Washington right now and concern about China's rise in the 21st Century. You want to beat China? Out-compete China. Invest in the best infrastructure in the world, in our roads, our highways, our bridges, our ports, our airports. Let's close once and for all the digital divide," he said.
"To beat China is to out-compete them. It's to out-innovate, it's to out-produce them, it's to outgrow them," Kind said.
Walsh called Dairyland a "company that understands the workforce," as over 200 of its employees are union members. Speakers Tuesday praised the company for its work transitioning employees from the nearby coal plant it closed last year, a similar reality many businesses are likely to face in the coming years as climate initiatives start to take hold.
"G3 was my home," said longtime Dairyland employee Julie Schultz of the plant closing, "so this is astonishing what Dairyland has done for the employees down there, and I appreciate it greatly."
Both Kind and Walsh said that Dairyland and cooperatives like it set good examples of how to persevere through hard times, noting that he's seen similar perseverance in other Wisconsin businesses, and that the American Jobs Plan would only supplement that work.
"Seeing the resiliency of the Wisconsin people is important," he said.
"The American Jobs Plan: Awesome. Keep it going, get it through. It's going to get more union jobs out there, it's going to get better paying jobs. We need to have it happen," Schultz said.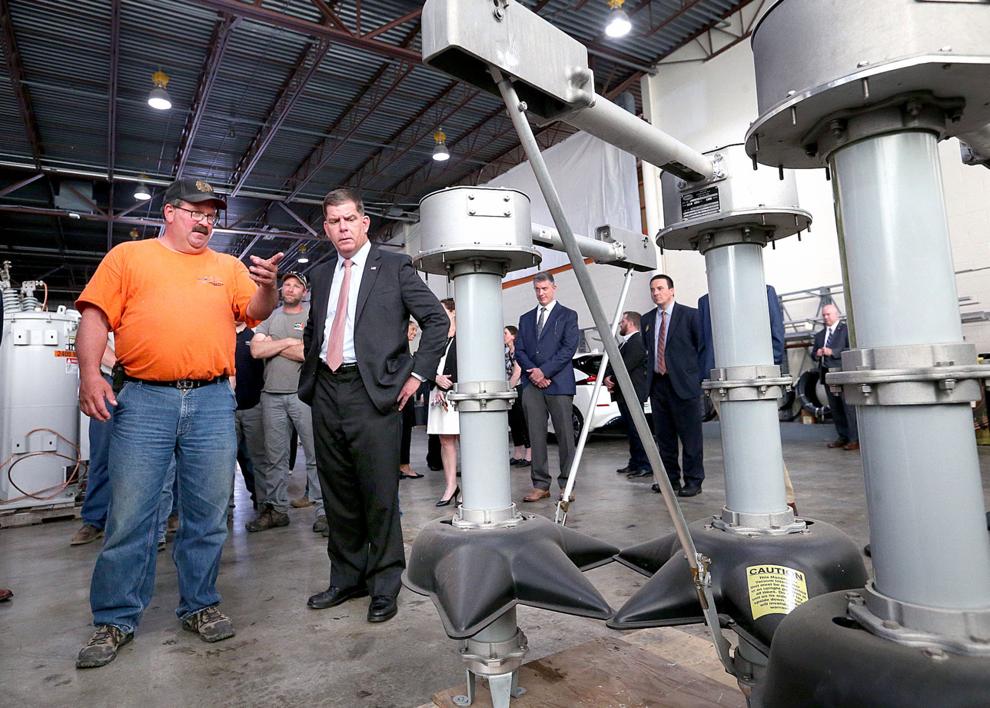 Leaders are hopeful that bipartisan discussions of the American Jobs Plan increase by Memorial Day, and that the bill could get a vote in July, with the chance that Biden's American Families Plan, which dedicates funding to schools, child care, paid family leave and more, could be coupled with it to max $6 trillion.