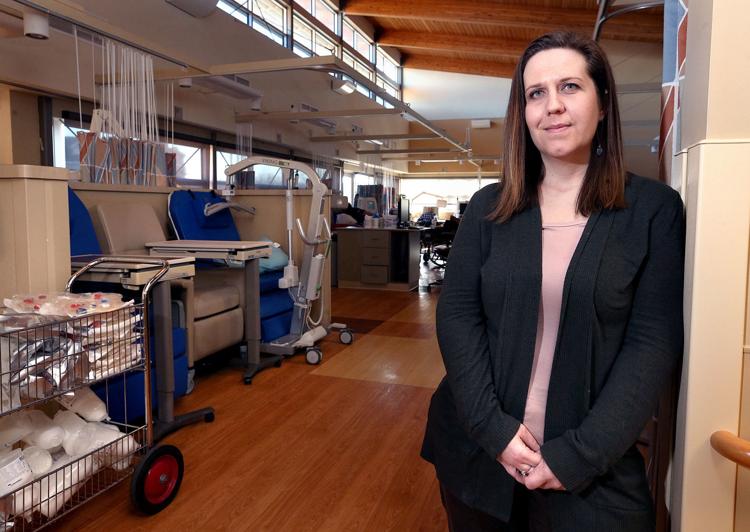 About 100,000 Americans are on the waiting list for a kidney transplant, with a new name added every 10 minutes.
Last month, one Wisconsinite was checked off the roster, sent home with a fully functioning, lifesaving organ thanks to a Gundersen Health System employee he had never met.
Kayla Ryan — who holds a master of social work in renal dialysis degree and works at Gundersen W.R. Yutuc Renal Dialysis Center in Onalaska — in August added her name to the national donor registry and was contacted in early December about an anonymous match.
Returning to work Jan. 20 after surgery at UW Health, Ryan will never know the identity of the individual whose life she changed forever. She will likely never be personally thanked. But she didn't do it for the accolades.
"Any person who gets a transplant moves someone else one step closer," says Ryan, 35, of Galesville.
Through her work as a dialysis social worker, Ryan has seen firsthand the desperate need for kidney donors and the emotional and physical toll the wait can take on a patient.
Previously working in the mental health field, Ryan started at the Gundersen W.R. Yutuc Renal Dialysis Center in February 2017 and provides support both before and during dialysis, touching on coping skills, applying for financial assistance, insurance coverage, lifestyle adjustments and balancing work and family life with treatment.
"What the patients are going through is incredible — there are people putting their lives on hold for a transplant and they may never get one," says Ryan, who says the Gundersen W.R. Yutuc Renal Dialysis Center is serving about 200 patients ranging in age from 18 to 90, with more than 30% of them on the waiting list for a kidney. "You talk to people who are really, really good people and you know they might not be a fit for a transplant and they have no choice but to be here (because) the other choice is death."
Of the individuals in the U.S. in need of an organ transplant, 82% are waiting for a kidney.
On average, it takes three to five years to be matched with a kidney from a deceased donor, with a donation from a living donor cutting the time to as little as a year, according to the National Kidney Foundation. A live donor kidney can last up to two decades.
Organs from living individuals are most commonly directly donated, with a family member or close friend the designated recipient.
You have free articles remaining.
Ryan initially signed up to be tested when a relative learned they might need a transplant. The process was arduous, with an initial screening through the National Kidney Registry followed by a full day of examinations, blood tests, imaging procedures and interviews with specialists and social workers at UW Madison.
After her medical results and reports were approved by a committee of nurses and surgeons, Ryan was able to join the donor pool.
Ryan's family member ultimately did not need an organ transplant, but it was just four months before she was contacted by the National Kidney Registry about a middle-aged man in Wisconsin who was "about as close of a match as we could be."
Having done extensive research and discussed the potential risks of an invasive surgery with her colleagues, Ryan was a bit anxious but overall "at peace" with her decision to proceed, though her boyfriend and a few family members had concerns.
Ultimately, Ryan found the surgery easier than expected, able to return home the next day and to work less than three weeks after the Jan. 3 procedure. The National Kidney Foundation covered Ryan's travel, lodging and wage reimbursement, and she was given "vouchers" for her 11-year-old daughter and her mother, should they need a transplant in the future.
Dr. Leah Metz, a nephrologist at the Gundersen W.R. Yutuc Renal Dialysis Center, says to her knowledge no other staff members at the Center have donated a kidney and praised Ryan's decision.
"It's a selfless type of gift to give someone, especially someone you don't know," Metz says. "We knew she was a very special person to begin with, but this just reinforces that."
Ryan knows the impact she has made, noting, "Some people are waiting five to 10 years. People are dying while they wait."
Ryan has seen patients she became close to lose their lives to kidney disease, which can be caused by everything from toxin exposure to diabetes.
She has watched the loved ones of patients put themselves on the back burner to sit beside their ailing family member for hours on end as they undergo dialysis. She has witnessed the judgment from those who blame one's lifestyle choices for their kidney failure, and who question relatives for not donating to their kin in need.
"There are a whole lot of reasons why people are here, and a whole lot of reasons why their family can't give them a kidney," Ryan stresses.
Such sensitivity, Metz says, is characteristic of Ryan, and part of what makes her such a valuable resource to patients during a vulnerable, tumultuous and often physically painful time.
"She's very passionate about her work, and very engaged with our patients," Metz says. "She's a great asset to our team and a very good advocate to her patients. We're very lucky to have her."
"Some people are waiting five to 10 years (for a kidney). People are dying while they wait." Kayla Ryan
"Some people are waiting five to 10 years (for a kidney). People are dying while they wait."

Kayla Ryan