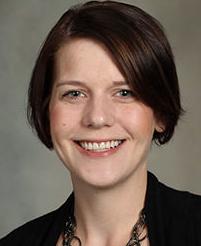 As children and teens find themselves navigating an unprecedented number of days not being in the classroom, area behavioral health experts are stressing the importance of daily structure.
As a COVID-19 precaution, Gov. Evers' issued all schools to close through at least mid April, and with the mandate youth — and their parents — are dealing with interruptions to education, work and socialization, stressors compounded by virus-related fears.
Dr. Allison Allmon Dixson, pediatric psychologist and behavioral health consultant for Gundersen Health System, and Karen Hall, M.S., L.P.C. in child and adolescent behavioral health at Mayo Clinic Health System, have been receiving an abundance of queries from parents and kids in light of COVID-19, with concerns ranging from occupying time to coping with anxiety. Among the most broached issues, Allmon Dixson and Hall say, is the lack of schedule.
"My strongest piece of advice is to stick to a routine, or if they don't have one to build it," Allmon Dixon says.
This includes following a mock school day, starting with waking at the usual weekday time and getting dressed. Allmon Dixon advises reading during the time English class usually occurs, tackling math during the same hours as at school and doing exercise or heading outdoors at the normal physical education or recess period. In turn, bed and meal times should remain consistent.
Hall has found her teen patients are most concerned about utilizing their time and how school and business closures, and social distancing, will affect their lifestyle. Hall suggests having a meeting as a family to go over what the coming weeks will look like in terms of homework, screen time and jobs.
"It's important to maintain a sense of normalcy," Hall says.
Making each day productive is a good way to keep minds and bodies occupied, and Hall encourages that teens, if their parents are comfortable with it, offer to assist neighbors and friends with childcare.
Hall says a relaxation on screen-time limits, especially as kids are missing the peer interaction from school and activities, may be something for parents to consider but stresses the importance of prioritizing meeting school and household requirements first. Hall recommends digital activities, such as virtual tours of museums and national parks, as a way of coupling technology and learning.
When it comes to sharing COVID-19 facts and managing related anxieties, Allmon Dixson advises reminding kids that the people around them are doing everything possible to keep them safe and happy, and to respond to any questions with an individualized, honest and factual response.
"A lot of this is developmentally and child-dependent," Allmon Dixson says of answering appropriately and effectively. "Make sure you are calming and reassuring and limit their access to the news — too much information can exacerbate anxiety. When you answer them, give them accurate information, and if you don't know the answer it's OK to say you're unsure."
In terms of news coverage, Hall stresses the importance of directing teens to reputable outlets and avoiding the comments sections, where misinformation and panic spreading is rampant.
"Parents can say, 'This is serious, but we're going to handle it together,'" Hall says.
When it comes to reducing angst about the pandemic, Allmon Dixson suggests helping them feel control by practicing ways to reduce COVID-19 spread, including thorough handwashing, and coming up with small goals to meet each day or week.
In turn, both Allmon Dixson and Hall urge parents to keep themselves mentally and physically well by taking some personal time and finding their own support system. Suggestions include speaking with fellow parents or a partner about stresses and fears in an uncertain time, engaging in positive self talk, deep breathing and putting aside an hour to relax with a book or take a walk.
With many parents and kids now spending several more hours a day together, families should also be prepared for some cabin fever and the bickering that inevitably comes with lack of personal and physical space. Taking some much-needed time apart, even if just to respective bedrooms, can help preserve everyone's sanity.
"How are we going to tolerate being a little bit cooped up? Maybe have a bit of downtime scheduled where we all go to our separate corners and take a break," Hall advises.
Concerned about COVID-19?
Sign up now to get the most recent coronavirus headlines and other important local and national news sent to your email inbox daily.