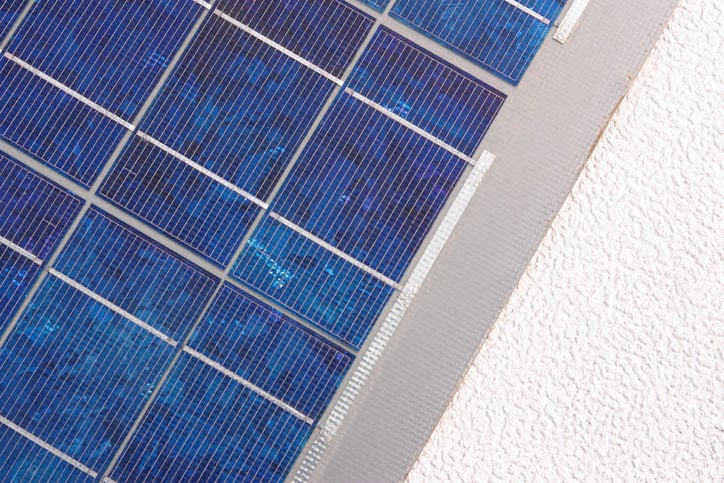 Gundersen Health System is one of four U.S. health-care organizations that has checked into the Solar.Clinic, which helps not only the institutions but also their employees, patients and plain old folks and businesses from their communities move toward solar energy in a one-stop shop, with a discount.
The program comes through Geostellar, the nation's first online solar marketplace, in partnership with Health Care Without Harm and Practice Greenhealth.
"It's missional, about us improving the health and well-being of communities we serve," said Mark Platt, Gundersen's business services senior vice president, who has used the program to have solar panels installed on his own home.
Opting for sustainable electricity provides an economic perk to help people reduce their long-term electrical costs at the same time they improve the environment, Platt said.
"Every day, people are deciding whether to come here (the hospital) or pay rent, and we don't want that," Platt said, adding that Gundersen partnered with Geostellar as a savings option for the public.
"When investing in solar electricity, there is a financial return, less pollution and better health," he said.
The return on investment is better than savings accounts or the stock market, said Platt, who expects a 13-year payback from the solar panels on his roof.
Health-care organizations should be especially committed to sustainable solutions because their electrical use is 2.5 times more intensive — by necessity rather than design, having to be open 24/7 with equipment that draws a lot of power, Platt said.
Solar.Clinic cites other statistics that make solutions a moral imperative for health care systems, since they are responsible for 8 percent of all U.S. greenhouse gas emissions, 12 percent of acid rain, 10 percent of smog pollution and 9 percent of respiratory disease-causing pollutants.
The health damage from the U.S. health care sector pollutants for a single year is estimated at 470,000 "disability adjusted life years" — a measure of years lost from ill health, disability or early death, according to Geostellar.
Gundersen — whose other sustainable efforts include wind power, using wood chips to generate electricity for its main campus, thermal heating and cooling and tapping into the energy from landfill and farm manure gases — takes that responsibility seriously, as does its employees, Platt said.
"It's a matter of walking the talk," he said.
More than 50 employees have inquired about the Geostellar program, which went live in September, said Platt, whose home system was installed and activated in April and has cut his electricity bill in half.
A smartphone app that comes with the system allows buyers to track generation while at home or remotely.
The Solar.Clinic program roll-out to the four health systems, which was announced July 12, determines consumers' solar profiles, custom-designs a system for patrons' homes, handles permitting and other paperwork and supplies installation with local contractors. The system supplies only part of a home's electricity needs.
For example, the plan, available at the Solar.Clinic website, determined that a specified 2,100-square-foot house in Onalaska with three bedrooms and a two-car garage would need 20 solar panels to provide 5.4 kW, at a net cost of $16,226 and a projected electricity savings of $37,119 over the life of the solar panels.
Another Gundersen employee who recently hooked up a system through Geothermal is Dr. Charles Schauberger, an obstetrics and gynecology doctor at the La Crosse hospital.
"My family and I always have always been environmentally oriented," Schauberger told an in-house publication at Gundersen. "This program allowed us to 'put our money where our mouths are.' Our new solar system will provide about 40 percent of our electrical needs."
Schauberger expressed satisfaction with the process, saying, "With state and federal tax rebates, the overall costs were much lower than we had anticipated. Working with Geostellar was also easy."
It took a day to install the panels on the roof and another half-day to complete the electrical work, he said.
Geostellar arranged for the building permit, "timed the electrical and construction inspections and arranged the final visit from the electrical company to change out the meter and throw the switch. All in all, they were very professional," Schauberger said.
Geostellar partner Health Care Without Harm aims to transform the health sector worldwide to become ecologically sustainable and advocate for environmental health and justice, according to the organization.
"Geostellar has a proven track record of working with leading U.S. corporations to provide this important benefit to their employees," said Eric Lerner, director of the U.S. Climate and Health program for Health Care Without Harm.
"Solar.Clinic provides an important opportunity for health systems to include their employees in their efforts to be more environmentally sustainable and to demonstrate climate leadership," Lerner said.
Solar.Clinic also is designed to boost economic development in health systems' communities by enlisting local contractors to install the systems, which are backed by Geostellar's supplemental guarantee covering workmanship, equipment and performance.
Practice Greenhealth strives to help health care organizations operate more efficiently and foster environmental stewardship.