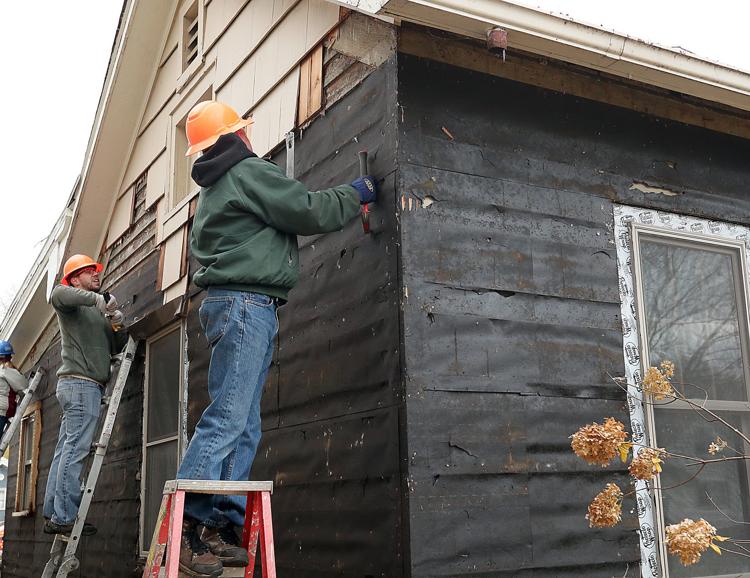 The men and women of Habitat for Heroes have spent years serving their country, and on Thursday they extended their service to the community, wielding hammers and saws as they readied a home for a family in need.
Twenty veterans, ranging from college age to seniors, powered through the cold in two shifts to rip the siding from the dilapidated home at 912 Avon St. as part of the new Habitat for Heroes initiative, developed over the past three months and kicking off this week in honor of Veterans Day.
Organized by Habitat for Humanity and a committee composed of area veterans, veterans' family members, local businesses, the La Crosse Vet Center, Logistics Health, UW-La Crosse Student Veterans Association, La Crosse Area Veterans Mentor Program, La Crosse County Veterans Services and the local VFW, the program is designed to encourage volunteerism and ultimately provide housing assistance to local veterans.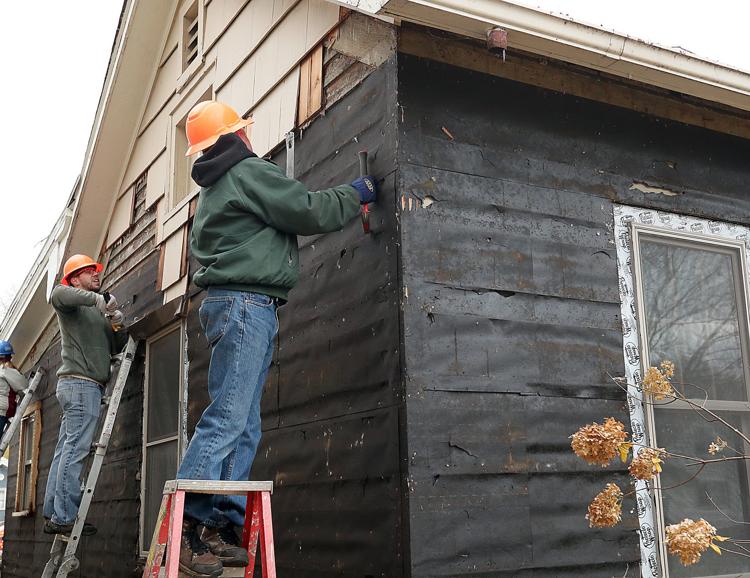 "We put together two pretty rigorous goals," said Kahya Fox, executive director of Habitat for Humanity La Crosse. The first phase is focused on encouraging skill development, interaction with other vets of all ages and providing support for veterans through volunteerism. The second stage is to break ground on a home built by veterans, for a veteran, by late 2019.
"Our goal is to continue to get vets on the worksite and build that volunteer base," said Fox, "All 40 volunteer slots were filled in less than two weeks. That's beautiful."
An additional 20 veterans will continue the Avon Street project on Saturday, with community volunteers working on the home's interior throughout the winter for an estimated spring 2019 completion date.
Habitat for Heroes members prepped for new siding, began construction of a garage and worked on soffit, fascia and trim Thursday for the home to be owned by Sarah Hicks and her children.
"When I heard it was for woman and her five kids I was really interested, knowing in the end it's going to be home for those kids," said Bridget Johnson, 37, who served in the Army Reserve from 2002 to 2014. "I really like the idea of giving back."
With no construction experience, Johnson wasn't sure what to expect but found the experience both exciting and rewarding.
The camaraderie among her fellow veterans was a bonus.
"It's nice doing something together and putting in some hard work," said Johnson, who is eager to help with the future home for a veteran. "Just knowing vets helped with the project I think makes it even more special. These are our brothers and sisters who served, and we have to take care of each other."
Tom Hundt, 70, who served in the army for 36 years and considers himself a hobby handyman, called Habitat for Heroes a team building effort for a "very good cause."
"Habitat does a lot of good for the community," Hundt said. "That's why I'm here."