The first thing you notice about Kane are his soulful, chartreuse colored eyes, speckled snout and silky ears.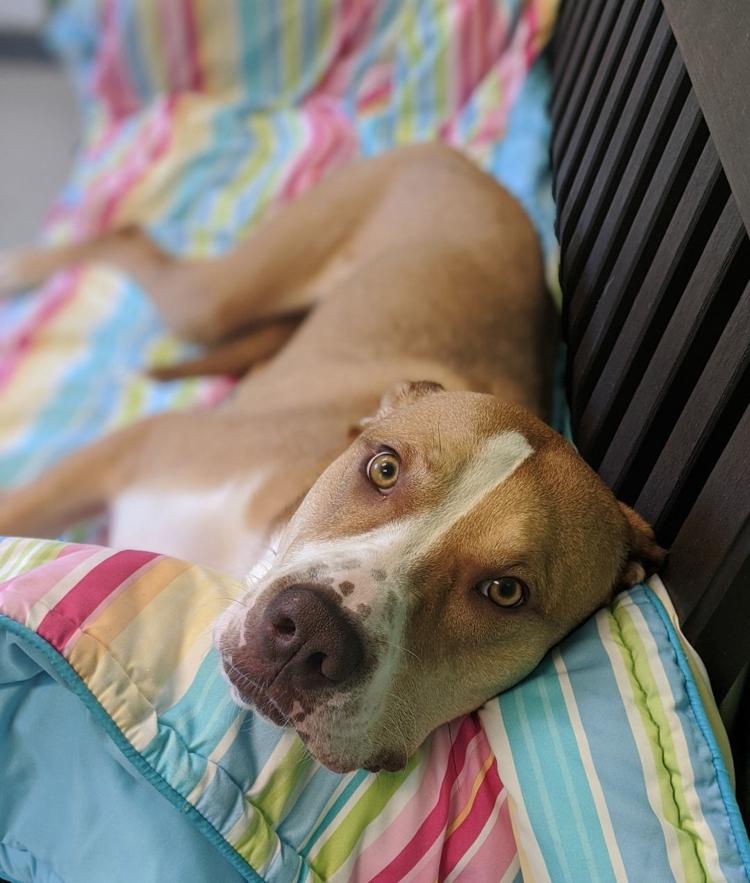 Look a little closer and you'll see something is not quite right with his hind legs.
The 3-year-old hound/labrador retriever mix was born with an angular limb deformity and suffers from a degenerative joint disease, a medical issue that, coupled with a nervous disposition around strangers, has made him a challenging adoptee for the Coulee Region Humane Society, where he has resided for nearly two months.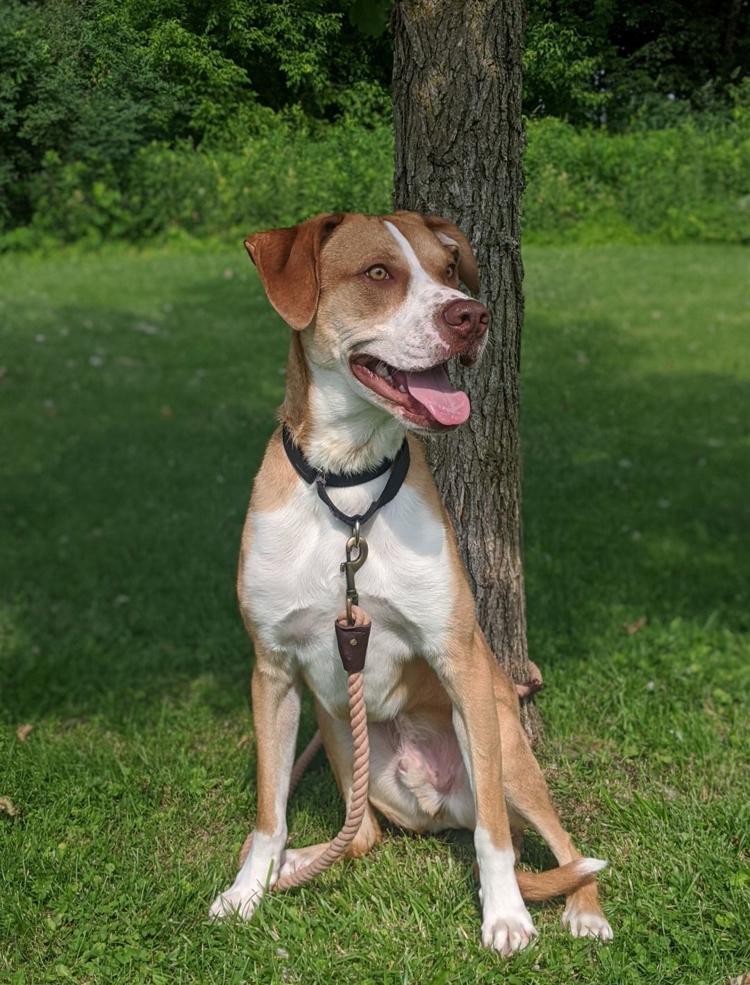 Kane was in his prior home for just a week before being surrendered June 9 due to his agitation around children and men.
He was, indeed, frightened and hesitant to trust when he arrived at the Coulee Region Humane Society, but uneasiness and cowering have given way to enthusiasm and affection as the handsome dog bonds with the shelter's caregivers.
"Kane is slower to adjust to meeting new people and will take some time to warm up to them," says Amber Grosch, kennel operations manager for the Coulee Region Humane Society. "Once he is comfortable with someone he is the biggest love bug! He is goofy — I have been told he will throw his toys up in the air and pounce on them like a cat. He is also a super low-key guy."
Described as a "constant shadow" to those he feels safe with, Kane is also known to "dance," showing off his fancy footwork despite his disfigured back legs. His condition does, however, hinder his tolerance for high-energy activity and exercise, and would cause him discomfort and pain, especially while walking, in the absence of daily medication. Kane may also be more prone to injury during intensive play.
"It's been a long road so far for Kane," Grosch says. The canine received X-rays and was prescribed an anti-inflammatory and pain medication at Thompson Animal Medical Center to offer him physical relief, and it was initially recommended to the shelter staff that he undergo orthopedic surgery.
UW Veterinary Care was the closest clinic able to perform the procedure, and the cost estimate was $10,000, with surgery to be performed on one limb at a time and six to eight weeks of recovery time after each.
"We didn't feel we could go that route for multiple reasons," Grosch says.
Recently re-examined at Thompson Animal Medical Center, veterinarians determined the medication has been effective at keeping Kane comfortable, with Grosch noting he will now "play with other dogs, run around in the dog runs and seems to have a good quality of life at this time."
Surgery is not currently recommended, Grosch says, but adopters will need to continue Kane on his medication, which costs about $45 a month. His ideal home, she says, would be adults only, with a low-key environment and not many visitors, as Kane can still become overwhelmed by crowds and unfamiliar people. The docile dog would likely appreciate a calm canine companion or feline friend — he has found a comrade in one of the kittens at the shelter — and will need a family willing to be patient with him as he adjusts and gains confidence in his new surroundings.
Kane is up to date on vaccinations and neutered, with an adoption fee of $150. Those interested in welcoming a fawn-colored, sweet-faced fellow with some special needs and a lot of love to give can reach the Coulee Region Humane Society at 608-781-4014
Get local news delivered to your inbox!
Subscribe to our Daily Headlines newsletter.