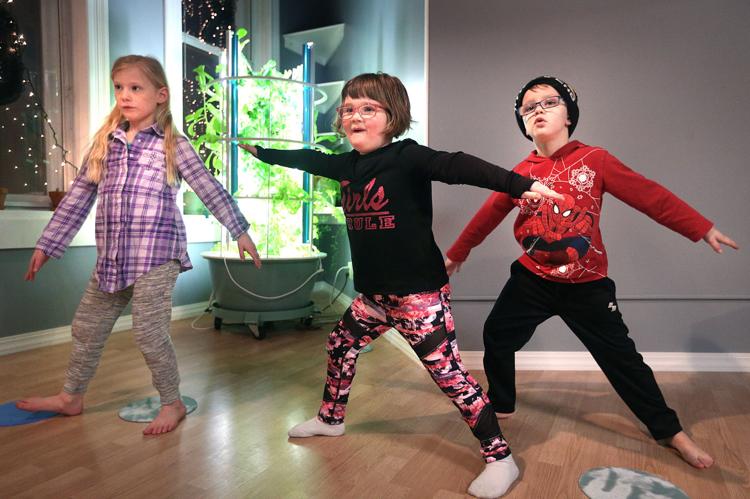 At the Healthy Hut, everyone gets bendy. Even the babies.
Individuals from six weeks old to 60 years young will find a class catered to them at the yoga, fitness and nutrition center, which opened Nov. 1 at 444 Main St. Owned and operated by Angela Albert, 54, of town of Greenfield, the studio is located next door to the Yoga Place, where Albert rediscovered the joy of fitness 17 years ago.
An early childhood education teacher of 20 years, whose employers included the YWCA Child Center and Head Start, Albert became focused on health and nutrition after the birth of her first child in 1992. But "life got busy" over the years, Albert says, and her commitment wavered at times as she juggled work and parenting. Once her two children were grown up and out of the house, she put the focus back on her own health.
Albert, who was 50 pounds heavier and suffering residual pain from two car accidents when she began practicing yoga in 2002, insists the activity is for everyone — young or old, physically fit or out of shape, sturdy or slim, pre- or postnatal.
A certified health coach and yoga instructor, personal trainer, breastfeeding counselor and childbirth educator, Albert leads Mommy and Me, toddler, youth and adult classes at the Healthy Hut, as well as teaching natural childbirth classes, hosting local mom groups in her facility and offering nutritional guidance.
"It really is a Pandora's box once you get started," Albert said of the health field. "You can really dive in to so many aspects of it."
Providing a supportive and holistic environment for parents, as well as offering a healthy outlet for kids, were Albert's priorities in opening her own studio.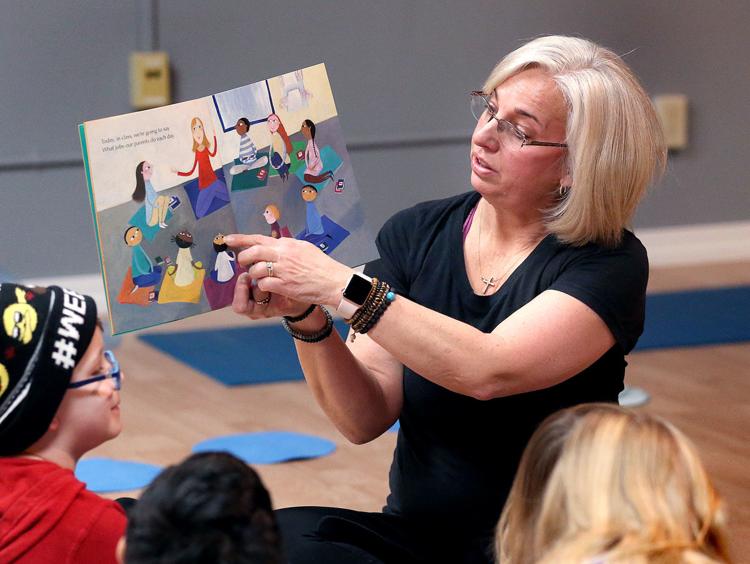 Classes for pregnant mothers focus on relieving stress, decreasing blood pressure and strengthening the muscles utilized in childbirth, and new moms can enjoy bonding time with their little ones during postnatal classes, which include solo movements for mom and partner stretches with baby. Gentle bending of the knees, back circles and light bouncing at the waist can help infants with everything from gas and constipation to loosening tension in the hips, Albert says.
Yoga Tots classes are geared toward toddlers 18 months to 2 years old, taken either independently or with a parent at their side and interspersed with songs and jumping around. Kids up to age 10 can take part in Little Yogi's sessions, where dance moves, games and even crafts round out a session.
"It's not the same class as with adults," Albert notes. "We blend it all together so they're not getting bored with any one thing."
With an indoor tower garden in the corner of her mirror- and window-lined studio, Albert folds nutrition lessons into youth yoga classes, with kids prone to plucking off leaves of kale and collard greens to munch on after class.
Albert finds the classes, which conclude with deep breathing, are particularly beneficial to children with attention deficit disorder or those on the autism spectrum, each session complementing bursts of energy with a calm breathing cool-down.
For youth in general, yoga is a great way to get them away from screens without the pressure and regimentation of a traditional sport, she says, and can help instill emotional and physical balance, body awareness and self esteem.
Albert coordinates with the neighboring Yoga Place to hold her youth classes simultaneously with their adult sessions, so parents can exercise while their kids are occupied nearby. Albert also leads sessions at local daycares.
"Our daughter attends some great Healthy Hut yoga activities," says Angie Johnson, mom to 5 year old Ella. "She loves the craft and game times too. It is great to have a trustworthy place for her to go on her own."
In the future, Albert hopes to offer high intensity interval training sessions in the morning and classes geared towards seniors. She has previously led Prime Time and chair yoga classes for the aging population.
In the nearly three months since the studio opened, Albert has introduced more than 200 youngsters to the joy of yoga, which in turn brings her joy.
"My love for fitness and health and children really merged together and I found what I love," Albert said. "And you know the kids love it too when they walk in and say, 'Yoga!' They don't know my name — they just call me 'Yoga.'"
For more information on the Healthy Hut, including class schedules and costs, visit the business' Facebook page or call 608-386-3674.