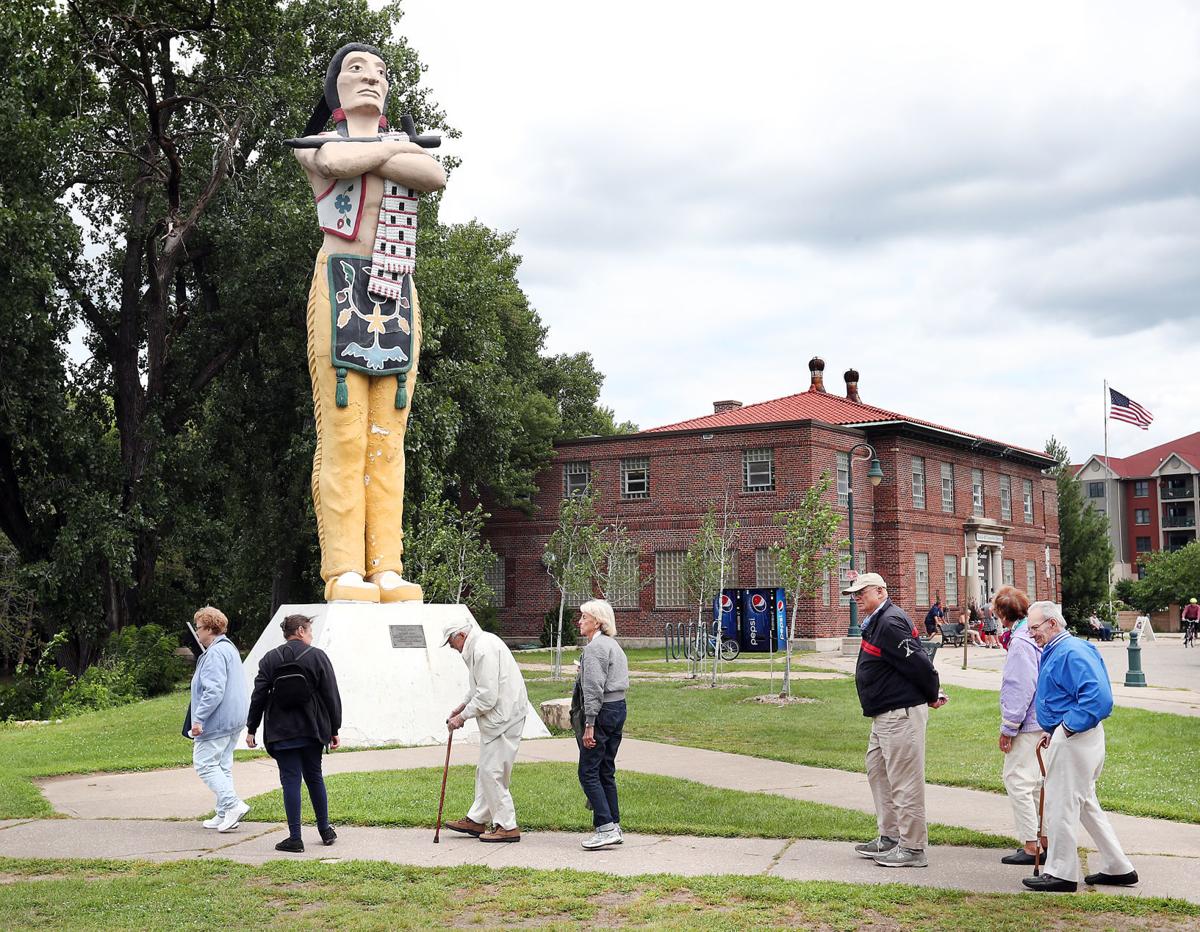 The controversial "Hiawatha" statue in Riverside Park could get a new home.
City officials, members of the Ho-Chunk Nation and relatives of the statue's creator talked about possibilities to move the statue to private property earlier this week at a meeting hosted by La Crosse Mayor Tim Kabat.
"The big point, and one I think that everybody is in agreement about, is the desire to preserve the statue because of the fact that it was created by an artist. Regardless of whether people wanted to keep it in place or see it relocated — the statue should be preserved," Kabat said.
Exactly what the relocation process would look like is uncertain, although Kabat said it would need approval by the city's parks board. Preliminary estimates by the city's engineering department peg the cost to move the statue at about $50,000.
"I do think, in my opinion, respecting the family's desires is a good thing and would be a way to help the whole community heal up," Kabat said.
The debate over the statue, which began in 2000, reignited in December during a listening session co-hosted by the La Crosse Arts Board and the Human Rights Commission to discuss public art and social justice. Several people spoke out against the 25-foot sculpture that has stood at the north end of the park since 1961, arguing that, regardless of the intentions of the artist, the late Anthony Zimmerhakl, it represents a caricature of indigenous people.
Zimmerhakl's son-in-law, Tim Slonka, spoke on behalf of the family, saying they would be open to some sort of compromise that would relocate the statue to private property.
"Ideally, we would like it to stay where it is, but in the long term ... it probably would be better that we would like it preserved, however we need to get that done," Slonka said.
Slonka and his family have received a lot of support during the past few months, particularly from extended family members and Zimmerhakl's former students. Slonka said it's clear the statue strikes a chord for a lot of people.
"We could win this fight. We probably, we think, could win it pretty easily. However, in 10 to 20 years, with a different mayor, different council members, nobody would be around to defend it," Slonka said.
If the debate were ignited again, he wasn't so confident the statue would make it through intact.
"Then who knows? Then it might hit the wrecking ball, and we don't want that to happen," Slonka said.
Local business leaders have stepped up to offer help finding a place for the statue, making sure that although it would be on private property it would still be available for people to see.
"Nothing has been decided on that, one way or the other," Slonka said.
For Ho-Chunk Nation member Tracy Littlejohn, the ideal situation would be a group of private community members stepping forward to remove the statue from Riverside Park.
"I think it's a great compromise. That way there's less hurt for the family, because I don't want them to feel like I'm out to destroy their family's artwork legacy," Littlejohn said.
However, "Hiawatha" is a product of its time, she said, when very little in American culture accurately depicted Native Americans.
"It's not appropriate anymore, but I can appreciate wanting to keep that preserved," Littlejohn said.
If the statue is moved to private land, the family would have more control over it, and it would no longer by in a heavily trafficked public park, reinforcing misconceptions of who Ho-Chunk people are.
"For me, the reason I want it not to be there is because it can be harmful for young people and their cultural identity," Littlejohn said.
While the Ho-Chunk Nation itself has remained neutral, local members of the Ho-Chunk Nation and others have spoken out against the statue, calling it insulting and kitschy in the vein of historical cigar store Indians. They argue that it reflects a disrespectful view of Native American culture that contributes to the mental health epidemic in indigenous children.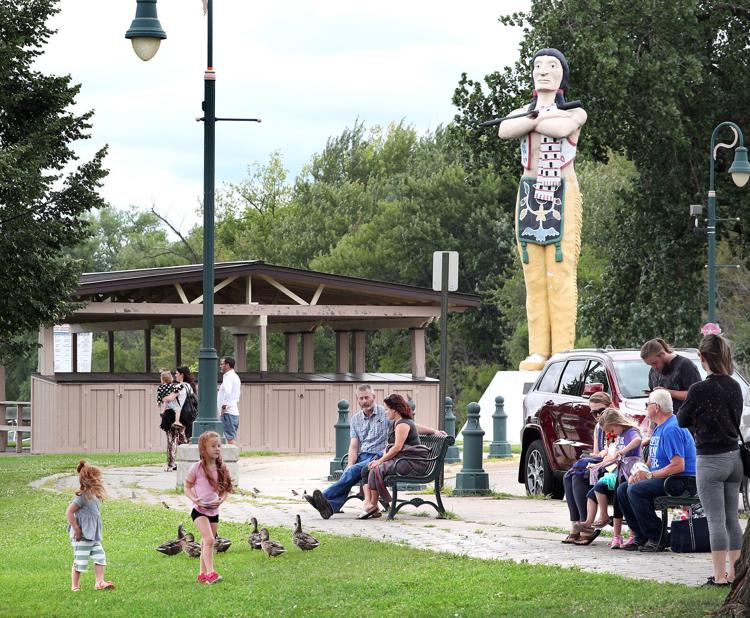 "It also doesn't teach other people who are seeing it anything about our culture, our history. Native people, because of historical trauma, already are dealing with so much. There's been a lot of forced assimilation, so a lot of young people haven't had those positive influences to help them understand who they are as a Ho-Chunk, teach them their culture, teach them their history," Littlejohn said.
Littlejohn, who works with indigenous children in middle and high school at the Ho-Chunk Nation Three Rivers House in La Crosse, said it is important for them to have a connection to their ancestors and history.
"While that statue isn't their main influence, just to be able to get rid of the inaccurate portrayals can be helpful in helping us to strengthen their identity," Littlejohn added.
In an ideal world, Littlejohn said, the First Nations people in the area would be incorporated into Riverside Park's International Friendship Gardens, with a piece done by a Native American artist that respects their history and culture.
Slonka disputed the characterization of the statue as disrespectful to Native Americans and their heritage.
"You would have to know my father-in-law. It was never meant in a disrespectful manner. He's an artist," Slonka said.
Council member Gary Padesky was one of Zimmerhakl's students who feels a strong connection to both the artist and his work.
"To me, it's art, it's history, it's a legacy that should be preserved," Padesky said.
Padesky acknowledged that it didn't represent members of the Ho Chunk Nation, saying Zimmerhakl intended to take aspects from several tribes to create his piece.
"It never was meant to be representative of the Ho-Chunk Nation … It is just representative to him of the strength and beauty of Native Americans," Padesky said.
However, Padesky said he would support a compromise the family agrees to, particularly if the cost to move the statue is covered by public and private funds, as well as money from the Ho-Chunk Nation.
---
Get local news delivered to your inbox!
Subscribe to our Daily Headlines newsletter.