The Hiawatha statue in Riverside Park was a focal point in Wednesday's discussion on public art and social justice hosted by the city of La Crosse Human Rights Commission and Arts Board.
"It's time for this Hiawatha statue to go. It never should have been built in the first place," said Kevin Hundt, local archivist, as the discussion opened Wednesday at the Ho-Chunk Nation Ni Tani Hocira (Three Rivers House).
Hundt called the statue, which has also been known as the Big Indian, "a historical wrong" based on racist stereotypes.
"If people that you think you're honoring tell you that you're not actually honoring them, then you're not actually honoring them," Hundt said. "You need to accept that and respect that and make a change."
Should the Hiawatha statue remain in Riverside Park?
The 25-foot tall sculpture, which has stood on the north end of Riverside Park not far from the landing of the La Crosse Queen since the 1961, was created by Anthony Zimmerhakl, a La Crosse art teacher, out of cement and wire.
"Maybe that was art back then, but now it's kitsch," said Daniel Green, a member of the Ho-Chunk Nation and lecturer at University of Wisconsin-La Crosse.
The statue has been controversial for decades with the debate coming to the forefront in 2000 when the city spent $35,000, including $16,395 in private donations, to restore the paint. At the time, opponents the restoration argued that it was a caricature insulting to Native Americans while supporters said it was a landmark built to honor Wisconsin's indigenous people.
"Regardless of whether it was made to honor Native Americans, whatever the intention was, intentions do not determine consequences," Green said.
The consequences are seen in the effect it has on Native Americans.
"If you take a look at all – all and that's an incredible statement – all of Native America is never modern, not allowed any modernity," Green said.
That placement of all Native American culture in the past, rather than recognizing it as a culture that exists in 2017, messes with the heads of indigenous children, he said. "That is why the Native American teen suicide attempt rate is three times the national average."
La Crosse Common Council member Gary Padesky spoke up in favor of leaving the statue alone, saying Zimmerhakl honored Native American history and spoke to his students about the importance of respecting Native American culture.
"He would talk to us all the time about the history of Native Americans," Padesky said. "And that's not just supposed to represent the one Native American tribe. It's meant to incorporate three or four different ones and it was meant in the highest regard as a sign of respect."
He argued that there was no way to avoid offending everyone and the statue was part of La Crosse's history.
"I still think when you start tearing down art, you're tearing down history, and part of the city and that goes down a dangerous path itself," Padesky said.
"If we take one down, we should take them all down," he added.
How many of these places in the Coulee Region have you visited?
While La Crosse County Historical Society executive director Peggy Derrick was sympathetic to people's attachment to local history and their personal history, she said, "I think La Crosse has outgrown that statue."
She added that the statue does not hold up as a piece of art, citing its nickname, Colossus of Kitsch.
Shaudel Spivey, chairman of the Human Rights Commission, asked why people in the community feel so strongly about the statue.
"Why is just the thought of it being taken down, remodeled and reframed hurt so many people's feelings who it doesn't even represent?" Spivey said.
In the context of the history of race in the U.S., it does make sense, he said.
"At some point we have to break that cycle and this could be the start," Spivey said. "It's not just a point of 'Yup, it's important for the reconciliation and healing of the Ho-Chunk.' It's also for important for reconciliation and healing for white folks."
White people in La Crosse should own up to the historical racist actions of the white people in both La Crosse and the nation as a whole, he said.
---
The Tribune's entire A-to-Z look back at La Crosse area history
Ace Telephone Association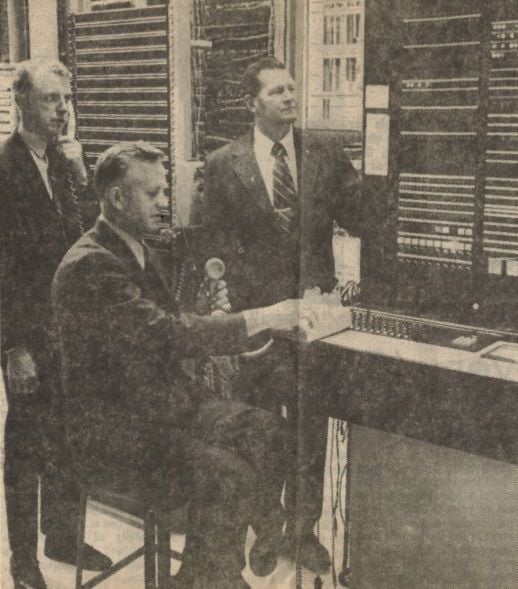 A G Cooperative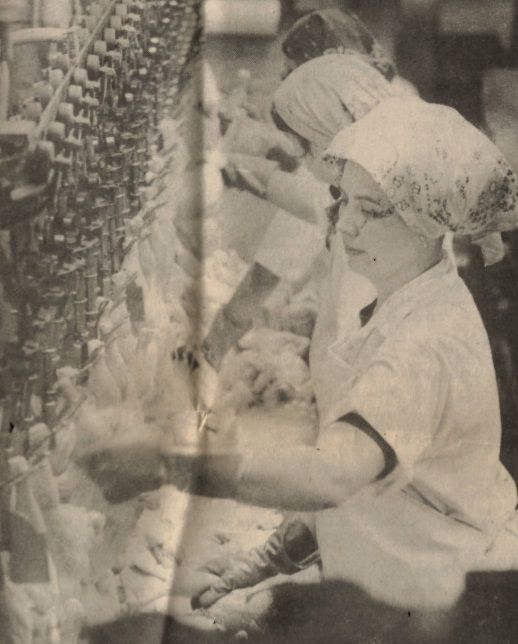 Allen's department store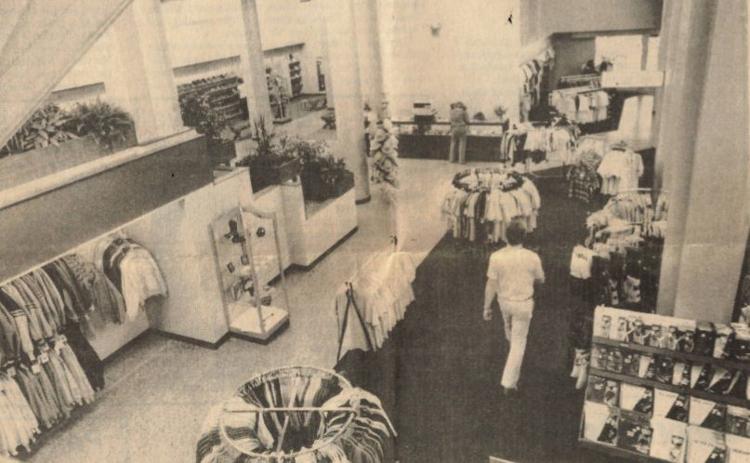 Alley Kat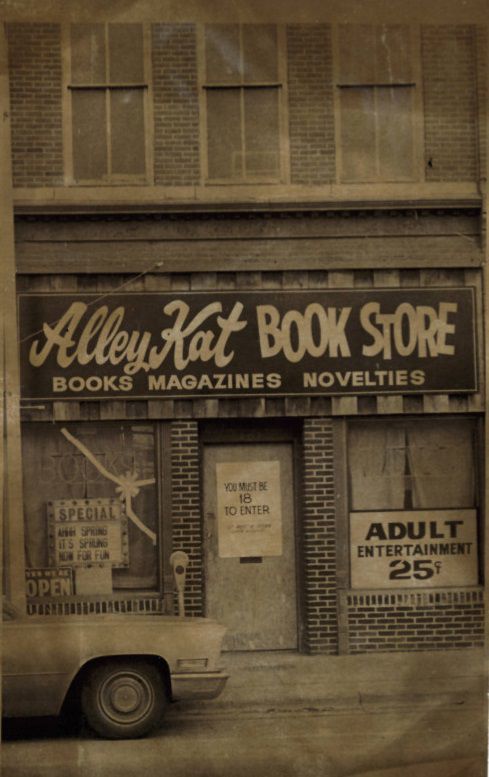 Allis Chalmers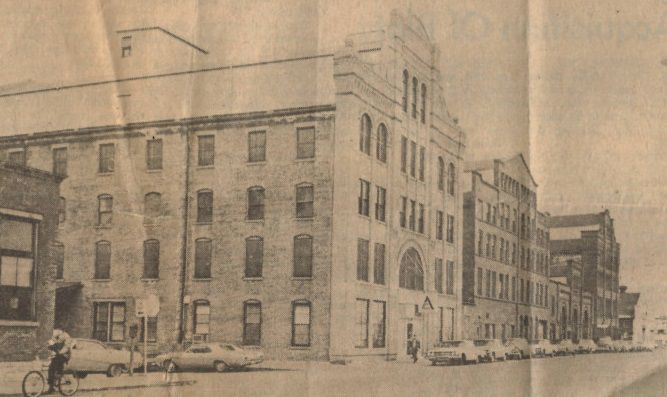 Amtrak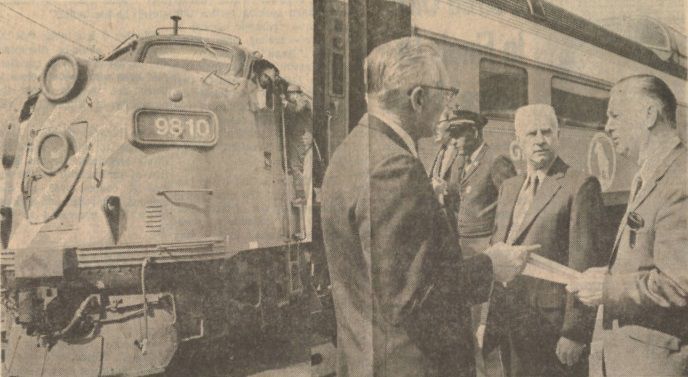 Ardie's Restaurant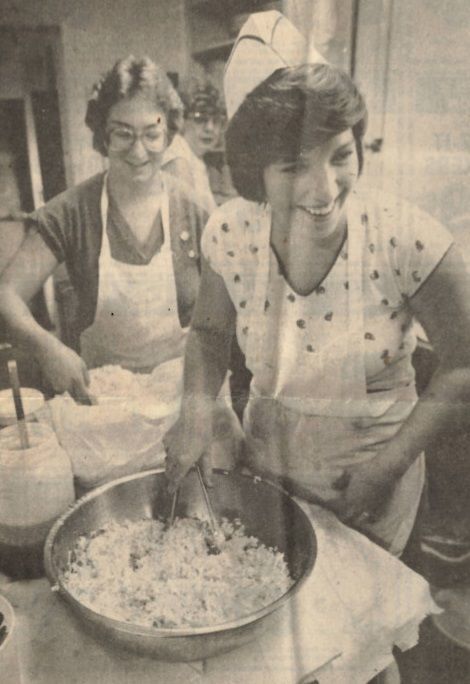 Arenz Shoe Co.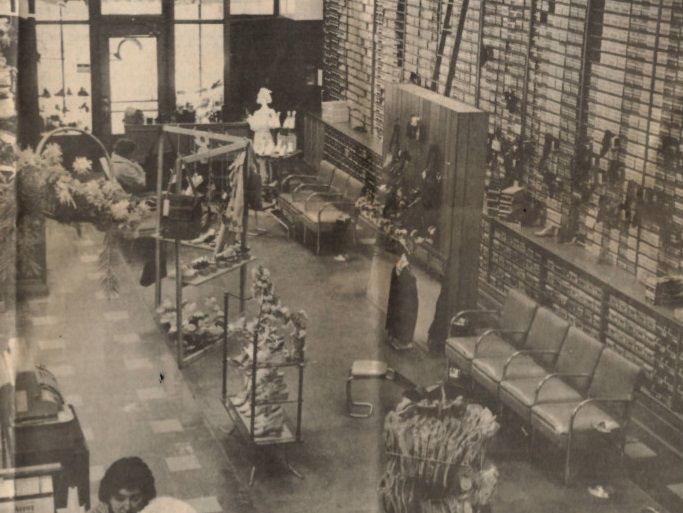 Ashley Furniture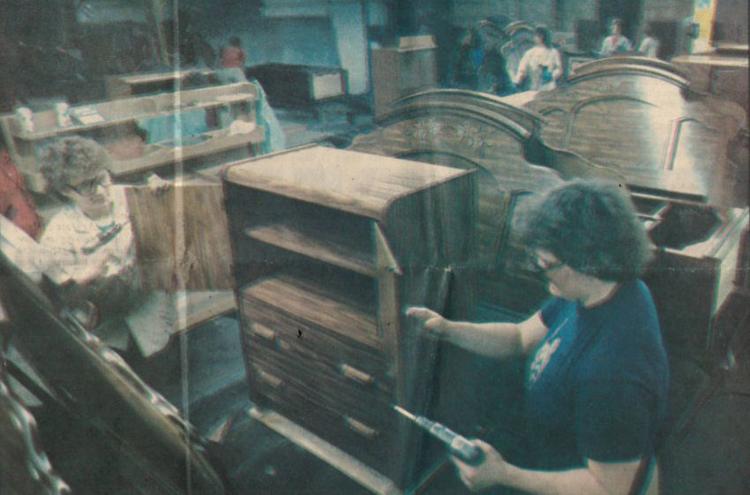 Auto-Lite

Bartl Brewery
Barney's Cheese Factory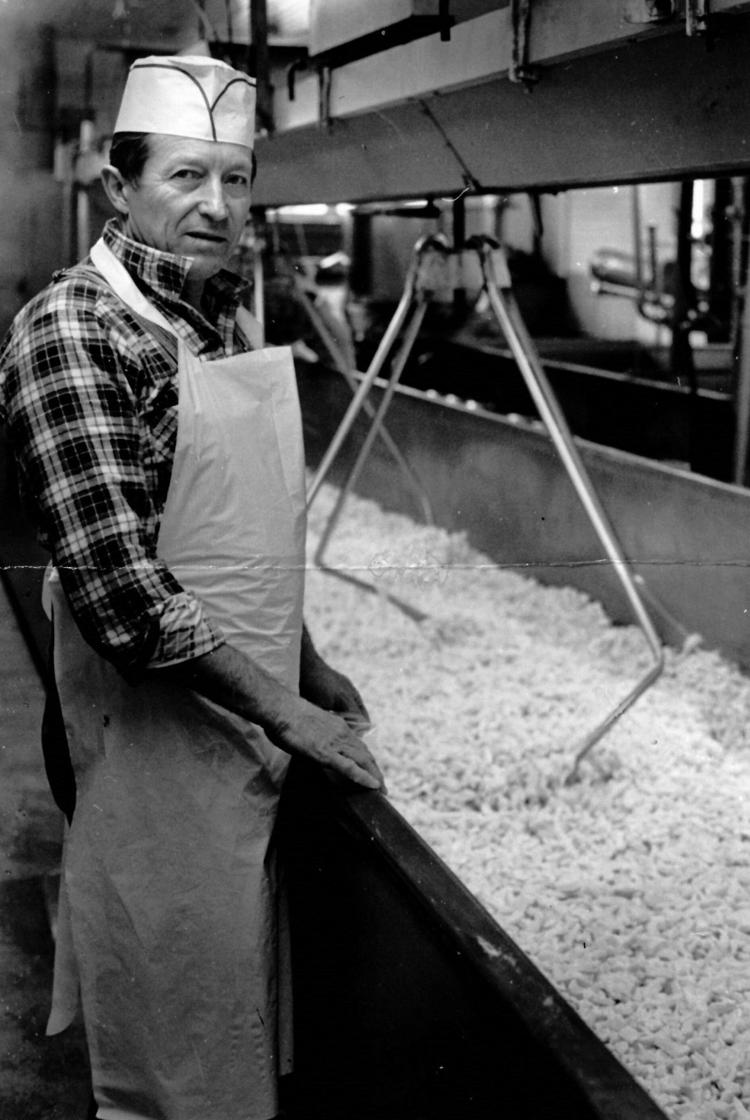 Baus Catering Service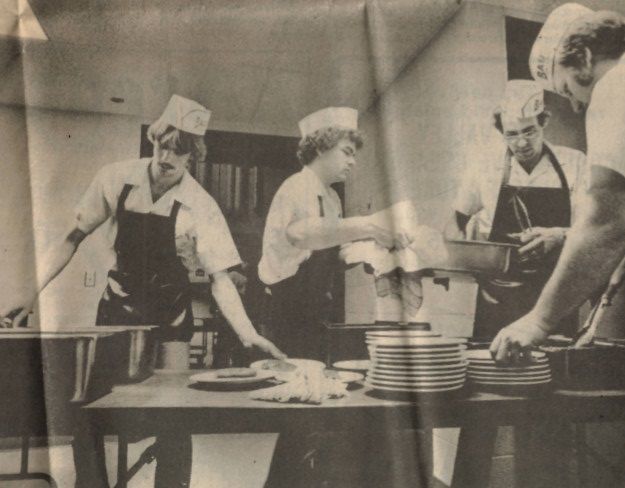 1976: Ben Franklin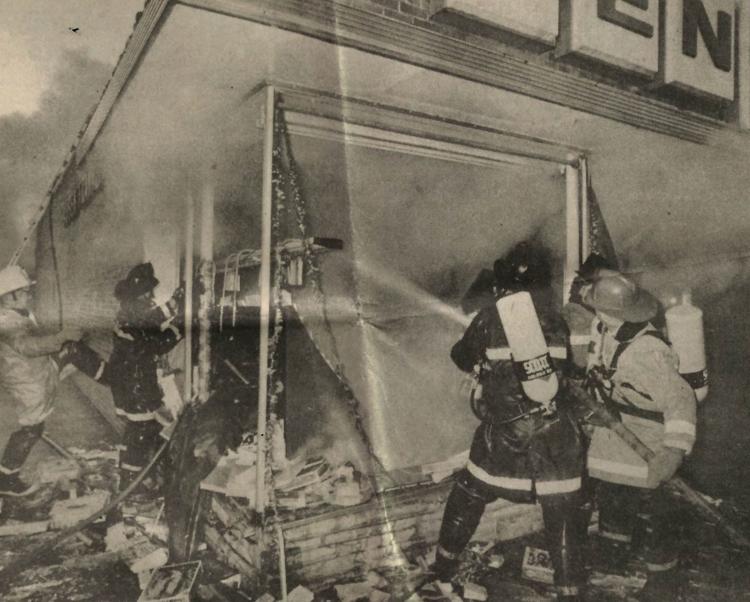 1971: Behind the Brewery Gallery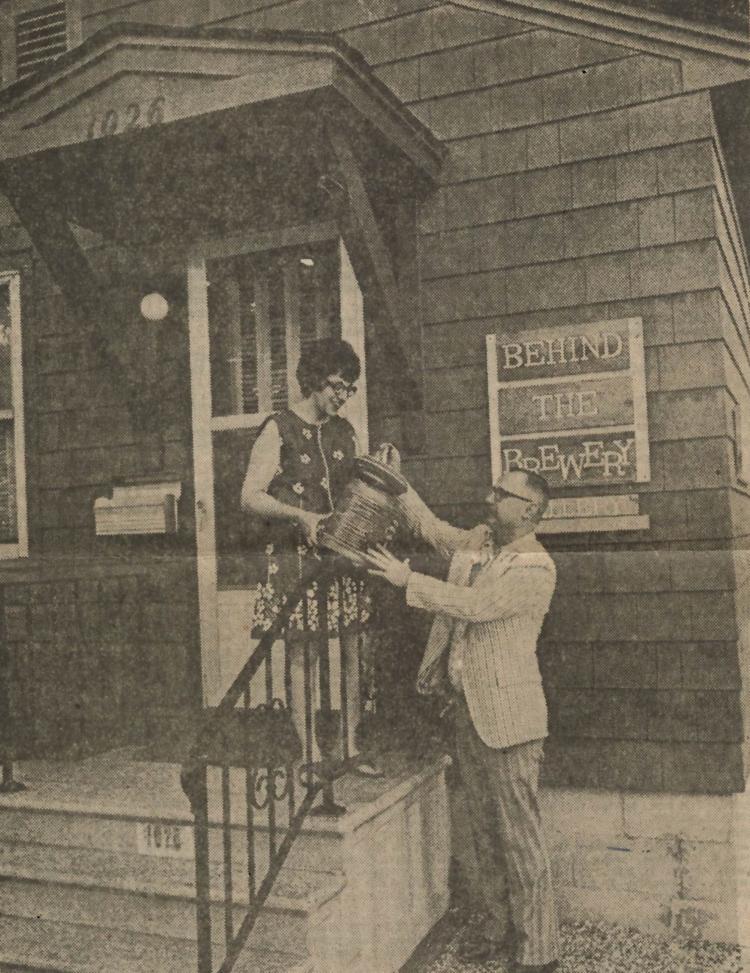 1962: Bell Discount Store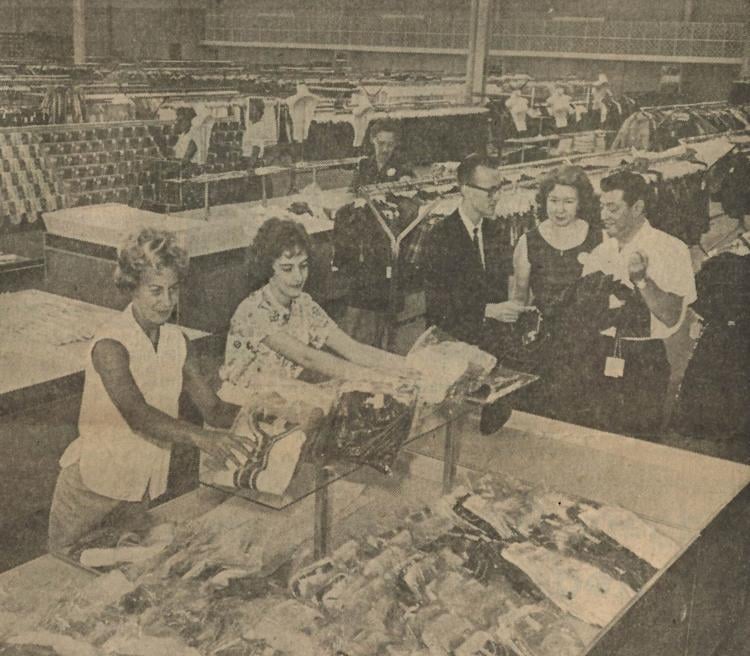 1977: Bert's Magic and Fun Shop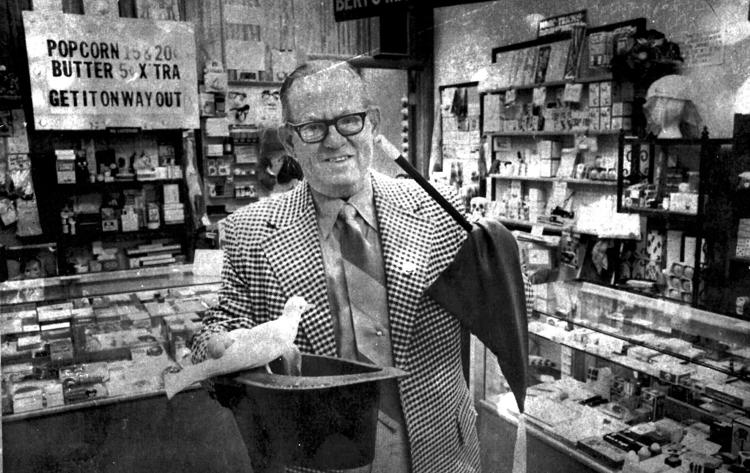 Blue Tiger Lounge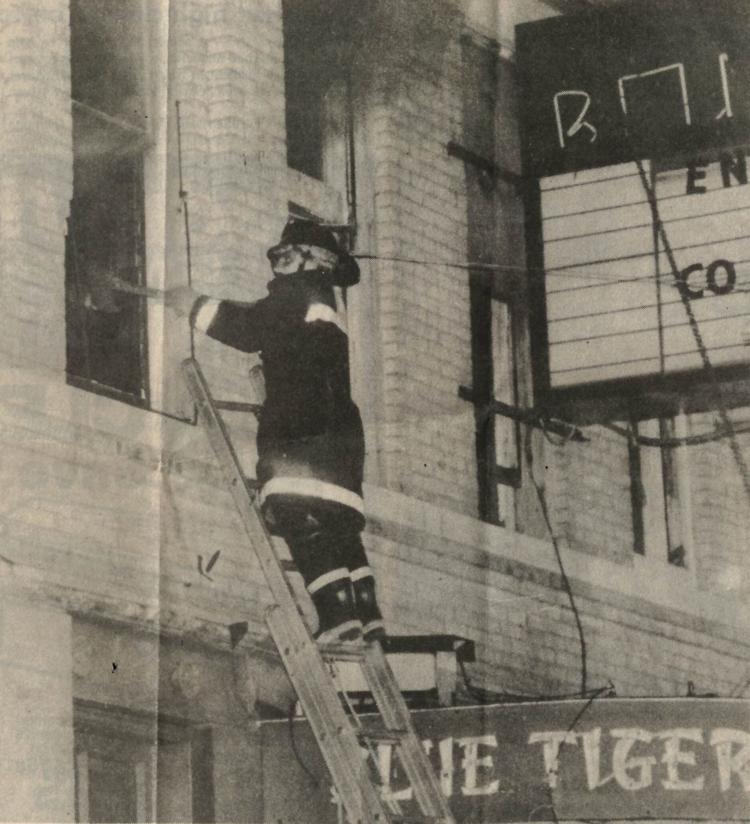 Big River Cattle Co.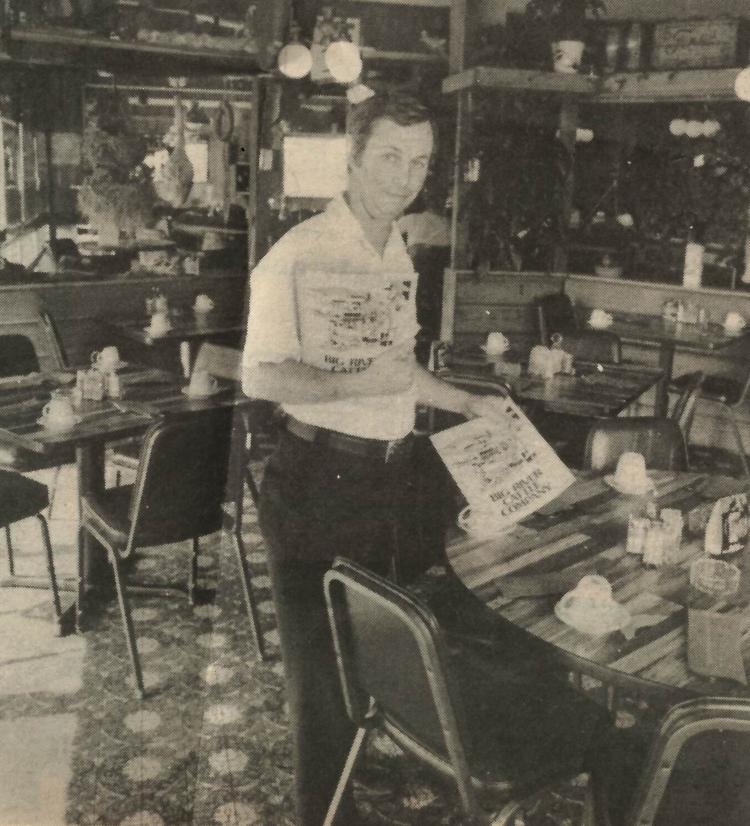 Big Dipper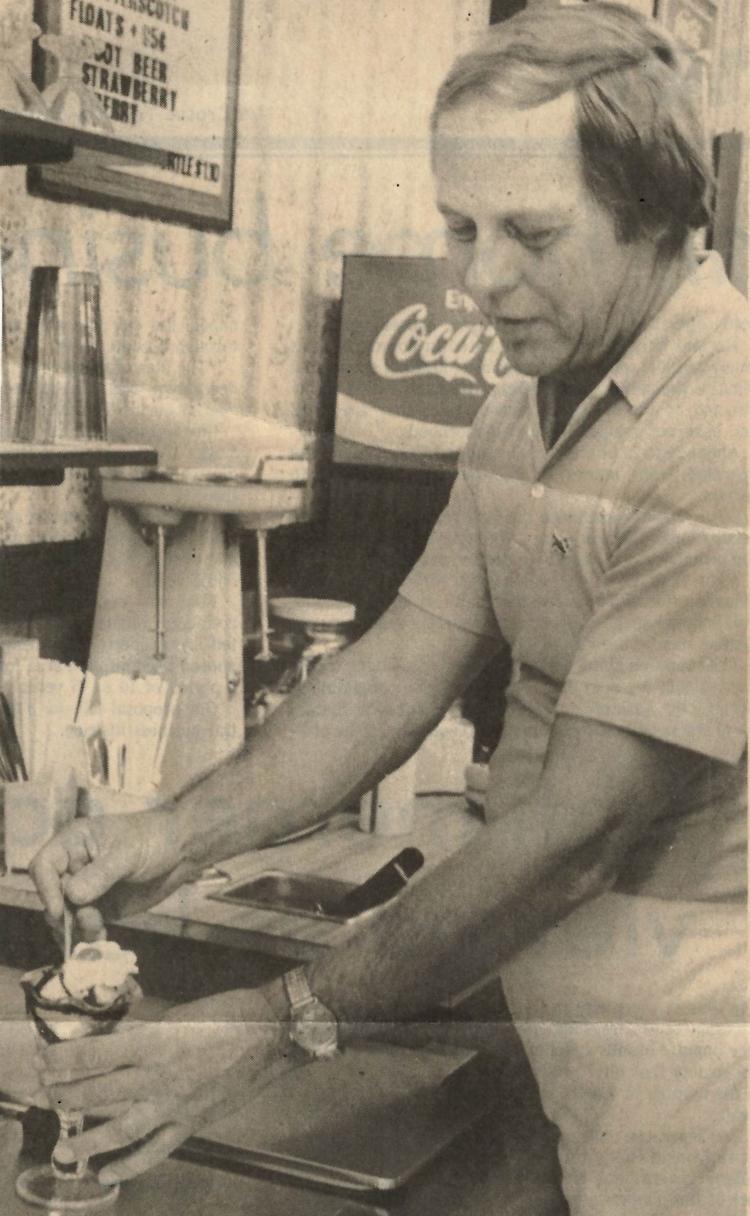 Bon Appetit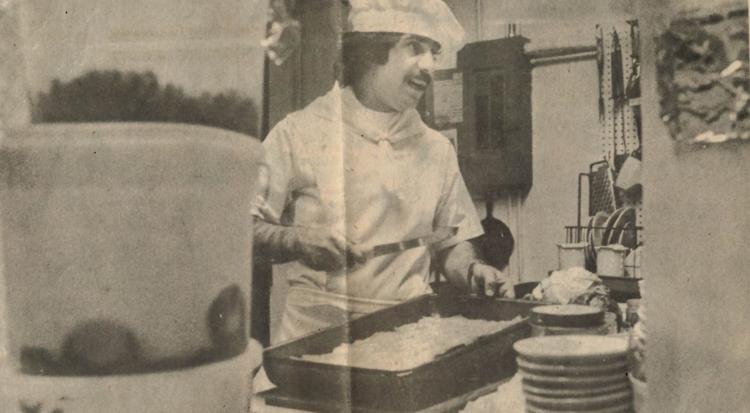 1975: Bodega Lunch Club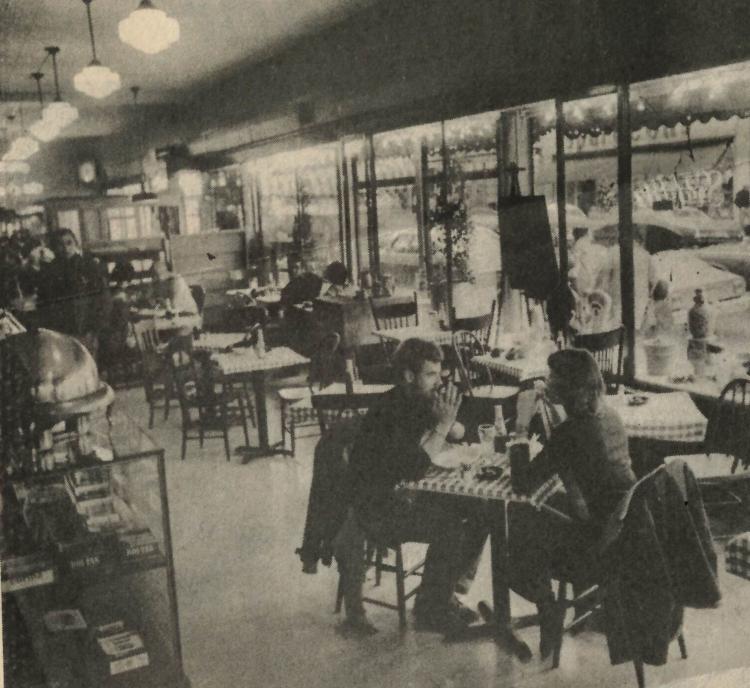 1973: Book Exchange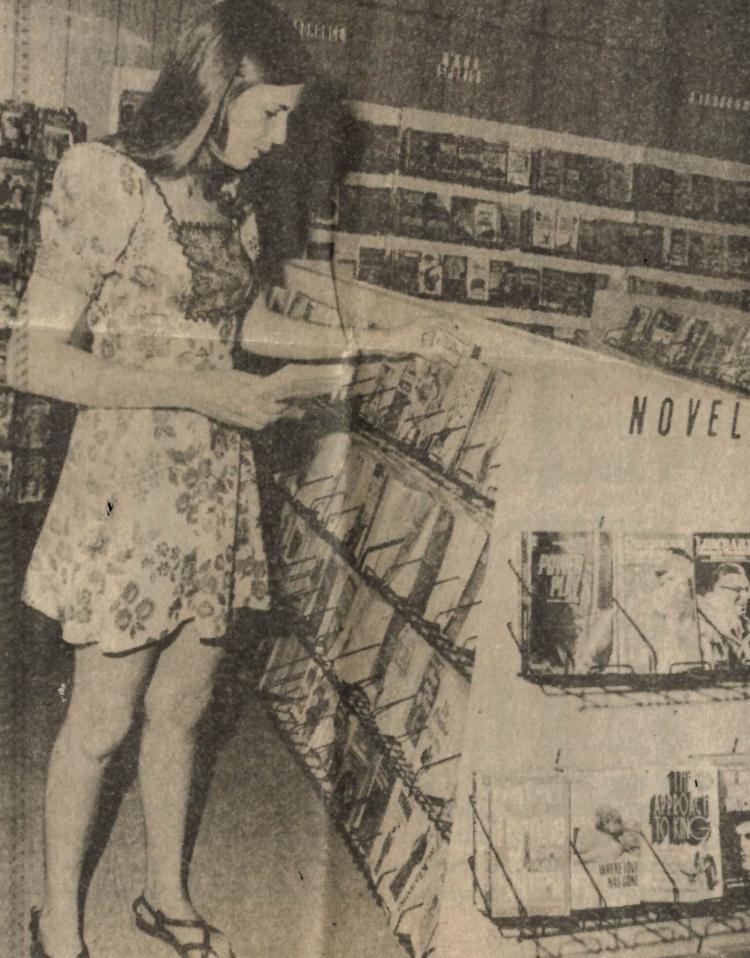 1923: Borgen's Restaurant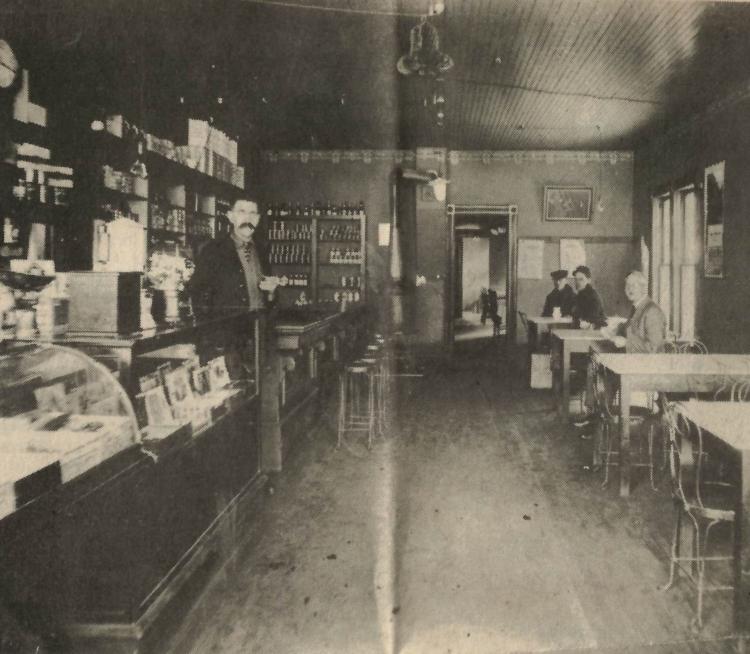 1971: Bridgeview Plaza Shopping Center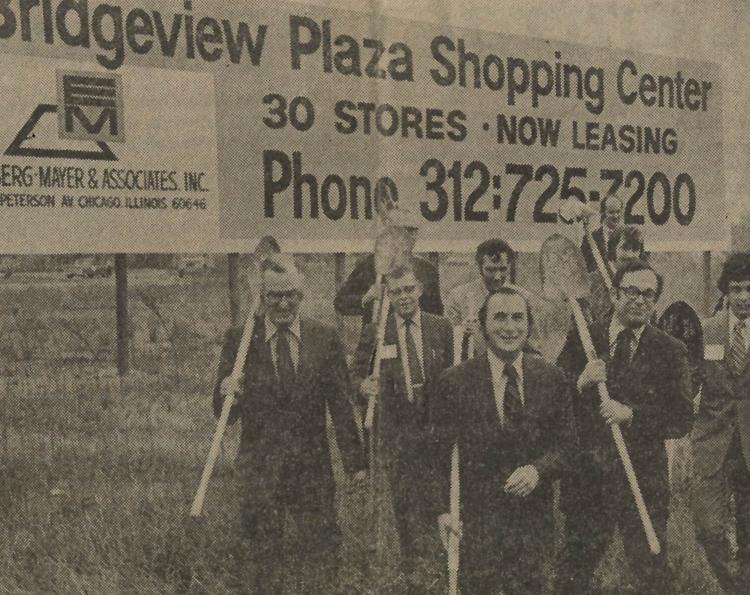 Bridgeman's Ice Cream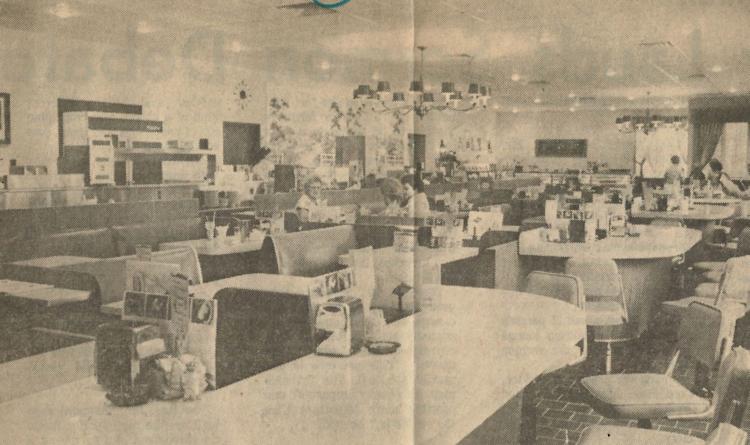 1985: Century Telephone
Circus Supper Club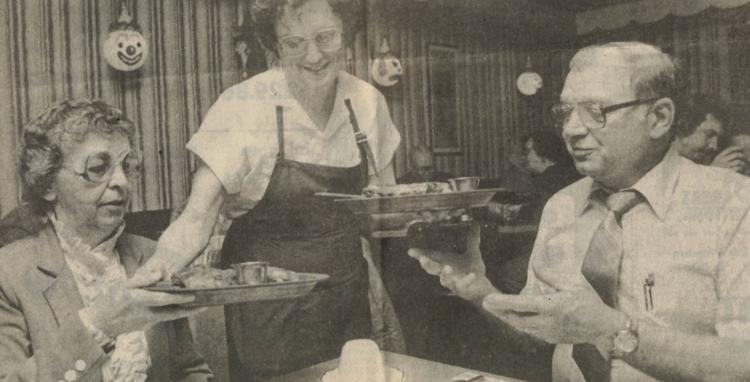 ComputerLand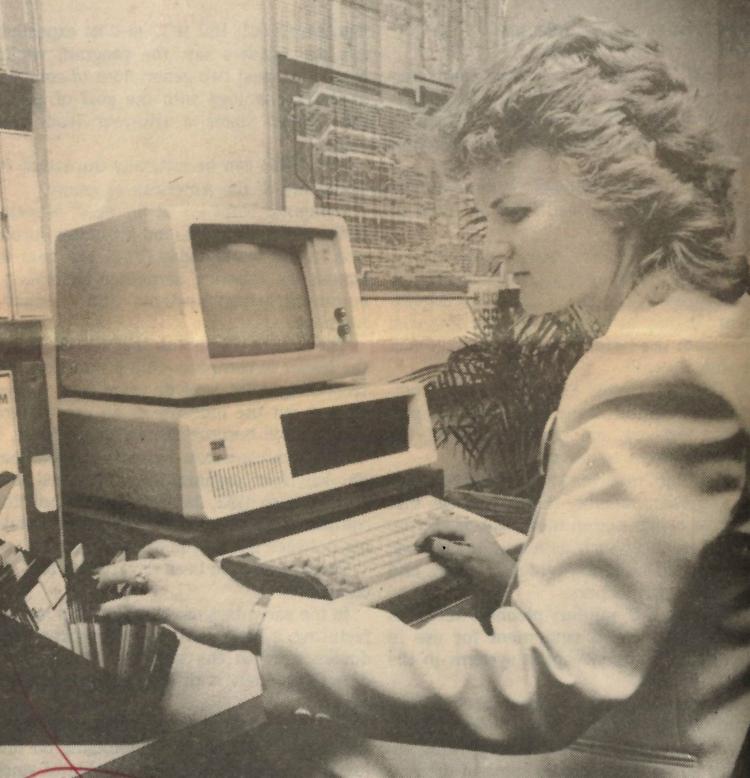 Cavalier

Chop House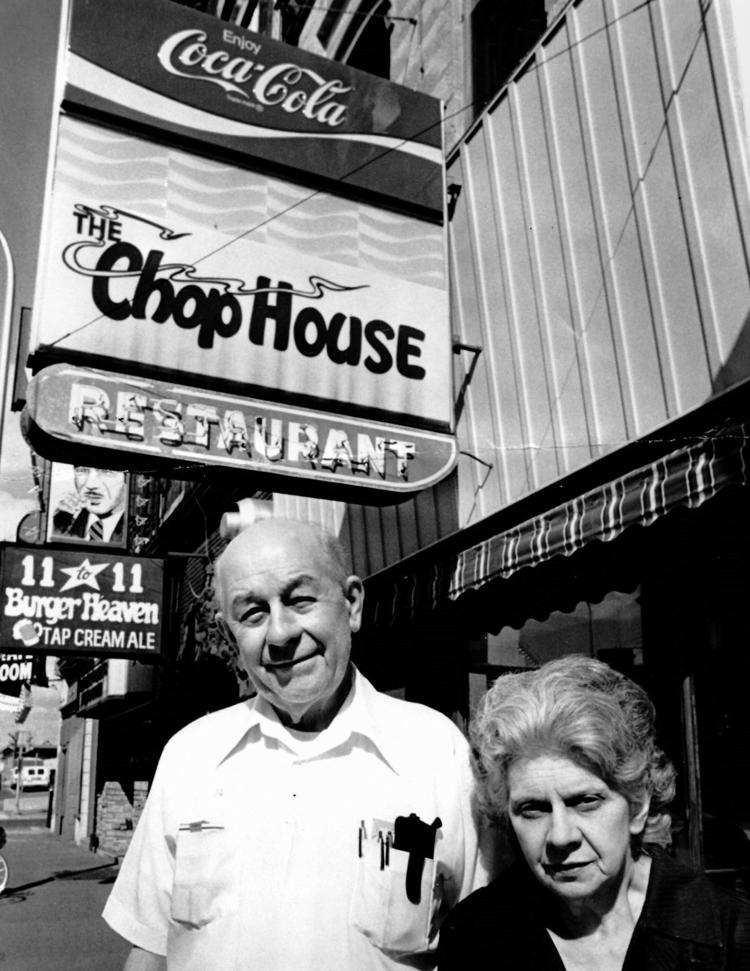 1979: Carriage House of Fashion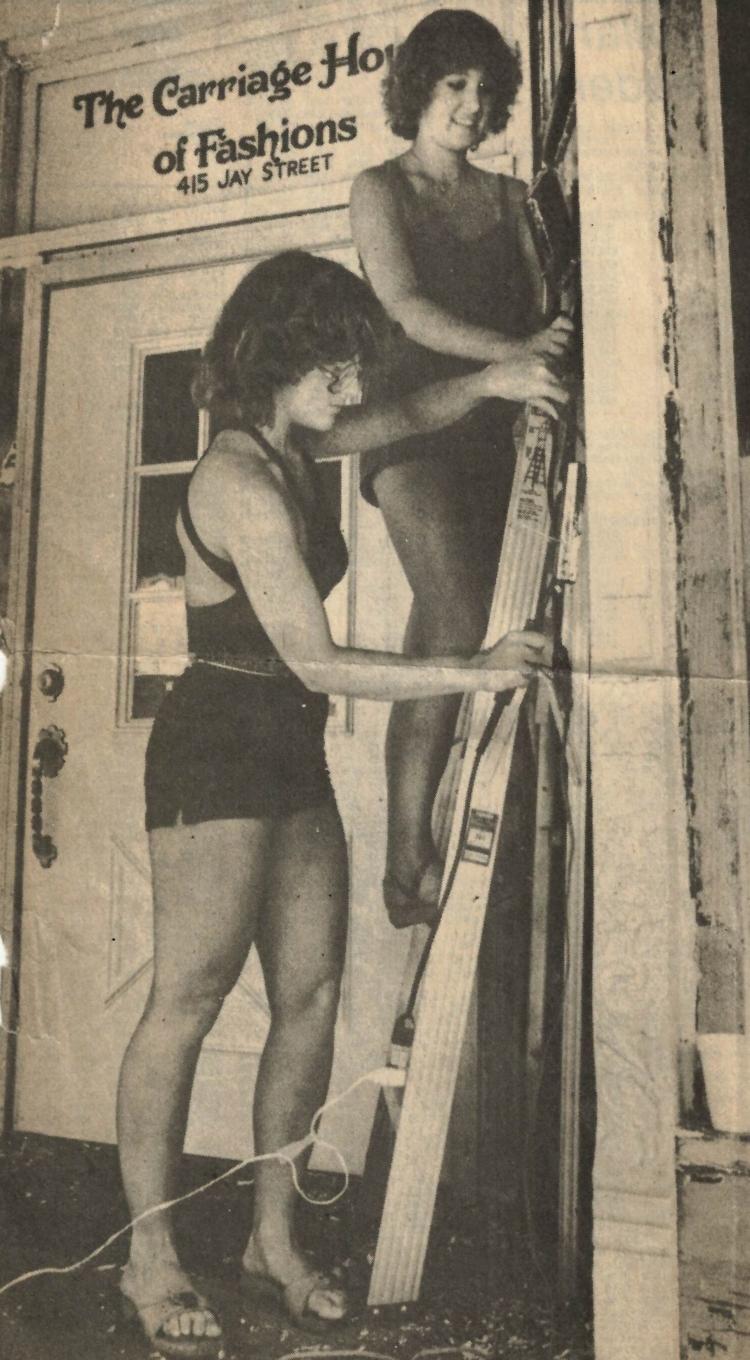 Cheddar 'n Ale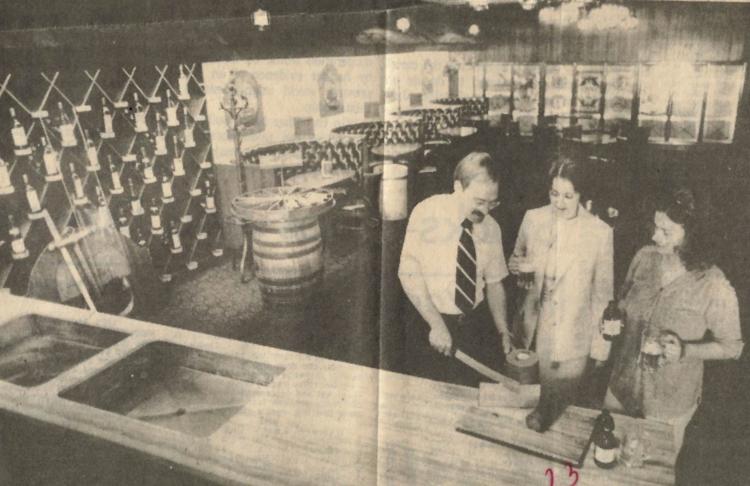 Clothes N' Counter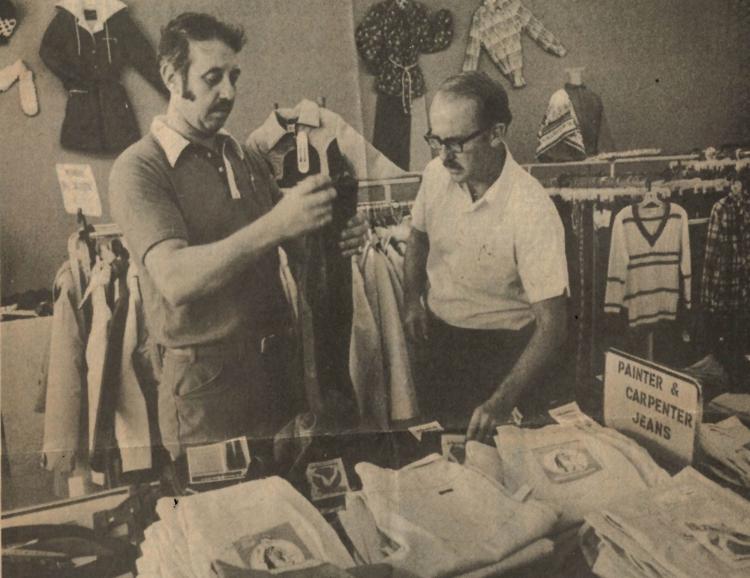 1974: Caravel TV Sales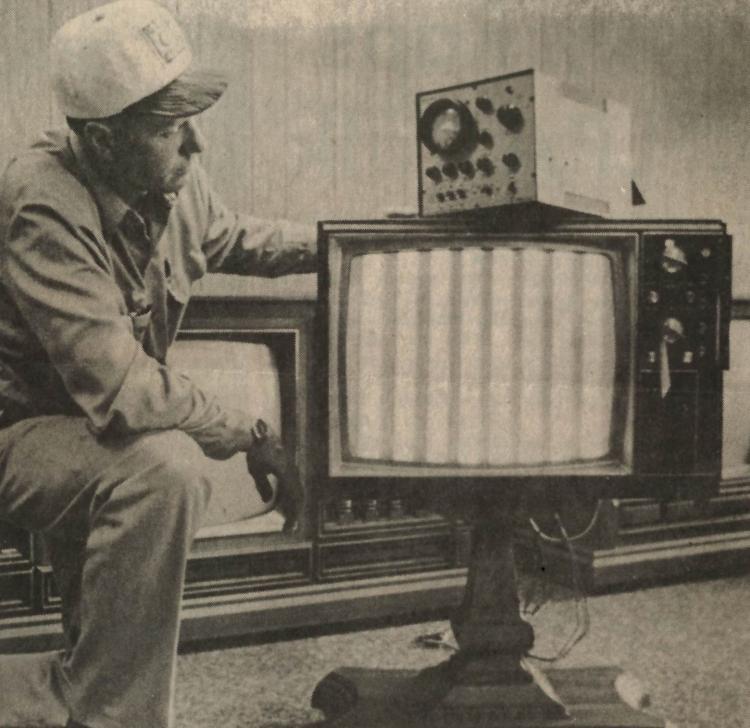 1973: Coney Island
Coulee Golf Bowl
Coulee Bank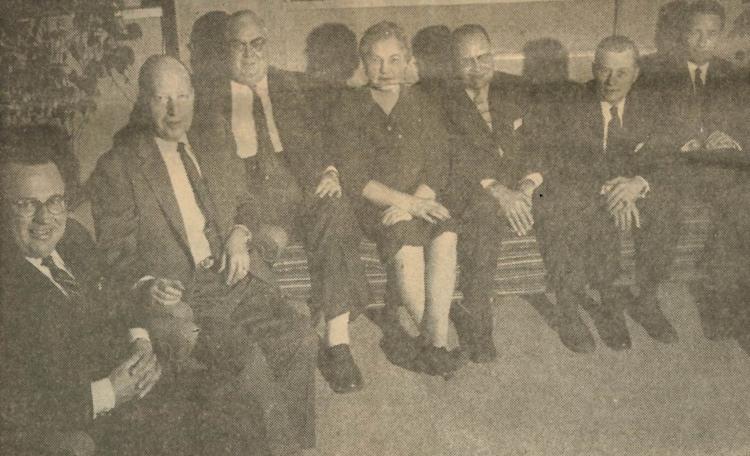 Coast-to-Coast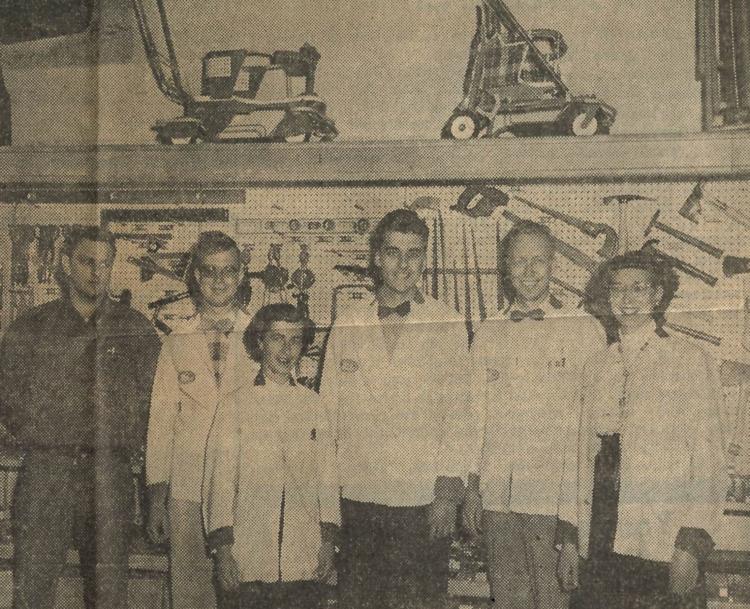 1954: Crescent Jewelers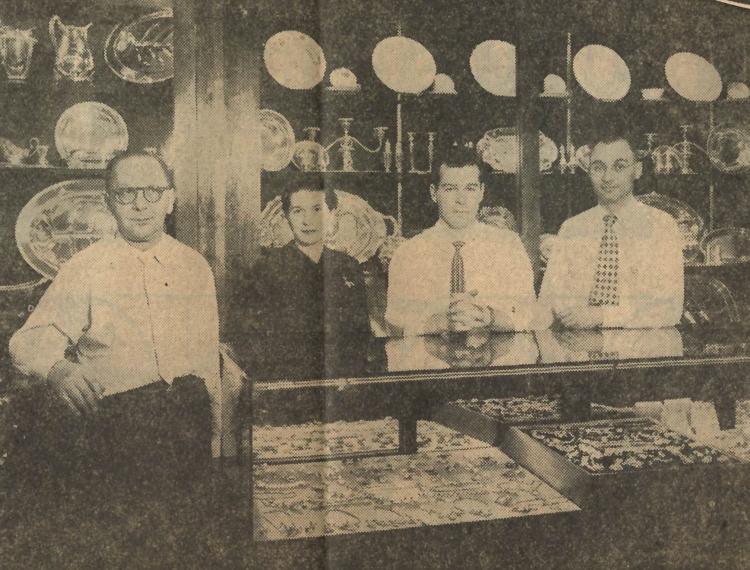 1954: Community Camera Center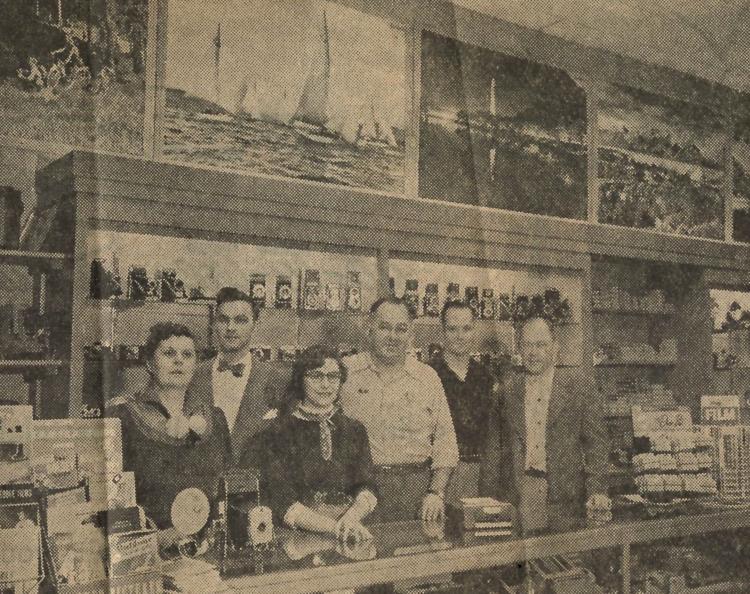 Cub Foods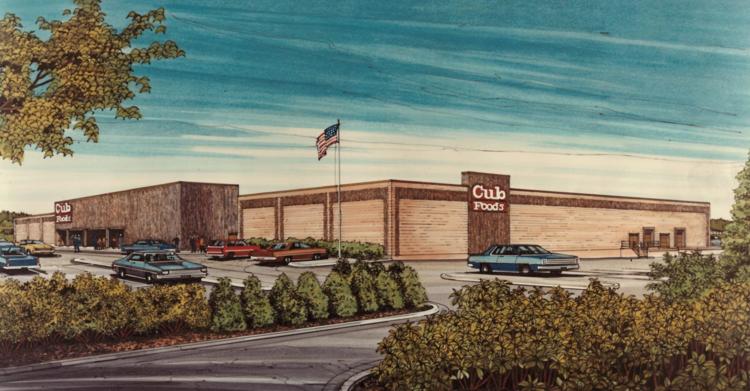 Don's Seldom Inn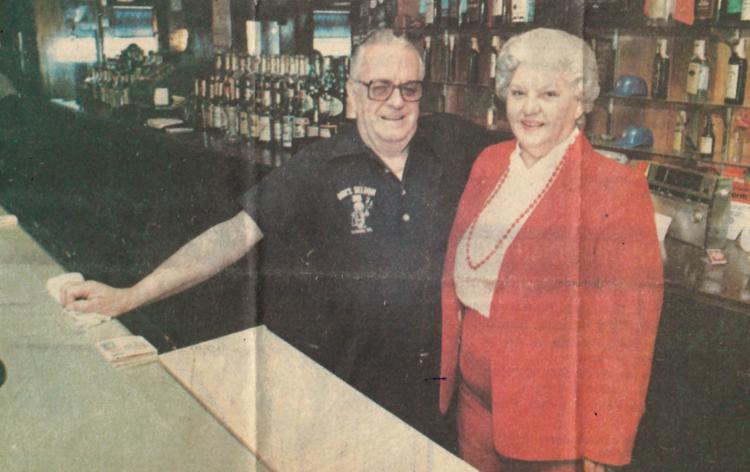 Dee's Gasoline Alley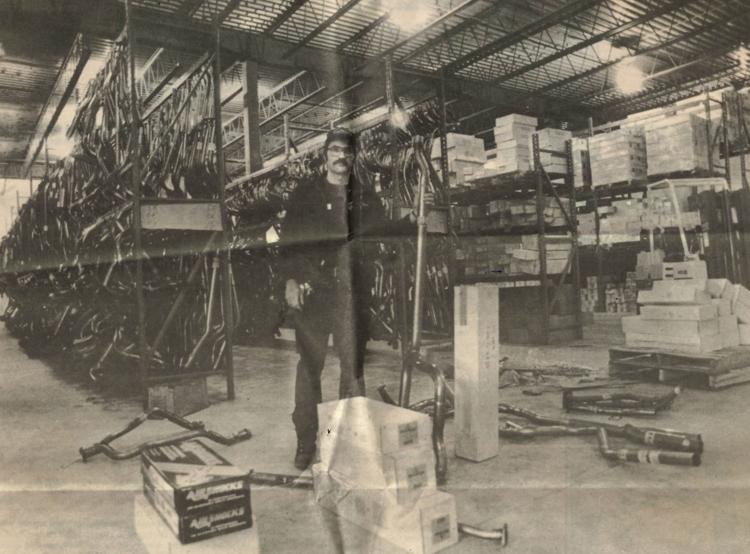 Dairyland Power Cooperative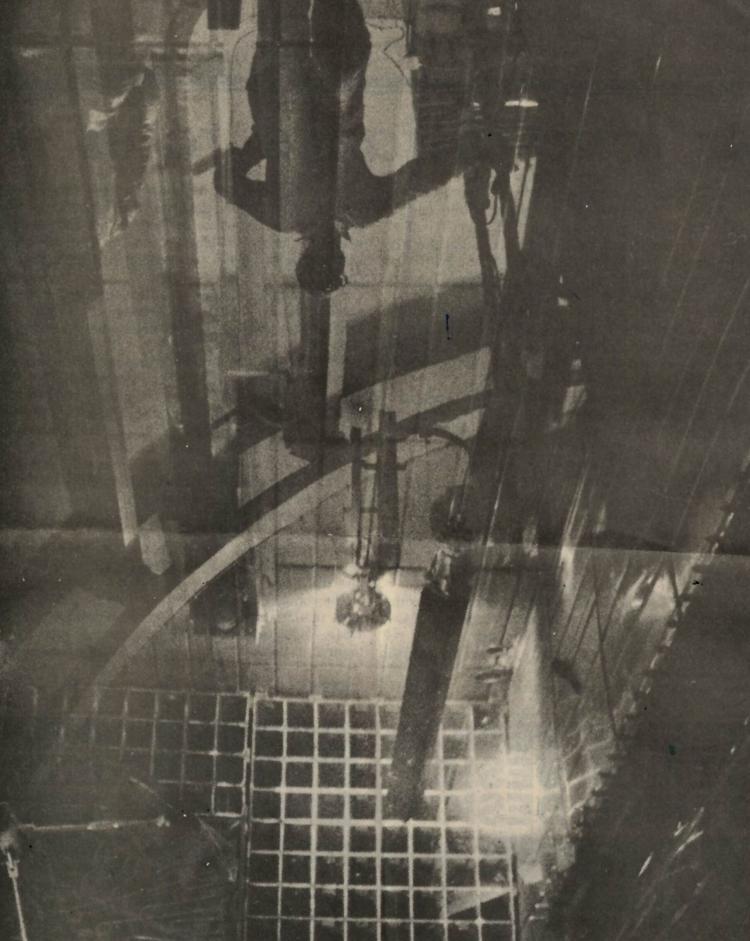 Dad and Lad's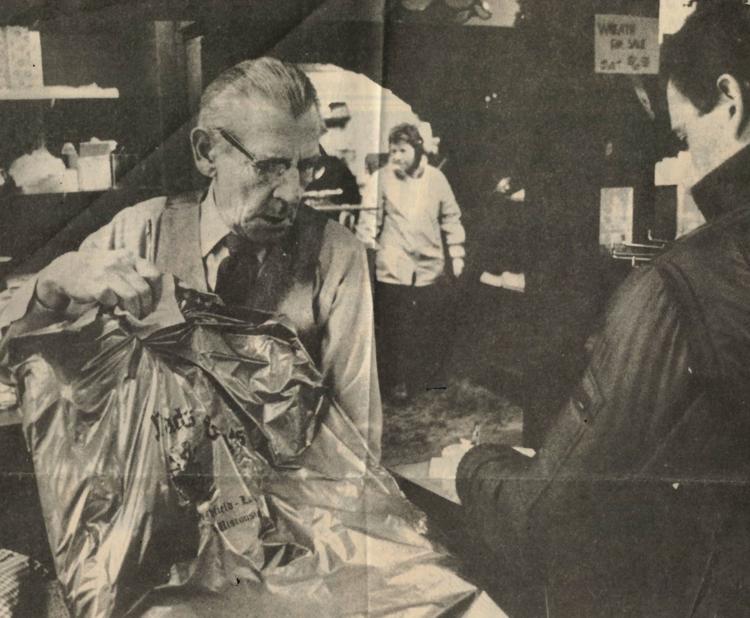 1982: Dayton's
1982: Drugan's Supper Club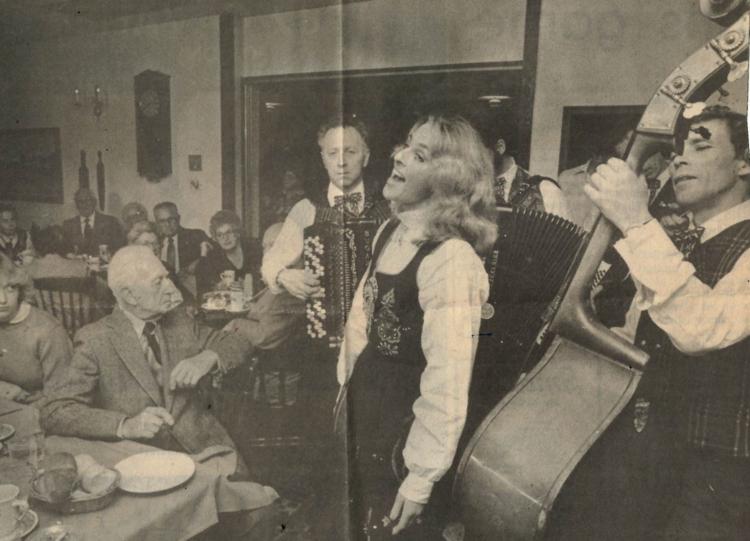 Danny's House of Music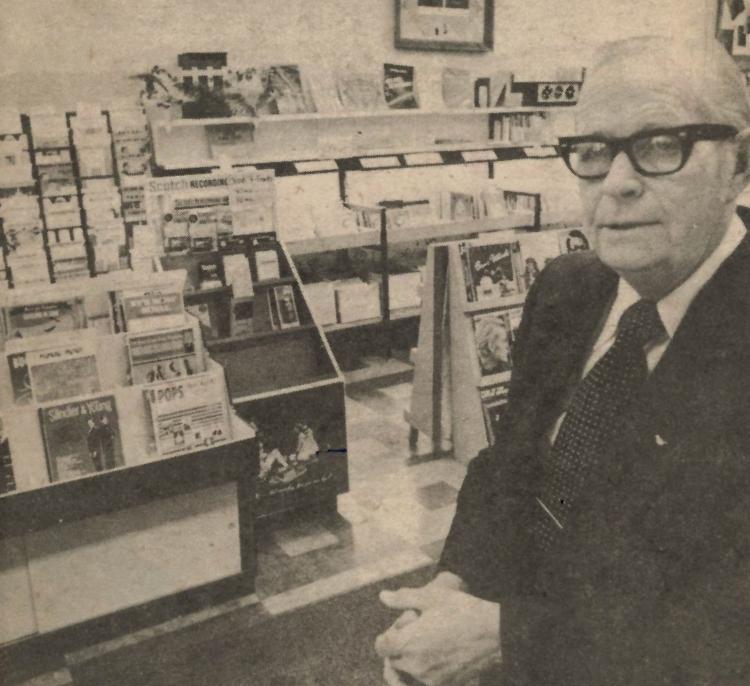 Dartmouth Clothiers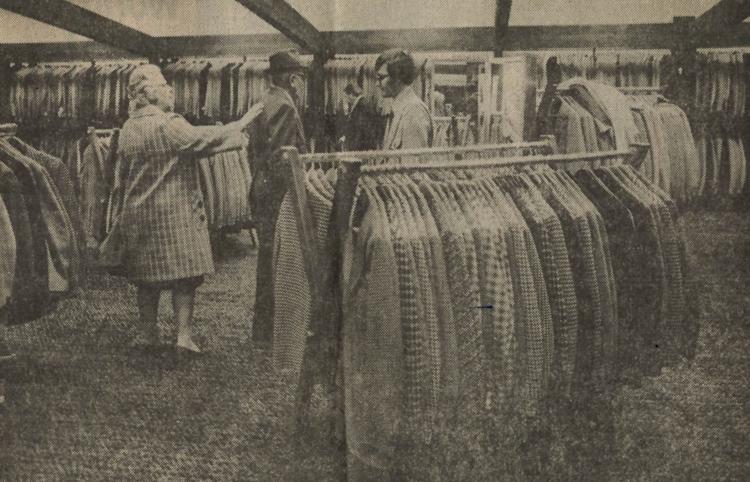 1965: Dog House Restaurant

Dahl Ford

Ernie Tuff Museum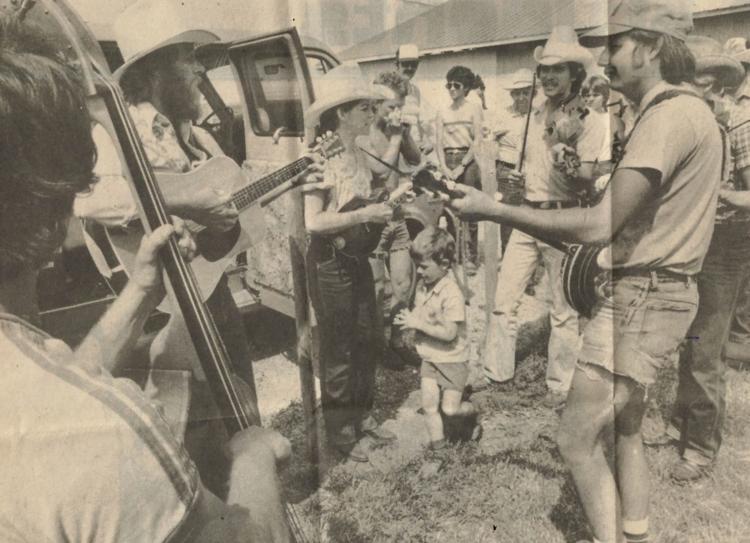 Elite Restaurant and Candy Shop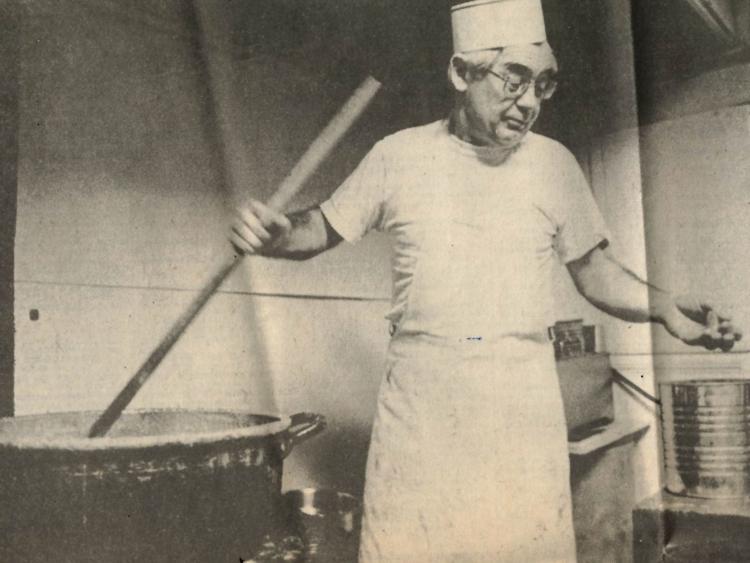 Ed Sullivan's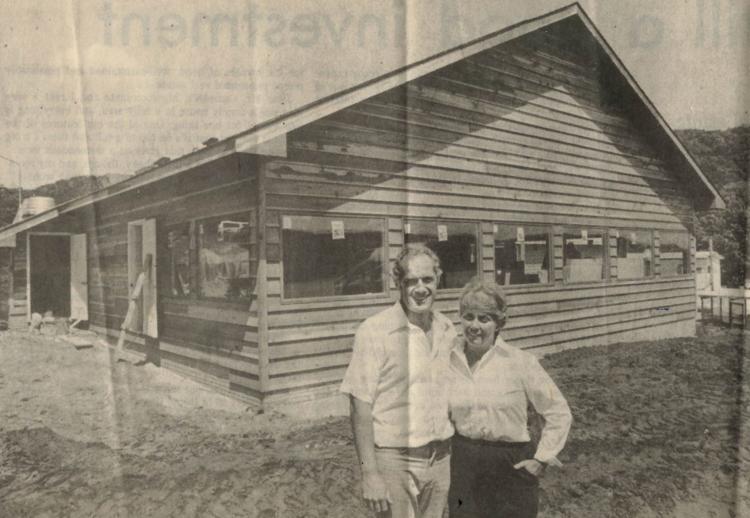 Esteban's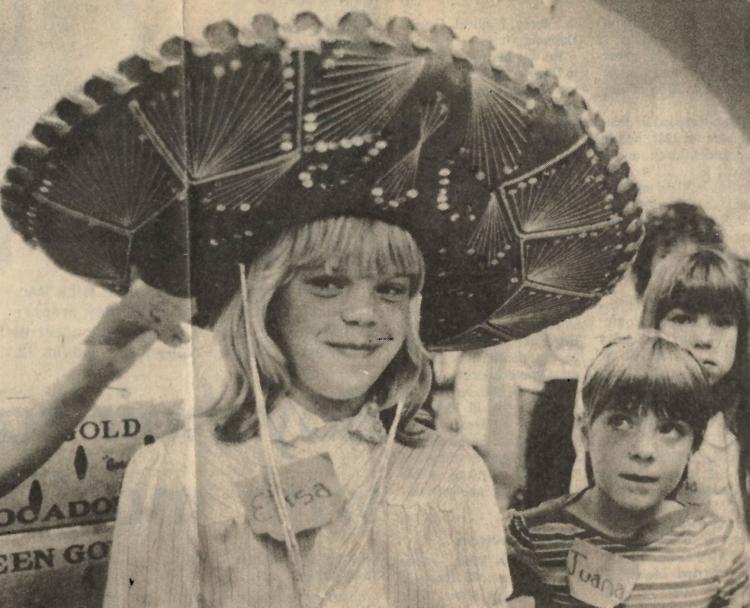 Eversole Motors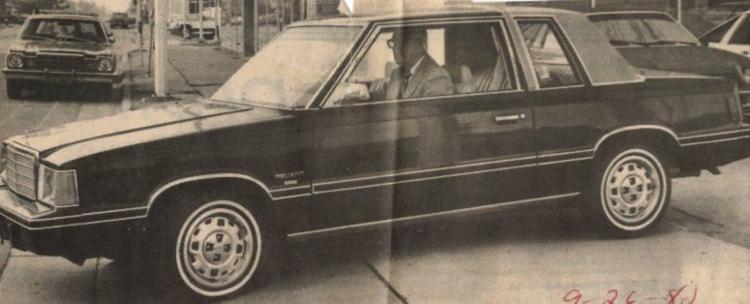 Exel Inn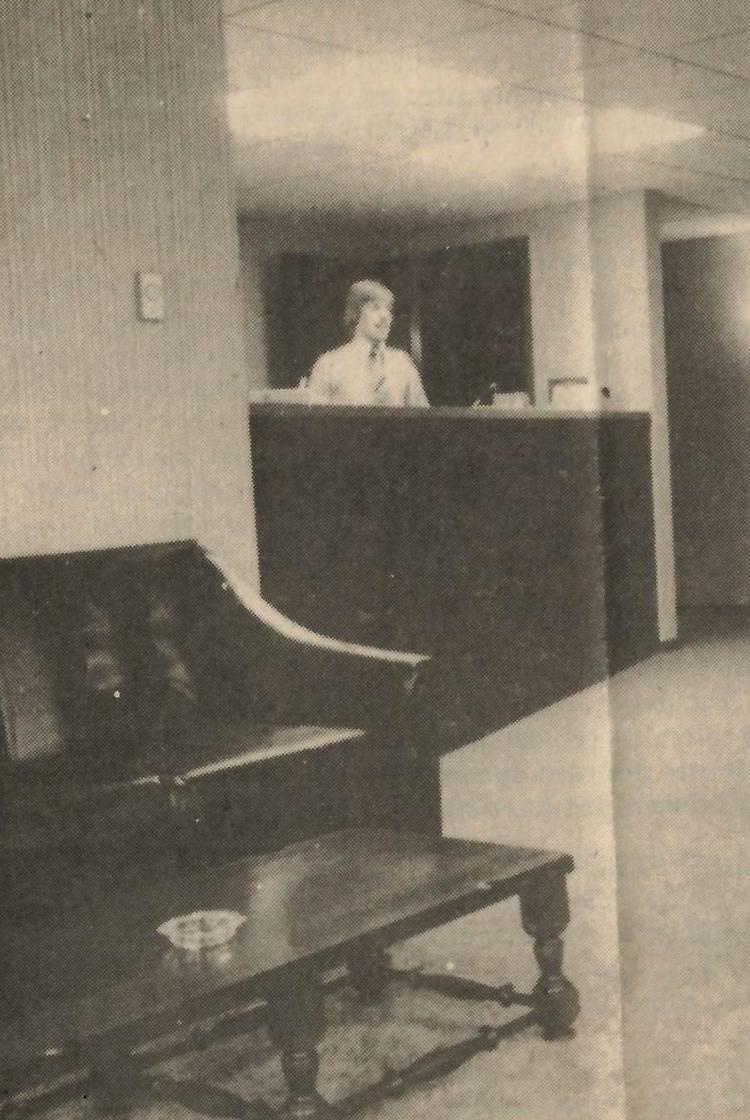 Edwards China Shop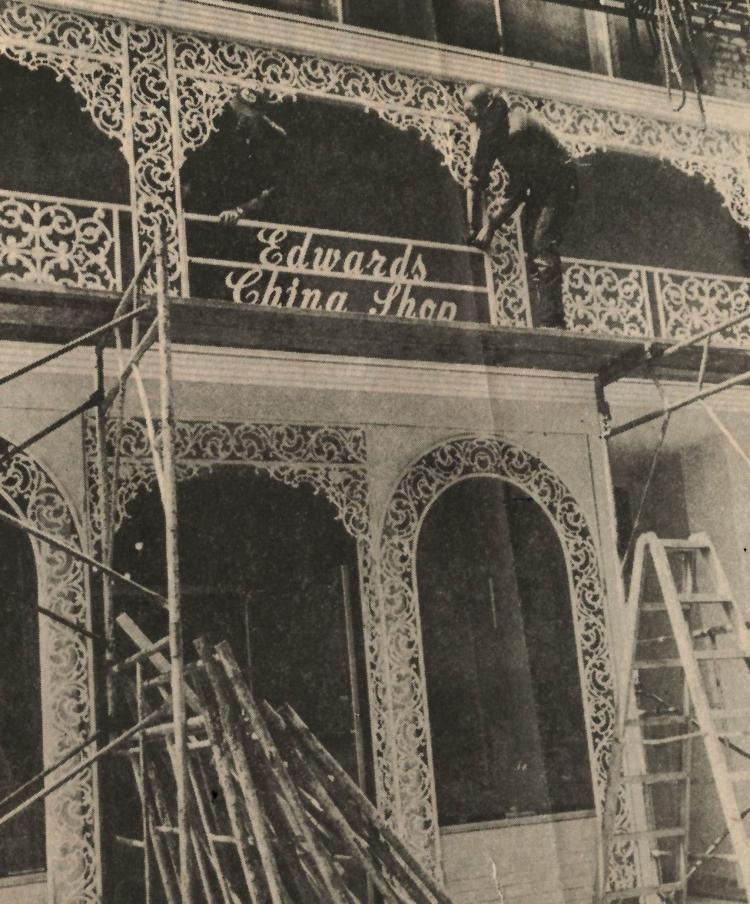 Embers Restaurant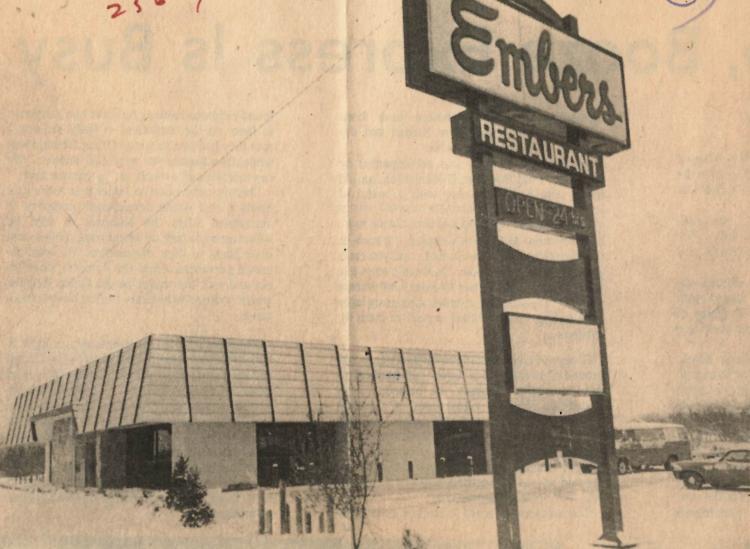 1965: Ellickson Studio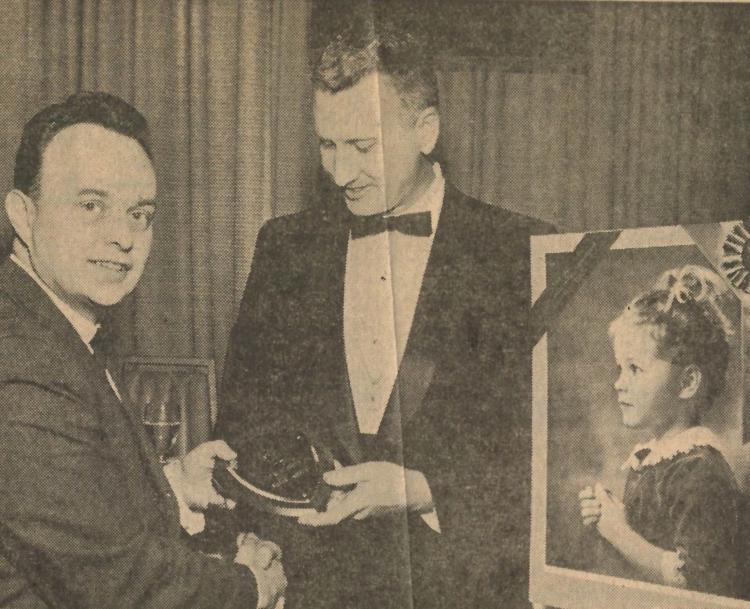 Exchange State Bank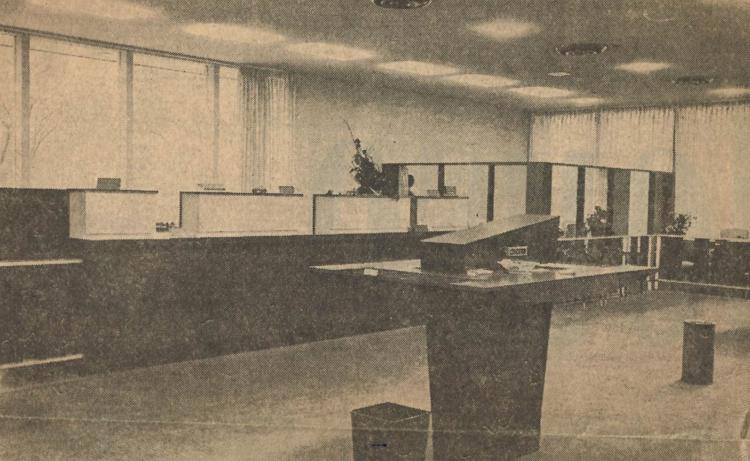 1954: Estell Tall Fashions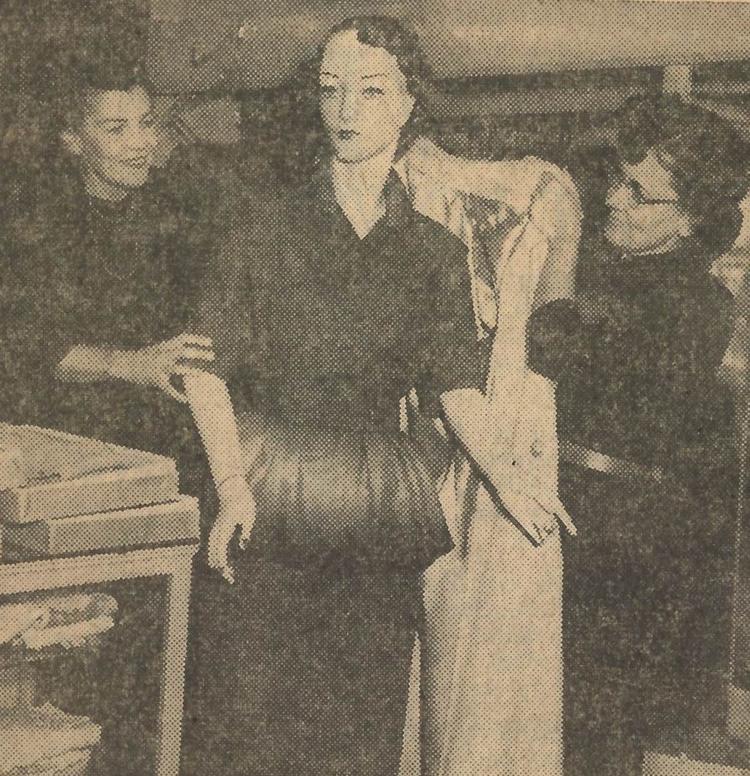 Elfman Marine and Motors
Factory Outlet Mall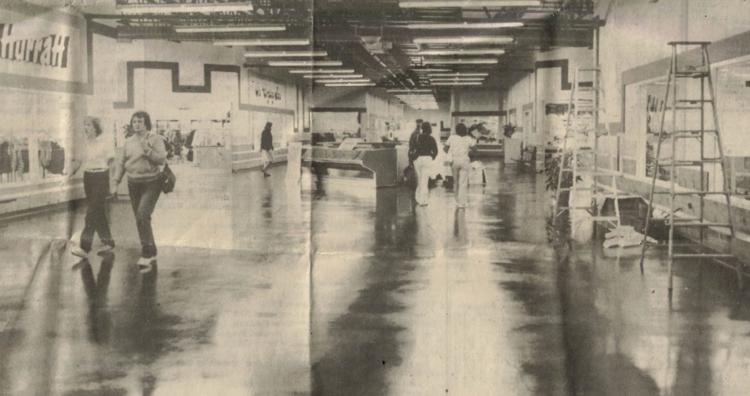 Farm & Fleet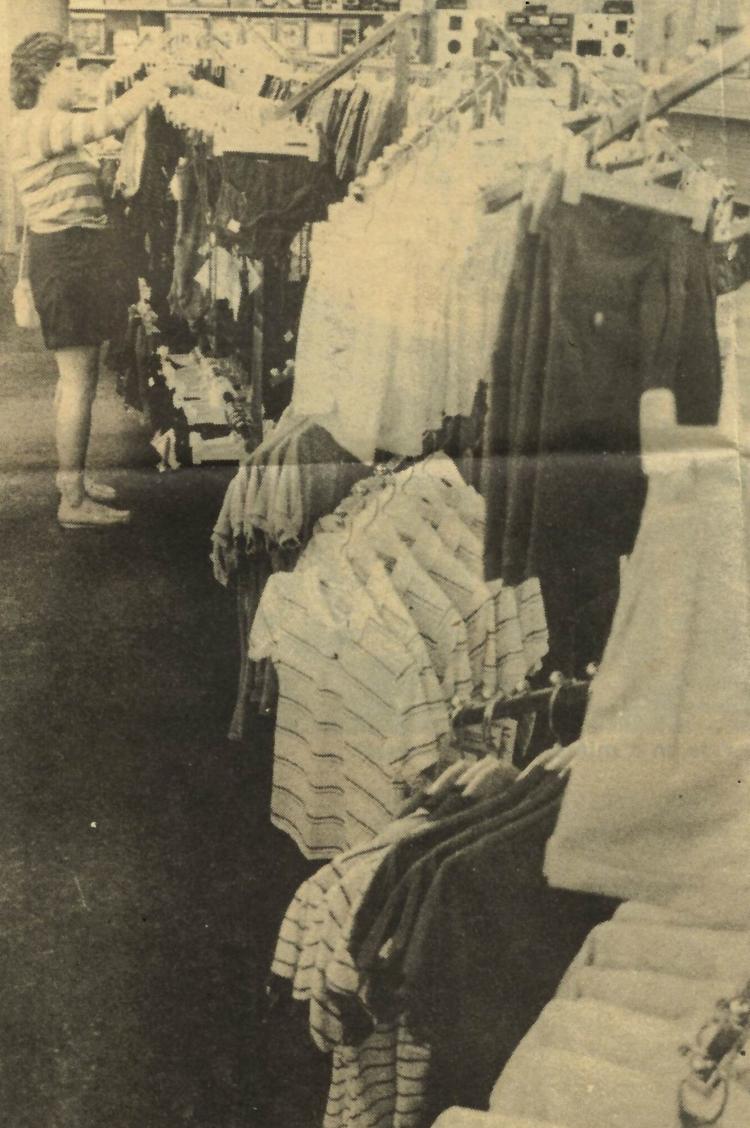 Ferris Shoe and Leather Repair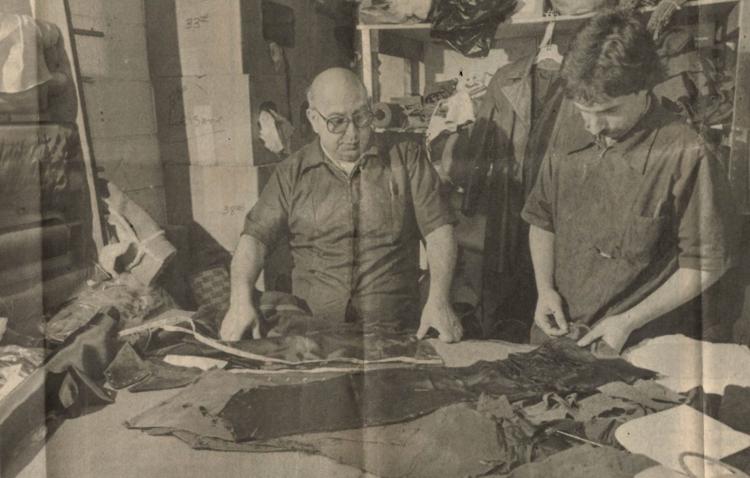 1980: First Bank-La Crosse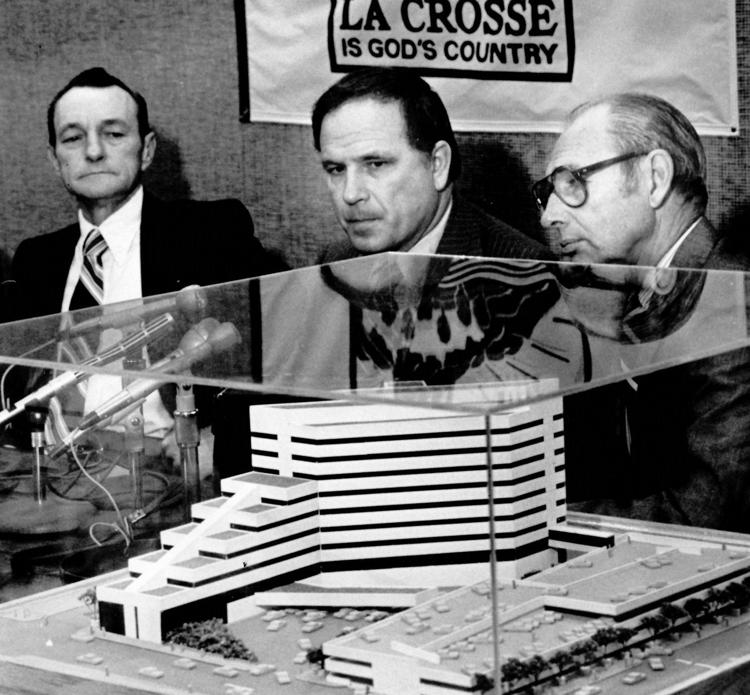 Frenchy's Market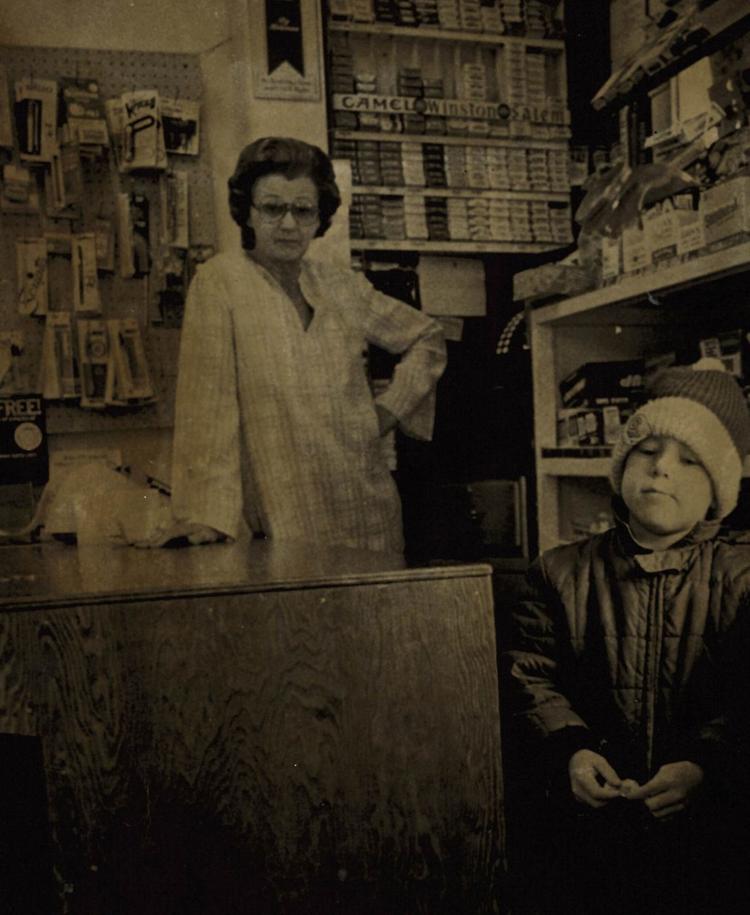 The Freight House Restaurant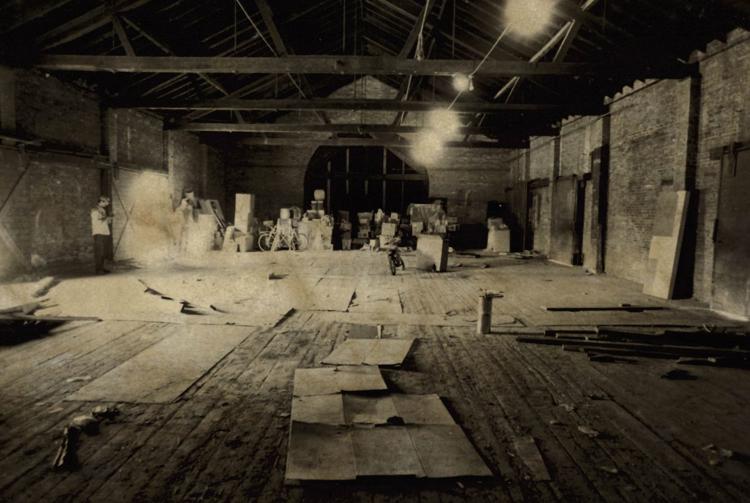 First Federal Savings and Loan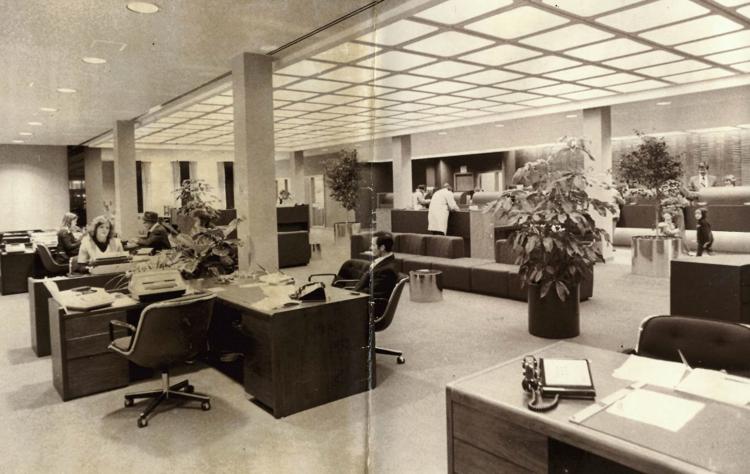 Fastenal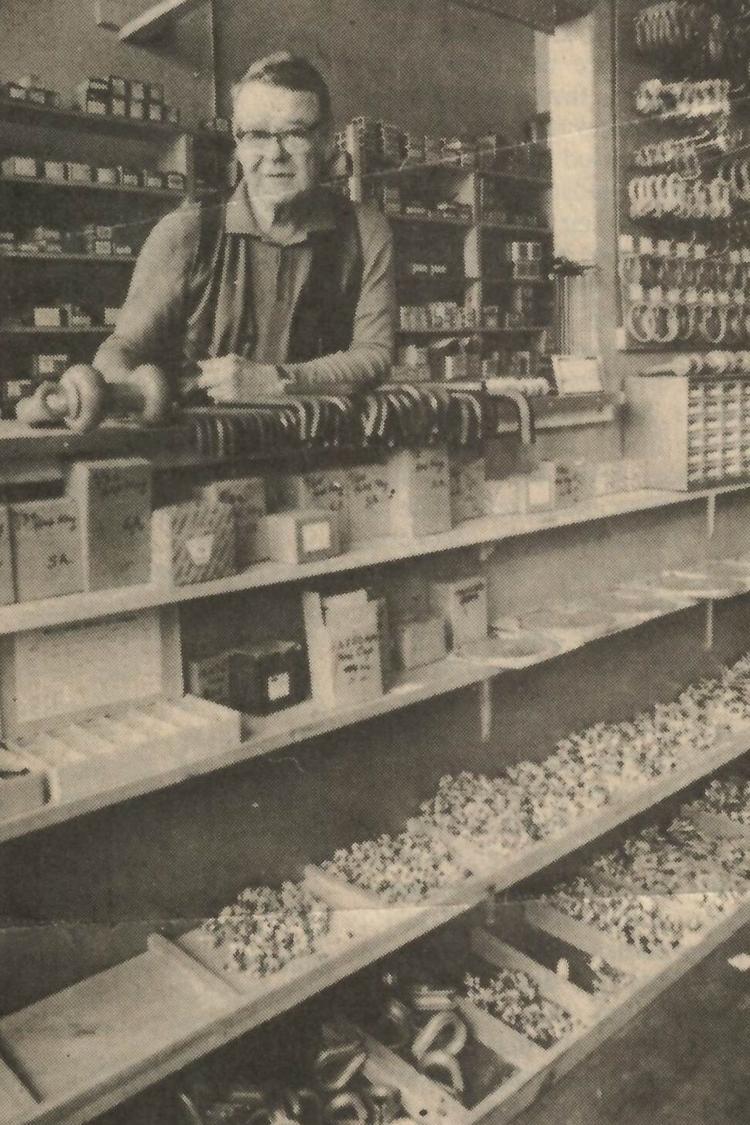 Four Seasons Lounge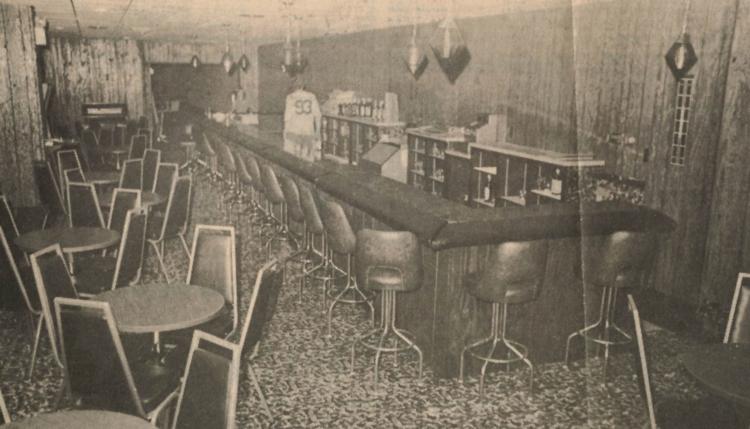 Fireside Restaurant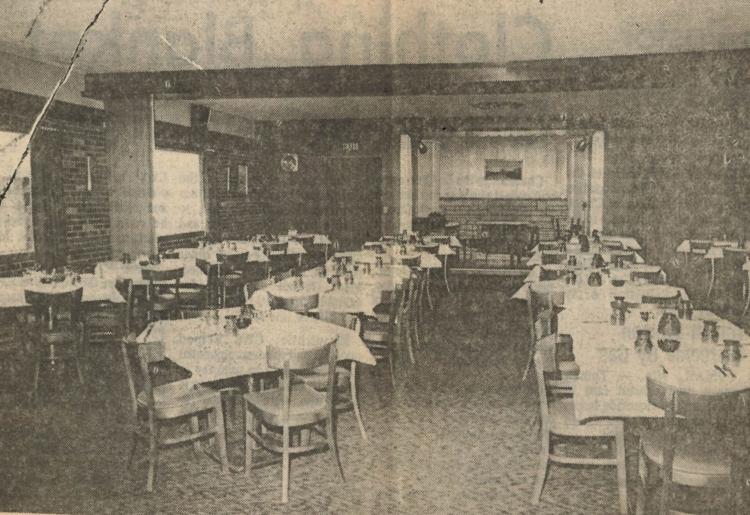 Fitting Knit Shop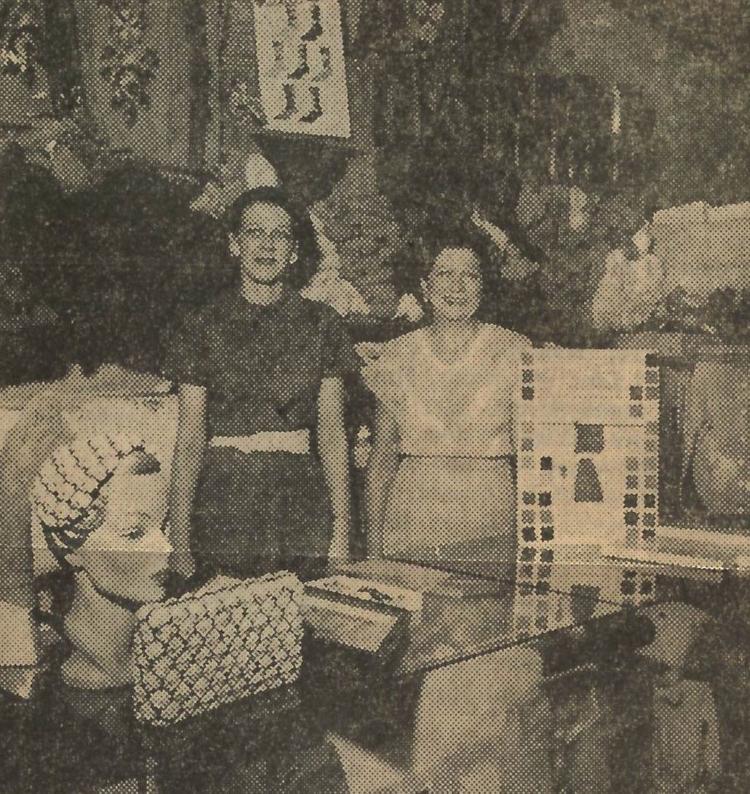 Ground Round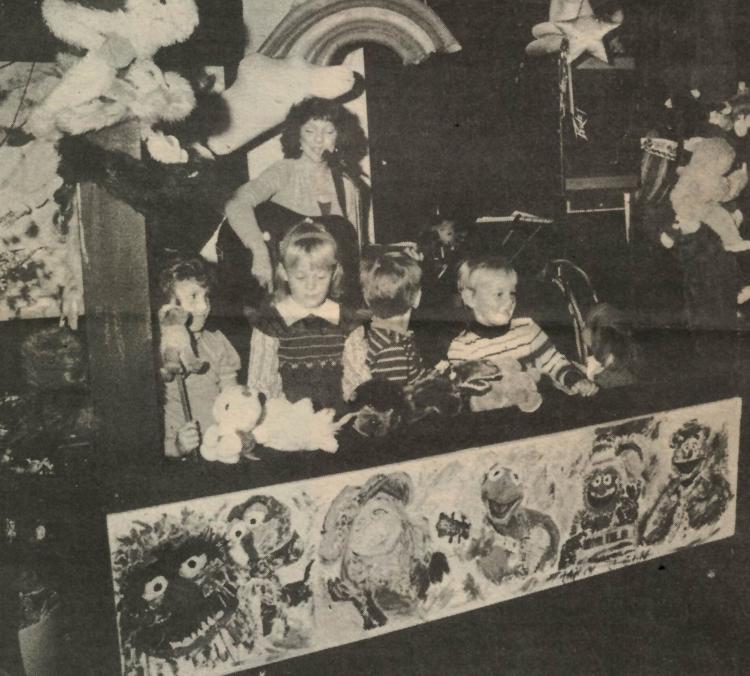 Gantert's Furniture Co.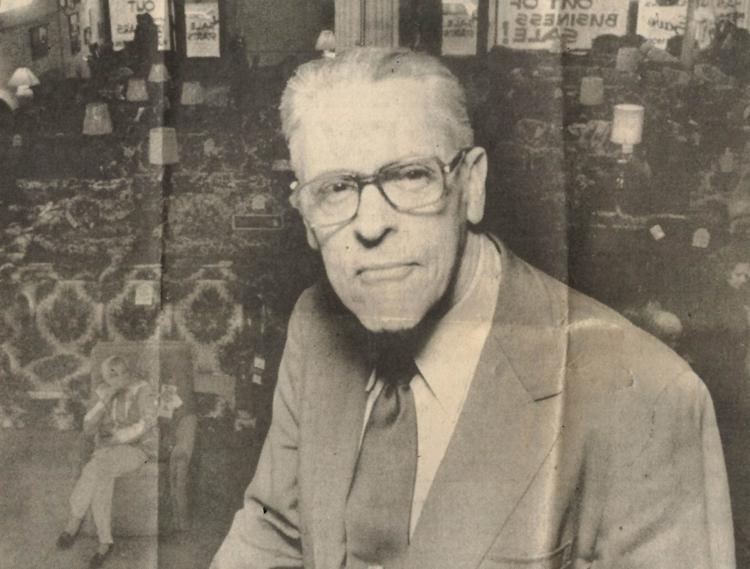 Gaslight Gifts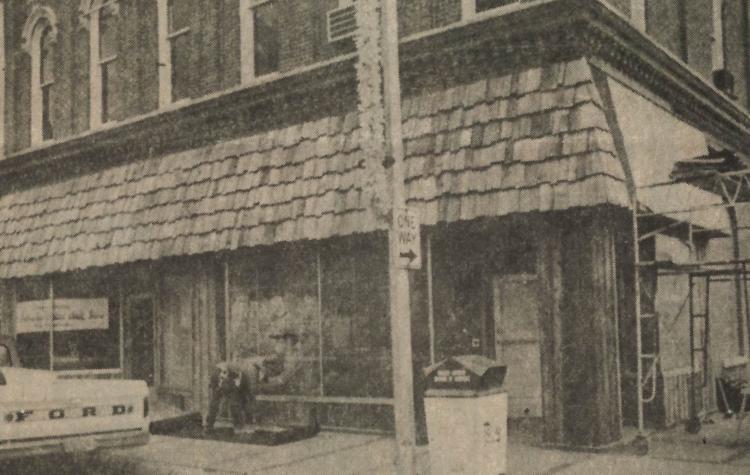 Greenery Shop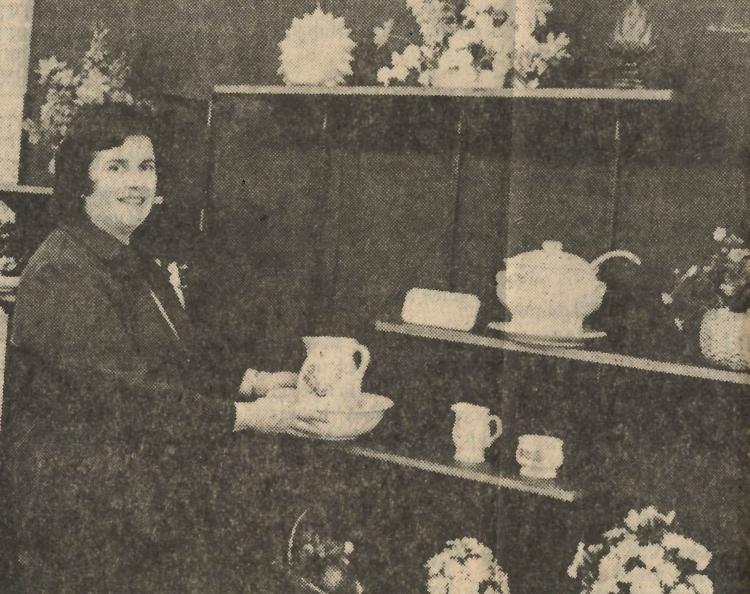 Guys and Dolls Billiard Parlor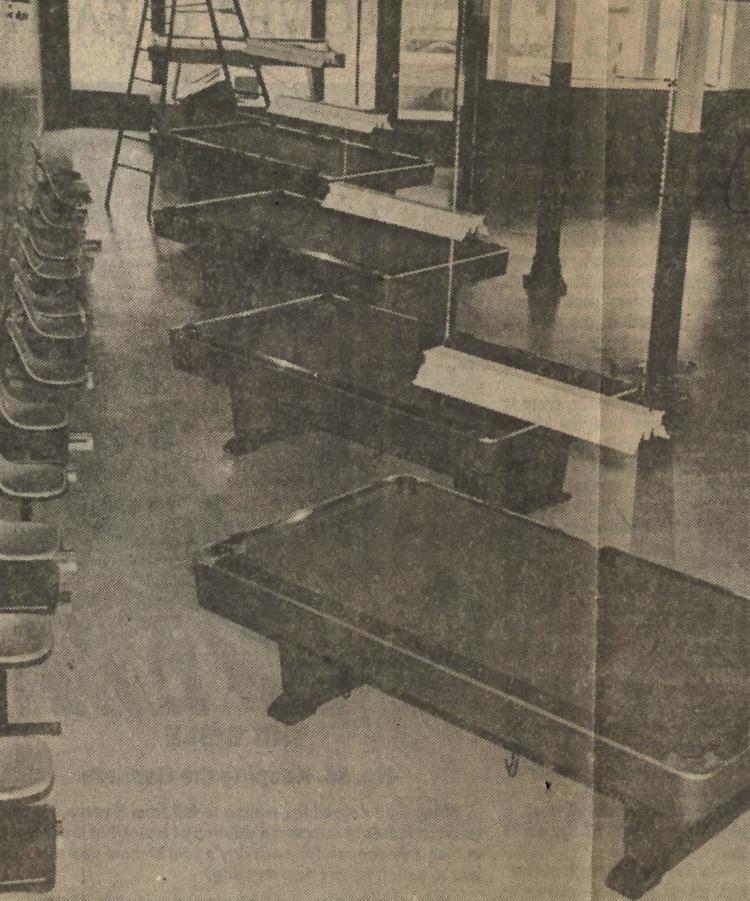 Gerrard Realty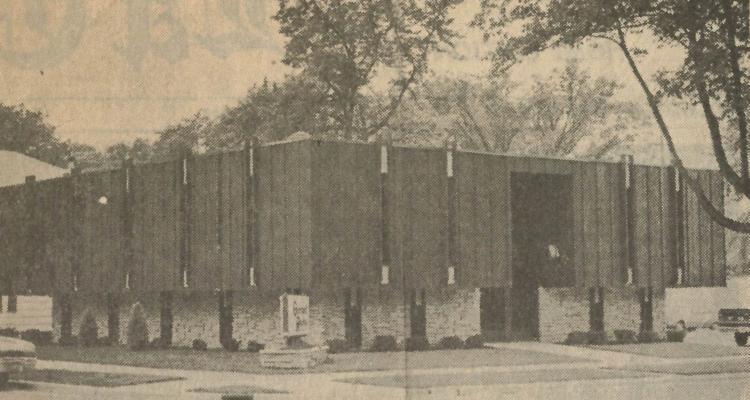 Greyhound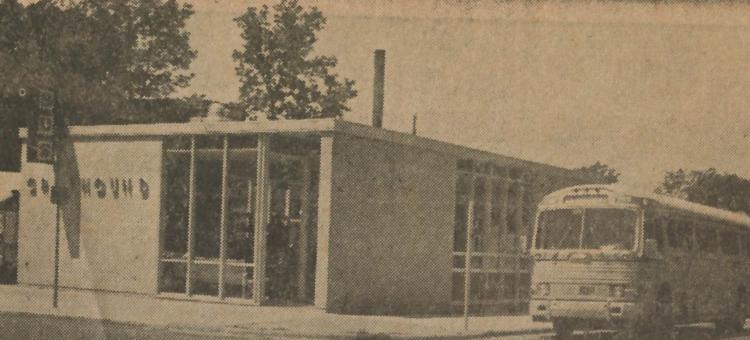 Gambles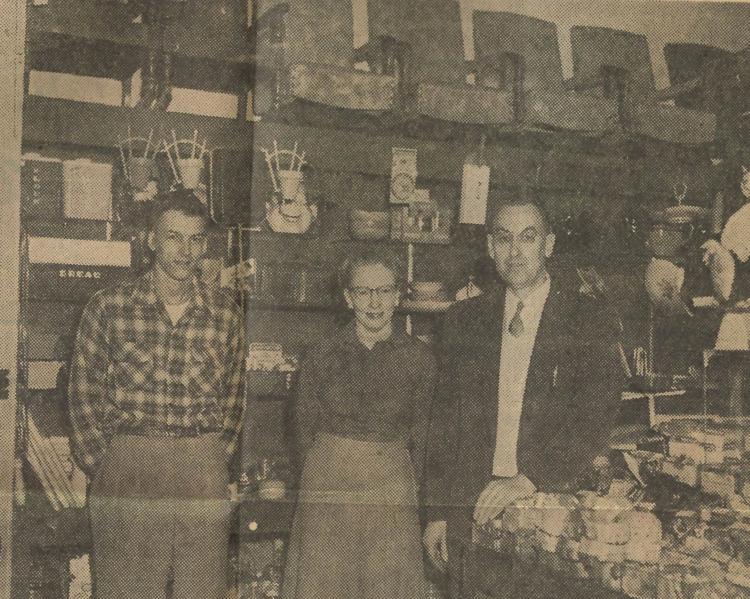 Garvalia China Shop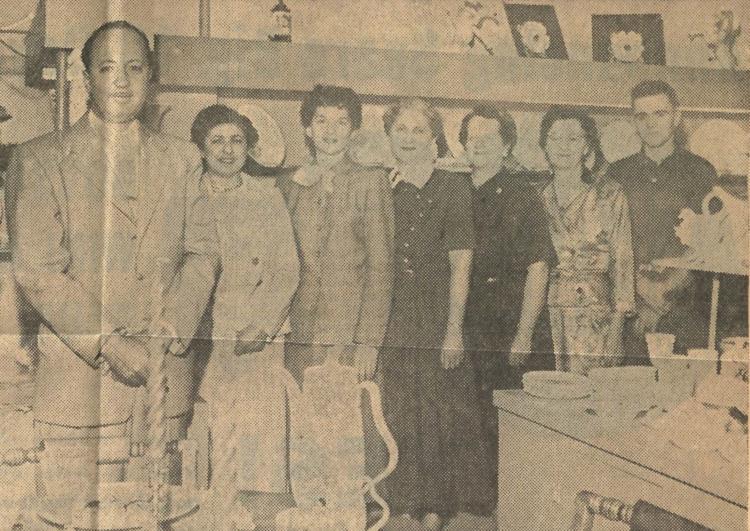 1948: Grand Hotel
Happy Joe's Pizza and Ice Cream Parlor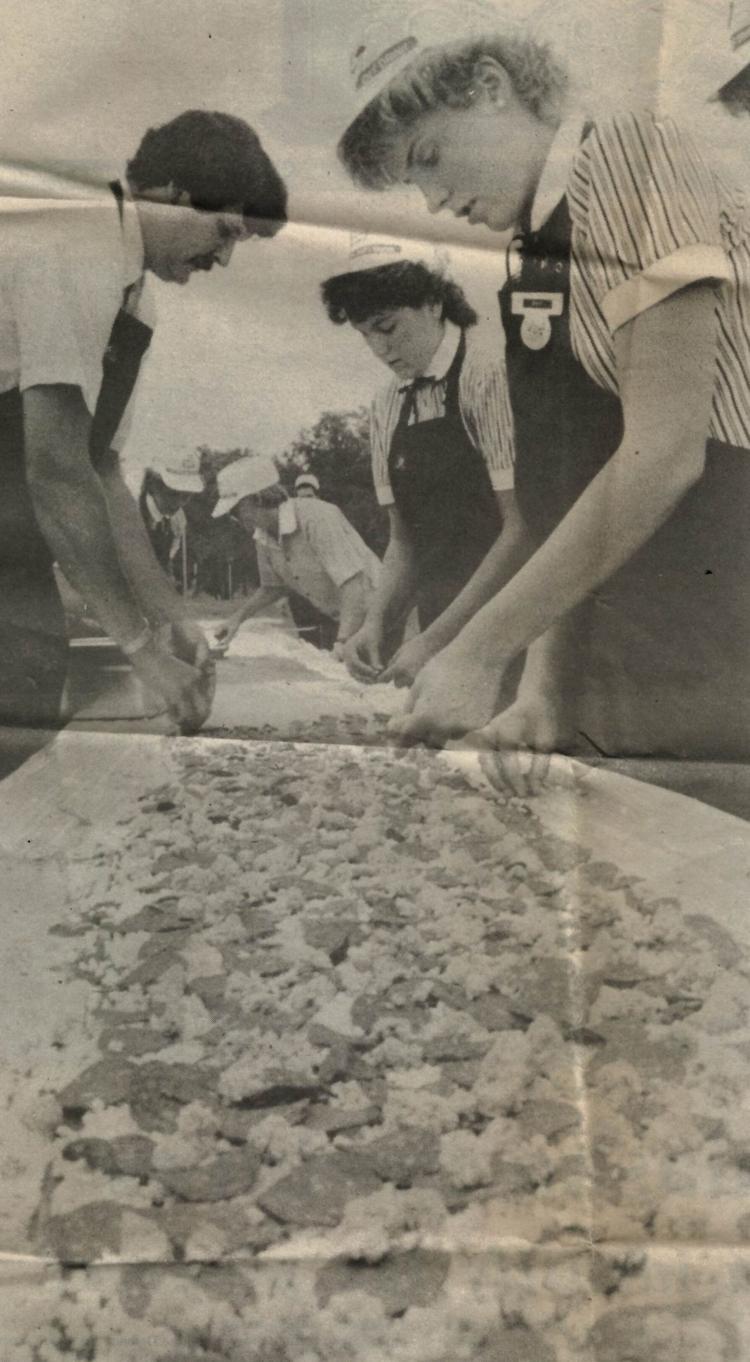 1984: Hollywood Theater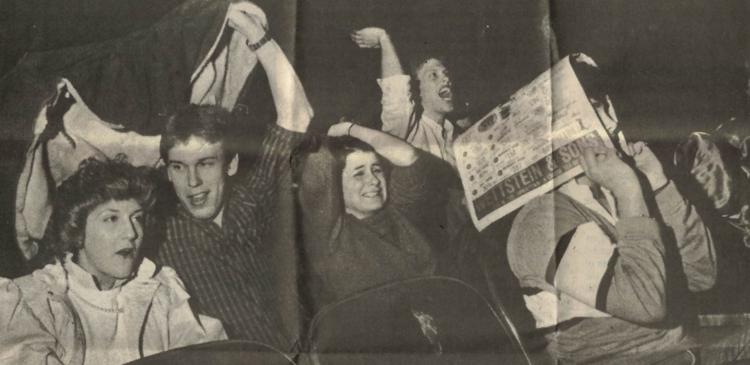 Hansen's IGA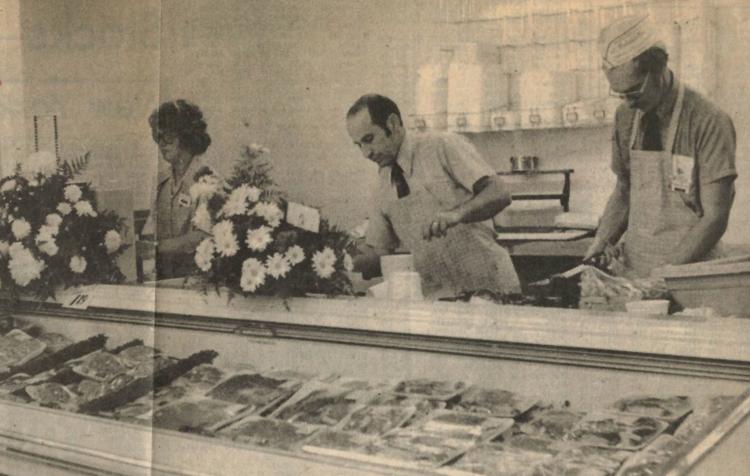 Herberger's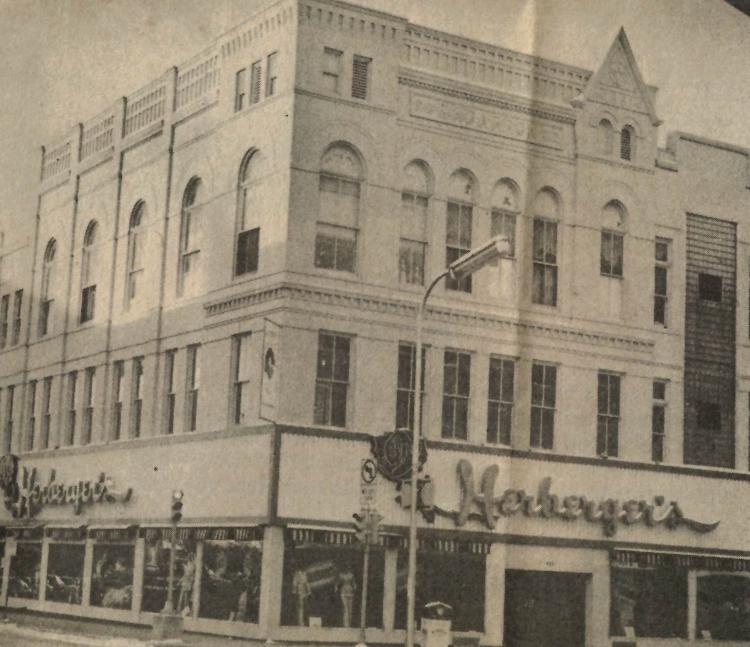 Hungry Peddler
1972: Hoffman House Restaurant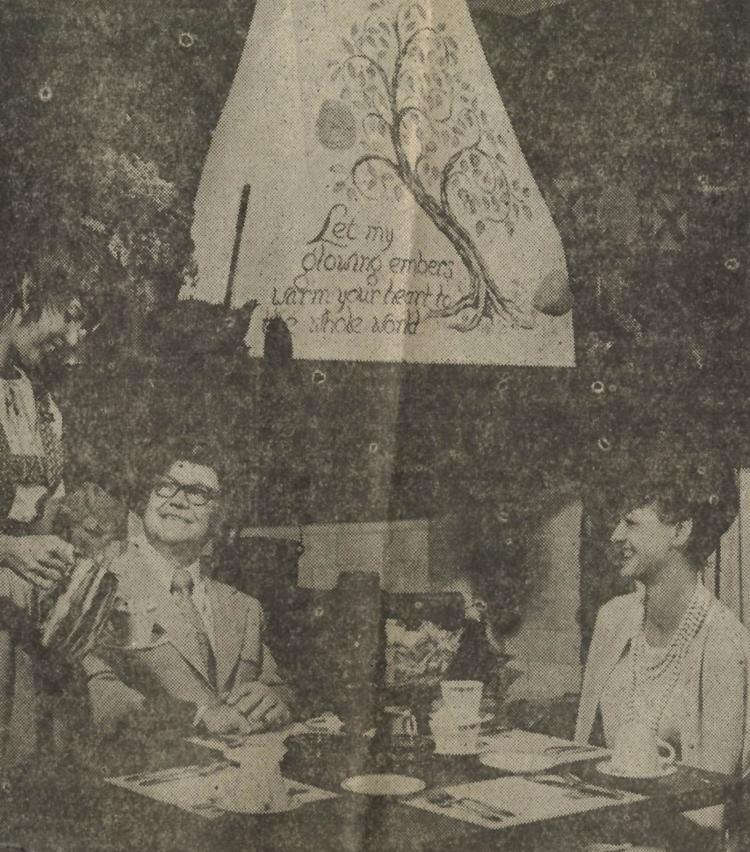 Hoeschler Drugs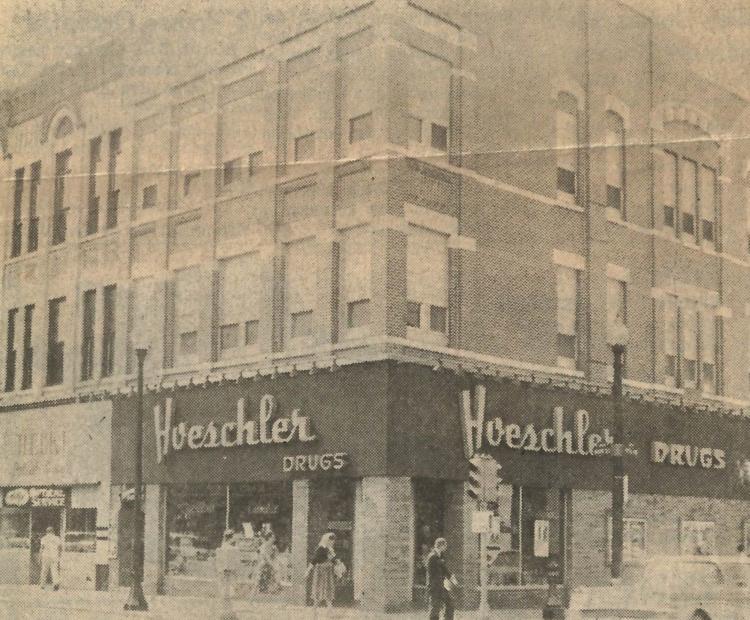 Honig's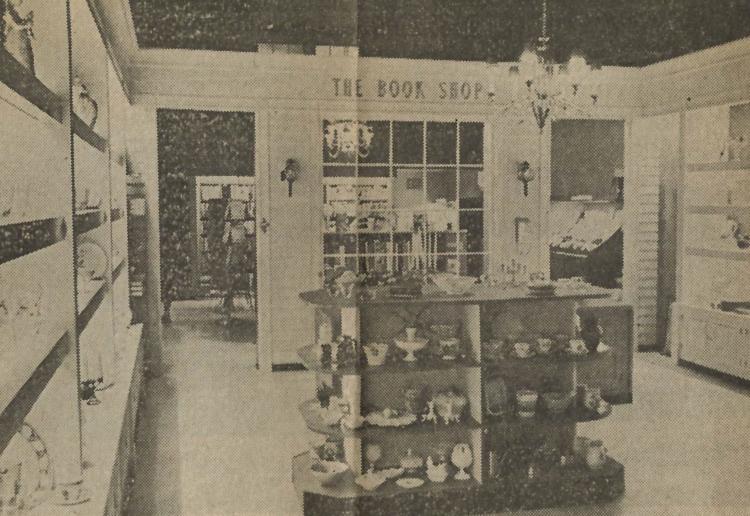 Henry's Drive-In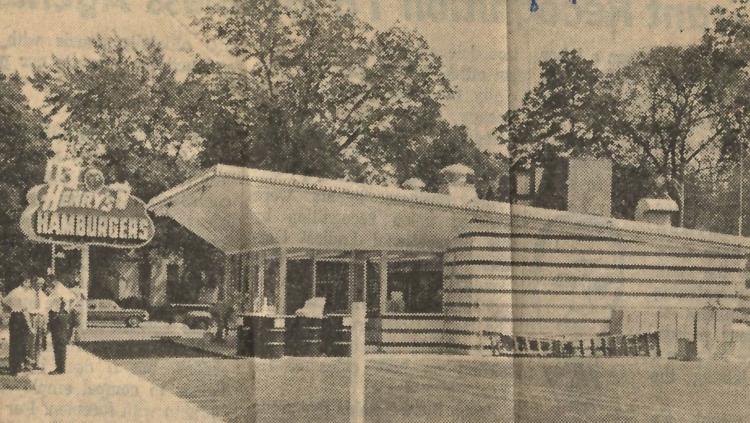 Holiday Inn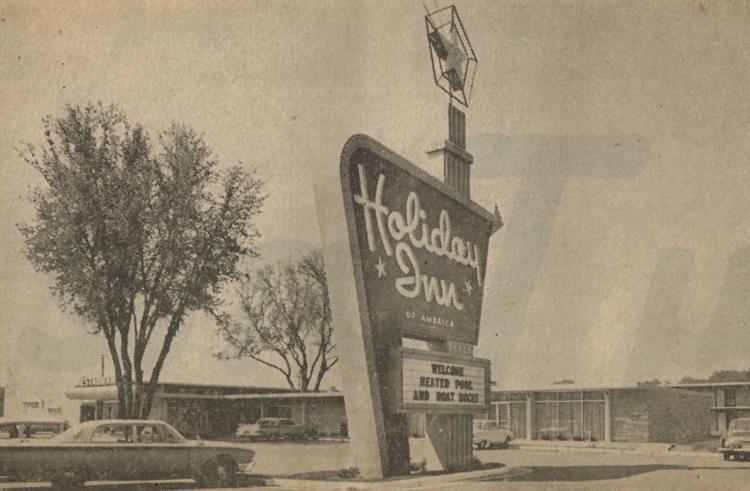 1954: Howards Clothes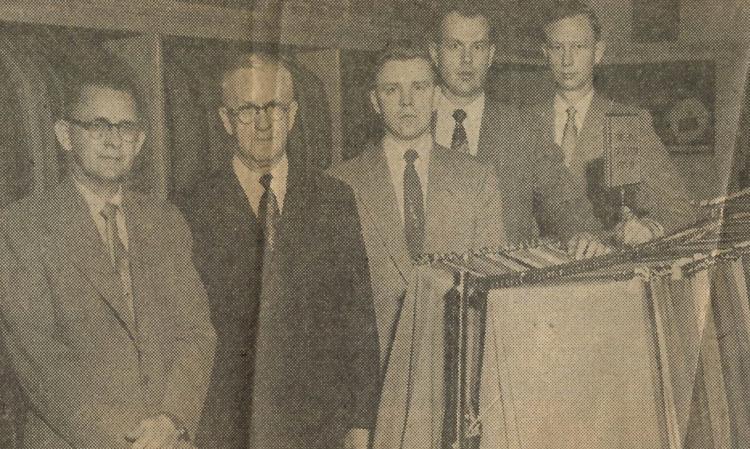 1954: Heraldson's Shoe Store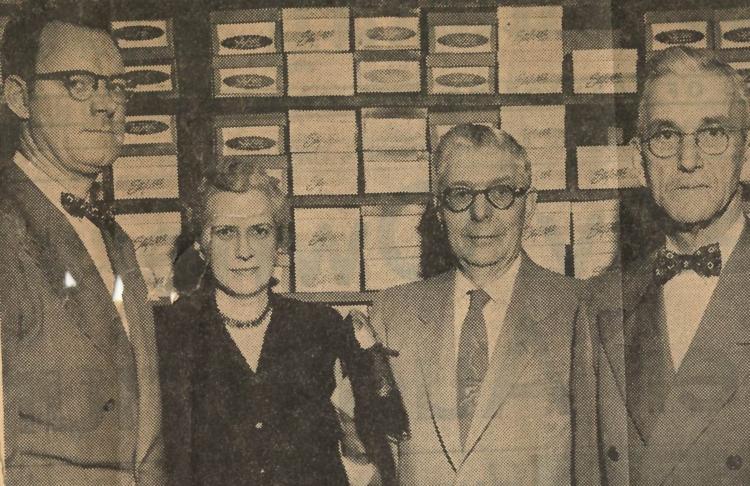 1952: Harmony Cafe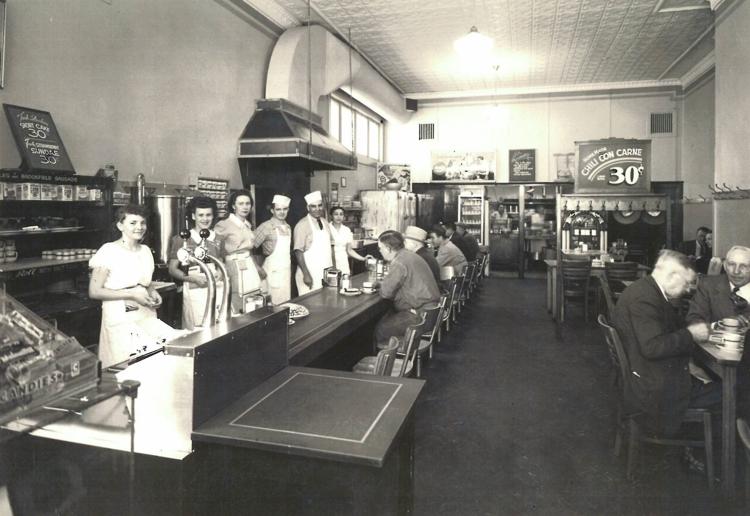 International Video and Gift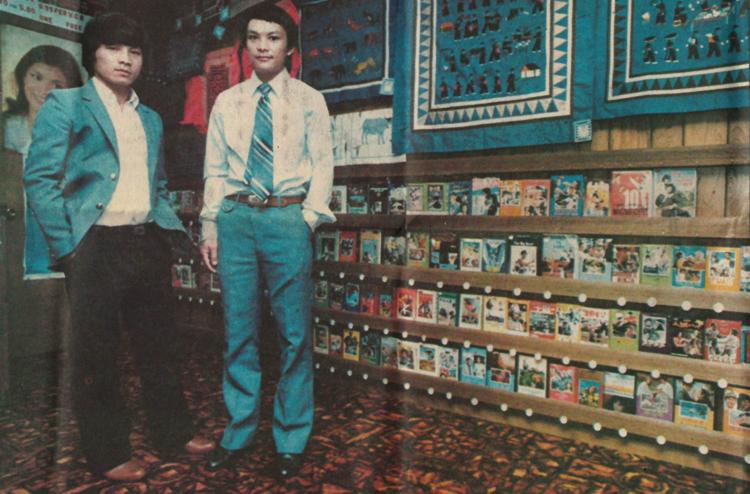 International Bake Shoppe
Interior Designs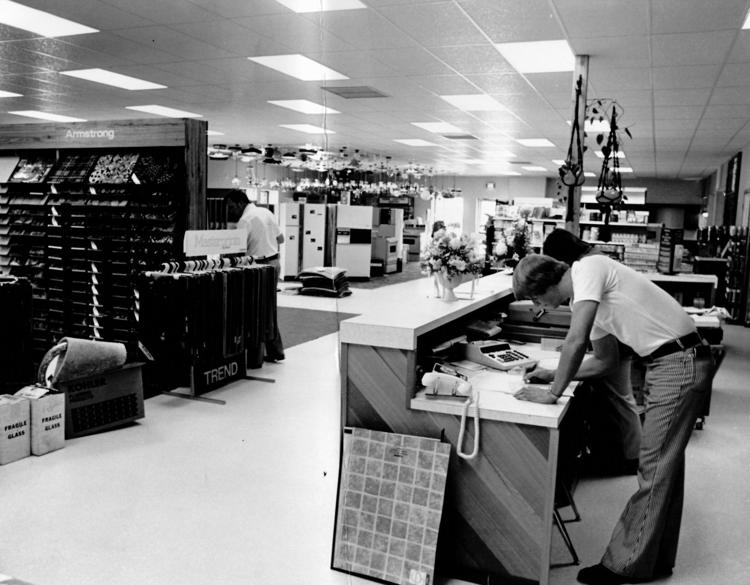 Imperial Motors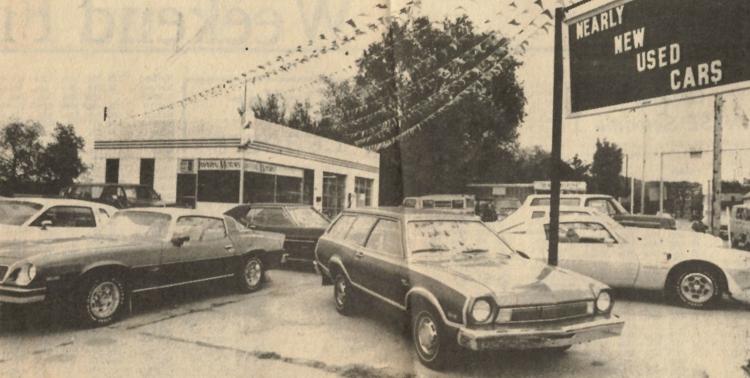 Inland Printing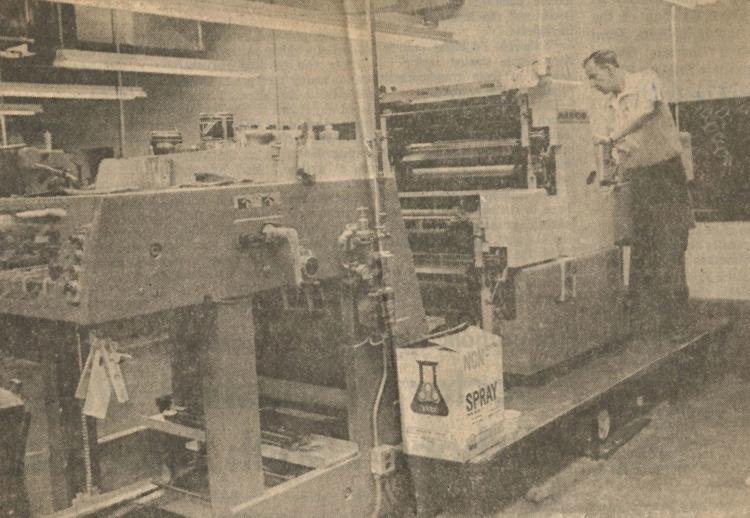 Ivy Inn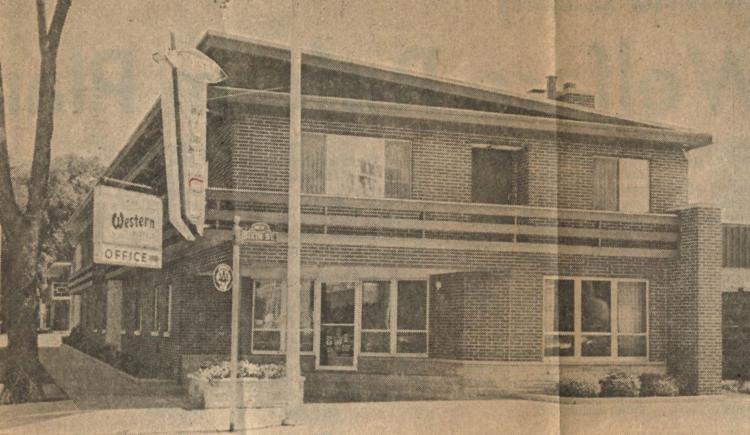 1954: Ikert's Food Market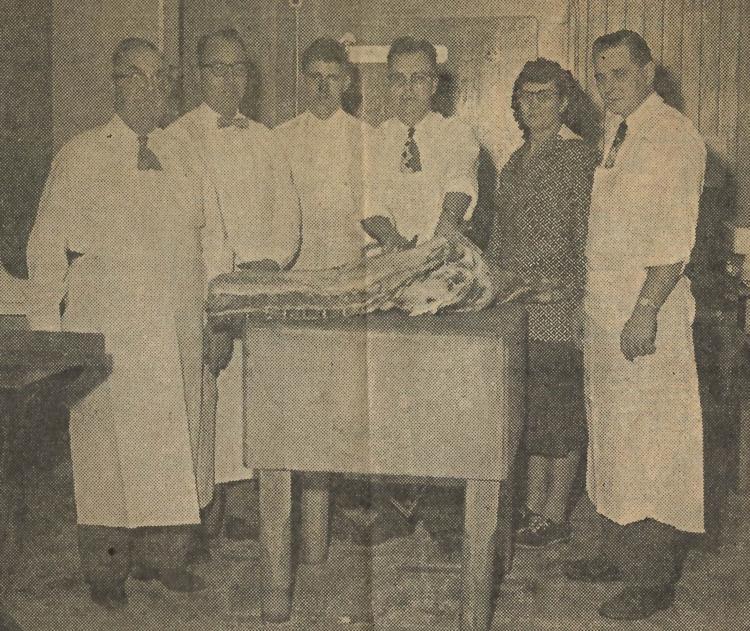 Jan Walter Fabric Shop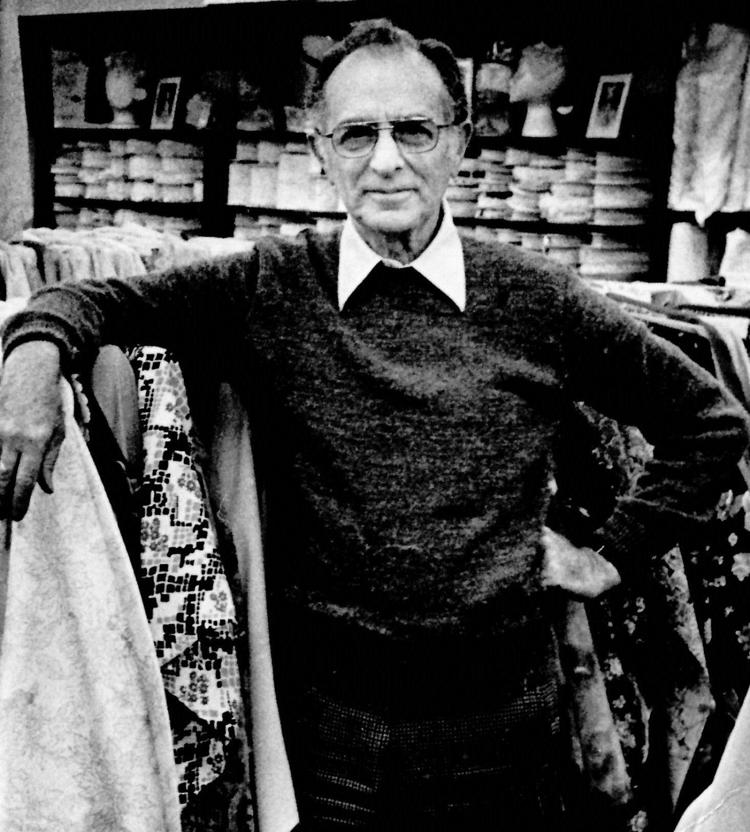 Jensen's Cafe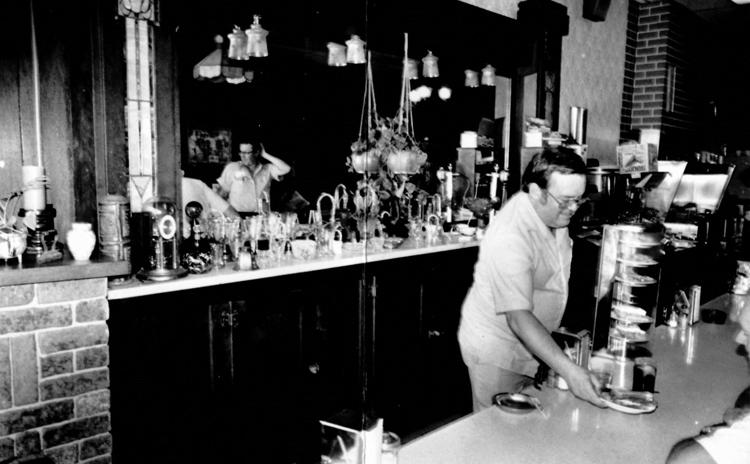 Johnnie's Aloha Service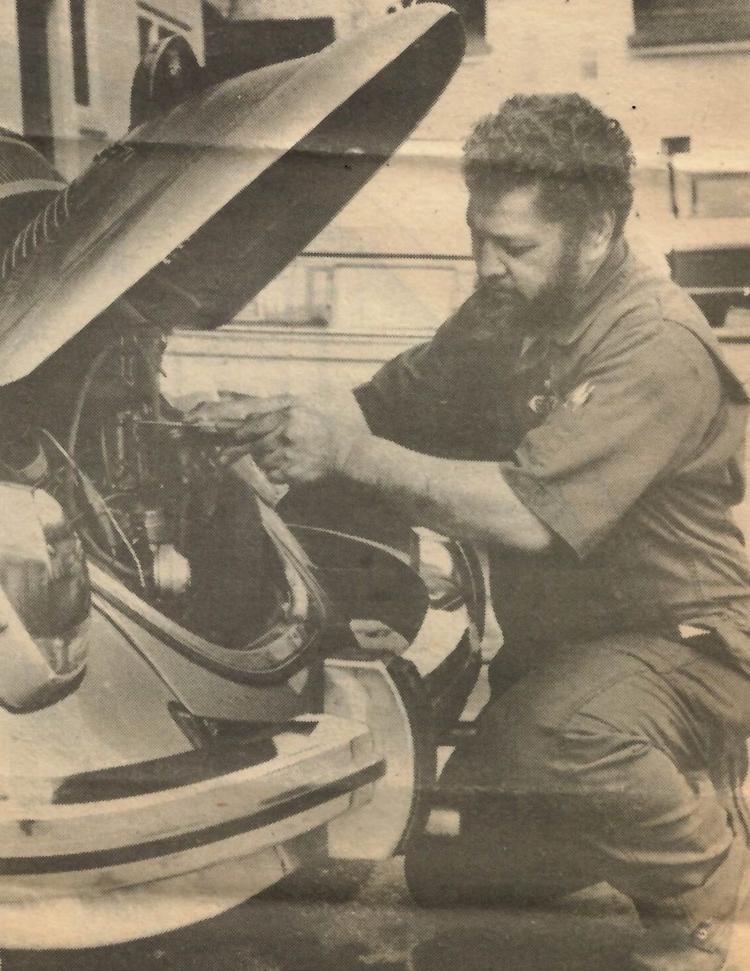 Jewel Box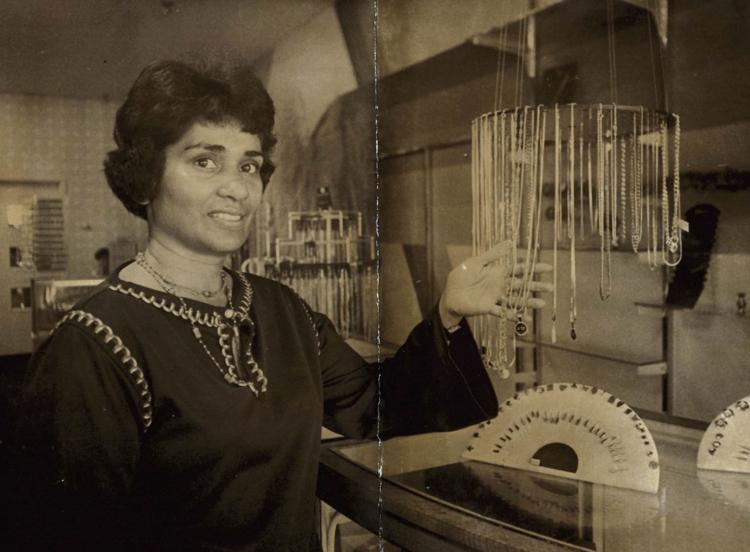 Jolivette Cleaners and Laundry
Jeffrey's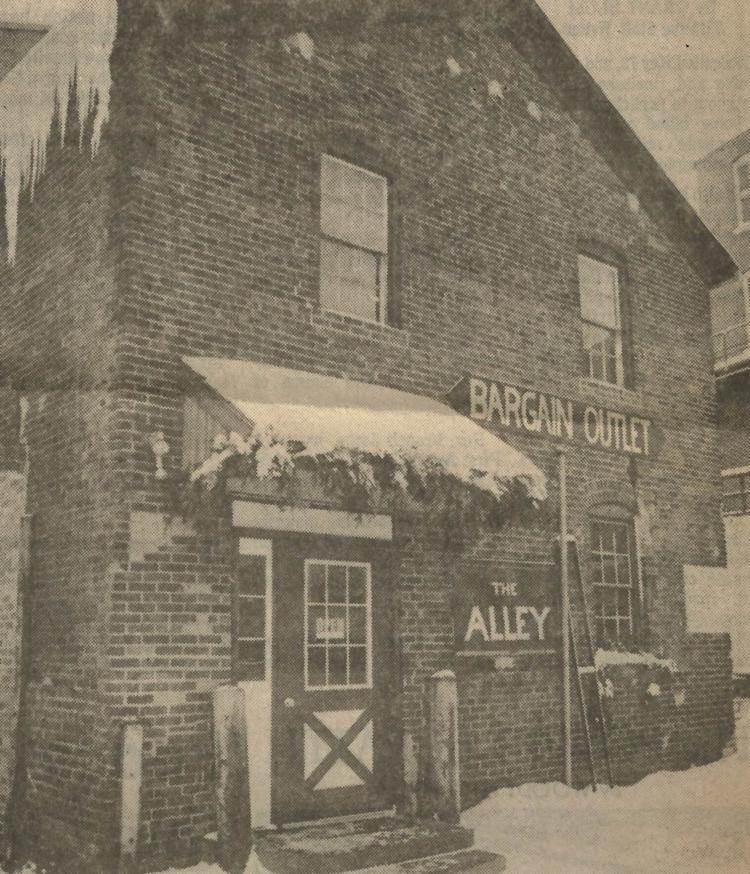 1970: Johnson's Junior Miss Shop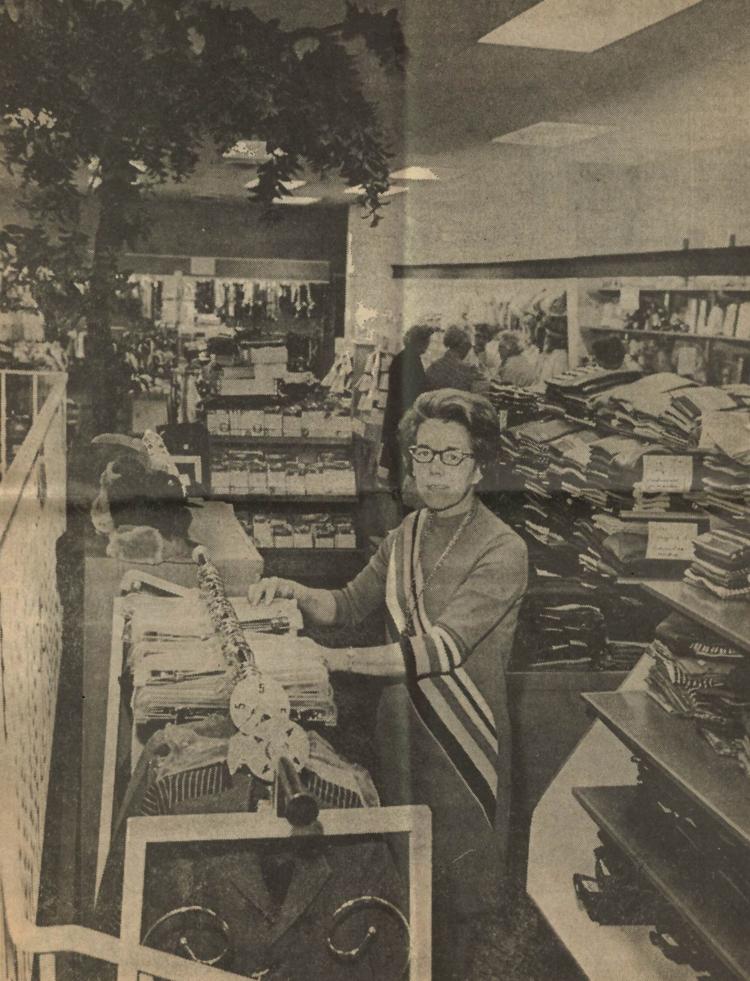 1957: Jackson Plaza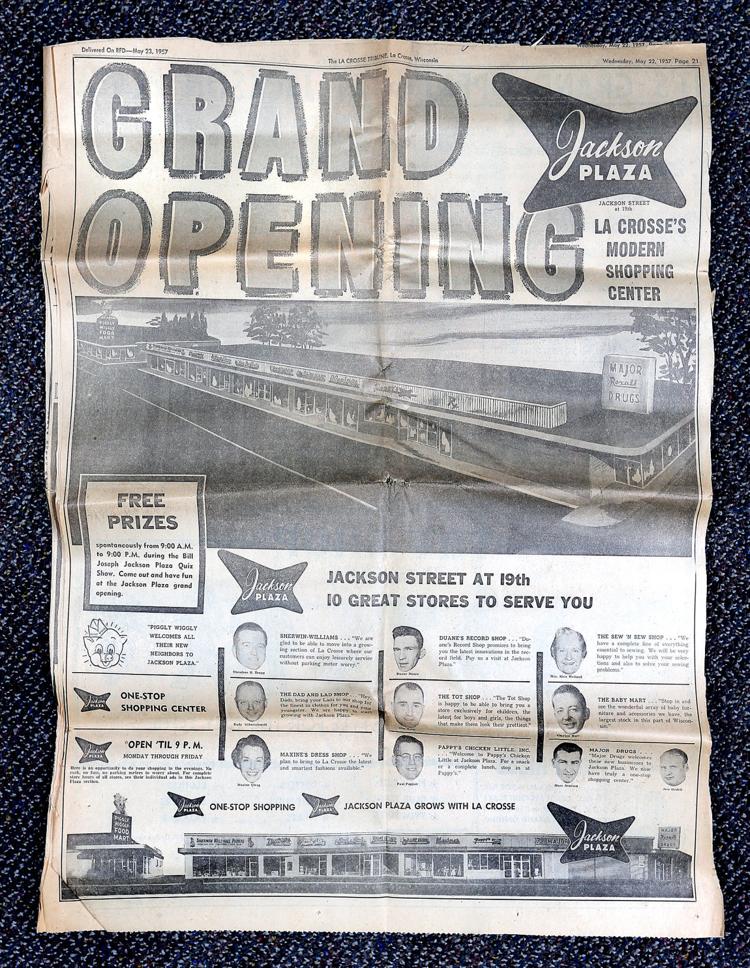 Kelly Furniture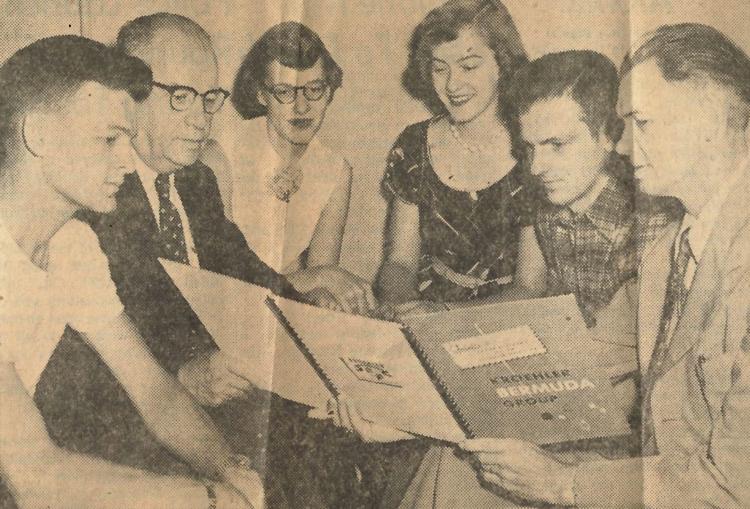 Kroner's Hardware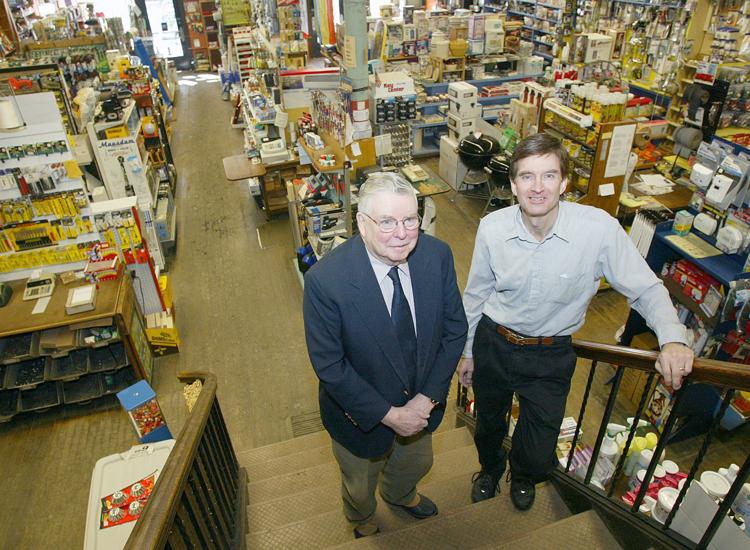 Kids Port USA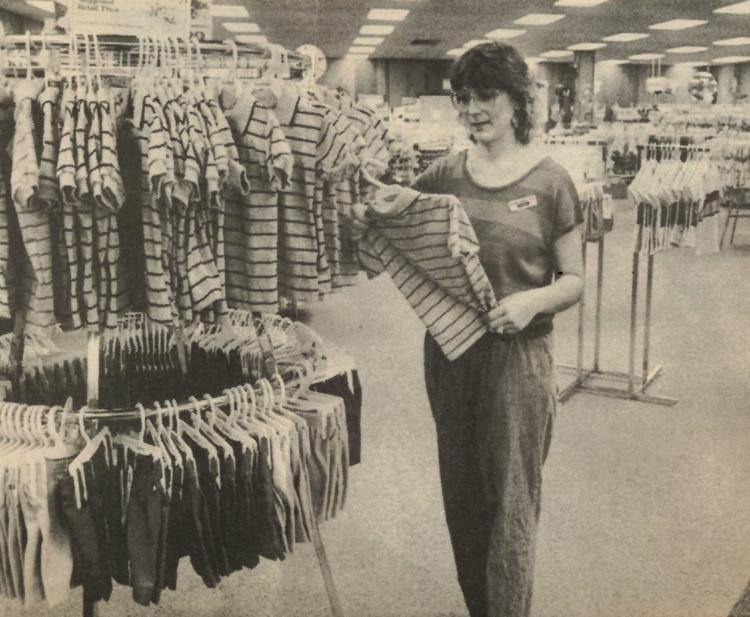 1984: K&G Costumes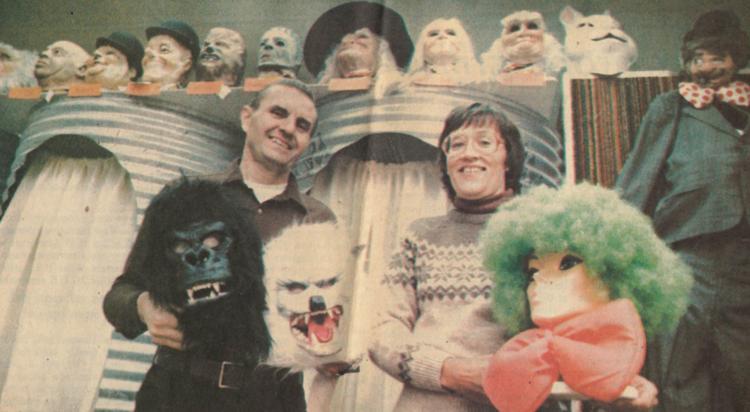 Kwik Trip
Kathan Lumber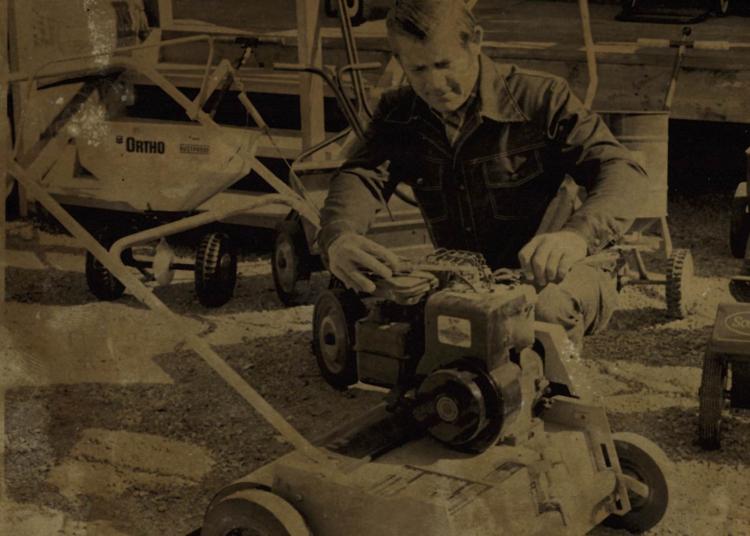 Kentucky Fried Chicken
1972: King Cinema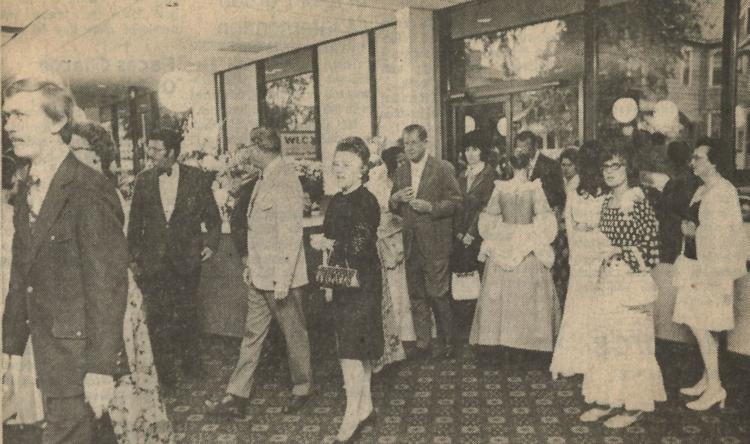 1971: Kewpee Lunch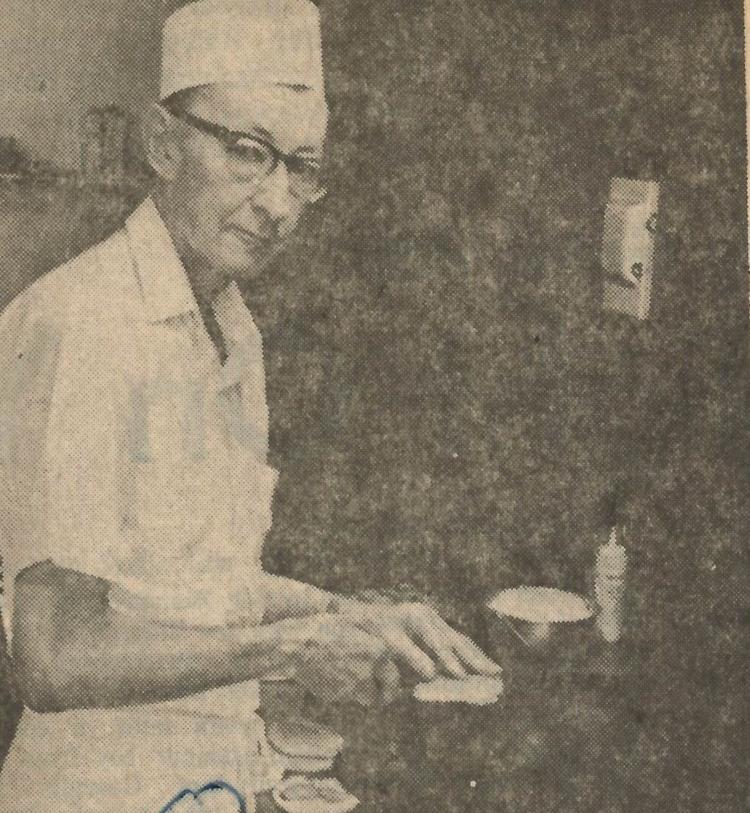 1965: Kmart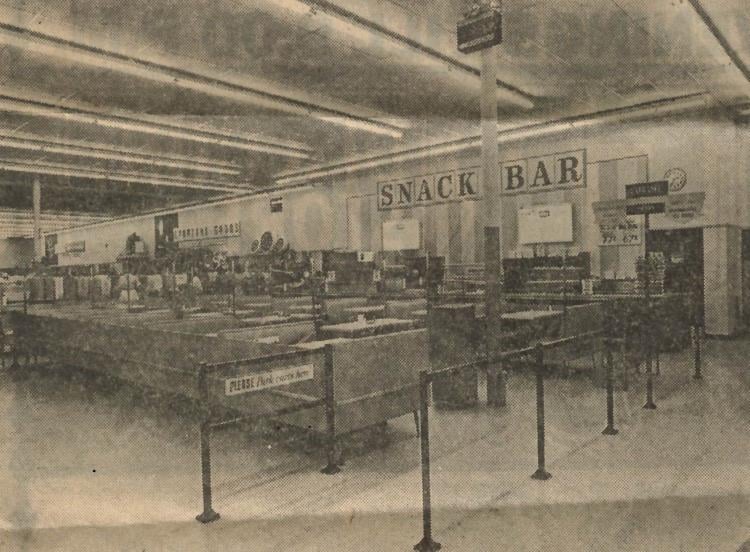 1964: Kerr's Grocery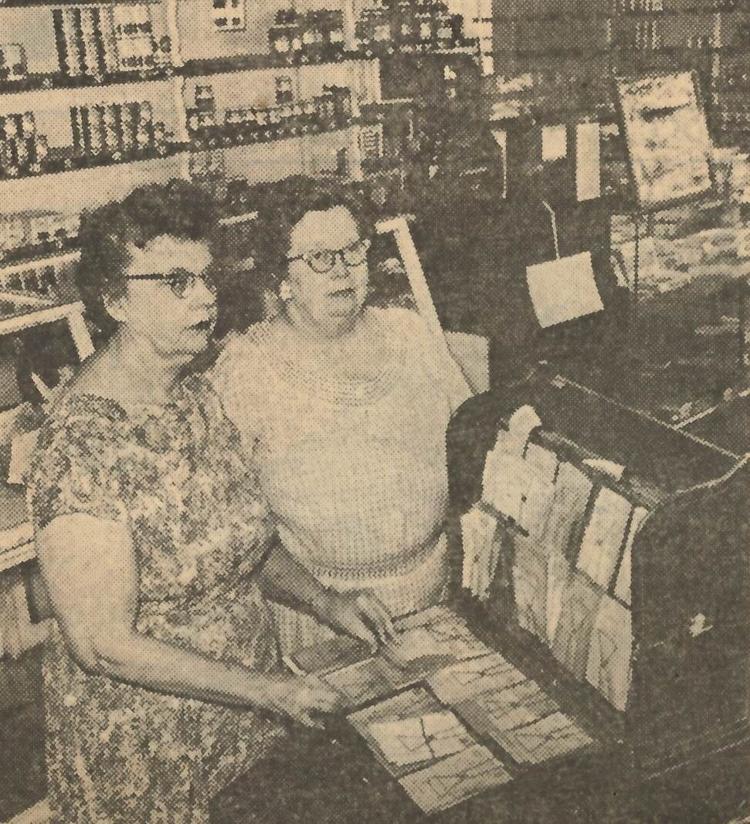 1957: Kroger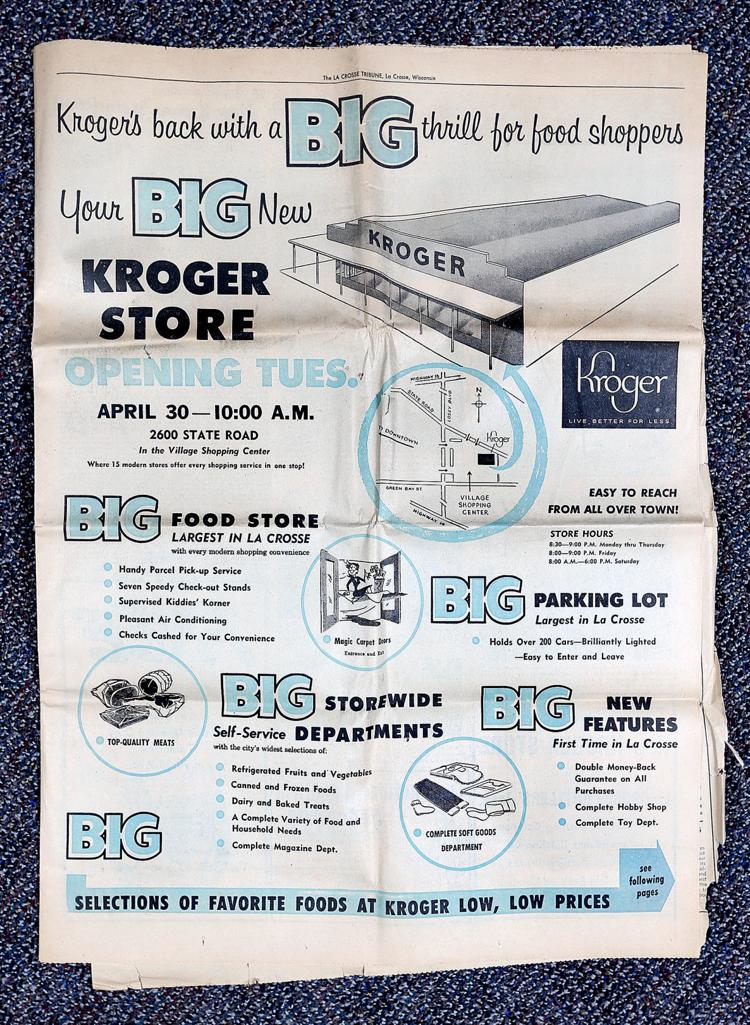 Kaybee Store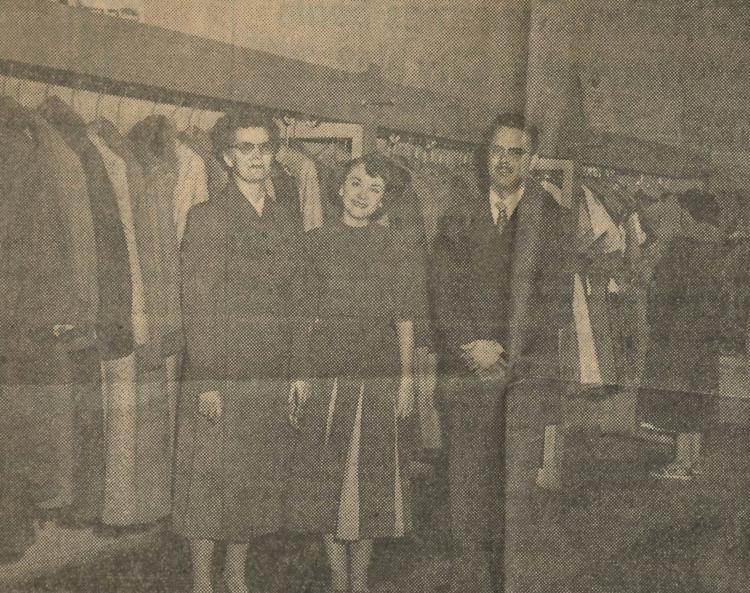 Kratt Lumber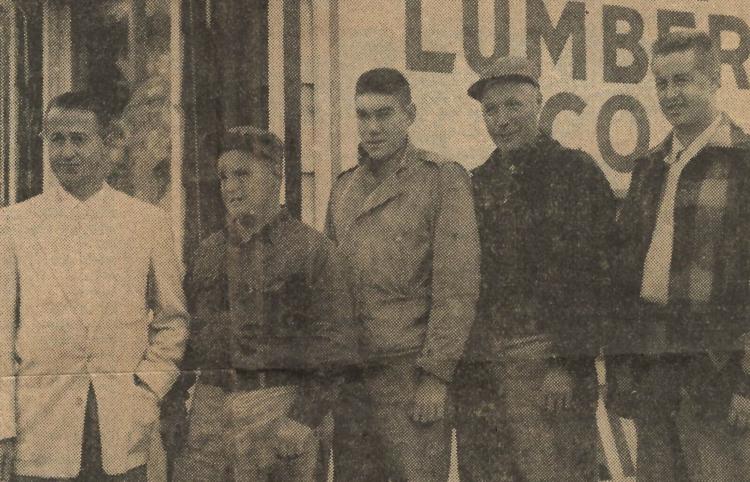 La Crosse Tribune
Linda's Bakery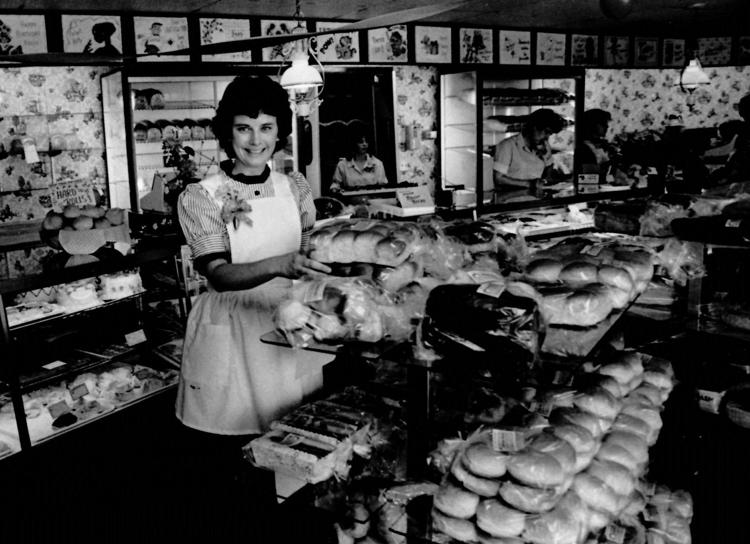 1982: Lorillard building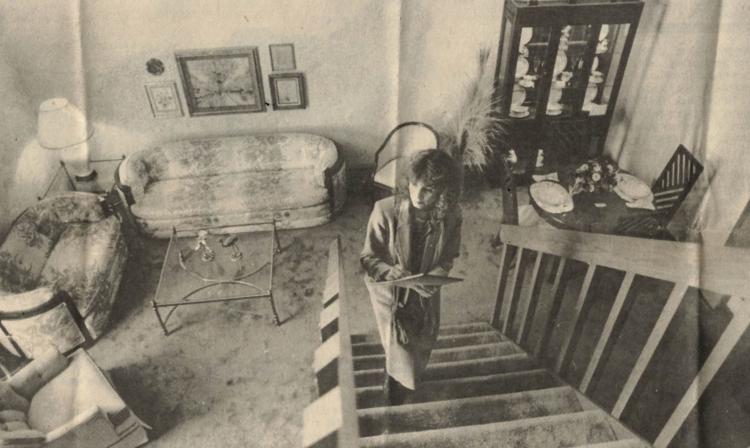 1982: Leithold Music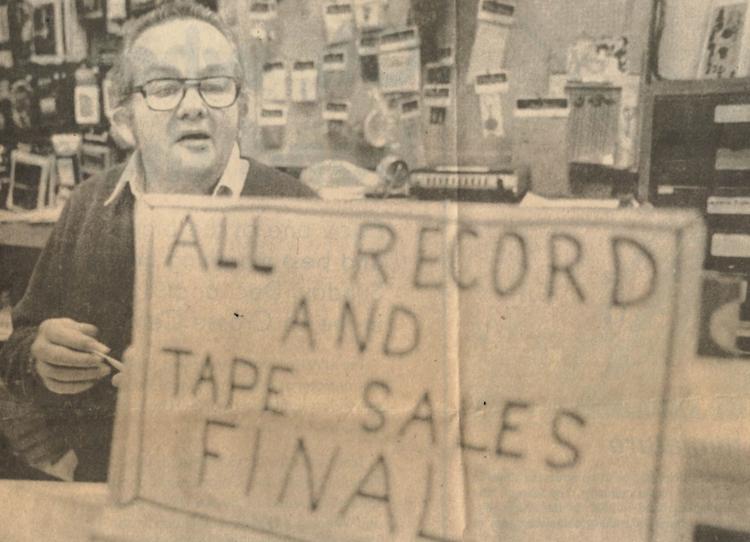 Lakeview Foods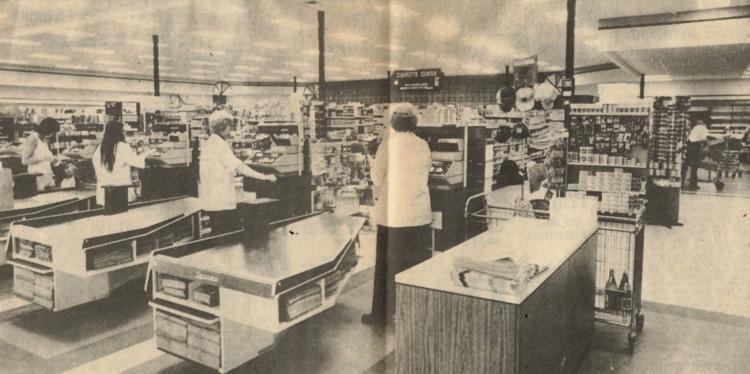 1978: La Crosse Answering Service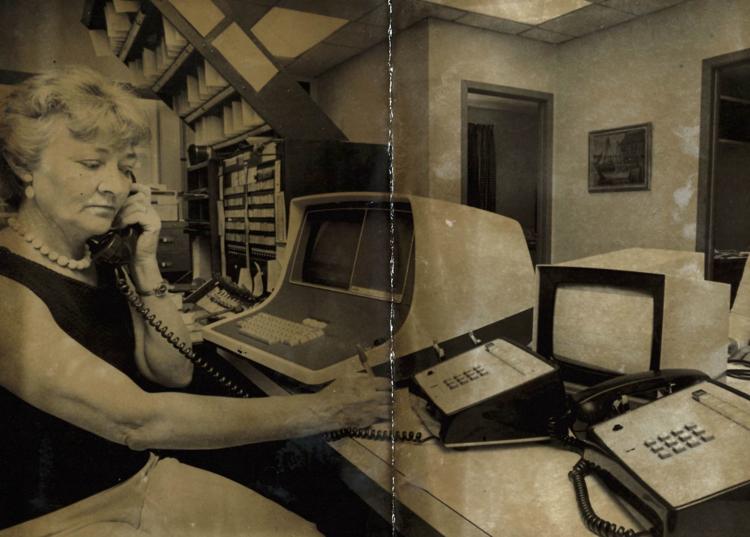 1978: Lenny's Shoe Repair
1972: Louie Bantle's Restaurant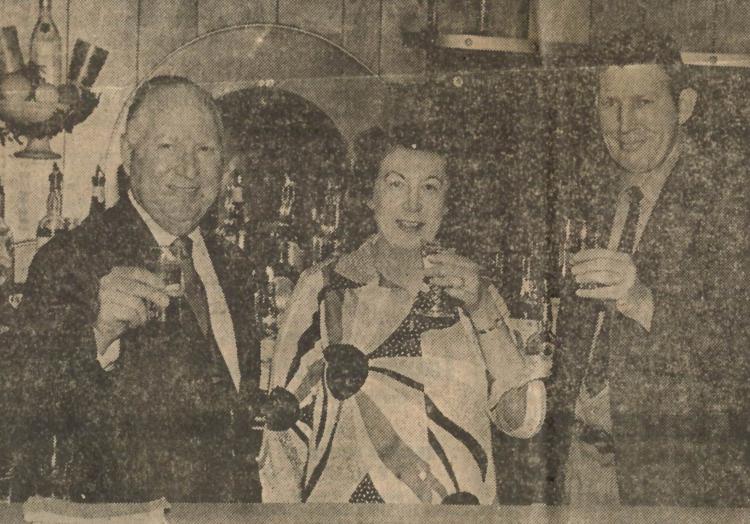 La Crosse Furniture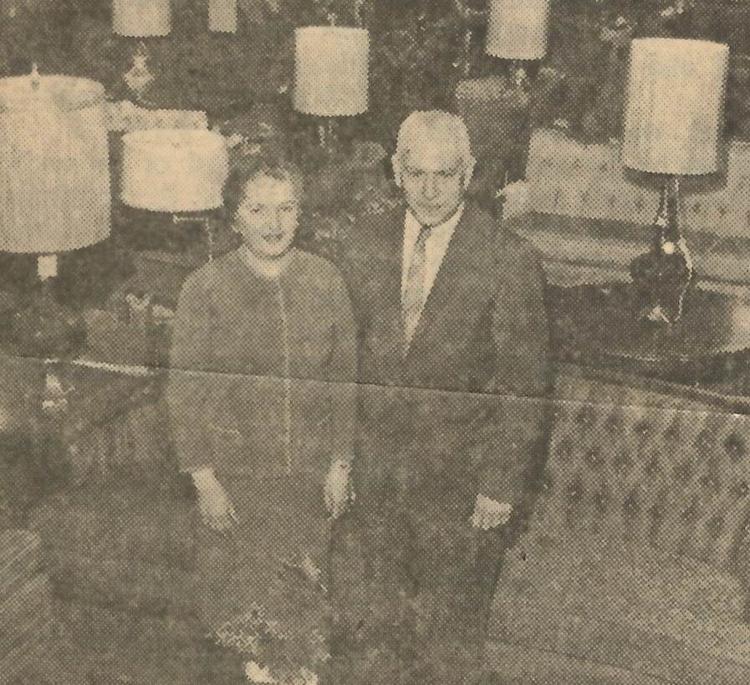 La Crosse Rubber Mills Co.

Leath Furniture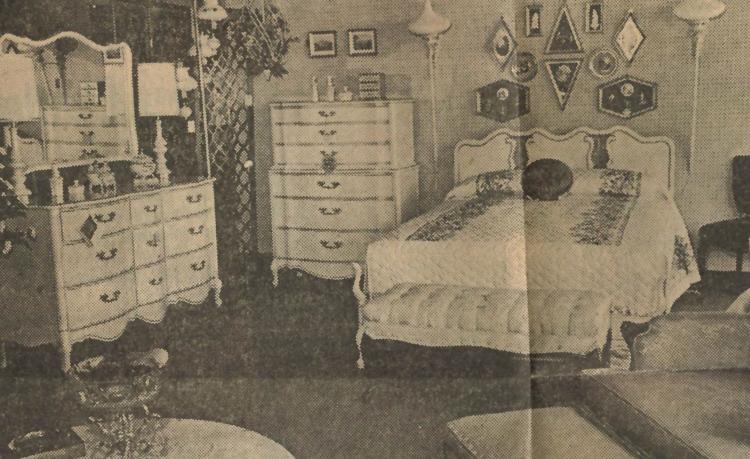 1955: La Crosse Beauty School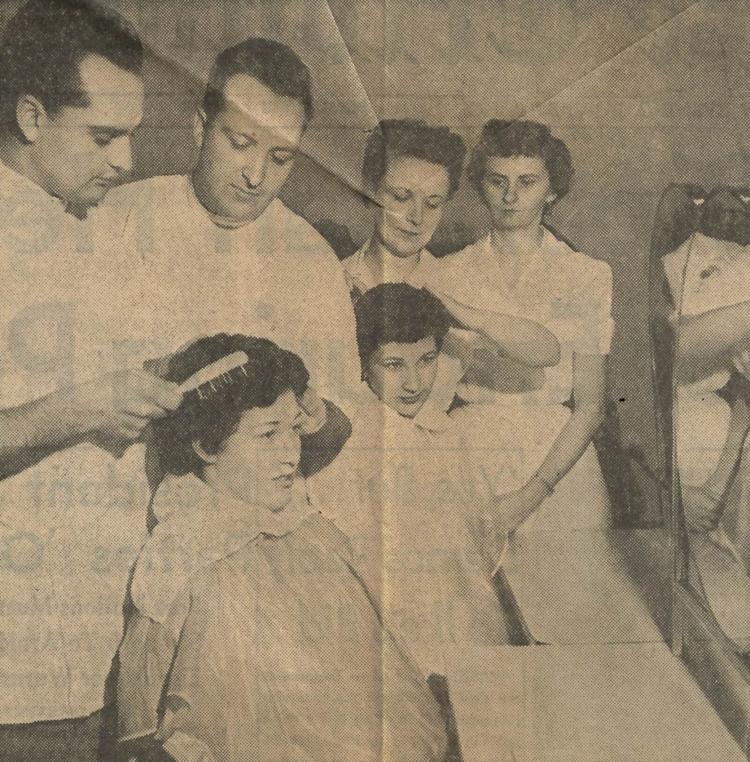 1954: Lottie's Ready-to-Wear Shoppe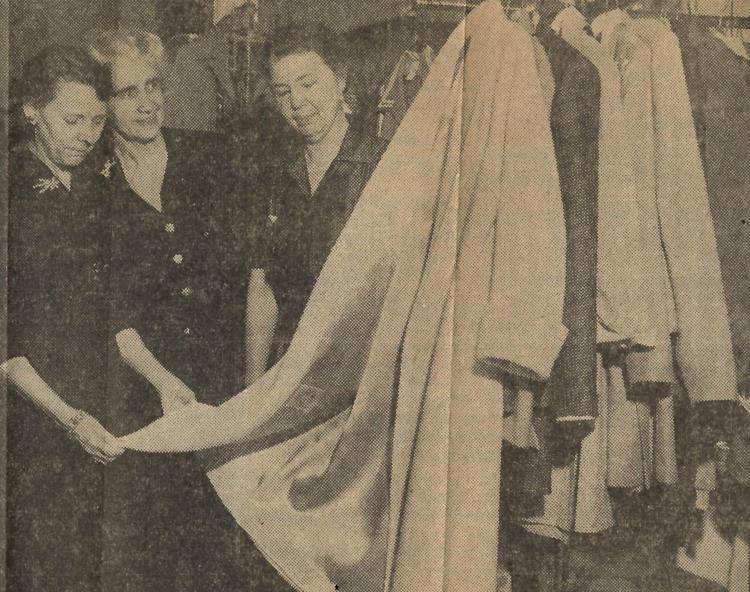 Maid-Rite Cafe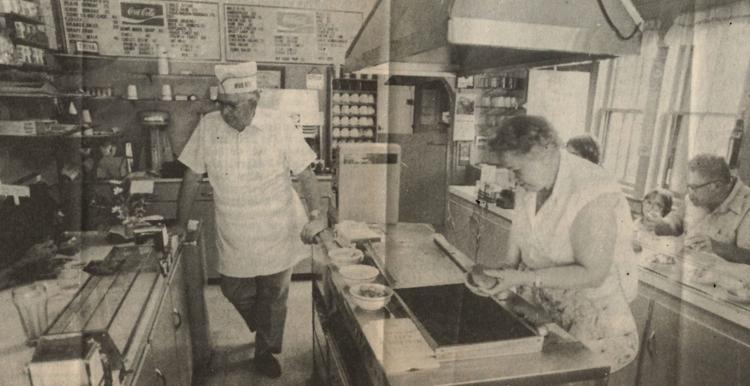 Michael's Cerise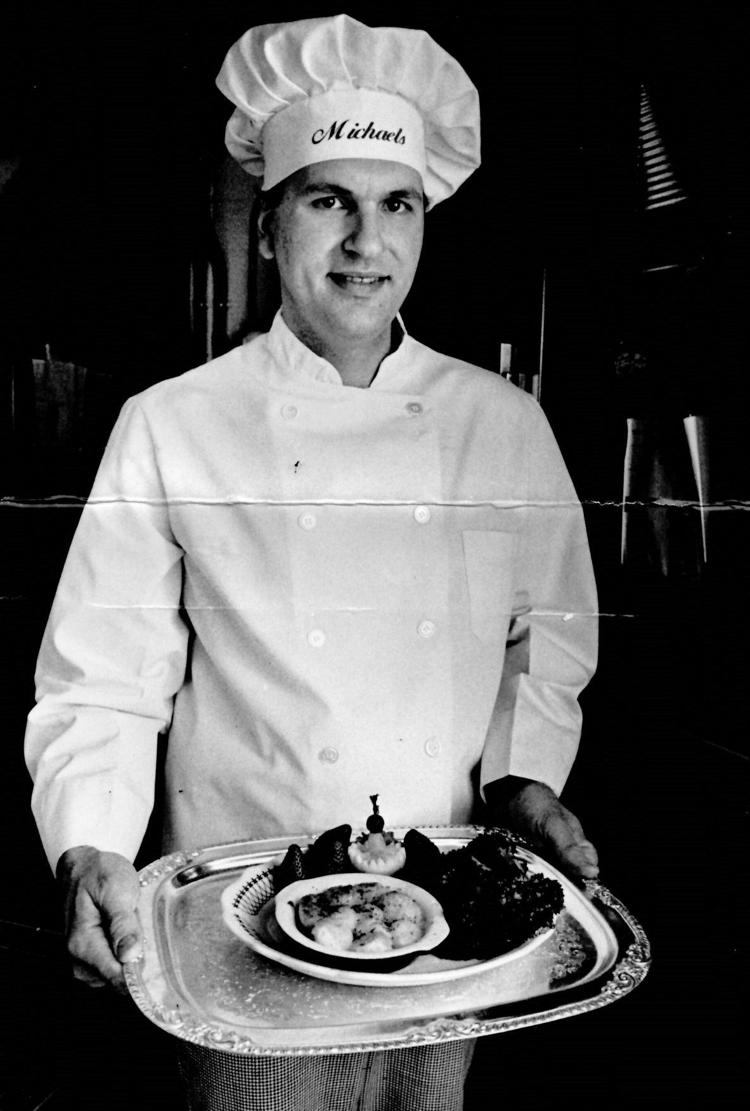 Marineland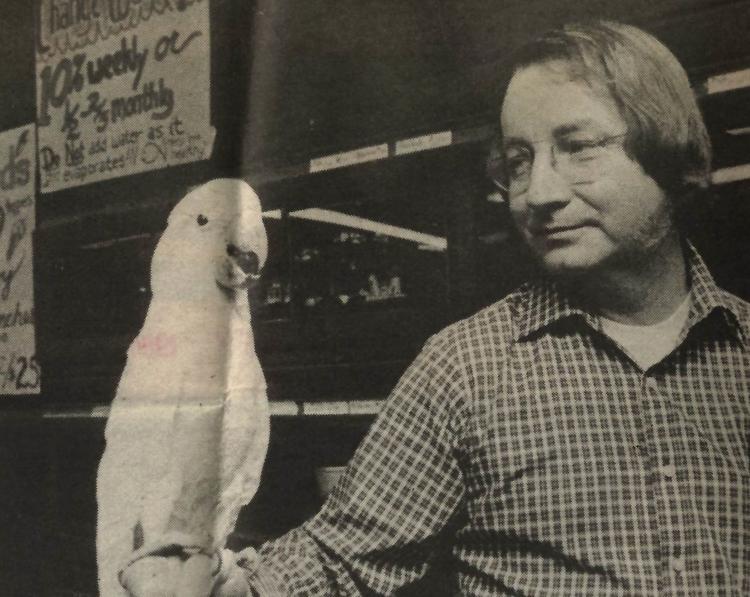 Mississippi Valley Airlines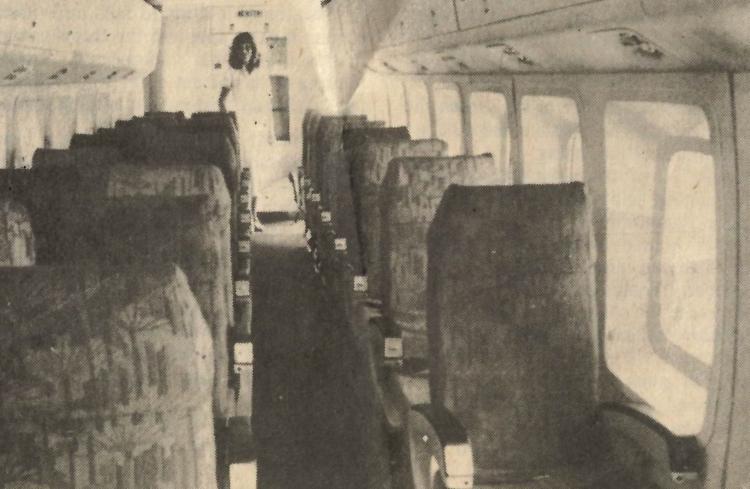 Mai-Tai Supper Club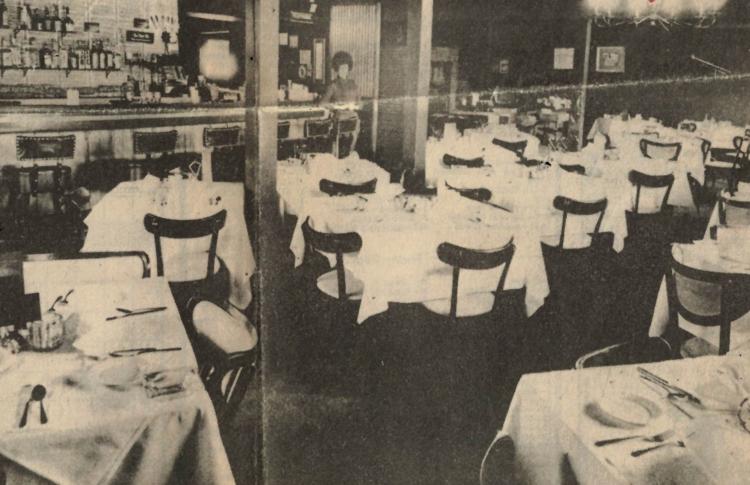 Menards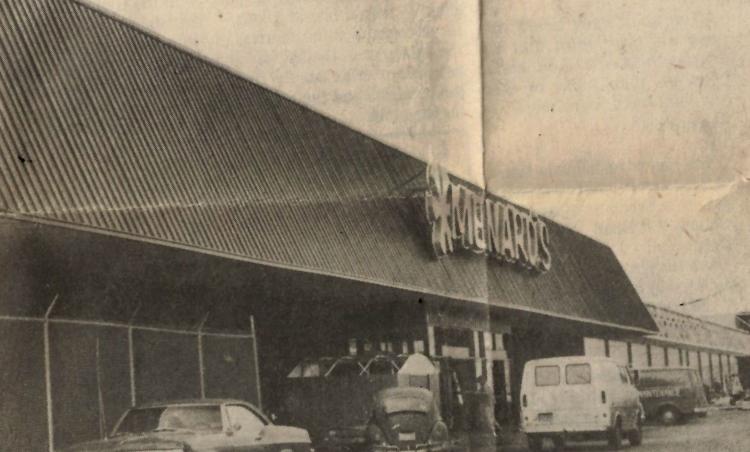 Mr. D's Donuts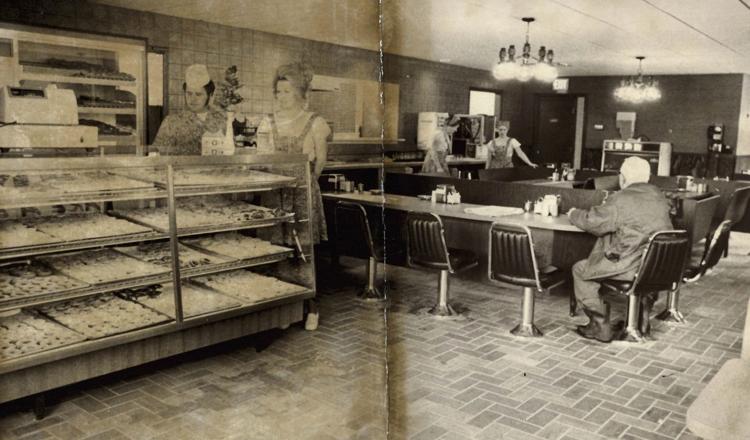 McDonald's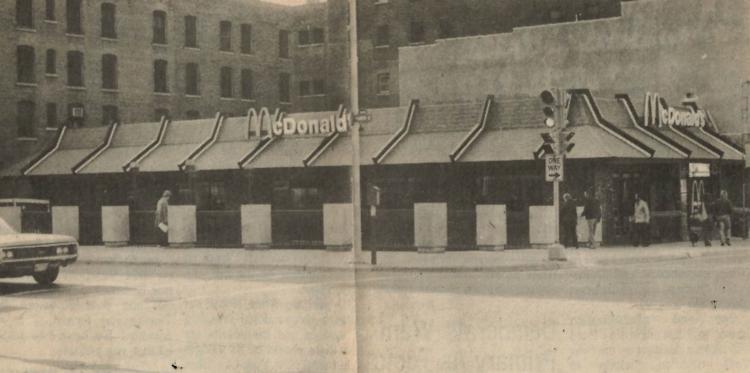 Montgomery Wards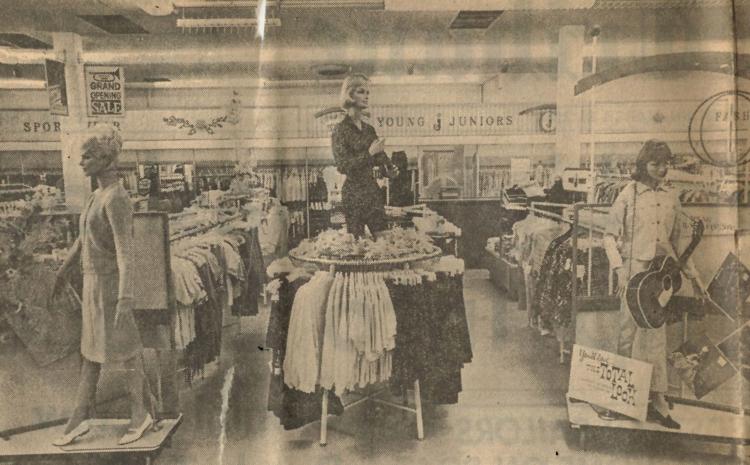 Major Rexall Drug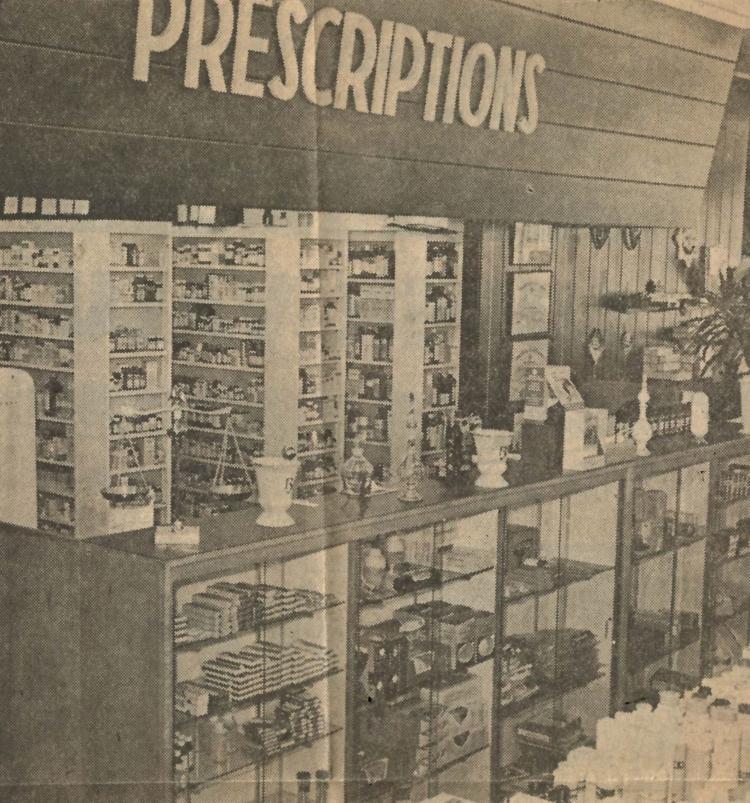 Mount La Crosse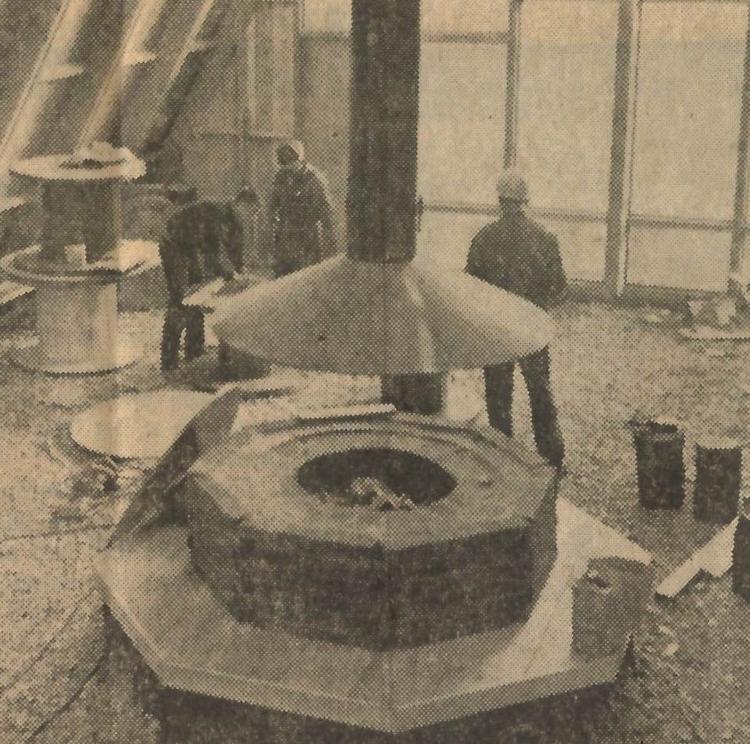 1984: National Video Movie Rental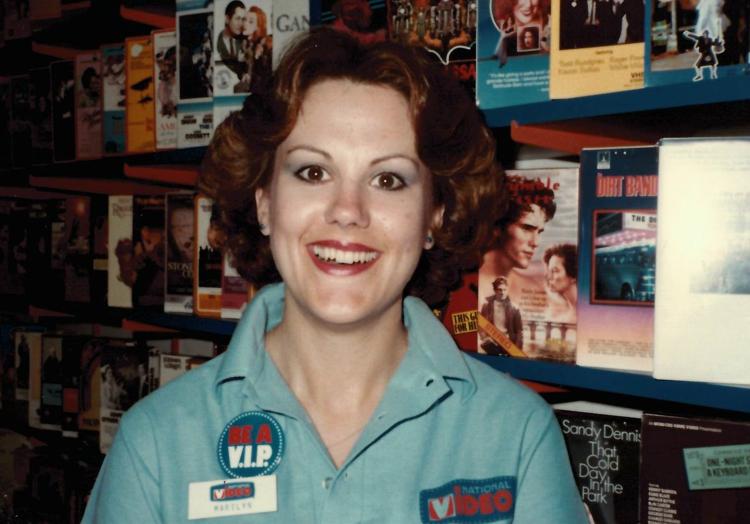 North Star Drive-In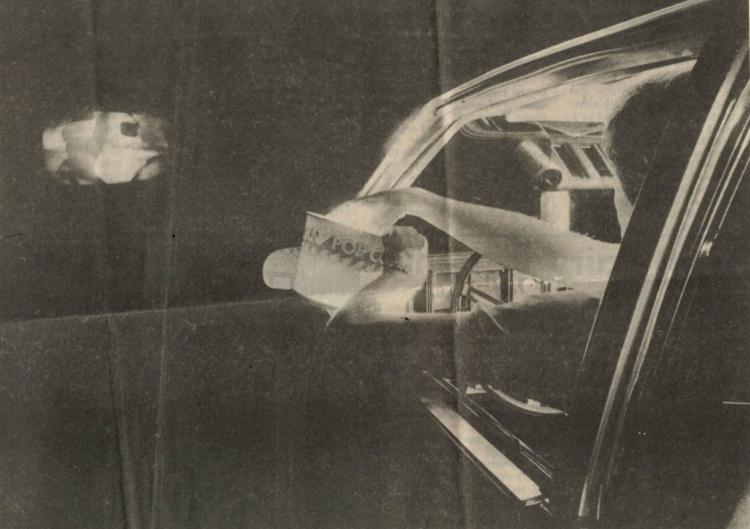 Nutrition World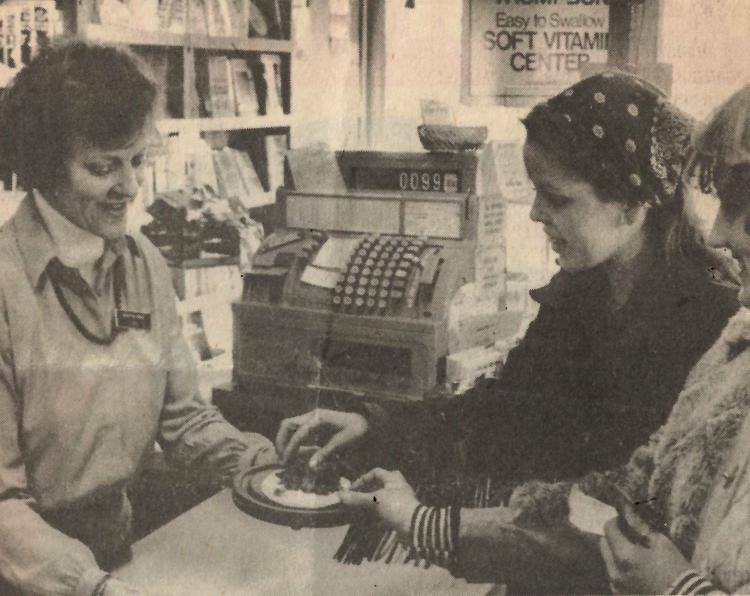 Nob Hill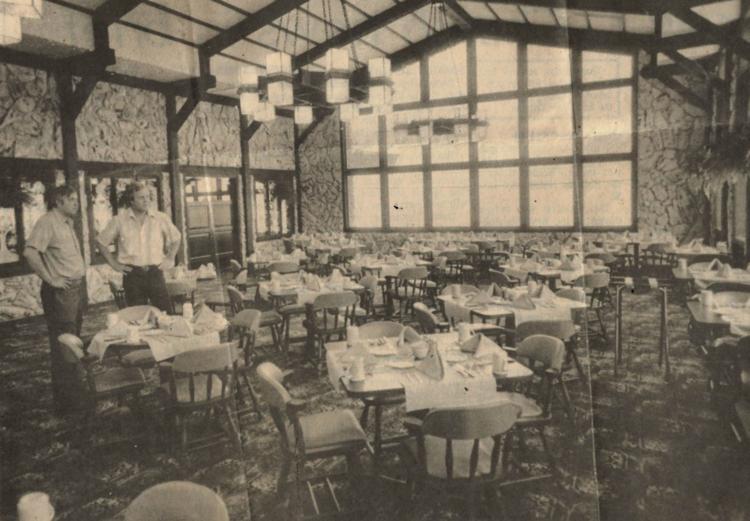 Nutbush City Limits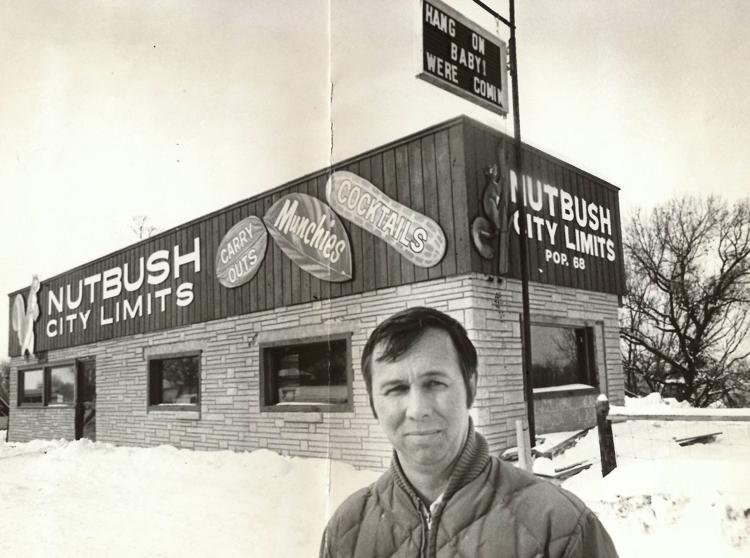 1976: New Villa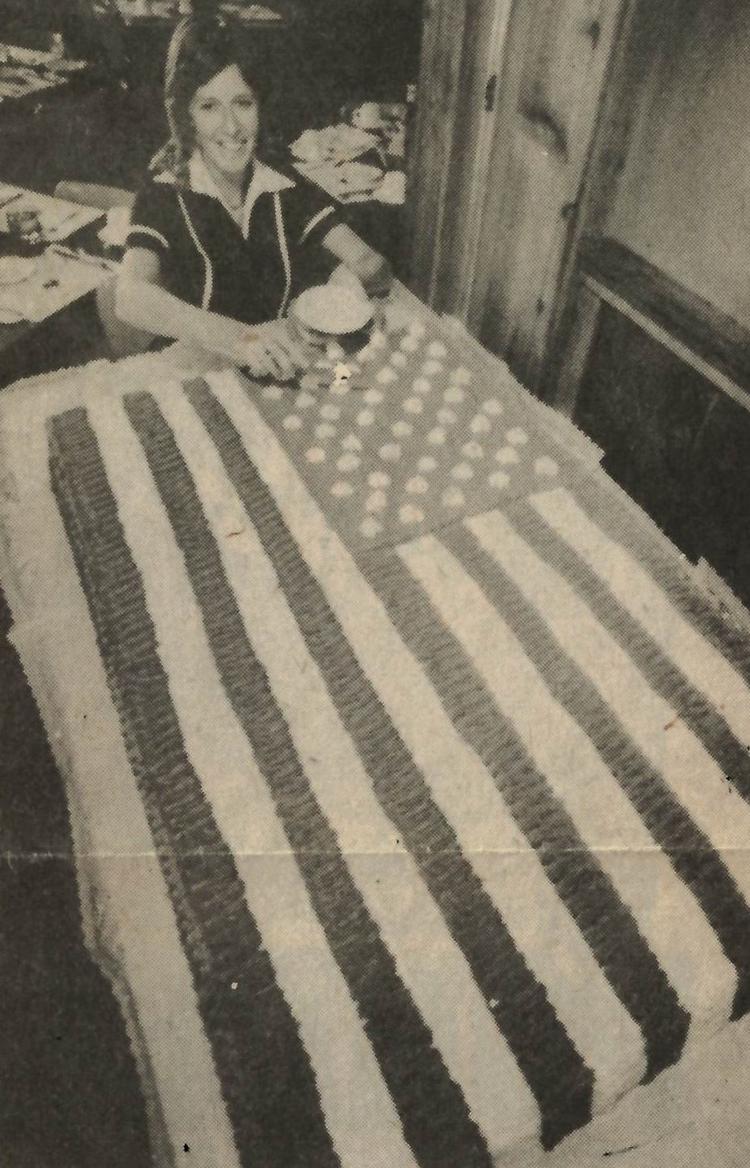 1973: Newburg's Menswear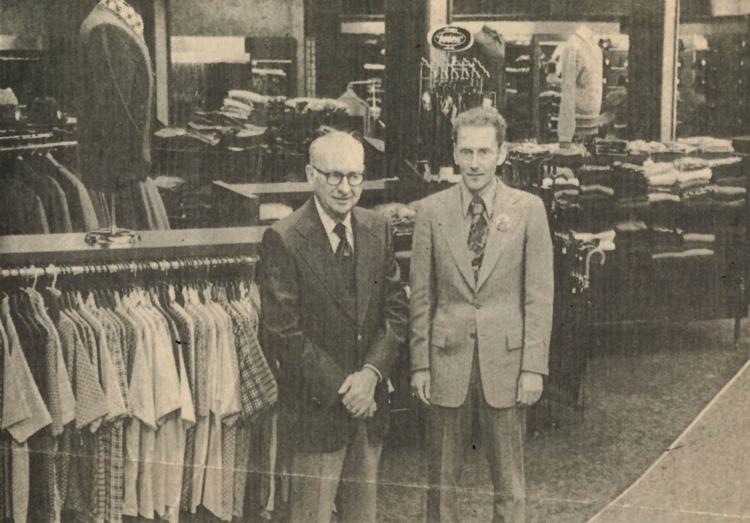 Northwest Fabrics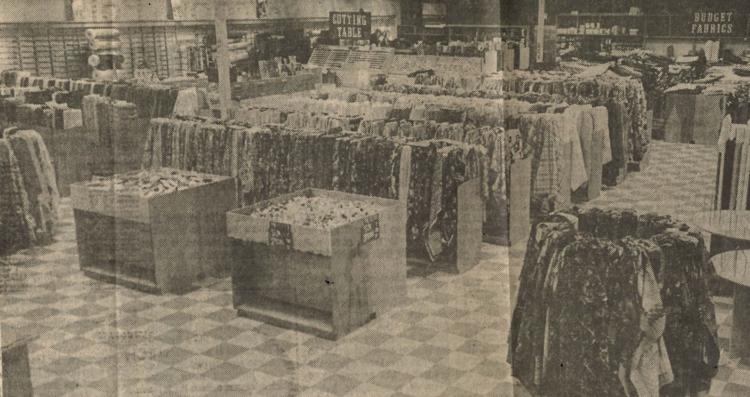 Organic Valley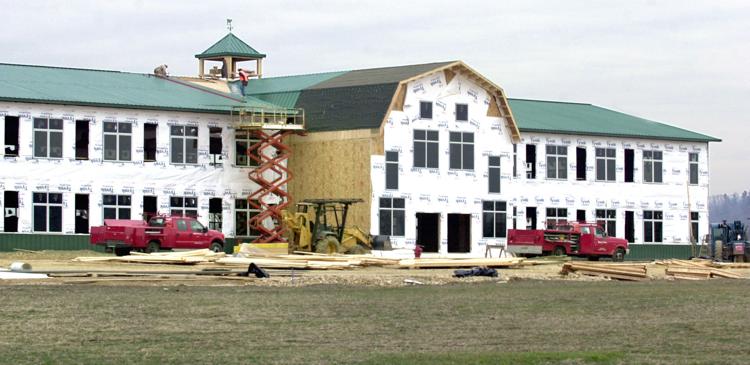 Onalaska Upholstery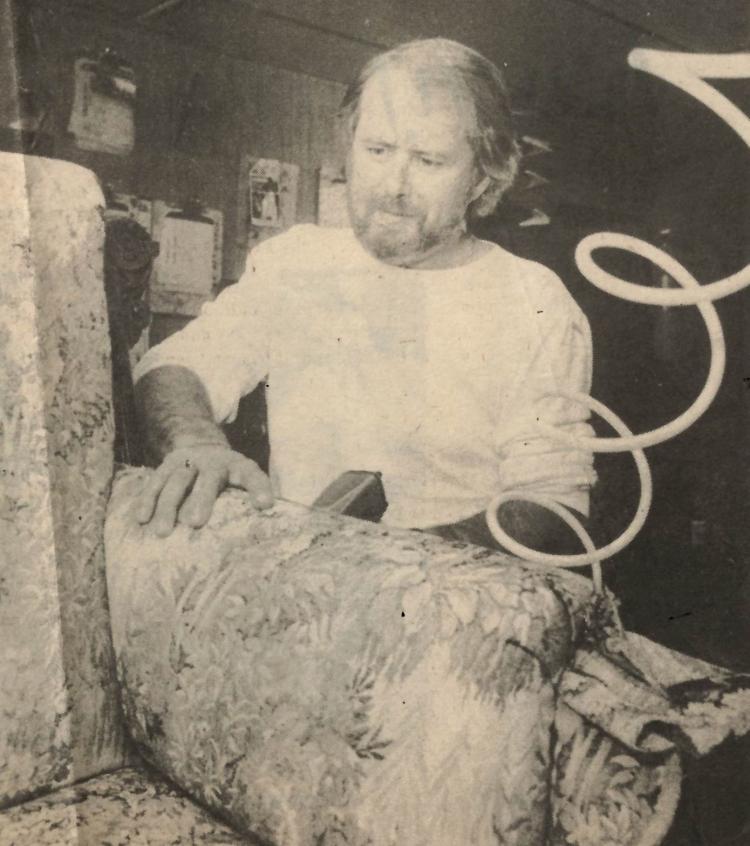 Our Place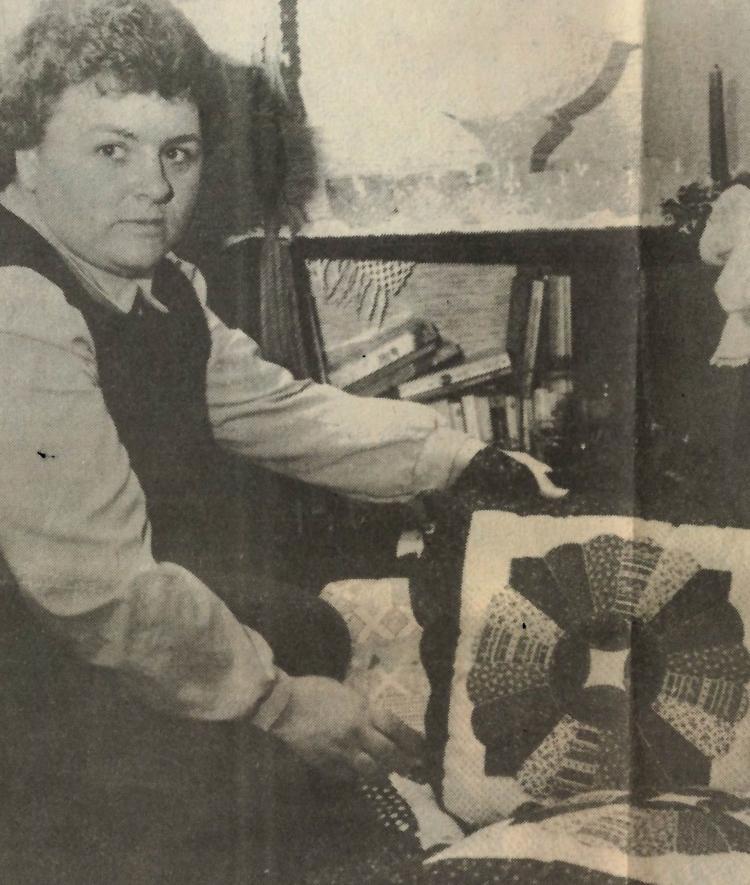 Oscar's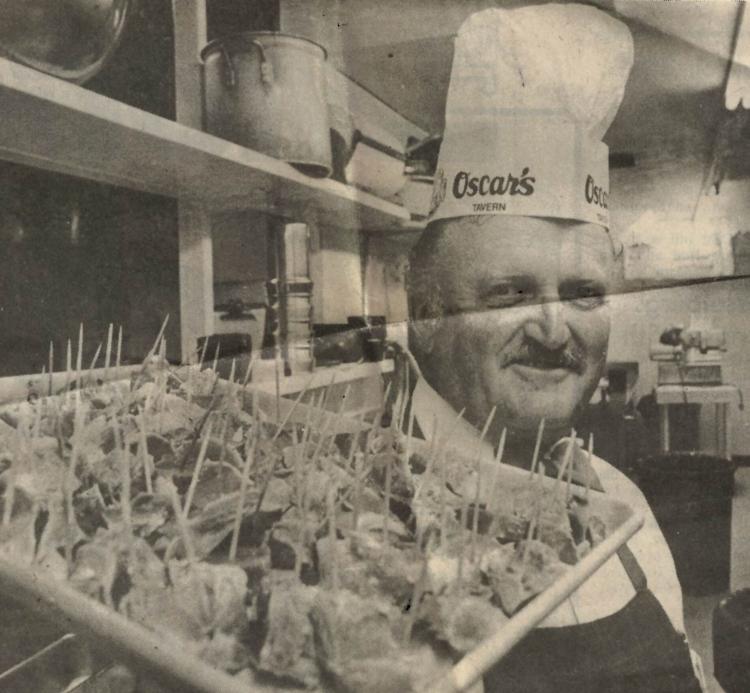 Oriental Food Store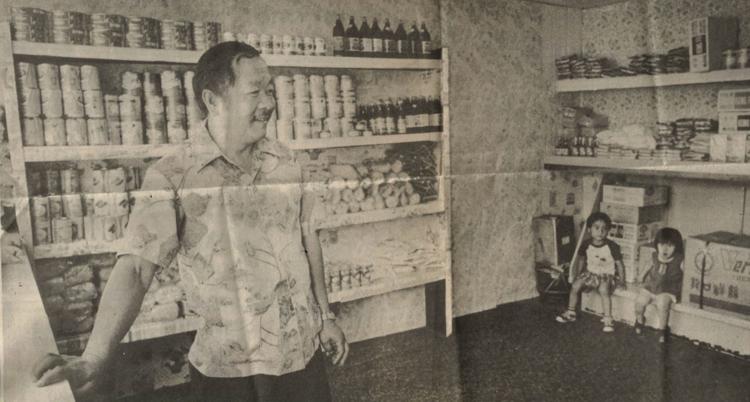 Oak Originals
Outers Laboratories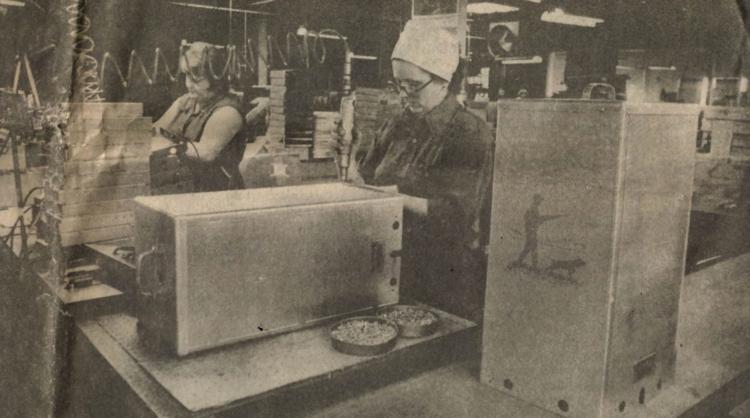 Osco Drug
Paul's Pantry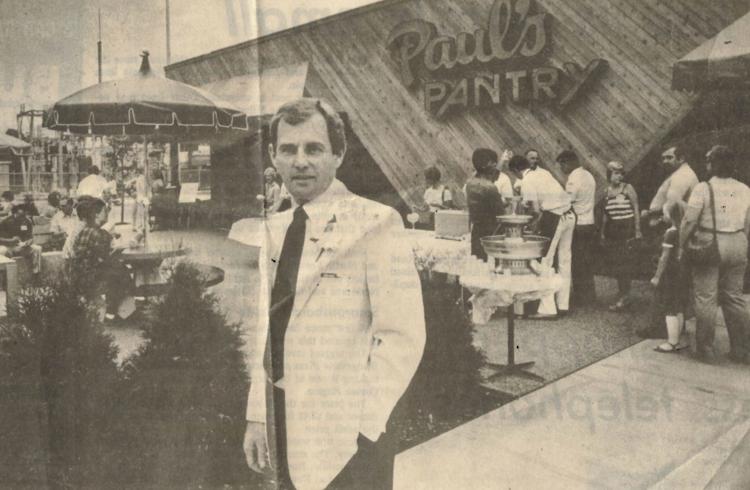 Pizza Corral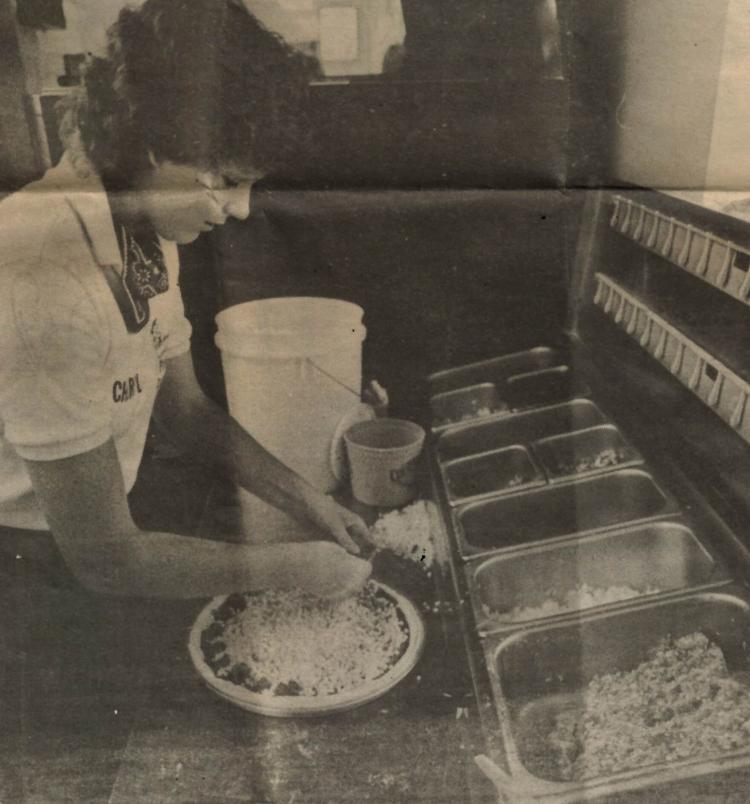 Pagliacci's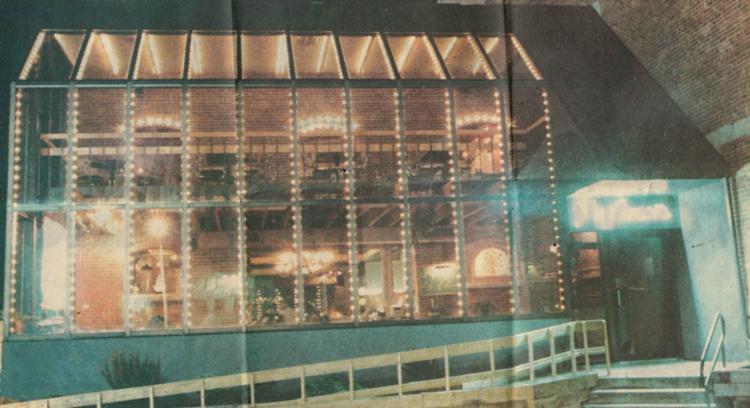 Party House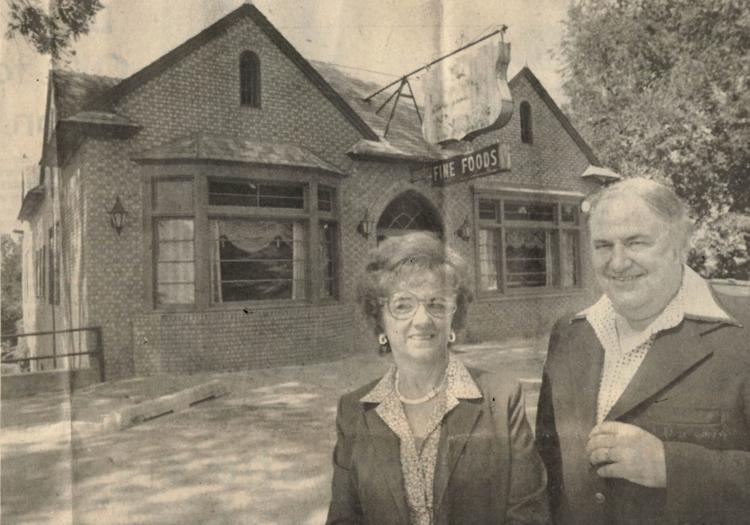 1981: People's Food Co-op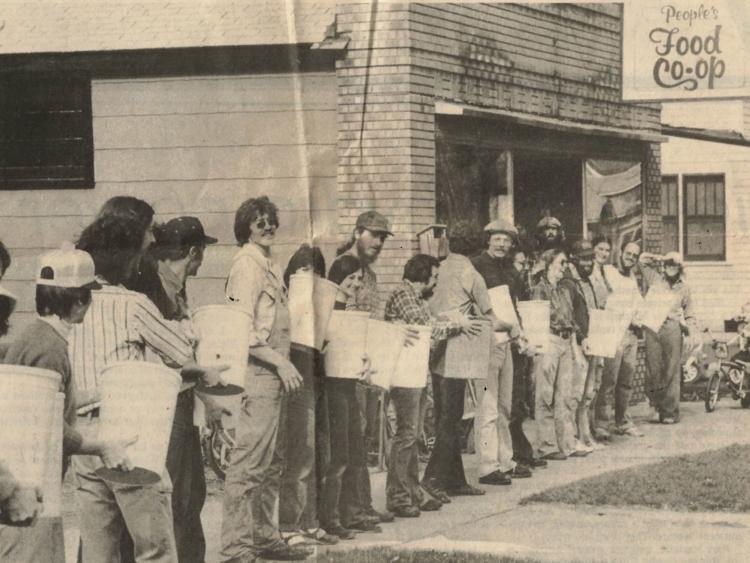 Piggy's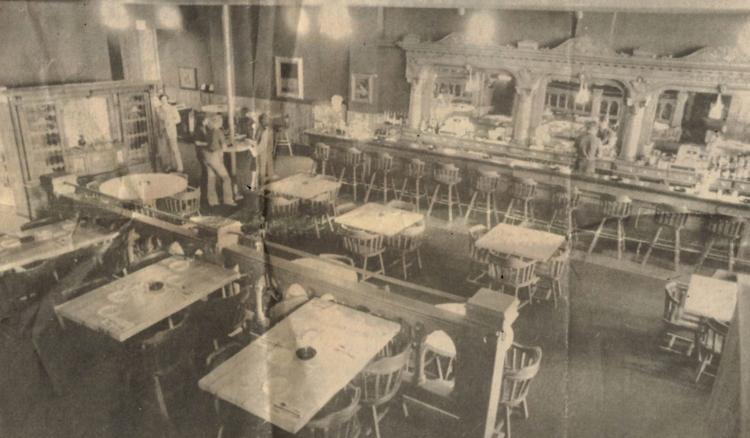 Pamperin Cigar Co.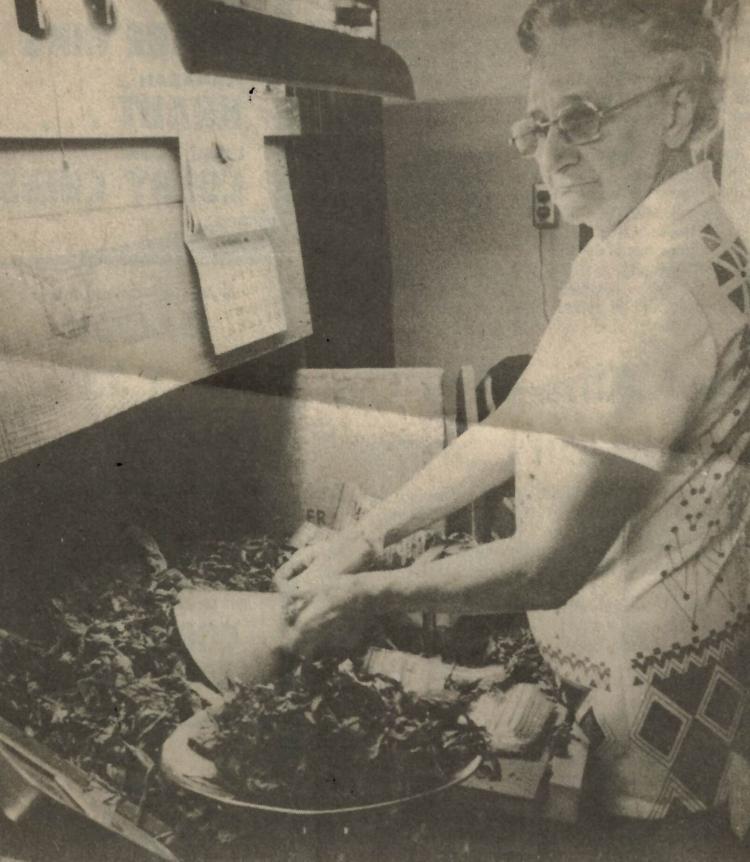 Ponderosa Steak House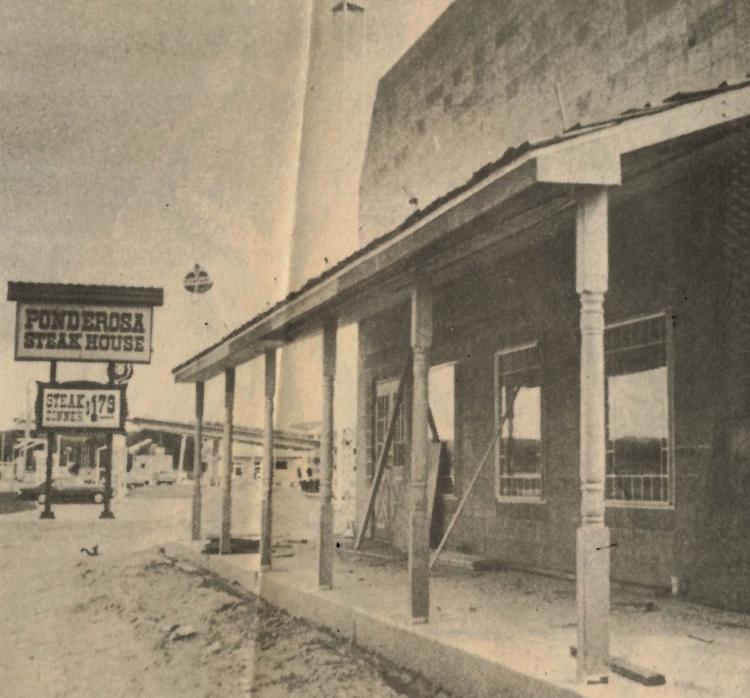 1945: Quillin's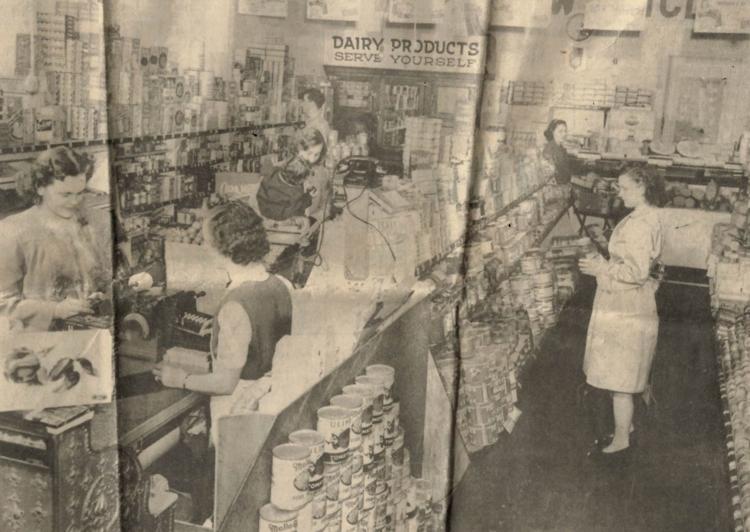 1985: Ranch House Dinner Theater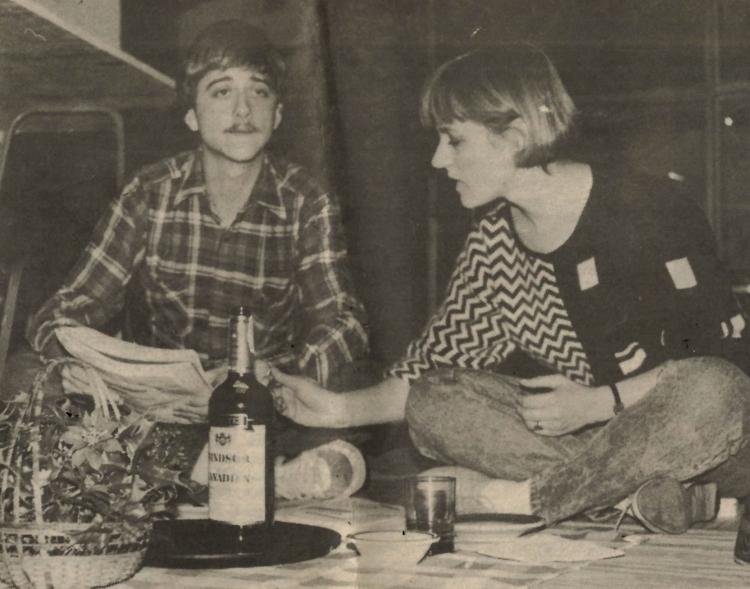 Rudy's Drive-In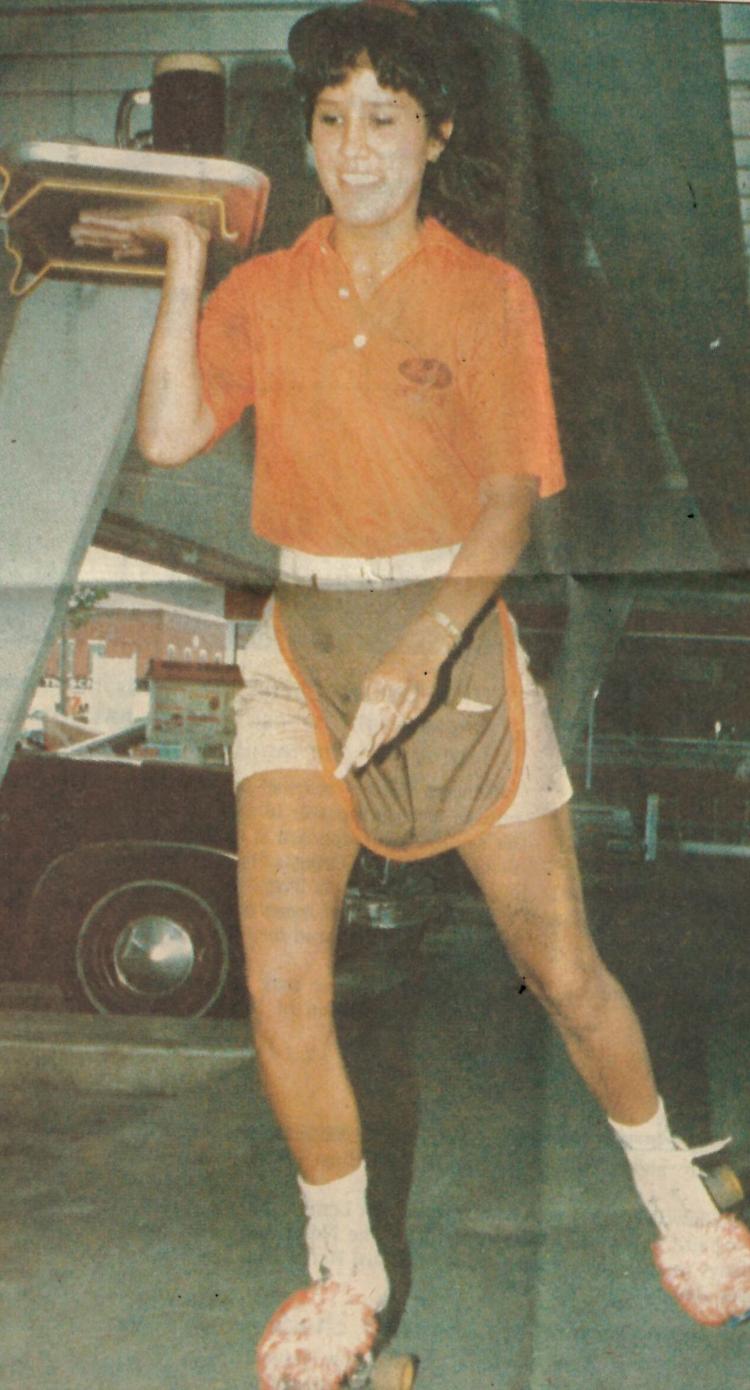 Ray Hutson Chevrolet
Ragstock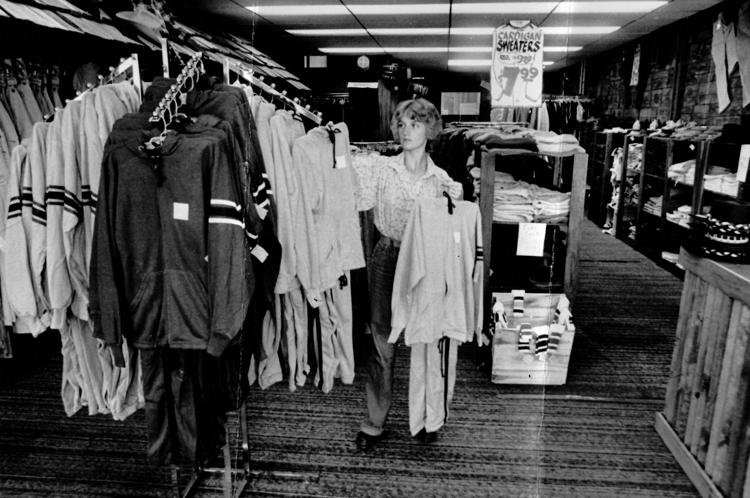 Radisson Hotel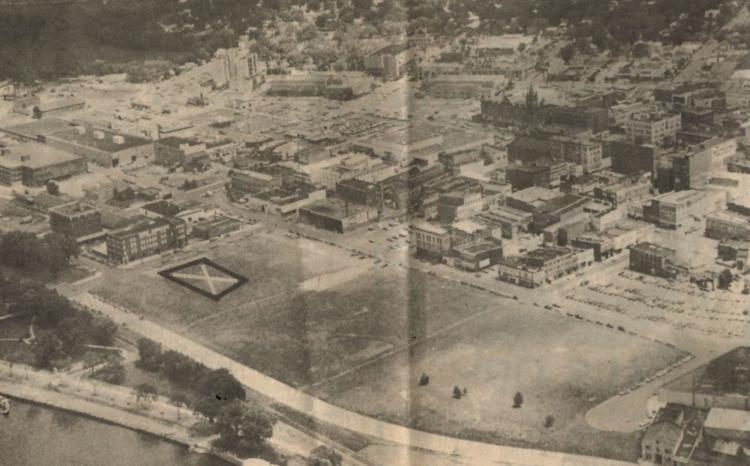 Ramada Inn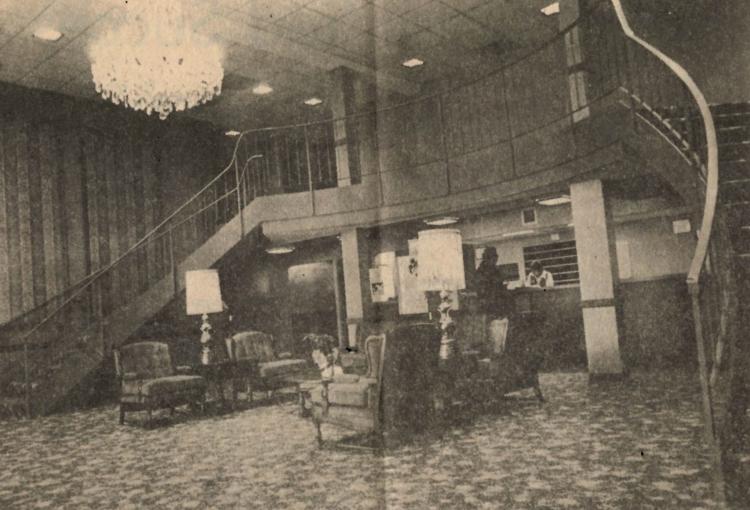 Royale Pie Shop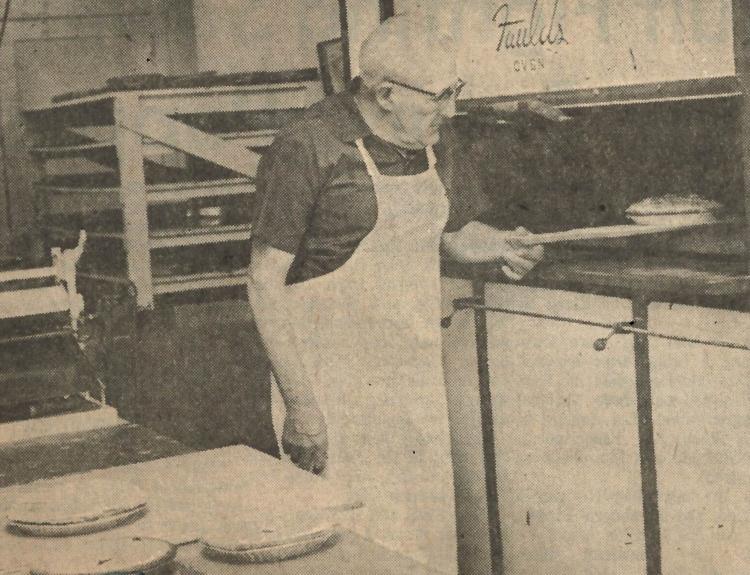 Ross Furniture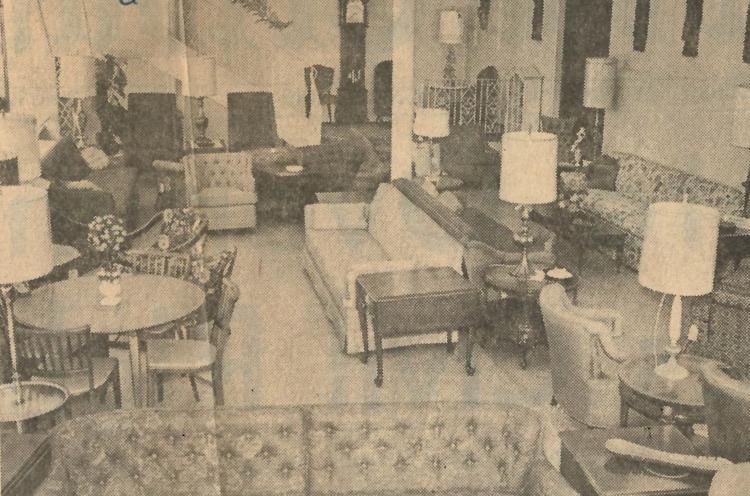 Rivoli Theater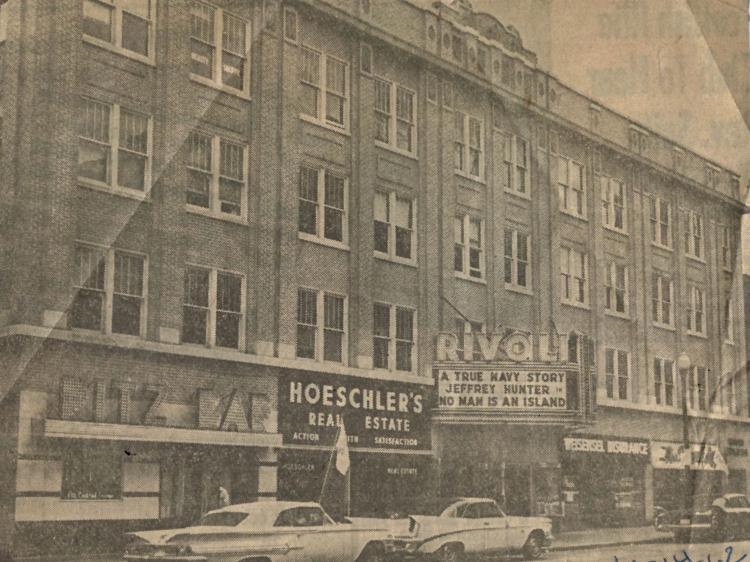 Red Owl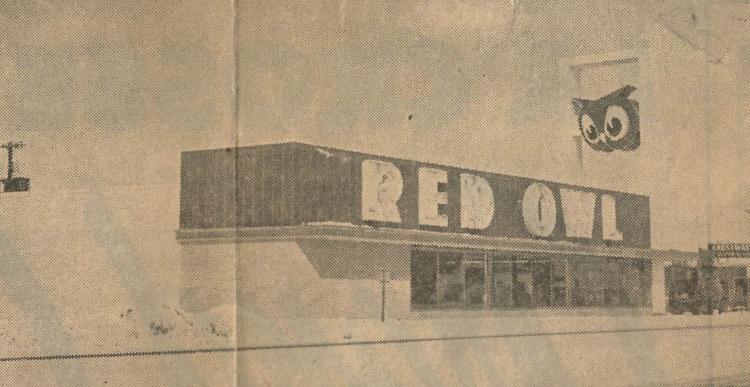 1954: Rowley's Office Equipment
Rose Jewelers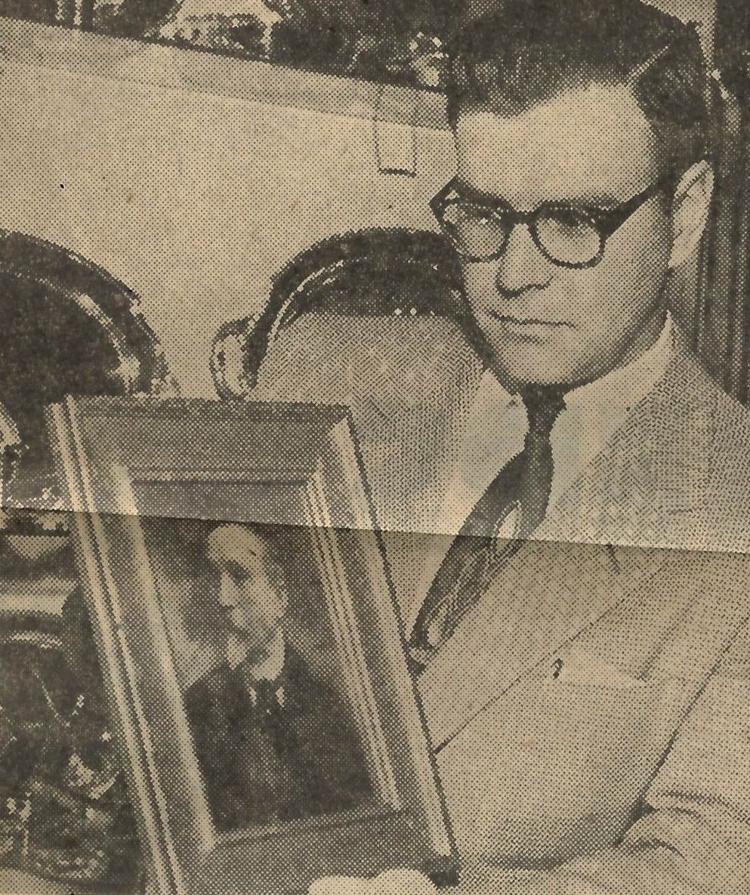 Skogen's IGA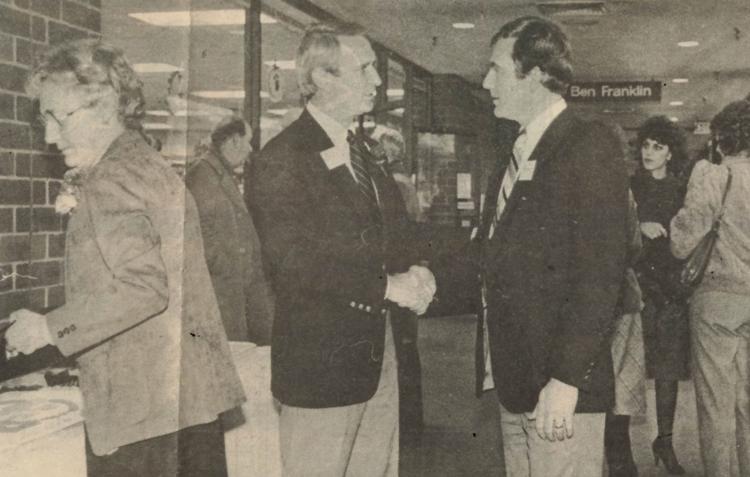 Scandinavian Design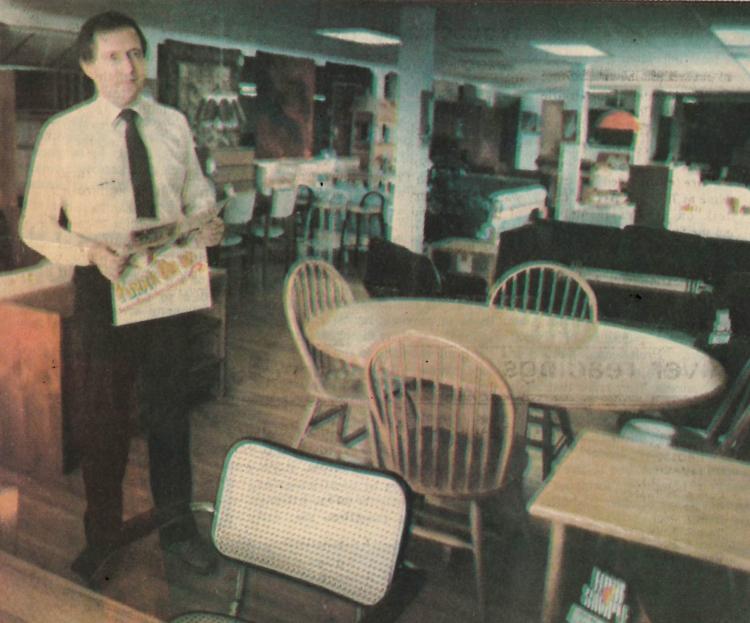 1984: Skifton's Department Store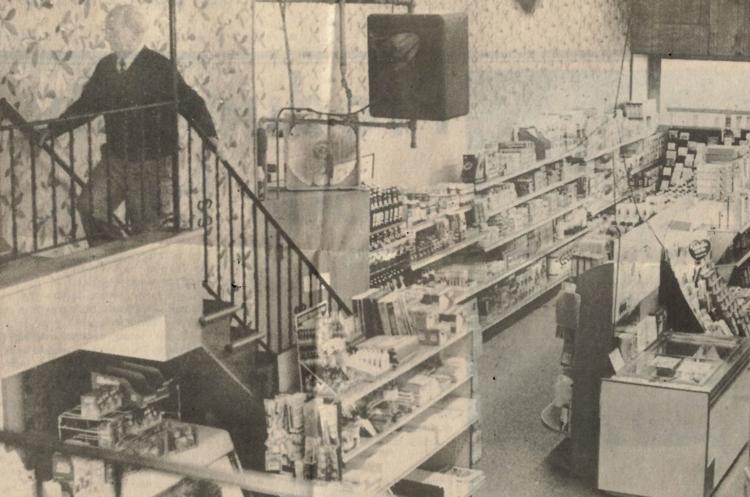 South Avenue Cafeteria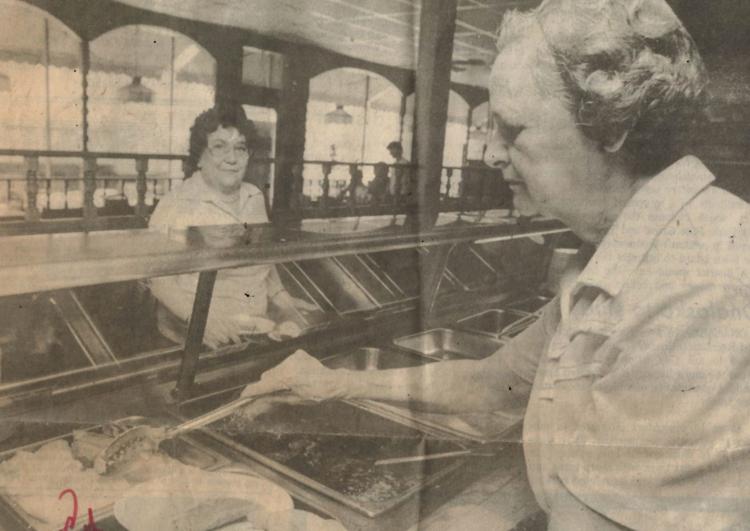 1983: Showbiz Pizza Place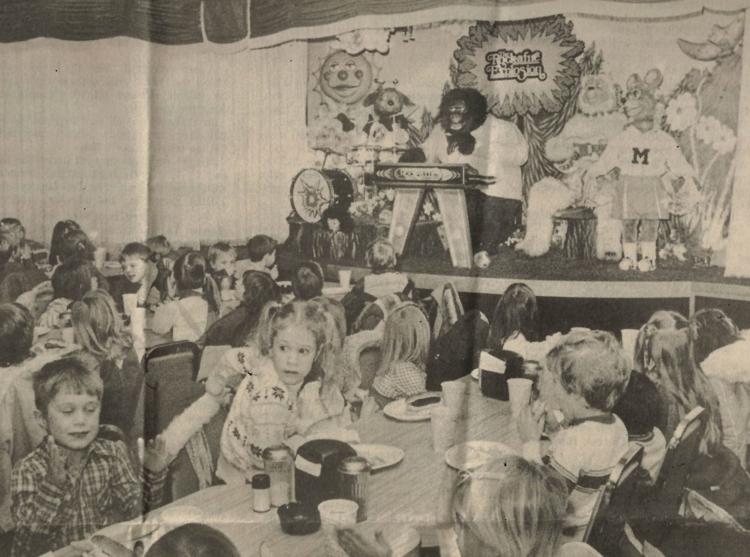 Stoddard Hotel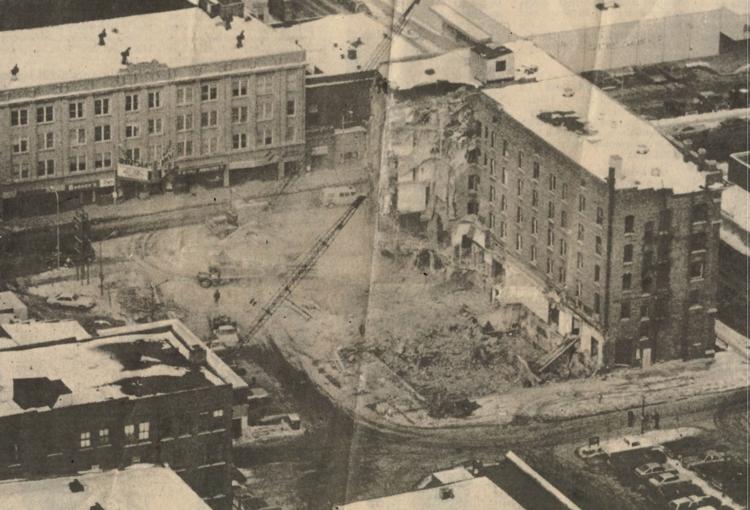 The Sweet Shop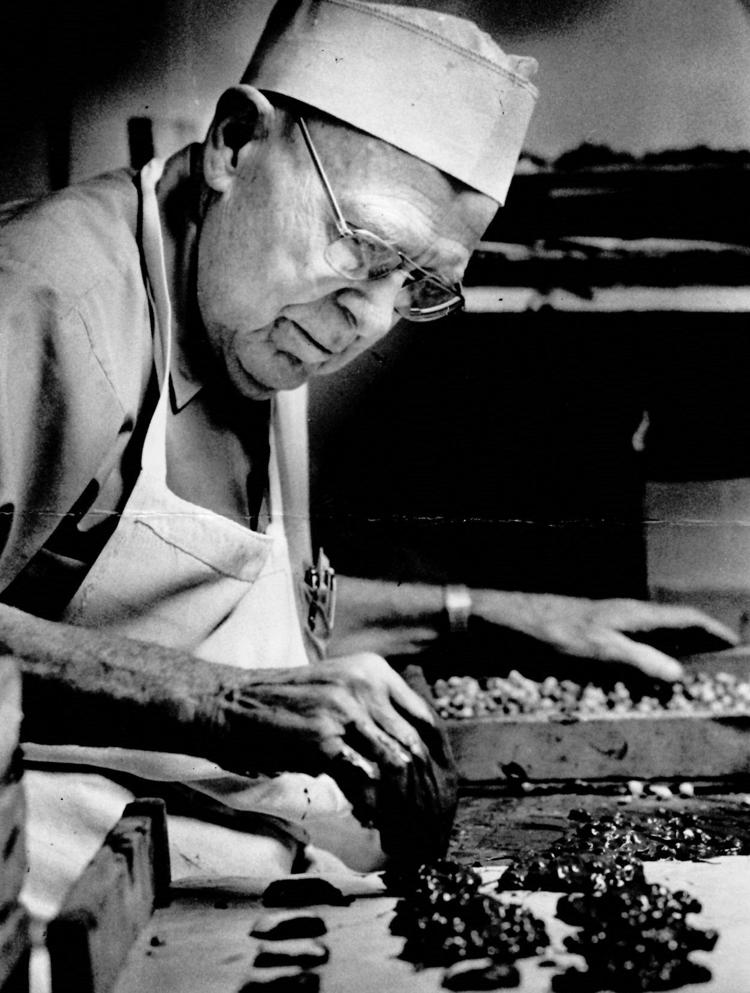 1978: Soell's King of Low Prices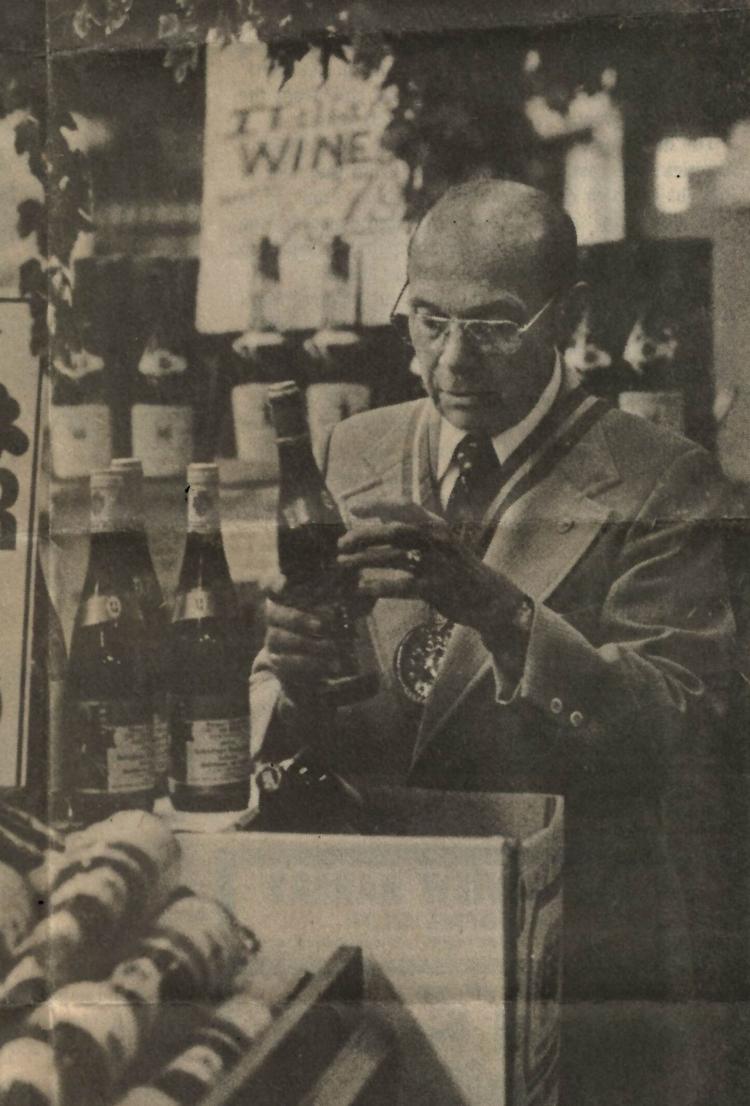 1978: Shopko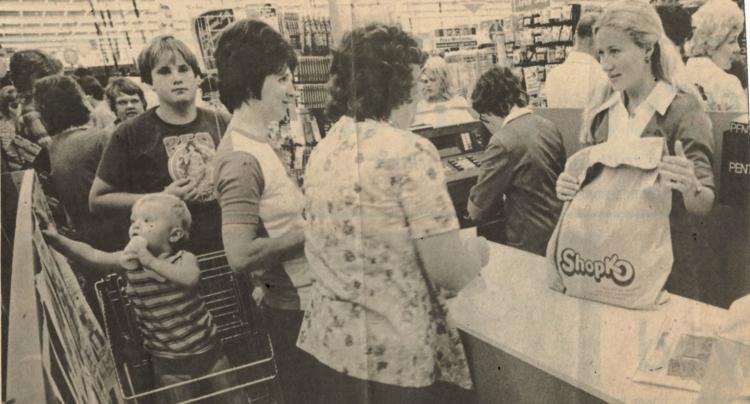 SuperValu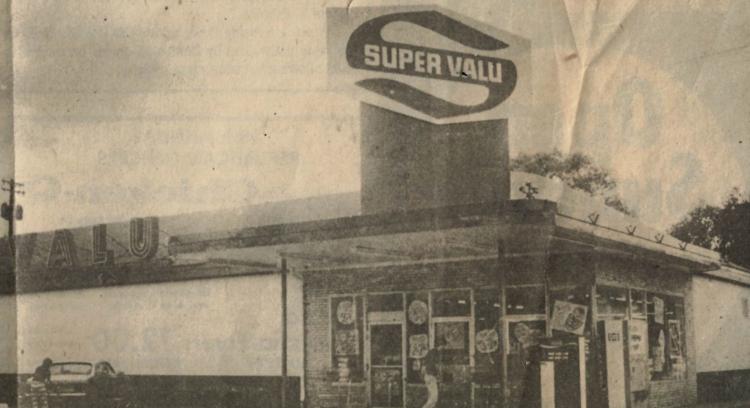 1973: Schaak Electronics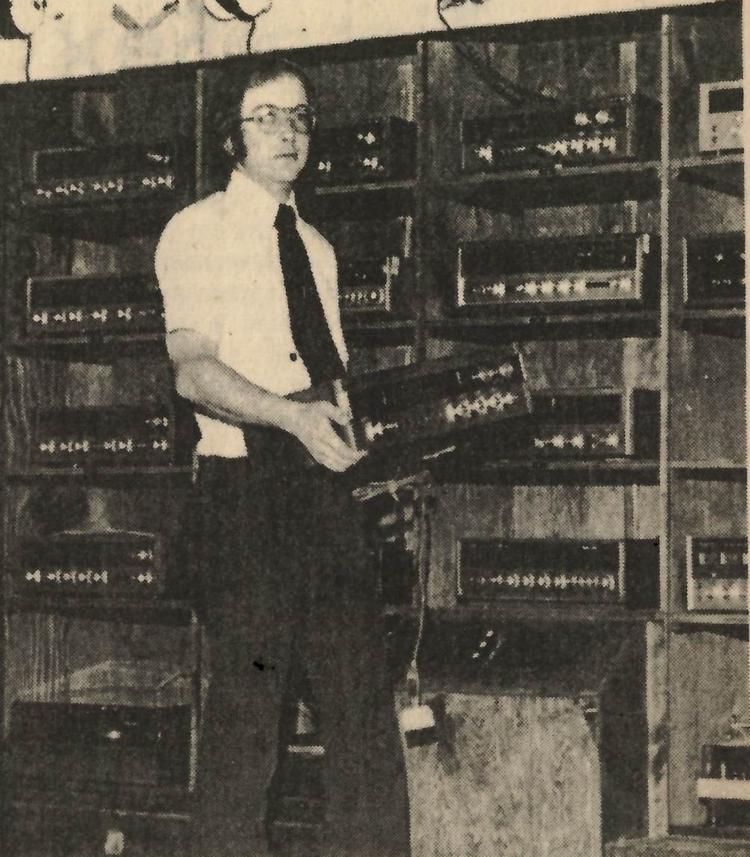 Shakey's Pizza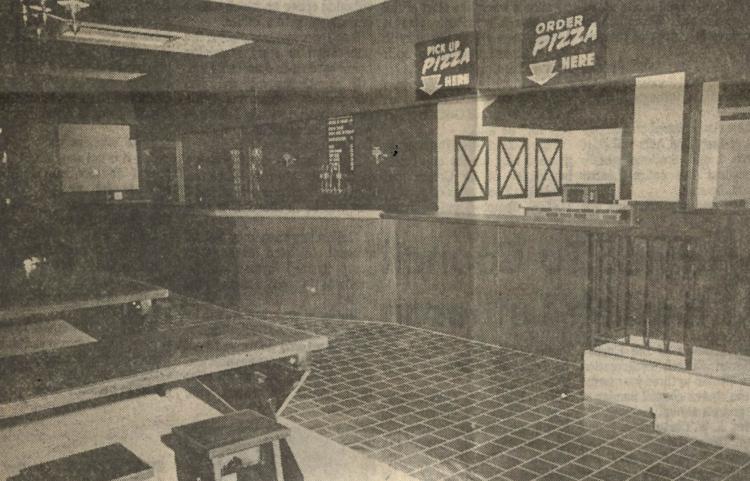 1972: The Stereo Shop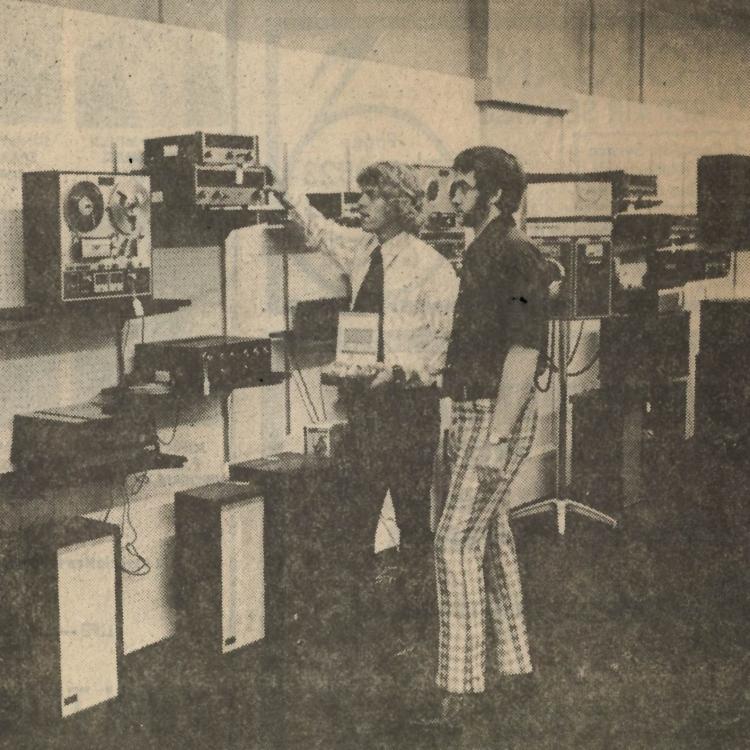 Sandy's Drive-In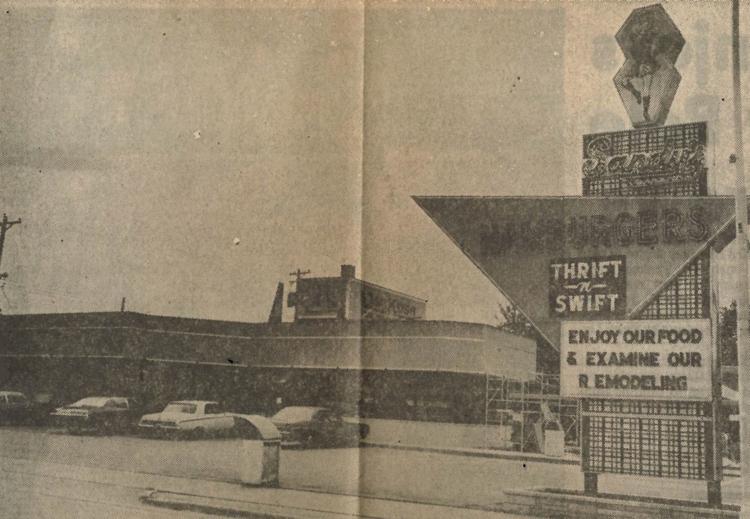 Shelby Mall

Swiss Chateau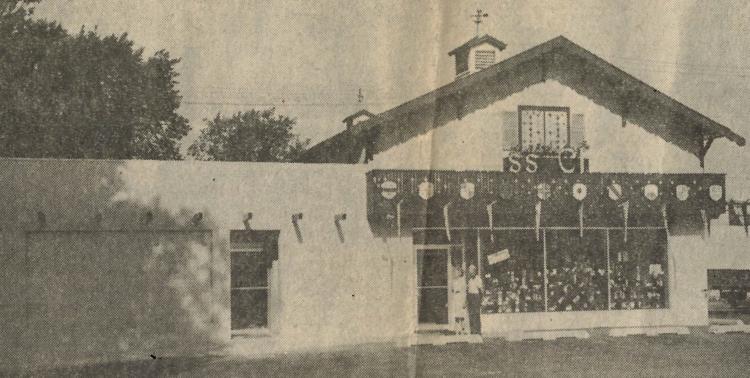 Spurgeon's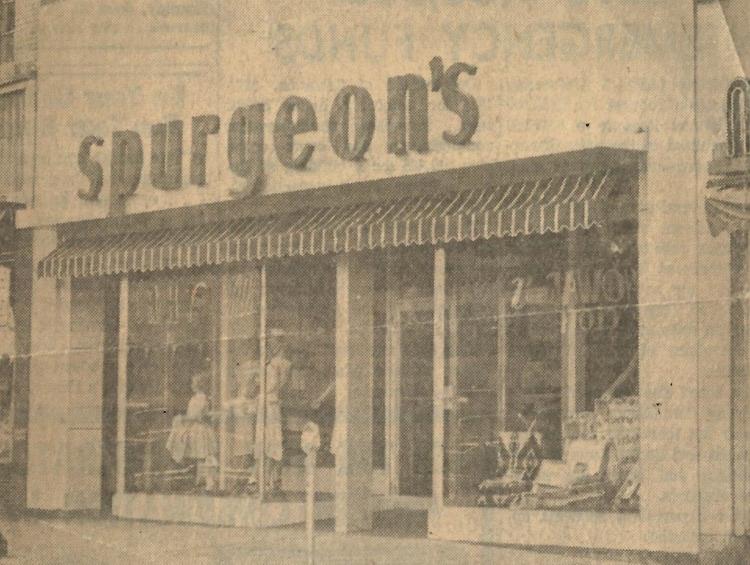 1958: State Bank of La Crosse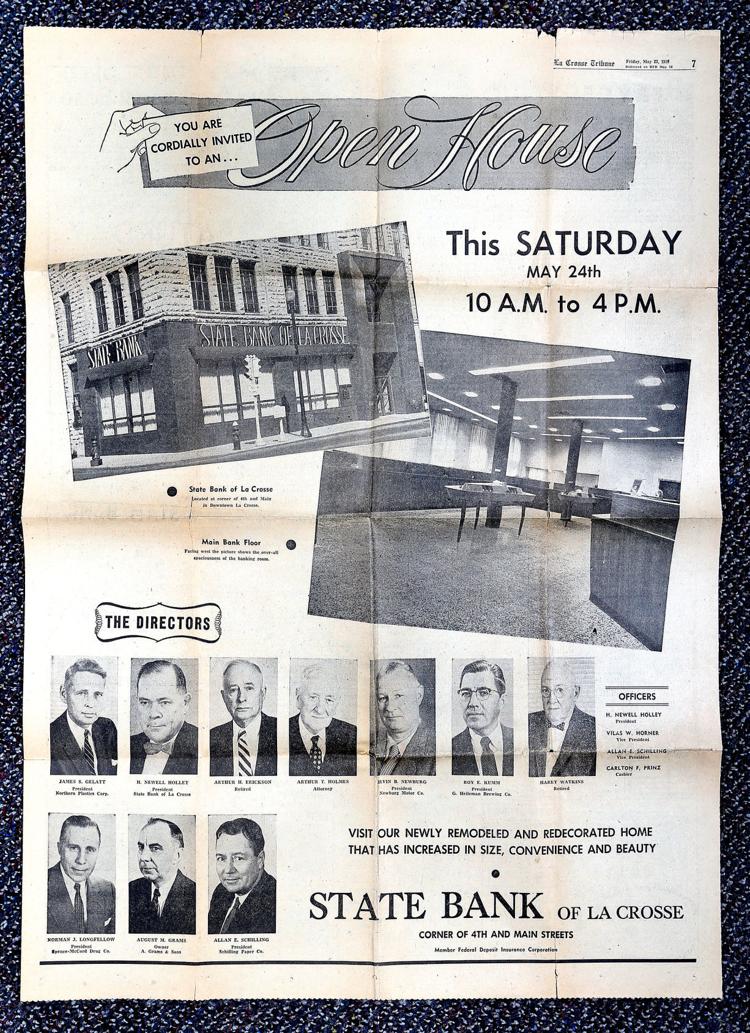 1954: Smith's Bike Shop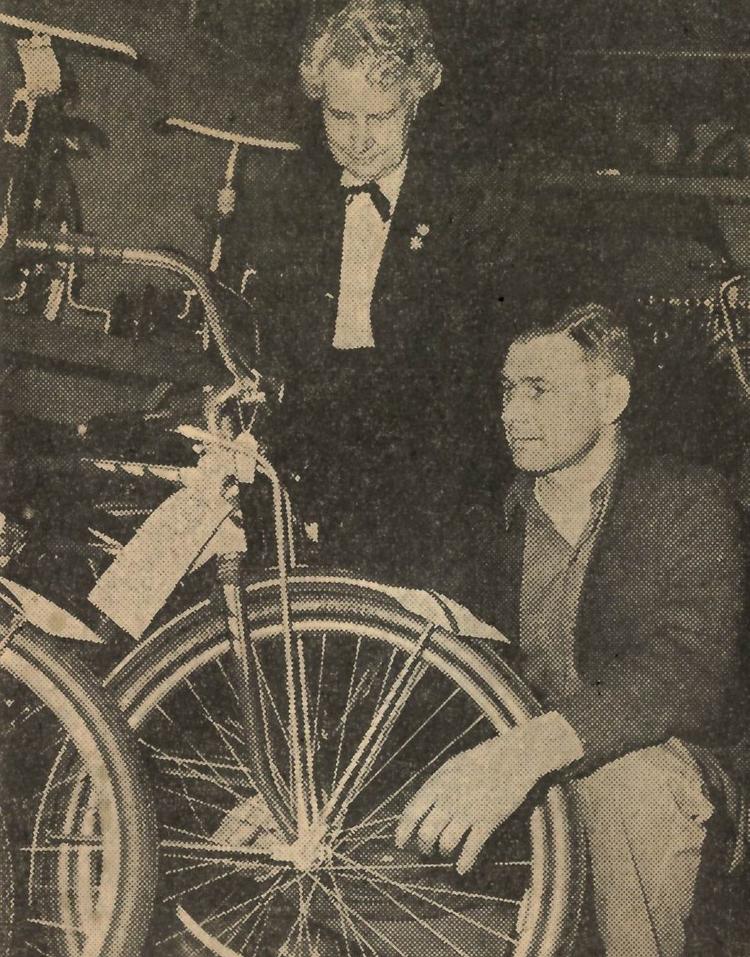 1954: Salem Markos & Sons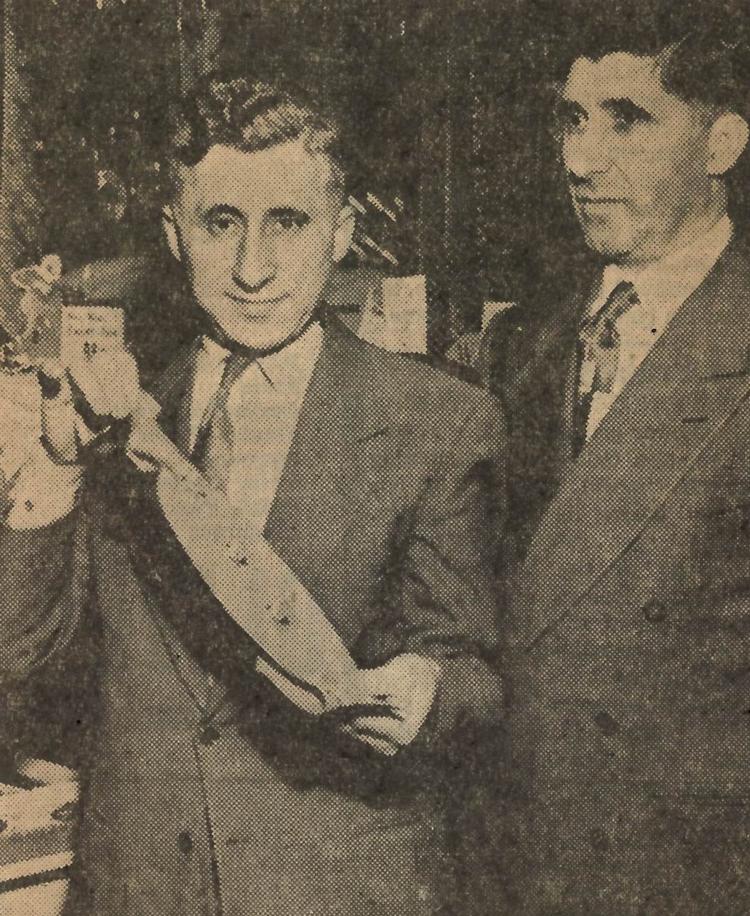 1948: Sears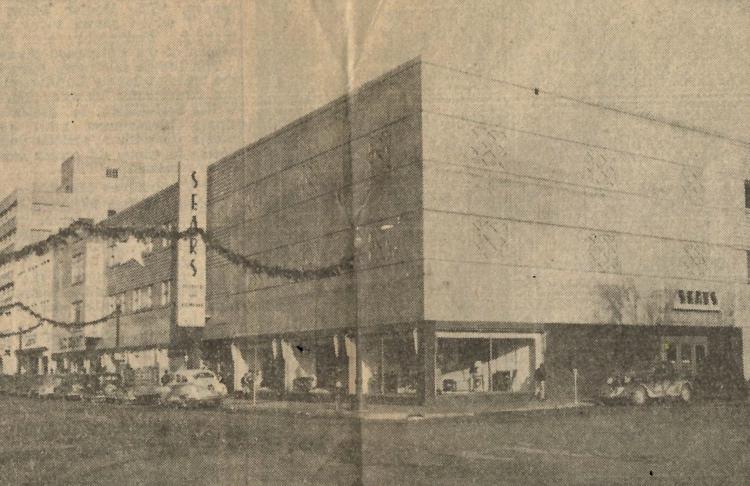 Teddy Bare Lingerie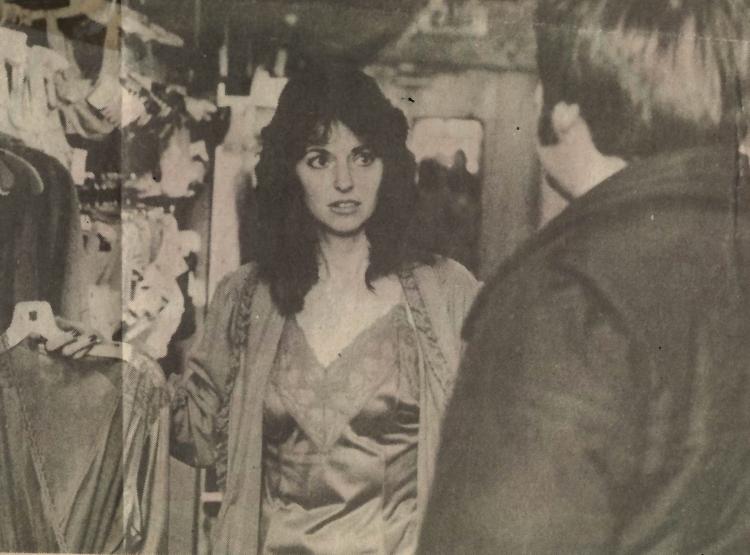 The Tannery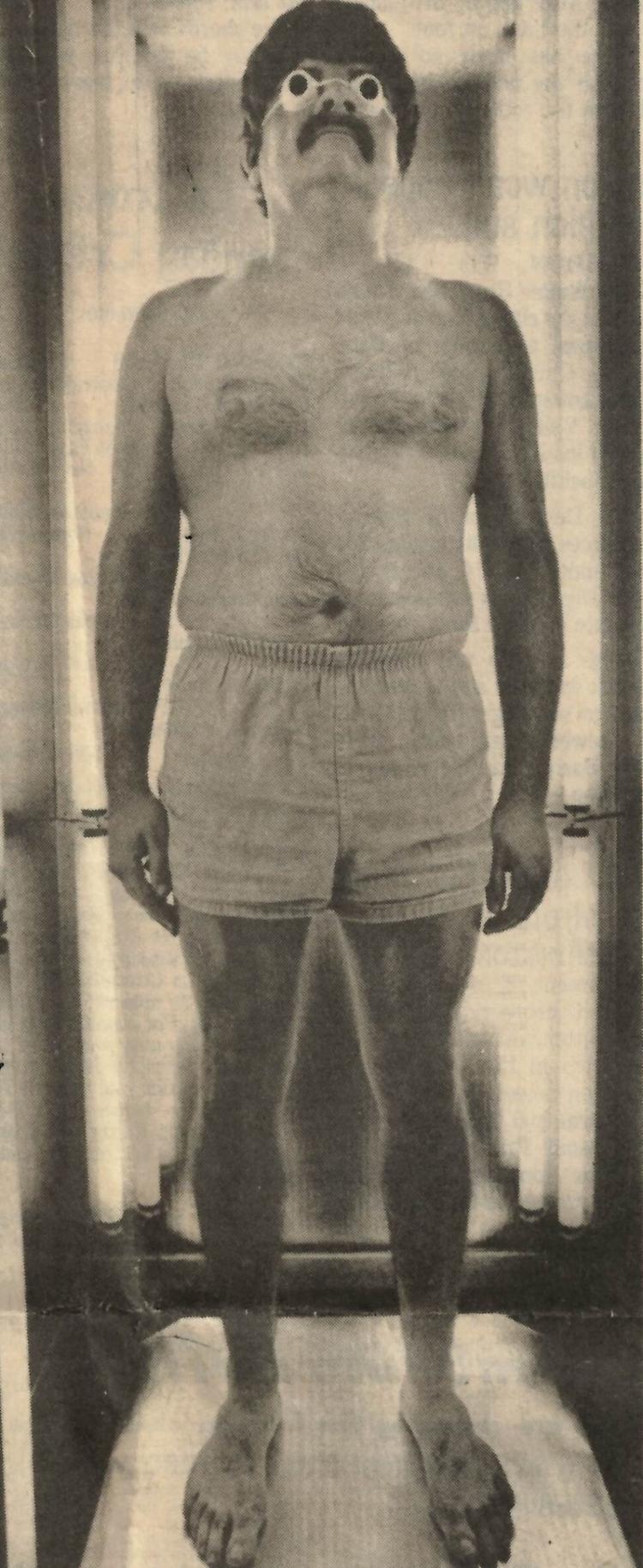 T-Jo's Pizza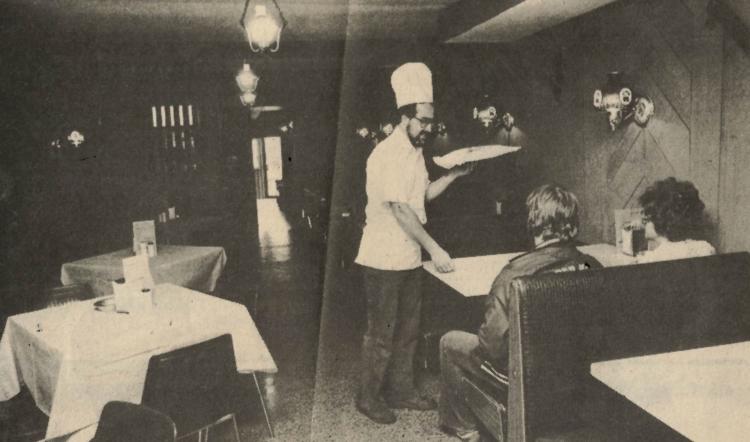 Tiffany's Touch of Fashions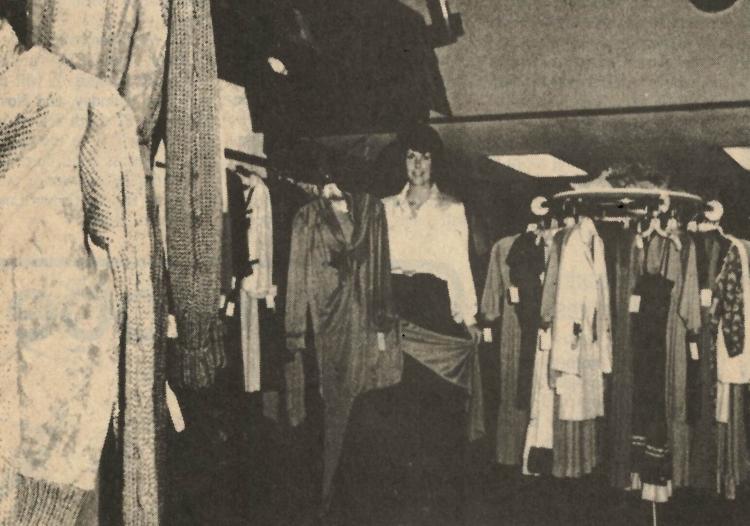 Taco Bell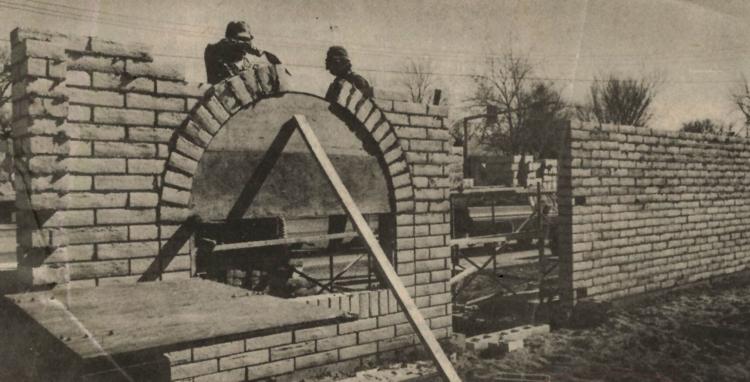 Taco John's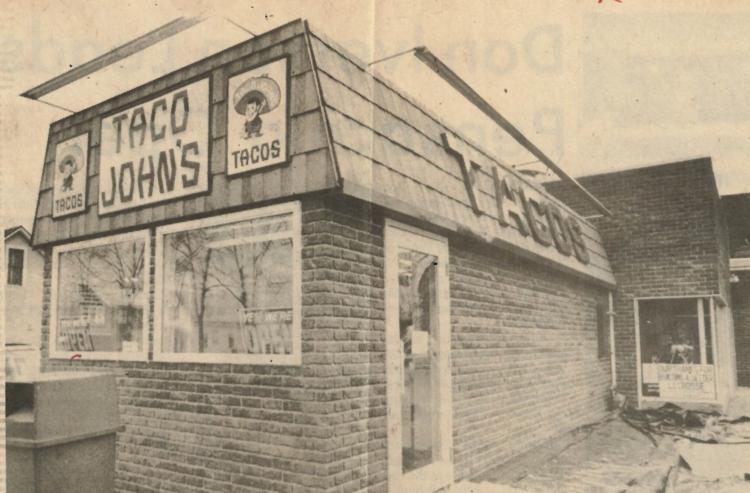 Taco Village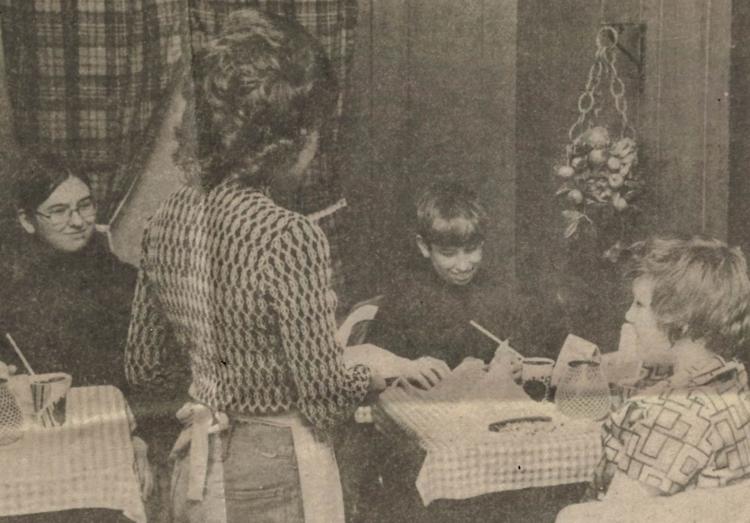 1954: Triangle Cafe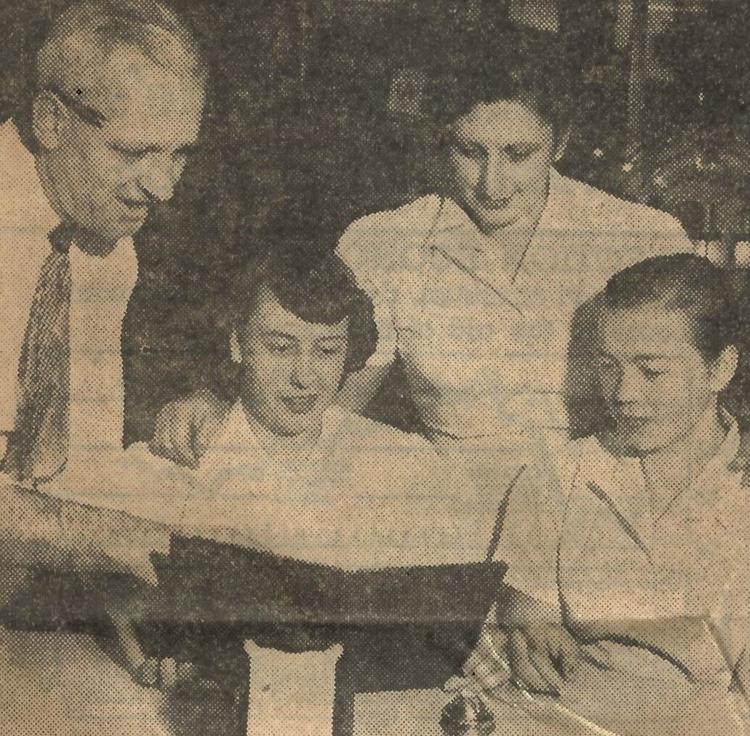 1954: Tom's Speedometer Shop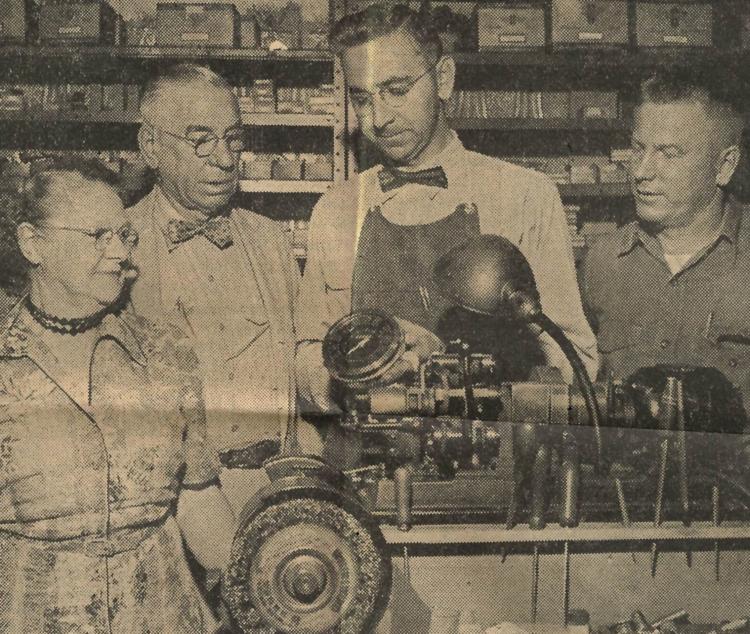 Terry's Music Store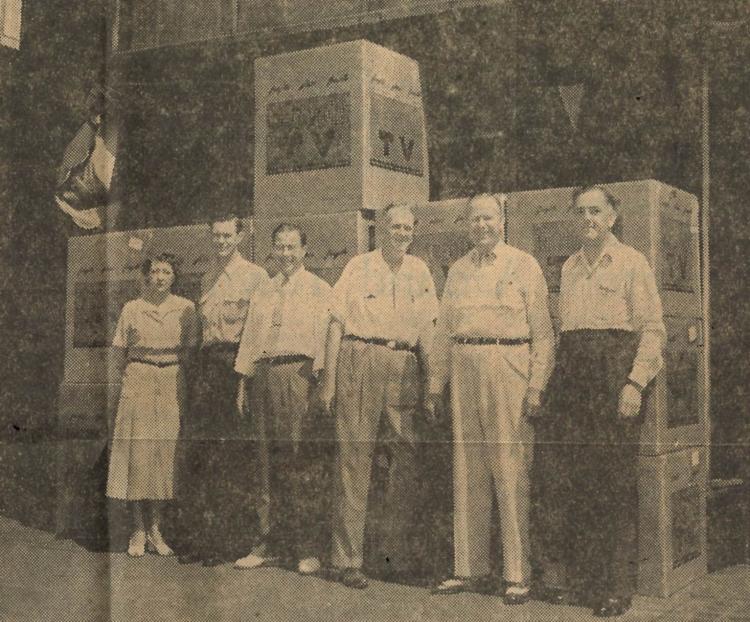 Tausche Hardware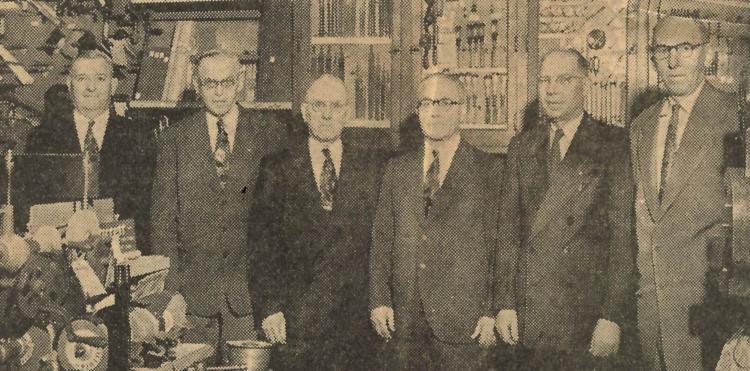 United Auto Supply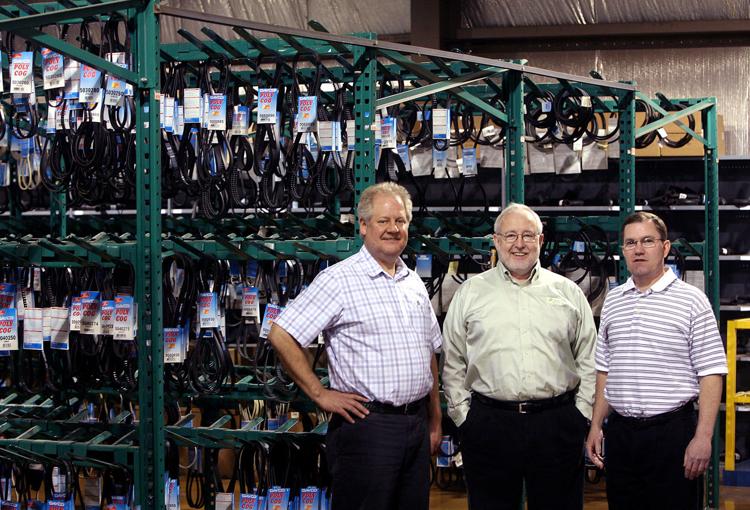 Unicorn Restaurant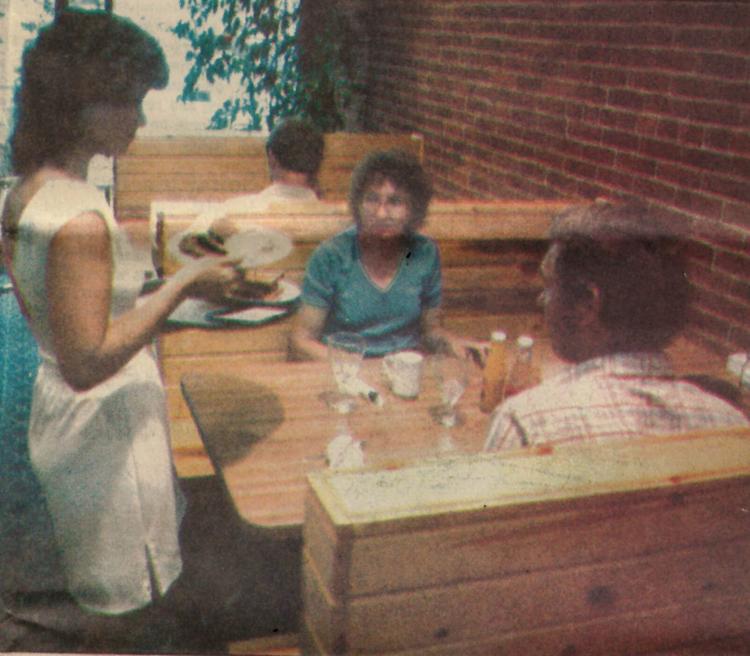 Undercover Works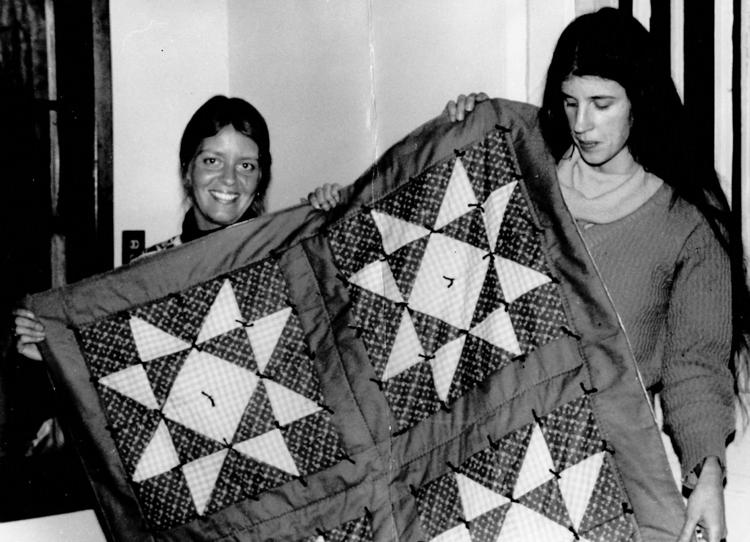 U-Dun-It Shop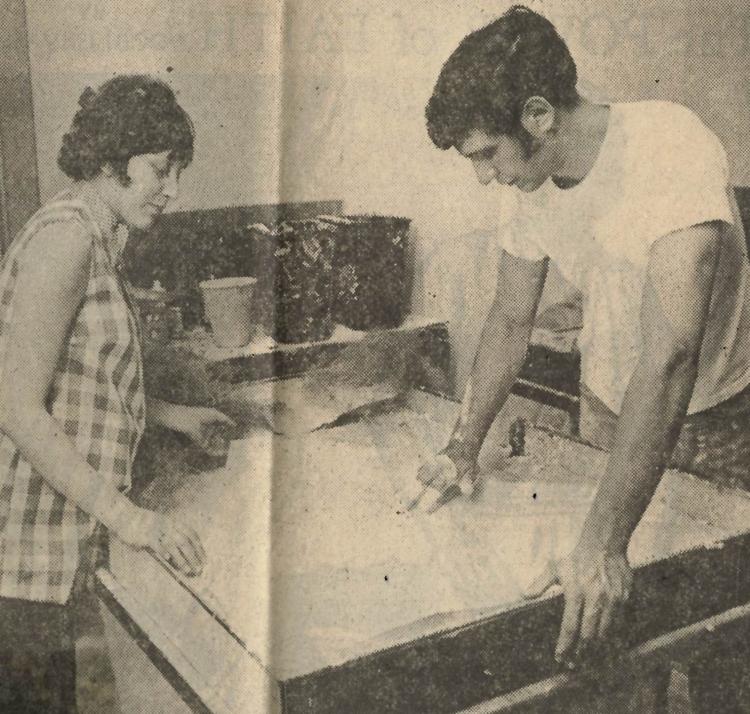 Unique Inc.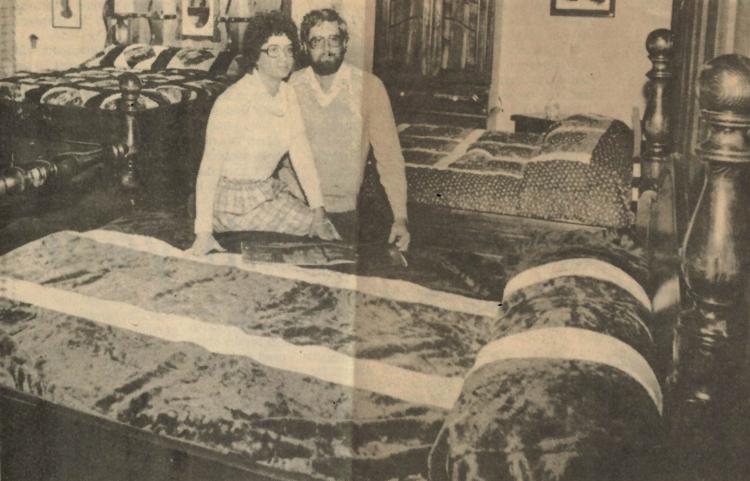 1973: Union Prescription Center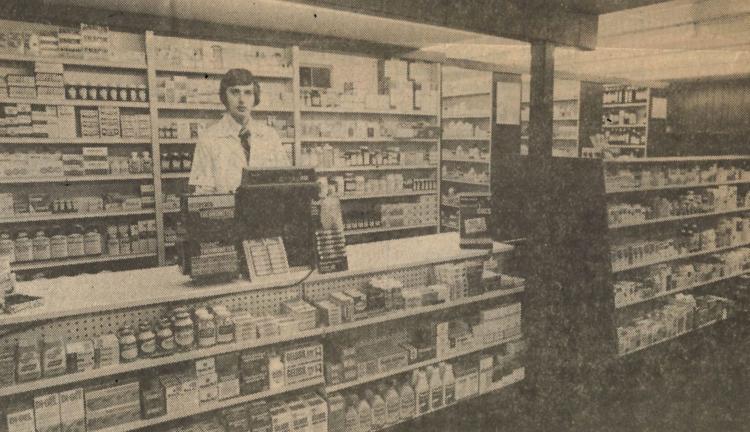 Uppers and Downers Boutique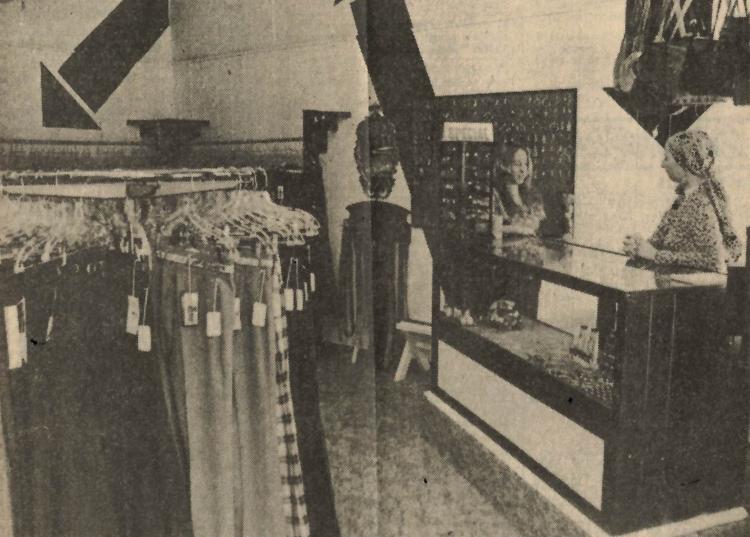 Valentino's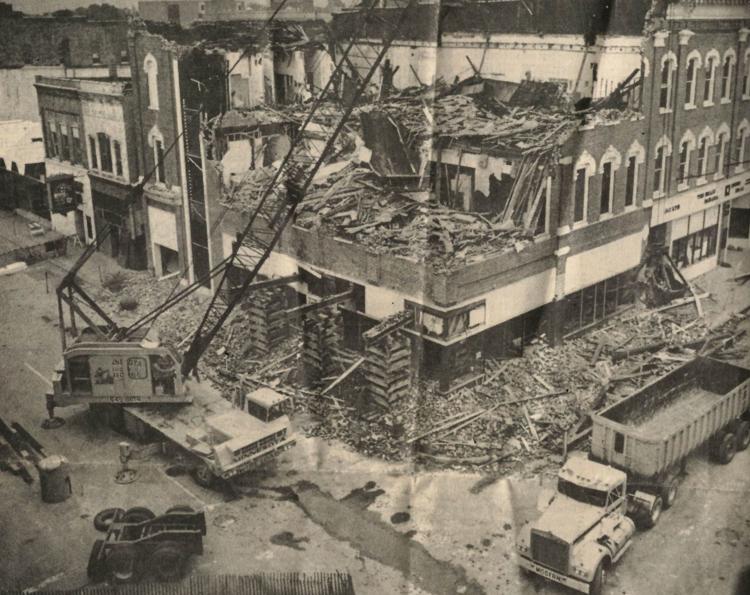 Village Shopping Center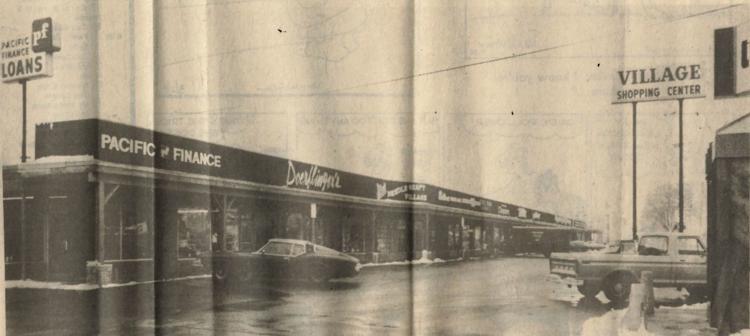 Varsity Club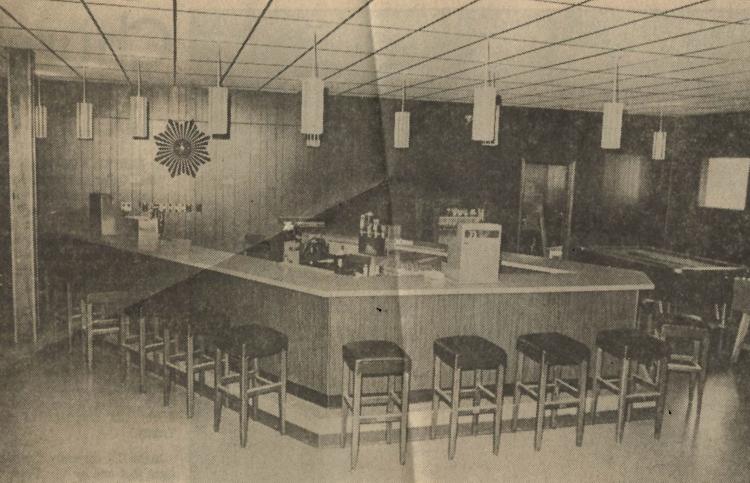 1972: Viking Heritage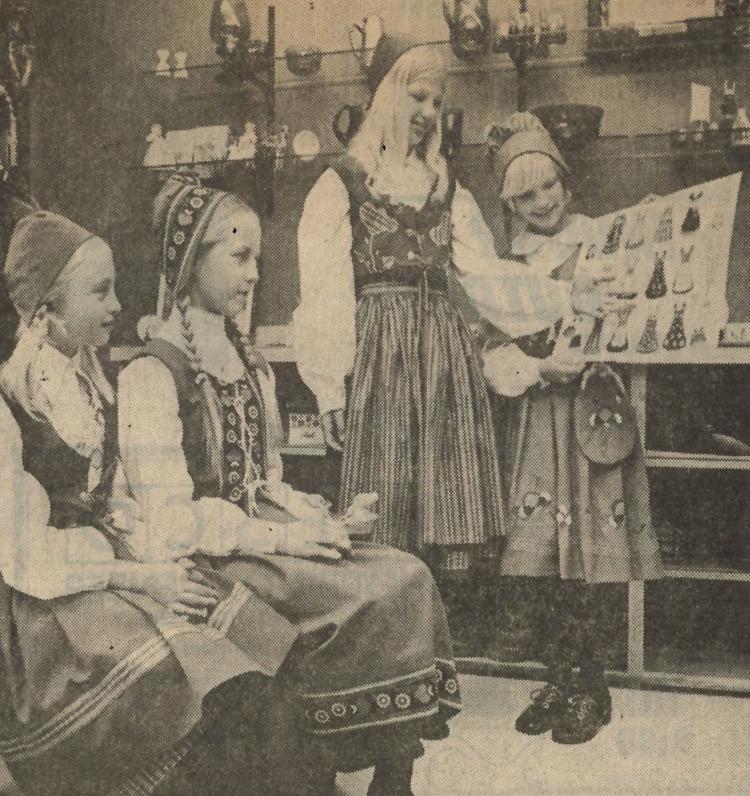 Winslow's Gift Shop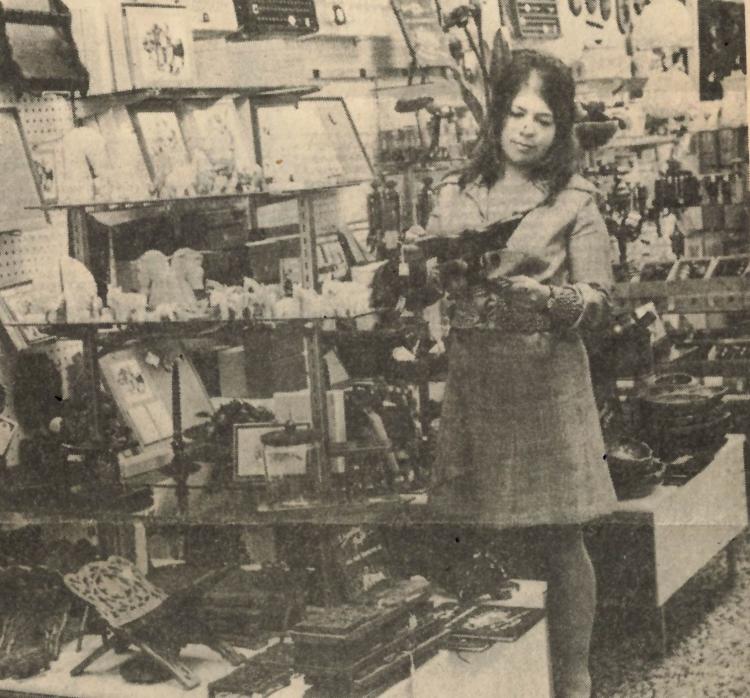 Wiggert Brothers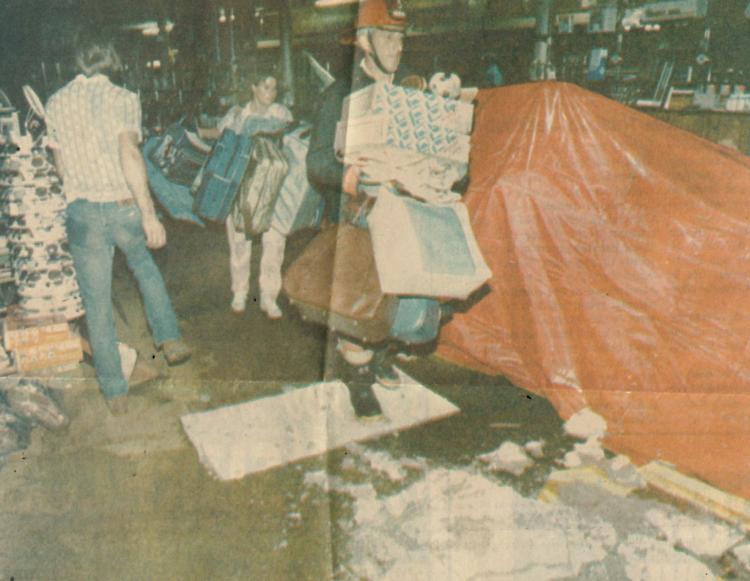 Wendy's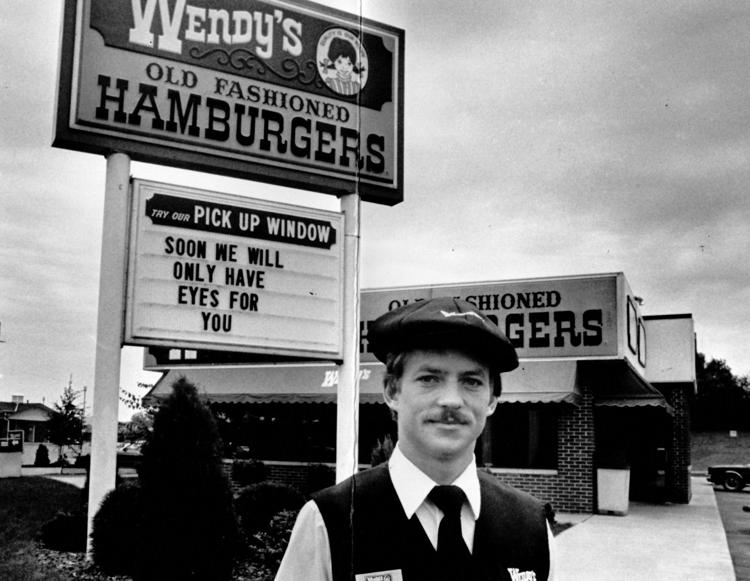 1983: WLCX-WLXR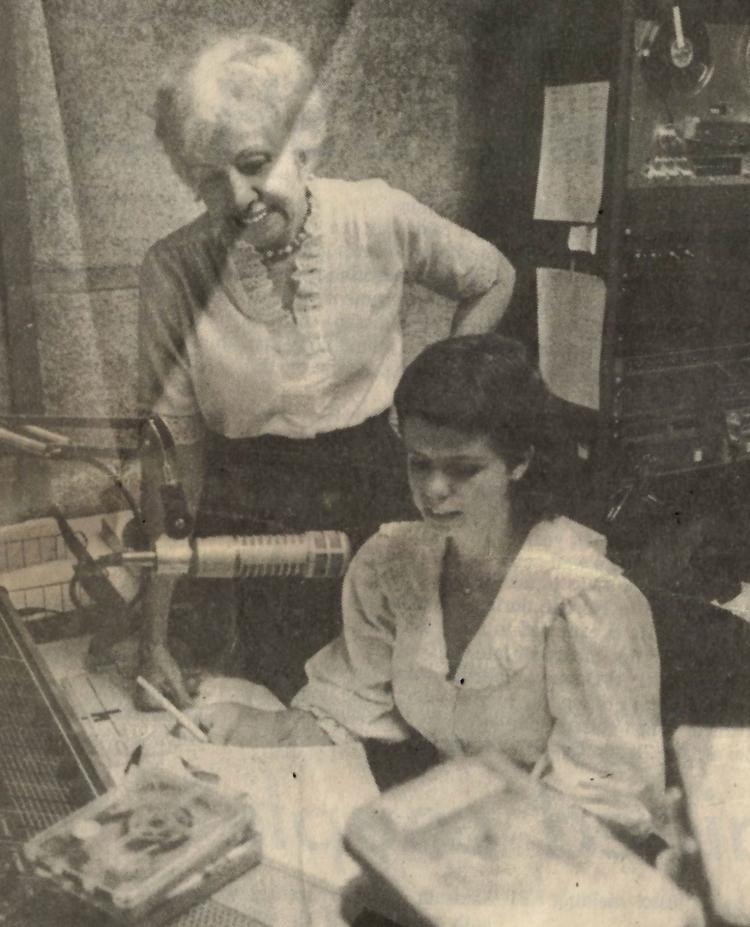 Walt's Restaurant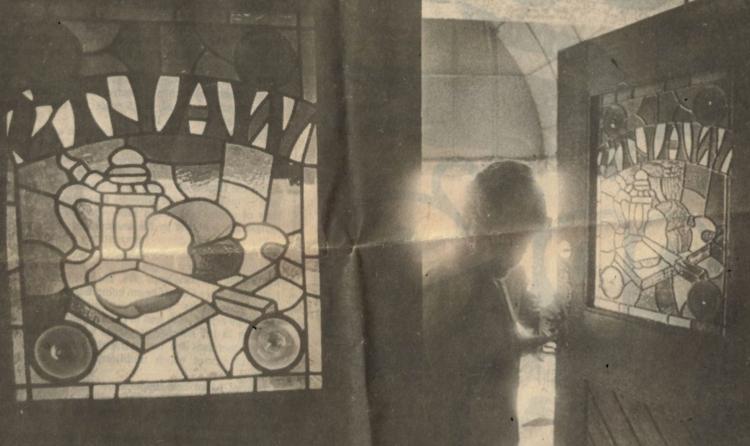 Walgreens

Winchell's Donut House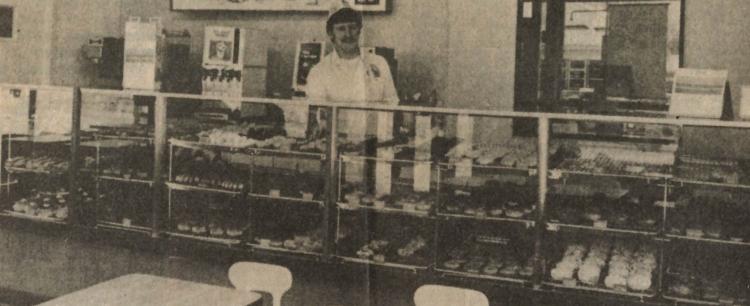 WXOW-TV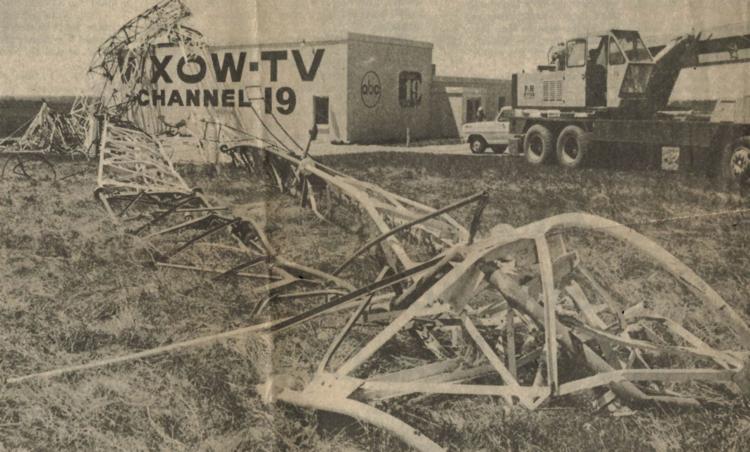 Warehouse Sales
1969: WKBH-AM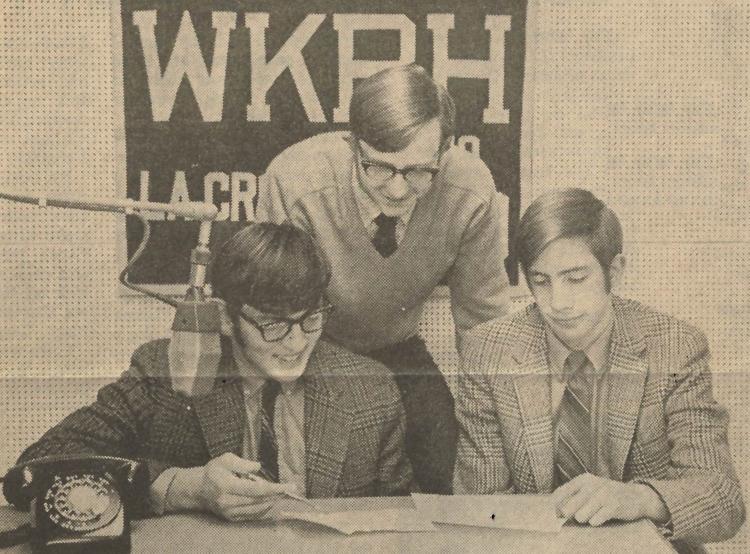 WKBT-TV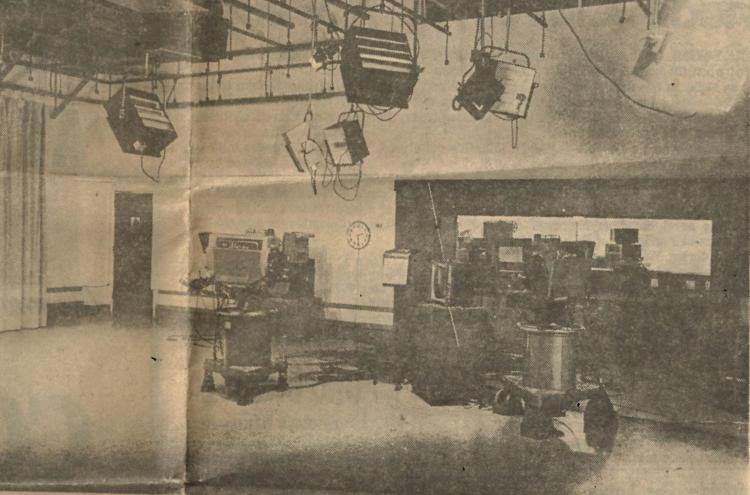 Wettstein's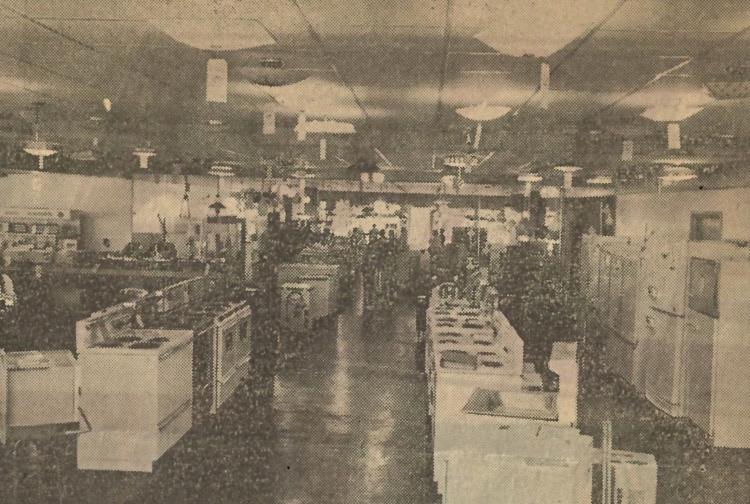 Woolworth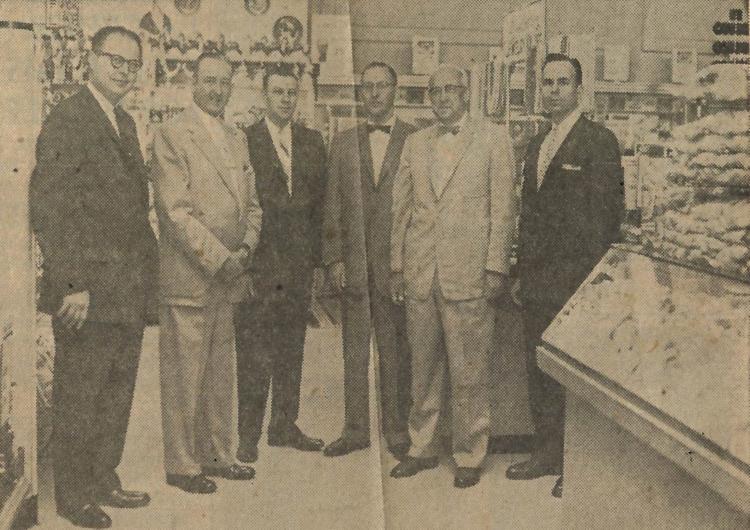 1958: 1st National Bank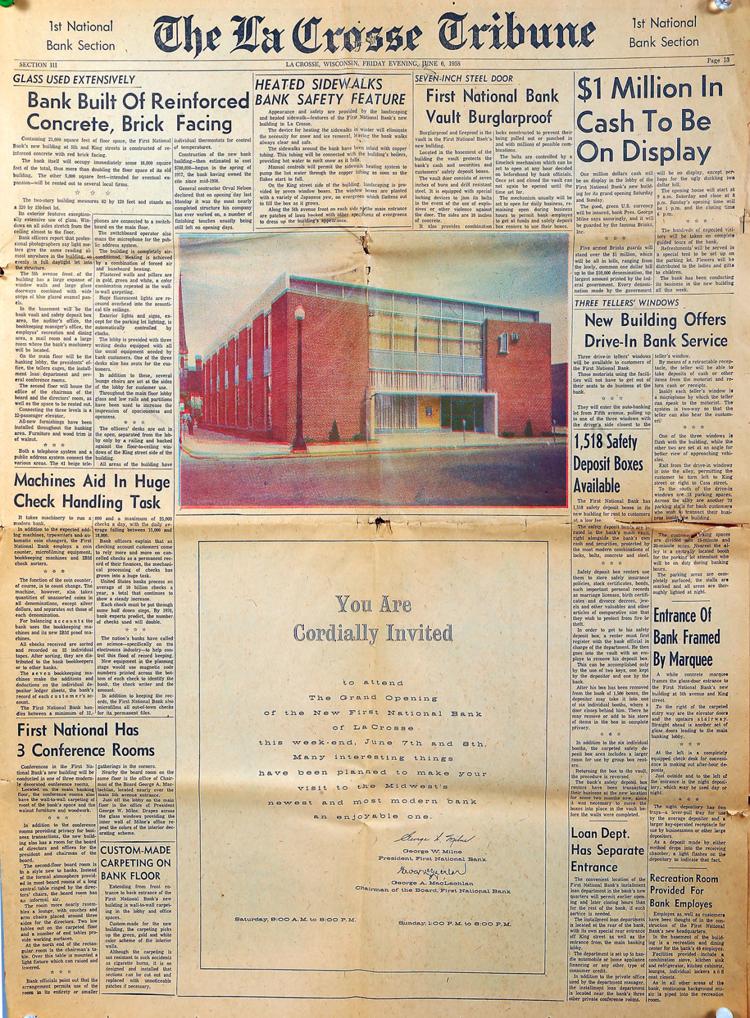 1947: W.T. Grant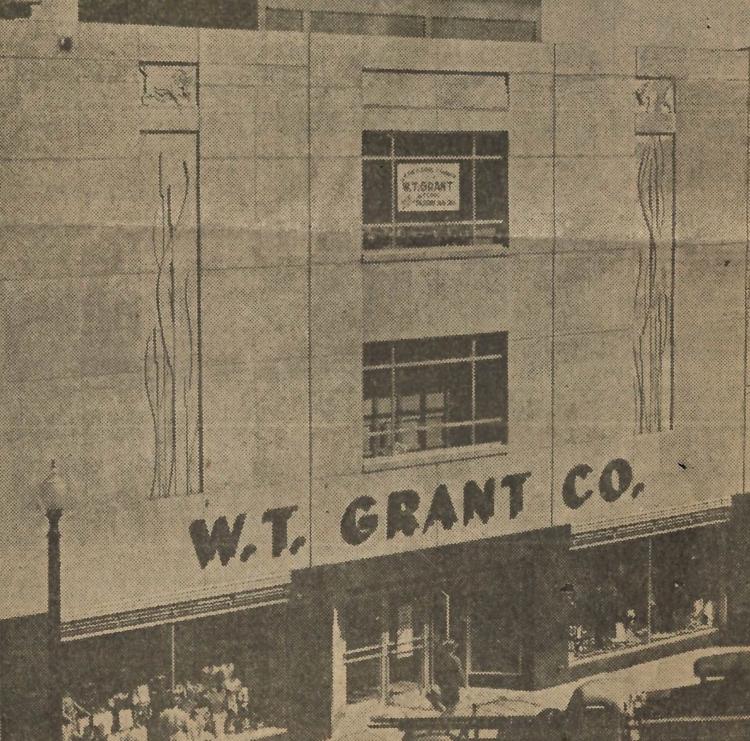 Xcel Energy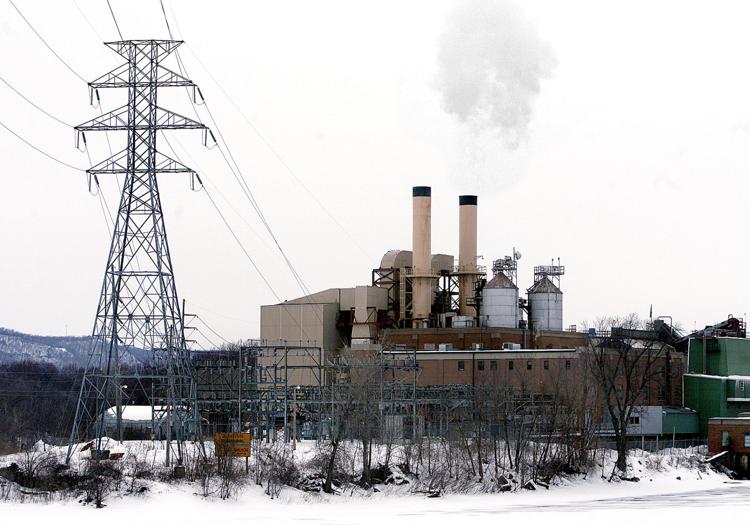 Yum Yum Tree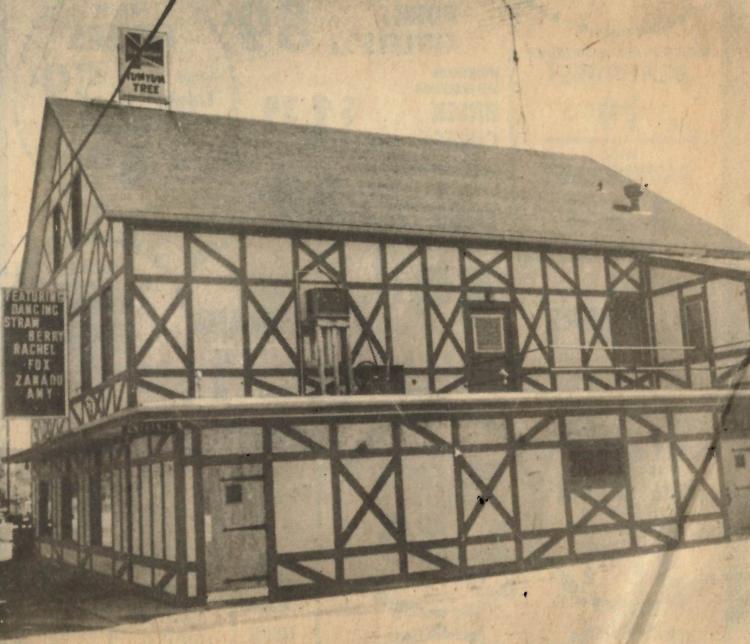 Yahr-Lange La Crosse Drug Inc.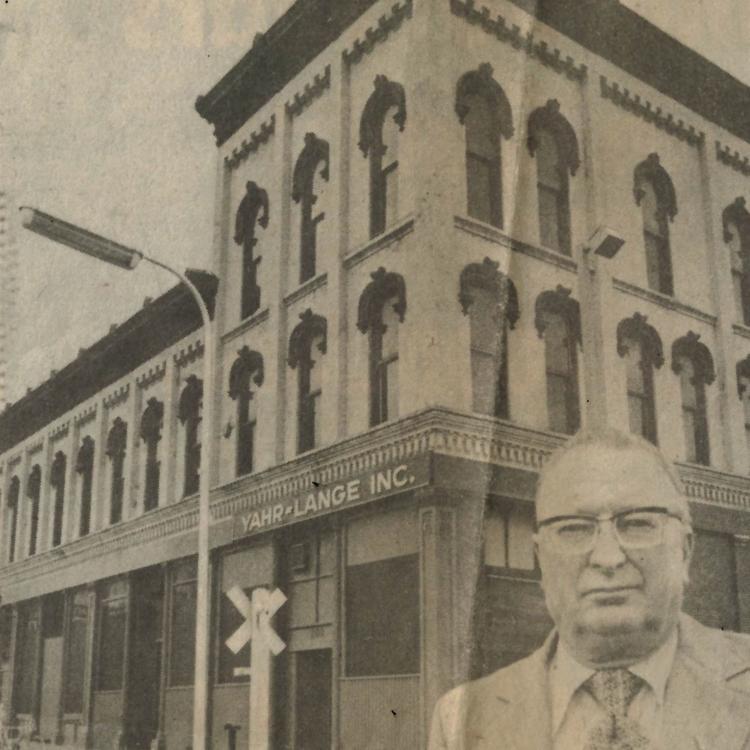 1975: Yellow Checker of La Crosse

Ye Old Style Inn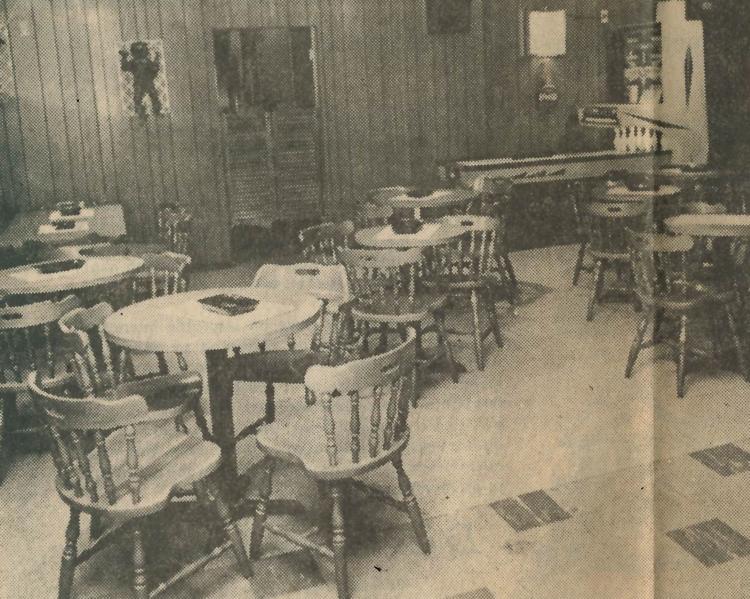 1967: Your Uncle's Place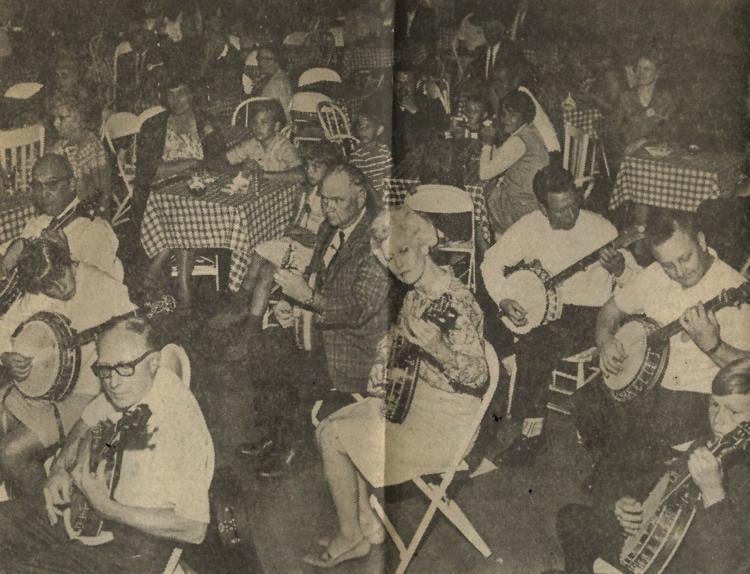 Zorba's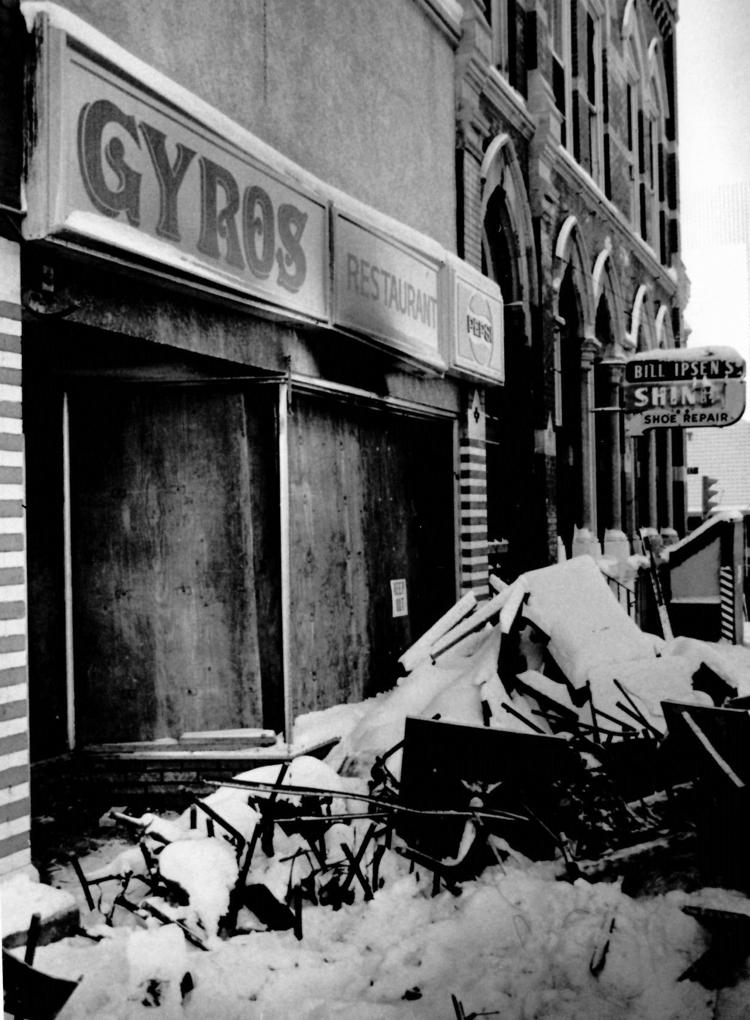 Zanklites