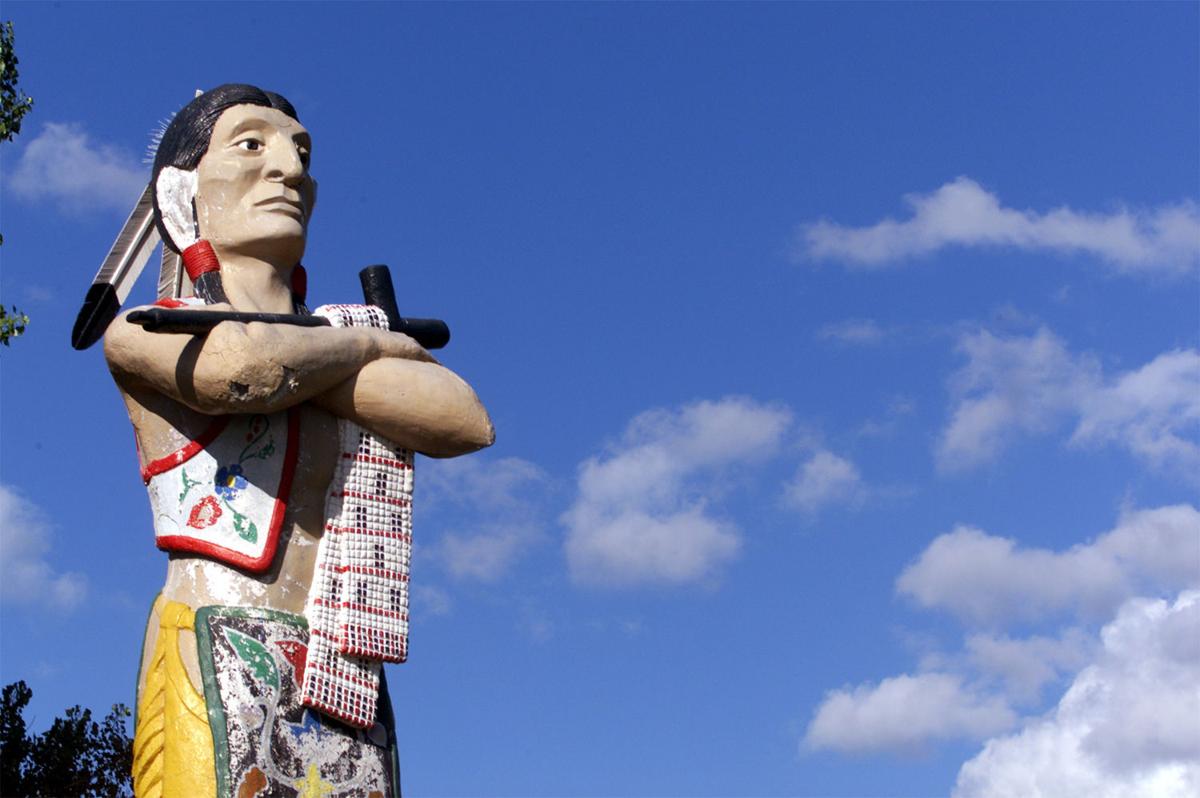 The Hiawatha statue in Riverside Park was a focal point in Wednesday's discussion on public art and social justice hosted by the city of La Crosse Human Rights Commission and Arts Board.
"It's time for this Hiawatha statue to go. It never should have been built in the first place," said Kevin Hundt as the discussion opened Wednesday at the Ho-Chunk Nation Ni Tani Hocira (Three Rivers House).
Hundt called the statue, which has also been known as the Big Indian, "a historical wrong" based on racist stereotypes.
"If people that you think you're honoring tell you that you're not actually honoring them, then you're not actually honoring them," Hundt said. "You need to accept that and respect that and make a change."
The 25-foot tall sculpture, which has stood on the north end of Riverside Park not far from the landing of the La Crosse Queen since the 1961, was created by Anthony Zimmerhakl, a La Crosse art teacher, out of cement and wire.
"Maybe that was art back then, but now it's kitsch," said Daniel Green, a member of the Ho-Chunk Nation and lecturer at University of Wisconsin-La Crosse.
The statue has been controversial for decades with the debate coming to the forefront in 2000 when the city spent $35,000, including $16,395 in private donations, to restore the paint. At the time, opponents the restoration argued that it was a caricature insulting to Native Americans while supporters said it was a landmark built to honor Wisconsin's indigenous people.
"Regardless of whether it was made to honor Native Americans, whatever the intention was, intentions do not determine consequences," Green said.
The consequences are seen in the effect it has on Native Americans.
"If you take a look at all – all and that's an incredible statement – all of Native America is never modern, not allowed any modernity," Green said.
That placement of all Native American culture in the past, rather than recognizing it as a culture that exists in 2017, messes with the heads of indigenous children, he said. "That is why the Native American teen suicide attempt rate is three times the national average."
La Crosse Common Council member Gary Padesky spoke up in favor of leaving the statue alone, saying Zimmerhakl honored Native American history and spoke to his students about the importance of respecting Native American culture.
"He would talk to us all the time about the history of Native Americans," Padesky said. "And that's not just supposed to represent the one Native American tribe. It's meant to incorporate three or four different ones and it was meant in the highest regard as a sign of respect."
He argued that there was no way to avoid offending everyone and the statue was part of La Crosse's history.
"I still think when you start tearing down art, you're tearing down history, and part of the city and that goes down a dangerous path itself," Padesky said.
"If we take one down, we should take them all down," he added.
While La Crosse County Historical Society executive director Peggy Derrick was sympathetic to people's attachment to local history and their personal history, she said, "I think La Crosse has outgrown that statue."
She added that the statue does not hold up as a piece of art, citing its nickname, Colossus of Kitsch.
Shaudel Spivey, chairman of the Human Rights Commission, asked why people in the community feel so strongly about the statue.
"Why is just the thought of it being taken down, remodeled and reframed hurt so many people's feelings who it doesn't even represent?" Spivey said.
In the context of the history of race in the U.S., it does make sense, he said.
"At some point we have to break that cycle and this could be the start," Spivey said. "It's not just a point of 'Yup, it's important for the reconciliation and healing of the Ho-Chunk.' It's also for important for reconciliation and healing for white folks."
White people in La Crosse should own up to the historical racist actions of the white people in both La Crosse and the nation as a whole, he said.
---
The Tribune's entire A-to-Z look back at La Crosse area history
Get local news delivered to your inbox!
Subscribe to our Daily Headlines newsletter.